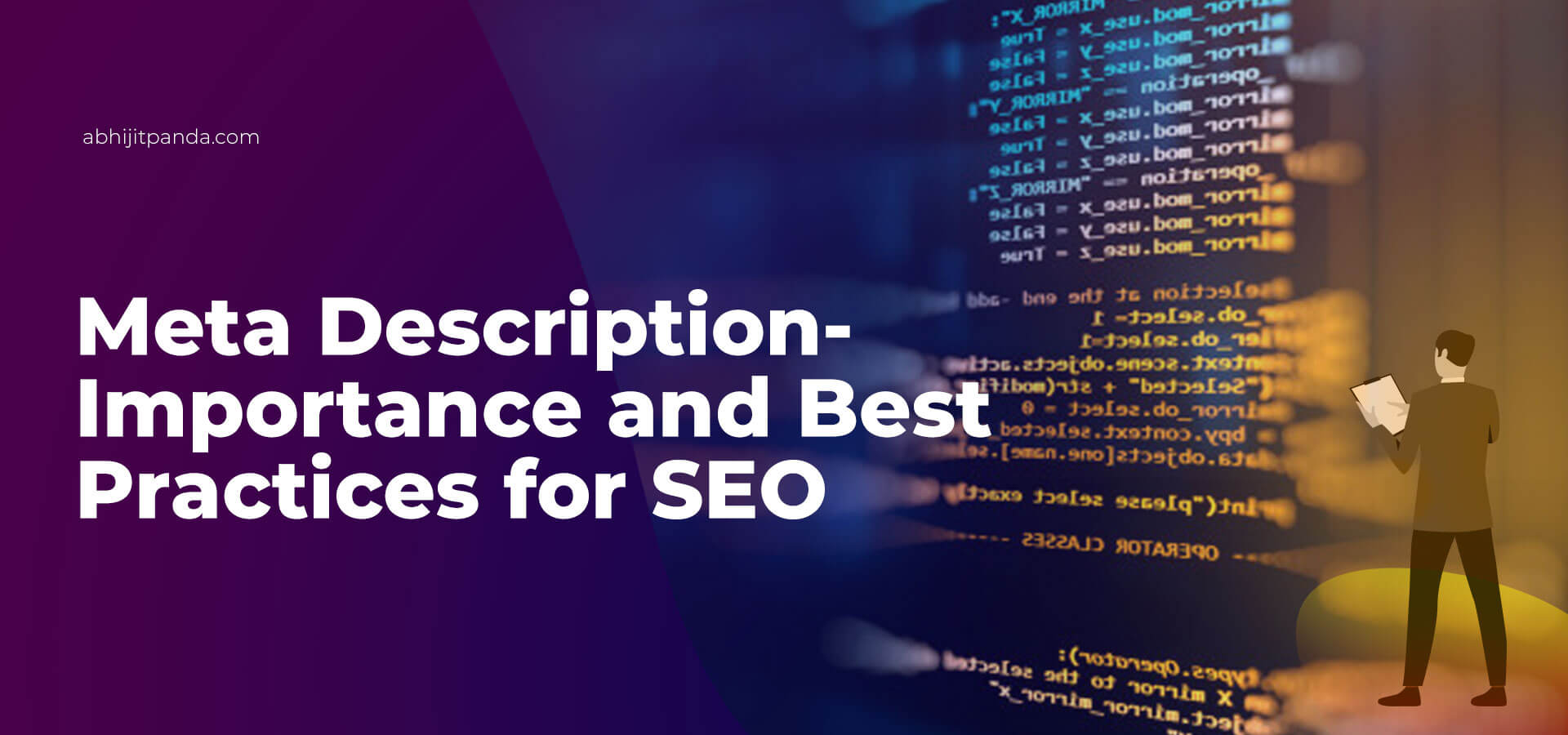 Meta Description – Importance and Best Practices for SEO
Most people these days use search engines to answer many questions and collect varied information. But each searcher wants to know about the web pages appearing on the search engine results pages (SERPs) before clicking on the link. As an HTML element, meta description conveys information about the content of a web page to searchers in a concise and summarized way. In this post, we will cover meta description SEO impact and the best practices to be followed.
Webmasters convey information about a web page through the description attribute of meta tags. They convey the summarized information in the form of a snippet of text.
Meta Description, like all other Meta tags, is an invisible element. It is not visible to normal users but is visible to search engines and web crawlers. You can find them in the <head> section of the corresponding page. Please remember to use in meta description in conjunction with the meta title.
Meta Description Length
The Website owners have to focus on the meta description length as the number of characters displayed on the SERPs varies from one search engine to another.
At present, Bing displays 160 characters of the meta description. I have generally seen that the longer ones[more than 160 characters] get cut off at the end.
Google displays 120 to 156 characters of the text snippet. Actually, both Meta titles and meta descriptions are shown in terms of pixels rather than the number of characters. As per the current guidelines, the meta description can go up to a maximum of 920 pixels on desktops which translates to around 158 characters including spaces. The corresponding number for mobile devices is 680 pixels which translates to around 120 characters including spaces.
Google keeps on experimenting with meta description length. They switched to 320 characters meta description in 2017 December and within a couple of months, rolled back the changes.
Hence, digital marketers and webmasters need to summarize the website content without increasing the meta description length. So its highly advisable to keep the meta description at around 150 to 155 characters to take care of both Google and Bing search engines.
Meta Description SEO Impact
Google clearly stated back in 2009 that Meta Descriptions do not play any role in the ranking. This question has come up time and again, they have maintained their standpoint.
Even though meta description SEO impact is not there directly, still all the SEOs do keep it on their radar and there is anecdotal evidence that it plays an indirect role in SEO, as it helps increase the CTR in SERPs for the page. Doing proper keyword research and creating a proper meta title and meta description is probably the first step of your on-page optimization. They also need to implement other on-page SEO best practices like properly using canonical tags, and updating Robots text file and XML sitemaps among others.
How Do Meta Descriptions Help in Increasing CTR?
Unlike other on-page search engine optimization (SEO) techniques, the page meta description does not help digital marketers to increase a web page's search engine visibility. But the digital marketers cannot achieve a higher click-through rate (CTR) on organic search results without writing compelling meta titles and descriptions. There are several reasons why digital marketers must focus on writing better meta descriptions as part of on-page optimization.
Persuade Searchers to Visit the Website
Digital marketers cannot persuade searchers to click on a link without conveying information about the web page, concisely, and compellingly. They can easily convey the nature and quality of web page content clearly to the searchers by writing a concise summary. Hence, the searchers can easily know if the web page contains information relevant to them.
Use as an Organic Ad Text
Major search engines display meta descriptions as a summary of the web page on both organic search and paid ads. When the paid ad ranks for a specific keyword, the search engines will convey information about the web page by displaying the meta description.
Social Networks Display Meta Description
Like search engines, popular social networking platforms also convey information about the content using the meta description. They capture the first few lines of the text snippet to convey information about the web page or blog post shared by users. Hence, digital marketers can use the meta description to get traffic from popular social networks like Facebook and LinkedIn.
Increase Keyword Ranking through CTR
As noted earlier, the meta description does contribute directly to increasing a web page's search engine visibility. But digital marketers can use the meta description as an effective tool to increase CTR. Many bloggers believe that major search engines like Google use CTR as an important keyword ranking metric. Hence, meta descriptions help digital marketers to increase keyword ranking in the long run.
How to Increase CTR by Writing Compelling Meta Description?
Digital marketers and webmasters can easily increase CTR by writing compelling meta descriptions. However, they must adopt a set of best practices to convey important information about a web page clearly and compellingly.
10 Meta Description Best Practices to Achieve Higher CTR
Focus on the Meta Description Length
As mentioned earlier, Google displays only 120 to 156 characters from the text snippet. Likewise, Bing advises webmasters to restrict the meta description length to 160 characters. Hence, the writers need to keep the page meta description concise and catchy, while covering important aspects of the web page content.
I have been using the popular WordPress SEO plugin Yoast SEO for my website for this purpose. Rank Math, which is also an all-in-one SEO tool, is also highly recommended if you are using WordPress CMS for your website.
If you are using any other CMS and need a meta description length checker tool, check this tool.
Write a Unique Meta Description for Each Page
Often digital marketers post the same meta description on multiple web pages to save time and effort. But search engines recommend webmasters to avoid duplicating meta descriptions. The writers must write a meta description for each web page to convey its content concisely. They cannot use the same meta description to persuade searchers to visit multiple pages.
I have been using the SEMRush tool to track all on-page issues on the website. This tool will give you the list of pages with duplicate meta descriptions, and missing meta descriptions. It will also provide a list of pages where the meta description length is more than desired.
Embed Focus Keywords
While displaying search results, Google highlights the search keyword or keyphrase in the meta description in bold. Webmasters can easily persuade searchers to visit the web page by including the right keyword or key phrase in the text snippet. However, it is also important for the writers to make the meta description more compelling by including both keywords and their synonyms.
When I searched for "Meta Description Length" in Google, I would be more inclined to click the links of Yoast SEO and SEJ because I can clearly see that their content covers it.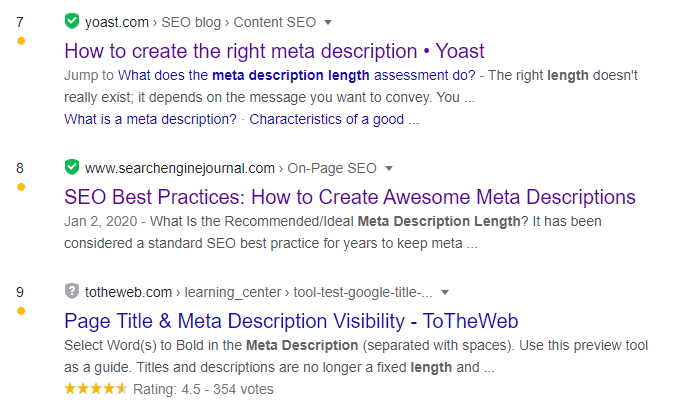 Depict the Web Page Content Clearly
While writing the meta description, the writers need to ensure that the snippet of text conveys the nature of web page content clearly and exactly. The searchers will abandon the website in a few seconds if the meta description does not match the web page content. Many search engines penalize websites for using misleading or ambiguous meta descriptions. The writers can easily reduce the bounce rate by matching the meta description with web page content.
Cover Benefits for Your Target Customers/Readers
In addition to summarizing the web page content, the meta description must convey all important aspects of the content to searchers. While writing the snippet of text, the writers convey the information required to influence the searcher's buying decision. They need to highlight the benefits for the target customers.
When I search for "Buy Nike Shoes Online", below are 2 of the meta descriptions I like. In the Snapdeal case, they have highlighted 2 benefits- free shipping and a COD option. In the case of Tatacliq, they have highlighted the 40% discount part, as well as the wide range of options and free shipping.

However, you must not try to give away all information about the web page. You need to include only the information required to persuade the searcher to visit the web page.
Don't Use Passive Voice
While writing the meta description, the writers can use both active and passive voices. But they cannot make the text snippet actionable using passive voice. It is always advisable for writers to use active voice instead of passive voice while writing a snippet of text. The active voice will make the content look motivating and persuasive. It will compel searchers to click on the link by acting as an ad copy.
Consider Including a Call-to-Action
In addition to using active voice, the writers should include a call-to-action in the meta description. They should design the text snippet by following the common rules of ad copywriting. But they must remember that the meta description will promote a web page instead of any specific product or service. Hence, the call-to-action must persuade searchers to visit the web page to collect additional and elaborate information. Especially, when the search terms clearly have an intent to buy, including the right call to action, definitely improves the user attention and hence CTR.

Use Only Alphanumeric Characters
The writers can make the search engine display meta description in the desired way by using only alphanumeric characters. They must remember that search engines sometimes cut off the text snippet from the phrase before double quotes or single quotes. If they want to highlight certain phrases, it is advisable to use HTML escape characters like &quot instead of quotation marks.
Don't Forget to Preview the Text Snippet
The writers can easily preview and assess the meta description before posting using several online tools. For instance, they can avail check meta description length and placement of focus keywords using the Yoast SEO plugin while working with WordPress. The preview and analysis will help writers to identify the changes required to make the snippet of text more relevant and compelling.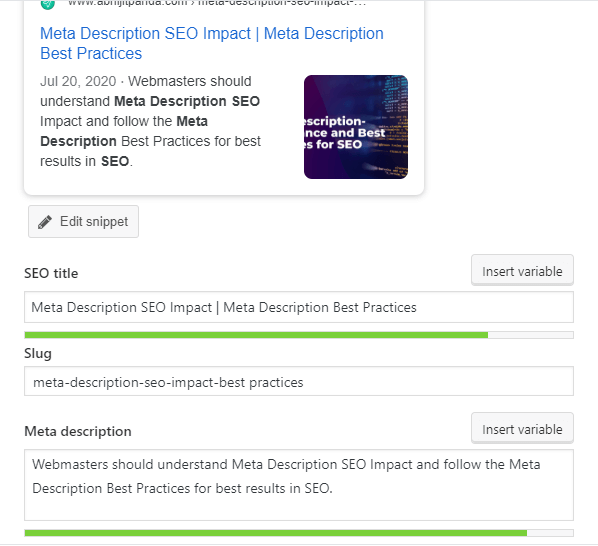 Frequently Asked Questions on Meta Description
Question 1: Can I add the exact same content from your website as Meta Description?
Answer: Yes, you can do that. However, it is advisable to write an amazing piece of description to make it compelling for users to click it.
Question 2: Why is Google not showing the Meta Description added by me?
Answer: Google often generates the meta description automatically by picking up relevant lines from your web page content. It decides the lines to be displayed on search results based on the focus keyword.
Question 3: Ohh my god, is it? How often does Google re-phrase the meta description provided by the website?
Answer: As per the study conducted by Ahrefs, Google does that a whopping 62.78% of the time. The study goes further to say that the percentage increases even more to 65% for long tail keywords.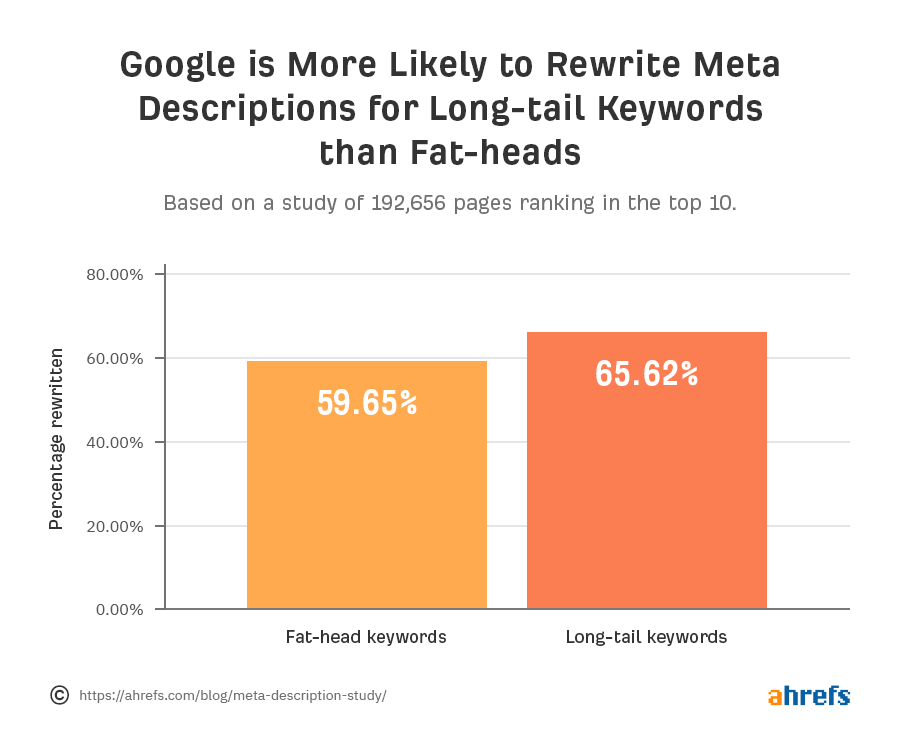 Question 4: So, meta description SEO impact is negligible and Google rephrases them around 60% of the time. So that means all the effort that I am putting into writing a compelling meta description is wasted?
Answer: No, you still have to spend time writing a compelling meta description because
As explained already, A well-written meta description gives you a much better click-through rate.
In the absence of OG tags, social engines will pick up the meta description from your content while sharing.
Question 5: I am not well conversant with HTML. How do I view the meta description of any website page?
Answer: If you are using the Chrome browser, you can use a Chrome extension called Meta SEO Inspector. I have been using this tool for quite some time now, and it solves my purpose.
Conclusion
As an important HTML element, meta description helps site owners to attract more search engine traffic to their websites. Digital marketers can boost click-through-rate by writing compelling meta descriptions. They can easily achieve higher CTR by writing better meta descriptions based on a set of best practices. They should also work to improve the website page load speed and implement the basic SEO tips and tricks.