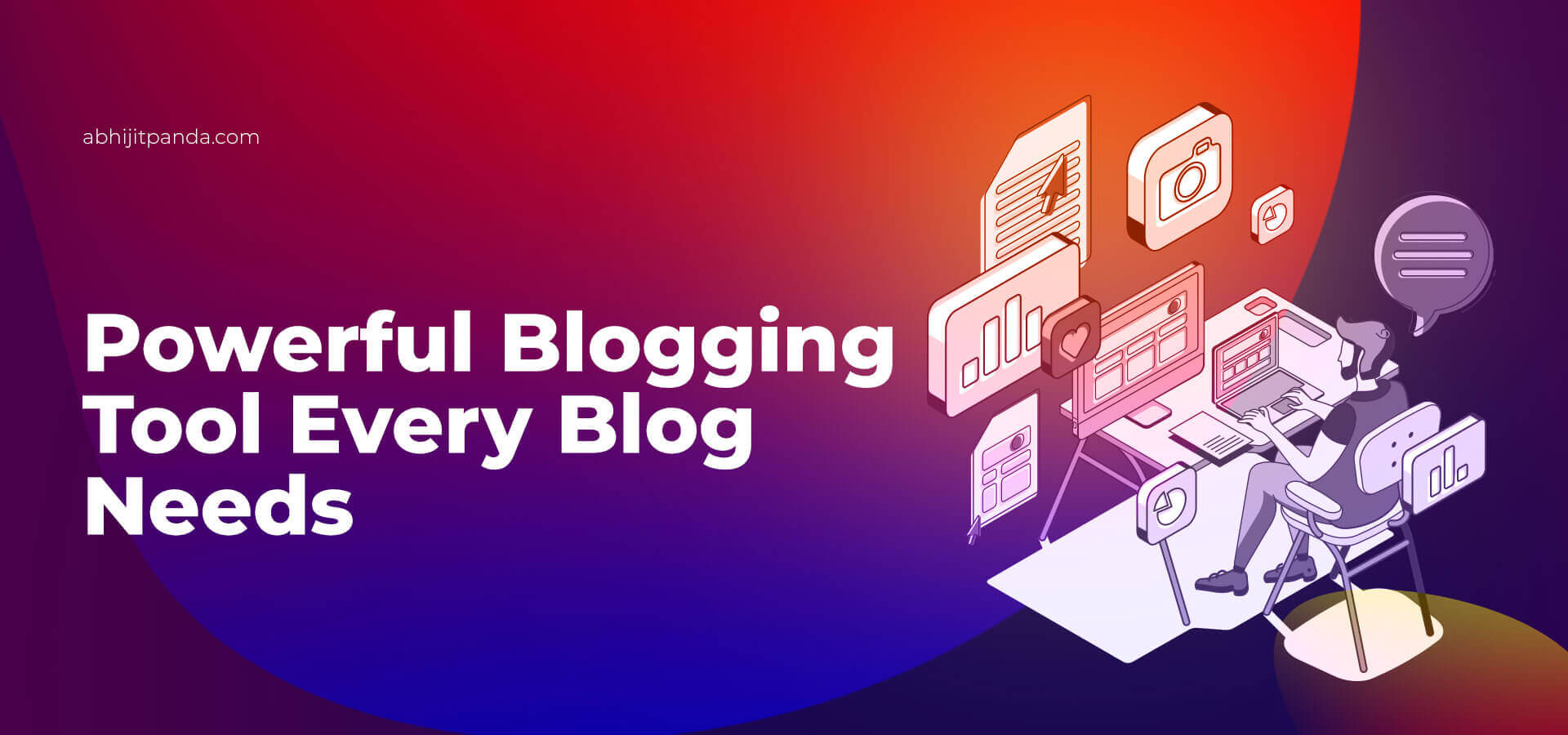 Best Blogging Tools For Bloggers
According to a survey conducted by Blogging.com, "17% of the bloggers are able to sustain their lifestyle or support their family with their blogs, while 81% never make even $100 from blogging. The other 2% spend less than 2 hours a day blogging but make more than $150K."
Nowadays, bloggers cannot earn recurring income simply by writing and publishing research-based content on a regular basis. Bloggers and website owners who want to make blogging a profession need to focus on two important factors – attracting more readers to their blogs and keeping the readers engaged. They need to write content that keeps the website visitors engaged and persuades them to read the content.
At the same time, they need to implement an elaborate digital marketing strategy to get more readers to the blog from various website traffic sources – search, direct, and referral. The below tools are considered the best ones that help both novice and experienced bloggers to earn recurring income. Some of the tools help them to increase blog traffic, while others make it easier for them to boost reader engagement.
Why You Should Start Your Own Blog?
There was a time when blogs were described as online journals or informative websites. But the blogs have become a powerful and popular medium to communicate and share a wide variety of information. You can always start your own blog to spread a variety of information to readers on a regular basis. Also, you can use blogs as a powerful tool to accomplish specific goals and earn recurring income. Before exploring ways to start your own blog, you must clearly define why you should start your own blog.
Tell Your Personal Story
Initially, content writers were using blogs as an informal diary. They used to publish blogs to share their personal experiences with their friends, relatives, and coworkers. You can still use blogs as a tool to tell your personal story and make your voice heard. The personal experience will make readers become a part of your digital life over a period of time.
Help Others Solve Specific Problems
Many people these days look for tips and advice to solve specific problems. The blogs enable you to share a variety of information and knowledge with readers. The information will help the readers to get specific solutions, ideas, or assistance. You can further make the blogs more relevant by writing how-to content.
Establish Yourself as an Expert
You cannot become a celebrity by writing blogs regularly. But you can use the blogs as a promotional tool to highlight your skill and expertise. As more people read your blogs, you will gradually establish yourself as an authority or expert in the specific field. Many bloggers got book and movie deals after gaining recognition.
Share Your Ideas and Thoughts
If you are reading or researching a topic passionately, the blog will help you to share new ideas and thoughts with readers. In addition to reading the content, the readers will post comments. The comments will help you to validate new ideas and fine-tune various though processes.
Increase Traffic to a Website
According to GetCodeless.com,

"Companies that publish 16+ blog posts per month get nearly 3.5x more organic traffic than those that publish 0-4 monthly."
If you are running a business, you can divert more traffic to the business website by publishing blogs regularly. The increase in website traffic will help your business to generate more leads and drive digital sales.
Join the Online Community
Many shy people and introverts these days use blogs as a powerful tool to interact with others. They write blog posts to spread their ideas and thoughts over the internet. Also, they interact with the readers by replying to blog comments proactively. Hence, you can start your own blog with the intention of becoming part of an online community.
Earn Recurring Income
Many content writers these days opt for blogging as a full-time professional to earn recurring income. Blogging enables many bloggers to earn recurring income while working from home. Many bloggers even earn income by working for a few hours. However, you have to focus on increasing traffic to the blog regularly and monetizing the blog properly to earn recurring income.
Learn New Skills Regularly
You must remember that blogging is no longer the process of writing and publishing content. Professional bloggers need to focus on many things to popularize their blogs and earn recurring income. Once you start your own blog, it will become essential to learn a variety of skills – targeting different audiences, creating web graphics, optimizing images, search engine optimization, social media marketing, and content management. You also need to have a set of the best blogging tools to get the maximum ROI out of your time and effort.
Hence, you can accomplish a variety of goals by starting your own blog. But you must clearly define why you want to start your own blog to customize the process of launching your own blog.
Best Blogging Tools to Boost Blog Traffic and Reader Engagement
Grammarly
Major search engines like Bing consider spelling and grammar as key metrics for ranking blogs. Also, poor grammar and spelling mistakes impact the blog's reader engagement directly. Grammarly helps bloggers boost both search engine visibility and reader engagement by writing mistake-free content. The content writers can leverage the AI-powered writing assistant provided to eliminate errors by evaluating grammar, spelling, style, and tone. The online tool further helps writers to keep the content more engaging by suggesting synonyms and checking content plagiarism.
Ginger Grammar Checker
As a popular alternative to Grammarly, Ginger Grammar Checker helps bloggers write high-quality content by identifying spelling mistakes, grammar mistakes, syntax errors, punctuation mistakes, and misused words. The online tool uses a patent-pending technology to review the content just like human readers. Bloggers can use Grammar Checker to correct various types of mistakes in the content by availing useful features like subject-verb agreement, singular/plural nouns, consecutive nouns, and contextual spelling correction. The sentence further boosts reader engagement by suggesting alternative sentence structures.
Hemingway App
In addition to highlighting grammar and spelling mistakes, Hemingway App helps bloggers simplify complex and dense sentences. The online content editing tool uses different colors to indicate the changes and alterations. It uses specific colors to depict passive voices and provides recommendations for longer words. The content writers can further use the editing tool provided by the Hemingway App to write and edit the content directly by choosing from two distinct options – write and edit. Bloggers can leverage the Hemingway App to write engaging and impactful content, along with fixing grammatical mistakes. 
Headline Analyzer
Professional bloggers make their blog posts stand out in the crowd by composing the perfect headlines. While composing headlines they keep in mind both search engines and human readers. CoShedule's Free Headline Analyzer helps content writers analyze various headlines. Many bloggers use Headline Analyzer as a robust tool to choose the best headline by performing A/B testing. In addition to analyzing headlines, the online tool recommends content writers write powerful headlines by focusing on the type of title, character length, and word balance.
BuzzSumo
No professional can earn a recurring income without beating the competition. They need to explore ways to create content that gets blog traffic by outperforming competitors. BuzzSumo helps bloggers to understand if their content will work or sink. The online platform checks if the content will work or sink using four important components – discovery, research, monitoring, and influencers. In addition to publishing the content that gets traction, the bloggers can use BuzzSumo to compare the content to existing blog posts and identify the readers who share the content.
Copyscape
Google advises content writers to avoid creating and publishing duplicate content. The popular search engine further requires bloggers to address duplicate content issues proactively. After writing the content, the bloggers must check if the content is unique. Copyscape helps content writers check if the content written by them is unique using advanced plagiarism search. The bloggers can subscribe to Copyscape Premium to check the originality of the content before publication. At the same time, they can use the premium tool to check if someone has stolen or copied their content.
Originality AI
Originality.AI is a new Plagiarism Checker and AI Content Detector that has launched to help digital marketers check the Originality of the content they are publishing. With the rise of AI content tools what Original content means has changed. Originality.AI has been built to be a modern content originality checker. 
What makes Originality.AI unique as a plagiarism checker is that it was built with high-volume publishers in mind. You can add team members to your account and view scan history.
You can check to see if the content was either generated by AI or plagiarized from another source. The easy-to-use tool is priced lower than Copyscape and provides more information. 
Blog Ideas Generator   
Bloggers cannot generate recurring income without writing and publishing blog posts regularly. They have to explore ways to generate innovative blog post ideas on a regular basis. HubSpot makes it easier for bloggers to come up with new blog ideas by providing a Blog Ideas Generator. The online tools enable content writers to generate several blog ideas simply by entering a noun. Despite generating multiple blog ideas, Blog Ideas Generator does not share the blog topic ideas with other subscribers. Also, it allows bloggers to incorporate blog ideas into their blog strategies in a specific way. Here are some innovative ways to come up with great ideas for blog posts.
Content Idea Generator
Many bloggers use Portent's Content Idea Generator as an alternative to HubSpot's Content Ideas Generator. The online tool helps content writers to generate titles for blog posts simply by entering the subject. In addition to generating titles, Content Idea Generator helps bloggers understand important components of the title. If further advises the content writers to generate more relevant content titles by not capitalizing the keywords and using a singular version of the keyword. However, the bloggers have the option to revise the results to get compelling blog titles.
Pixabay
Bloggers cannot get traffic from search engines and social networks without adding images to each blog post. In addition to increasing blog traffic, images help content writers to make the content structured and visually appealing. Pixabay allows bloggers to access over 1.7 million stock images and videos. The bloggers can further add stock images and videos uploaded by the community without paying any royalty.
Pexels
Pexels allows bloggers to access a large collection of stock images and videos free of cost. The content writers can modify the stock photos and edit the stock videos without any restrictions. But Pexels requests the bloggers to give credit to the photographers. The free stock photos will help bloggers attract more website traffic from search engines and social networking platforms. Also, the content writers can improve reader engagement by adding stock images and videos to the blog posts.
Canva
Often bloggers find it challenging to customize stock images according to the nature of the content. Many bloggers prefer creating custom images instead of using stock images. Canva is one of the best blogging tools around. It helps bloggers to create bloggers to create custom images using drag-and-drop functionality. The bloggers also have the option to choose from a wide variety of images and fonts. They can use the templates provided by Canva to create posters, background images, logos, presentations, cards, and infographics.
Google Keyword Planner
The bloggers must perform elaborate keyword research to get more search engine traffic to their blogs. The Keyword Planner launched by Google helps content writers discover the most relevant keywords for their blogs. Bloggers can leverage the online tool to boost organic search traffic to their websites by reaching out to more readers. In addition to getting keyword ideas, bloggers can use Google Keyword Planner to access historical statistics and forecast blog traffic.
Google Search Console
When a blogger wants to make a living by writing blogs, he must monitor his website's search traffic and measure the website's performance on a regular basis. Google Search Console helps bloggers to boost their website's performance and increase search traffic by identifying various issues and recognizing the URLs impacted by these issues. Beginners can use Google Search Console as a training resource to understand how blogs appear on Google search result pages. They can further improve their blog's search engine visibility by getting Search Console Training.
Yoast SEO
At present, Yoast SEO is the most installed SEO plugin for WordPress. While setting up a WordPress blog, bloggers install Yoast SEO to attract more visitors from search engines and social media and keep the visitors engaged. The bloggers can use the Yoast SEO plugin to optimize keywords, speed up search engine indexing, preview content before publication, check content readability, and identify duplicate content. The block and classic editors provided by Yoast SEO enable bloggers to write content directly in WordPress. Here is a quick guide on Yoast SEO, which you might find useful.
Writer.com
This AI-powered writing assistant elevates your writing from standard to outstanding while its customizable style guides ensure consistent style across your organization. It suggests appropriate vocabulary; detects grammar, spelling, and punctuation errors; and offers content corrections.
As a blog writing tool, Writer.com helps you strike the right balance between formal and conversational. It also points out jargon and needlessly complicated sentences. It redacts sensitive user information, follows your preferences for gendered language, and ensures that your writing is free of unintentional plagiarism.
Free SEO Tools from Moz
The toolbox provided by Moz contains an array of free SEO tools for professional bloggers. Bloggers can use specific tools to simplify common SEO activities like keyword research, SEO audit, rank tracking, backlink research, and domain analysis. Also, they can access MozBar as an all-in-one SEO toolbar. MozBar makes it easier for content writers to create custom searches, compare link metrics, differentiate links, assess ranking probability, and evaluate page elements.
Buffer
The leading content management systems and blogging platforms these days come with built-in social media tools. However, bloggers can use external tools like Buffer to reduce the time and effort required to share content on multiple social networking platforms. The tools provided by Buffer help content writers distribute the channel through multiple social media channels and measure the performance of the content. Hence, it becomes easier for bloggers to get more traffic to their blogs on a regular basis by finetuning social media sharing strategy.
Revive Old Post
Revive Old Post helps bloggers increase traffic to their blogs by sharing the content on multiple social networking platforms. Content writers can use the online tool to share posts, pages, and media on social networks. Revive Old Post has the capability to fetch images from blog posts and post the images along with content on social networks. The blogger can use the tool to post the same blog posts multiple times. At present, Revive Old Post supports a number of popular social networks including Facebook, Twitter, Instagram, LinkedIn, Pinterest, and Tumblr.
Check My Links Extension
The broken links and dead links impact the blog's search engine ranking by preventing search engine spiders from crawling the website. While optimizing the blogs for search engines, the bloggers have to focus on identifying and repairing the broken links. The Google Chrome extension helps bloggers identify broken links. Check My Link identifies all bad links by crawling through the website. The bloggers can further use the online tool to check if all links on the website are working properly.
GTmetrix
People these days abandon websites and blogs that do not load in 3 seconds. Also, Google uses the loading speed of websites and blogs as a key search engine ranking metric. Hence, bloggers must focus on making their websites load faster. GTmetrix helps bloggers to check how fast their websites load. In addition to measuring loading speed, GTmetrix also identifies the issues or factors affecting the website's loading speed. Also, it helps bloggers to speed up their websites by recommending speed optimization opportunities. Bloggers can use the online tool to monitor the speed and performance of their websites regularly.
Veed
Veed is a simple online video editor. You can want to trim, filter, rotate, crop, add text, draw, and more on your videos and don't have time or the know-how VEED is the tool designed exactly for that. Video editing should be easy, simple, and accessible to all. Veed is designed for content creators, social publishers, dank members, and anyone who wants to get involved in making video content. Using a tool like Veed you can make videos for your social media followers, and create marketing and advertisement videos for promoting your products. The best thing is you can try Veed for free, no account required.
PikWizard
Today people want to create free pictures and videos quickly. You don't need to look any further than PikWizard. It holds an amazing library of over 1 million stock images and videos. The quality of these visuals is second to none, but what makes PikWizard stand out is its images of people. But the value doesn't stop there. You can take each image and video and edit it on the graphic design tool, Design Wizard. So you get a free stock photo and video site + graphic design tool all in one! It's simply selfless! While there may be some Adobe and Shutterstock-sponsored images on the site, these were added as a means to generate revenue. The vast majority of images and videos remain completely free!
Quora
Quora is not designed as a blogging platform. The crowd-sourced question-and-answer (Q&A) website allows people to ask a variety of questions. At present, millions of people access the American website on a daily basis to ask questions and gain knowledge. Bloggers can use Quora as a powerful research tool to understand what real people want to know. The information collected by scanning Quora will help bloggers come up with relevant blog ideas and identify more relevant keywords.
Apart from using these important blogging resources, bloggers should adopt basic SEO tips and tricks and a content calendar strategy. Bloggers can also leverage a large number of online tools to increase blog traffic and improve reader engagement. They also have the option to choose from the free and premium editions of popular blogging tools. But they must remember that each of these powerful blogging tools has its own pros and cons. Hence, they must compare the best blogging tools available and experiment with new blogging tools to earn recurring income.
Have I missed out on any tools that you feel should be included in the list of the best blogging tools? Let me know your thoughts by putting your comments.
This blog has been republished in May 2023.