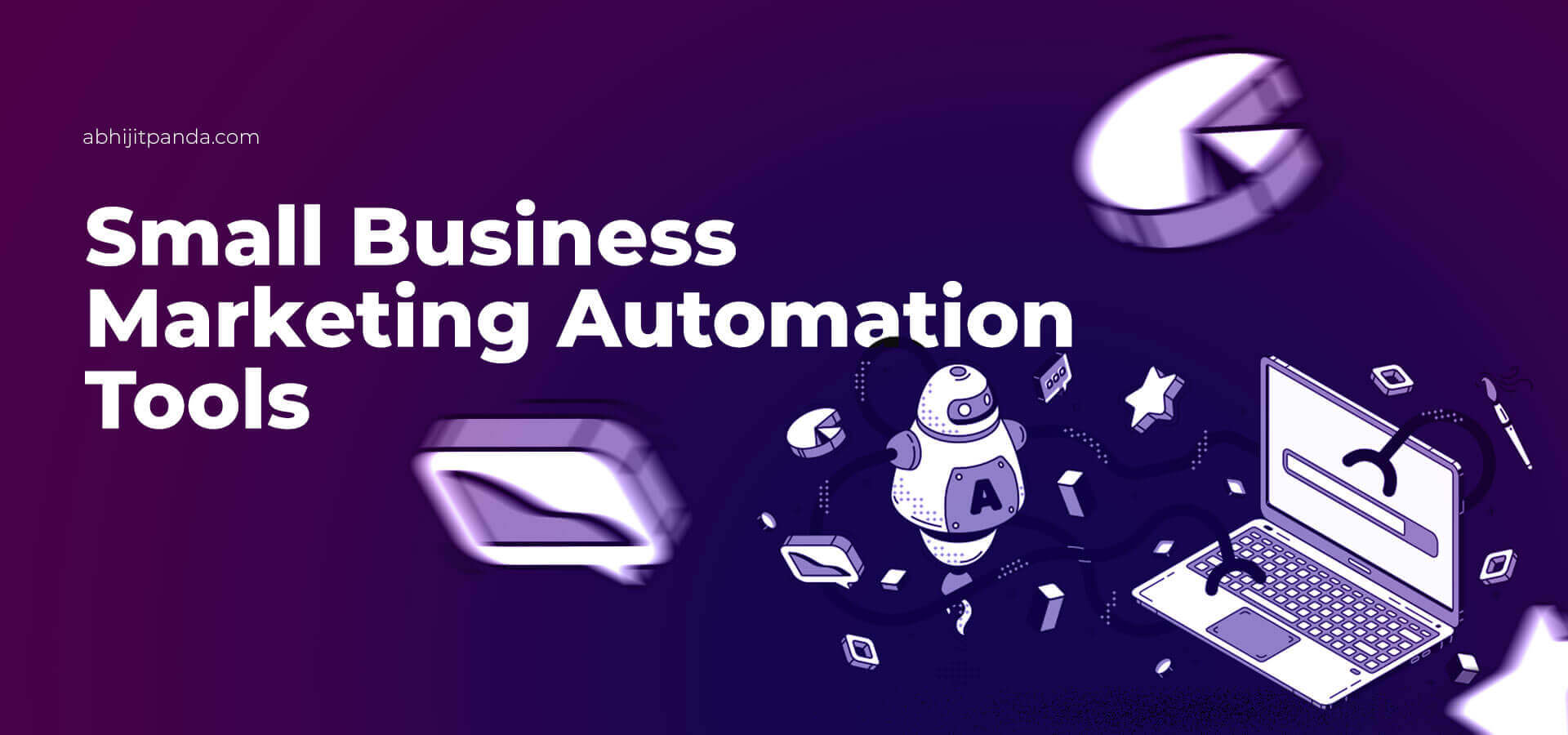 Small Business Marketing Automation Tools
Unlike large enterprises, small businesses and startups lack the resources required to generate leads and drive sales using traditional media like television, radio, newspapers, and magazines. Digital marketing enables small businesses to compete with larger enterprises without increasing costs. A small business can launch personalized and targeted digital marketing campaigns to generate leads and increase sales conversion rates consistently.
But no small business can boost lead generation and lead conversion simply by launching multiple and different digital marketing campaigns. It has to monitor and fine-tune the performance of individual digital marketing campaigns to achieve preset marketing goals. The small business marketing automation tools help small businesses and startups manage multiple digital marketing campaigns efficiently through the automation of various marketing activities.
According to Search Customer Experience,

"Marketing automation is a type of software that allows companies to effectively target customers with automated marketing messages across channels including email, websites, social media and text messages to generate sales leads. The technology is a segment of customer relationship management, or CRM, and is typically used by marketing departments as a way to remove repetitive tasks from staff workflows and increase overall marketing efficiency."
Your business can easily automate a wide range of marketing activities by investing in the right small business marketing automation tool and solution. But you must remember that the marketing automation software solutions differ from each other in many aspects, including cost. While comparing the automation software, you must focus on shortlisting the cost-effective marketing automation tools. We make it easier for you to compare widely used small business marketing automation tools by gathering information from reliable online sources.
Comparing 17 Widely Used Small Business Marketing Automation Tools and Solutions
1. SendPulse
Your business can leverage this email and messenger marketing platform by choosing from four pricing models – free, standard, pro, and enterprise. SendPulse makes it easier for you to automate customer communication by sending emails and SMS and building chatbots for Facebook, WhatsApp, and Telegram. It helps you to create and send transactional and promotional emails by providing a drag-and-drop editor and automating triggered email delivery.  You have the option to measure the performance of email campaigns using built-in analytics. Also, you can use SendPulse to deliver push notifications to subscribers on web browsers and send SMS to customers across 200 countries.
2. Moosend
Moosend aims to help users to leverage the benefits of email marketing without writing longer lines of code. It comes with a drag-and-drop editor that enables you to create personalized and targeted emails without writing or editing code. Also, you can launch new email marketing campaigns regularly by leveraging useful features like customer list segmentation, A/B testing, and data analytics. The marketing automation platform allows you to choose from a slew of solutions – marketing automation, email marketing, landing pages, subscription forms, and personalization. Also, you can use Moosend by choosing from monthly and annual pricing plans.
3. Aritic
 Aritic is developed as an all-in-one marketing automation solution. Your business can use the solutions and tools provided by Aritic to automate marketing, sales, and service. For instance, you can use Aritic PinPoint to automate a variety of important marketing activities by leveraging features like email automation, customer segmentation, landing page generation, lead scoring, anonymous lead nurturing, social media marketing, multi-channel marketing, and sales-marketing analytics. Aritic helps you to drive sales conversion by running data-driven automated marketing campaigns. You can use Aritic based on four monthly pricing plans – lite, starter, professional, and enterprise.
4. Buffer
Buffer aims to provide small businesses with robust social media tools. The small business marketing automation tool is developed with features to facilitate the publication of content across social channels and the measurement of the performance of social media marketing campaigns. You can reduce the time and effort required to manage social media campaigns by availing of three useful tools provided by Buffer – publishing, engagement, and analytics. In addition to publishing and scheduling content, Buffer helps you to grow your social media audience using analytics. You can use Buffer based on four pricing models – free, pro, premium, and business.
5. Intercom
The new-age marketing automation tool helps small businesses build and sustain customer relationships through messenger-based conversational experiences. Your business can leverage Intercom to automate customer relationship management using a variety of tools. You can use a business messenger to interact with customers, management tools to manage customer interactions, and a customer data platform to personalize customer interactions. At the same time, you can add functionality to Intercom by integrating it with over 250 apps. You can use Intercom by choosing from two distinct plans for small businesses – start and grow.
6) Freshworks
The enterprise-grade products and platforms provided by Freshworks help your small business to boost both customer and employee satisfaction. You can use Freshdesk as a unified platform to deliver omnichannel customer service, Freshchat as a communication tool to deliver digital-first customer service, and Freshsuccess to strengthen customer relationships. At the same time, you can unify the customer experience across communication channels using an AI-powered enterprise platform like Freshworks Neo. Likewise, you can facilitate seamless collaboration between sales and marketing teams using Freshworks CRM. You can use each of the products and solutions provided by Freshworks by choosing from four pricing options – sprout (free), blossom, garden, and estate.
7) Pipedrive
Your business can leverage Pipedrive a cost-effective sales CRM solution. In addition to being easy to set up and use, Pipedrive facilitates marketing automation by providing useful features for managing leads, prioritizing deals, tracking customer communication, automating repetitive marketing tasks, and measuring performance according to preset goals. You can access and leverage the marketing automation tool on demand by integrating it with your business's mobile app or sales-boosting apps. Your business can use Pipedrive by choosing from four pricing models – essential, advanced, professional, and enterprise.
8) Omnisend
Your e-commerce business can use Omnisend to automate email and SMS marketing campaigns. Omnisend helps you to automate email marketing by providing pre-built subject lines, messages, and workflows. Also, you can send personalized messages and offers to customers by leveraging features like automation split and A/B split testing. At the same time, Omnisend helps you to measure and boost workflow performance by generating a variety of reports. You have the option to form a single automated workflow by combining the automated text sent through emails, SMS, and push notifications. Your business can use Omnisend based on three plans – free, standard, and pro.
9) OptinMonster  
The versatile solutions provided by OptinMonster help publishers, agencies, e-commerce companies, and B2B marketers accomplish a variety of marketing goals. You can use the appropriate solution to grow the email list, increase sales conversion, and reduce shopping cart abandonment.  The marketing automation toolkit developed by OptinMonster comes with features to simplify the creation, display relevant offers to website visitors, display the right campaign to the right customer, and run targeted marketing campaigns. Also, your business can use the solutions provided by OptinMonster based on four pricing models – basic, plus, pro, and growth.
10) Constant Contact
You can use Constant Contact to grow your email list as well as run email marketing campaigns by targeting subscribers. The drag-and-drop editor provided by the email marketing automation tool helps you to create and customize emails without writing any code. At the same time, your business can leverage Constant Contact to set up websites and online stores with built-in marketing tools. You can further generate more leads by running Facebook and Instagram ad campaigns. You can send unlimited emails and track the performance of every email by using Constant Contact based on two plans – email and email plus.
11) SendinBlue
SendinBlue provided a slew of useful sales and marketing tools to businesses by focusing on three important aspects – communication, personalization, and conversion. Your business can use SendinBlue to communicate with customers through chat, email marketing, and SMS marketing. Likewise, you can personalize customer interactions using the CRM and marketing automation tools provided by SendinBlue. The SaaS solution further helps your business to drive sales conversion through landing pages, signup forms, and Facebook Ads. Your business can leverage the features and solutions provided by SendinBlue by choosing from a slew of payment plans – free, lite, premium, and enterprise.
12) Drip
Drip is developed as a marketing automation solution for e-commerce brands. It comes with tools and features to boost customer acquisition, customer retention, and customer loyalty. The prebuilt templates provided by Drip help you to launch and manage both email and SMS marketing campaigns. At the same time, you can leverage the features of Drip to create customized forms, divide customers into multiple segments, and track marketing campaign performance by generating reports. Drip can be integrated seamlessly into widely used e-commerce platforms like WooCommerce, Shopify, and Magento. Your small business can start using Drip for free on a trial basis for 14 days.
13) HubSpot
HubSpot helps small businesses to automate various marketing activities by providing a slew of free tools and solutions. You can leverage the free tools provided by HubSpot CRM to get full and real-time visibility into your sales funnel. The clean dashboard enables you to track individual performance, measure individual productivity, and monitor sales activities by generating detailed reports. Your business can avail of important features like pipeline management, deal tracking, company insights, and reporting dashboard for free regardless of the number of users and amount of data. At the same time, you have the option to avail yourself of advanced CRM features by choosing from three plans – starter, professional, and enterprise.
14) User.com
User.com is designed as a unified workspace that provides useful tools to marketing, sales, management, and support teams. Your business can automate marketing activities by leveraging a slew of products and solutions – CRM, email marketing, live chat, chatbots, push notifications, visitor tracking, and automation. The marketing automation solution provided by User.com helps you to connect with new visitors and convert them into customers by sending the right messages at the right time through the right communication channel. Also, you can use User.com by choosing from four business plans – free, personal, business, and premium. 
15) ConvertKit
ConvertKit is developed as an email marketing tool for creators. It helps small businesses to earn recurring revenue by selling digital products. The solutions provided by ConvertKit also help you to grow your audience, connect with your fans, and earn a living. You can grow your audience using solutions like email sign-up forms, landing pages, and integration tools. Likewise, you can stay connected with your fans by running email marketing campaigns and sending highly targeted content. Your business can use ConvertKit based on three distinct plans – free, creator, and creator pro.
16) Keap Max Classic
Keap Max Classic (earlier known as Infusionsoft) provides a CRM that comes with a wide range of sales and marketing automation tools. The CRM sends a personalized follow-up message automatically, and instantly each time your business gets a new lead. The personalized and automated follow-ups help your business nurture leads and boost lead conversion without putting in extra time and effort. You can use Keap to automate routine marketing activities like lead capturing and follow-up. Also, you can use CRM to capture important lead information like preferences, behavior, and likeness to buy. Your business can use Keap Max Classis by choosing from three monthly plans – lite, pro, and max.
17) SeedProd
SeedProd is a plugin for WordPress that helps small businesses to create high-converting landing pages. You can use the drag-and-drop page builder provided by SeedProd to create a variety of landing pages – sales pages, webinar pages, coming soon pages, maintenance pages, and opt-in pages.  You can use pre-built templates to create the landing pages in private. Also, you can see how the landing page appears on computers and mobile devices using live preview. SeedProd further allows you to save pages and reuse page elements without any restrictions. You can use SeedProd based on three distinct pricing plans – basic, plus, and pro.
Small businesses and startups can automate various marketing activities by choosing from a wide range of marketing automation tools and solutions. You should consider some of these widely used small business marketing automation tools to boost lead generation and lead conversion without increasing upfront and ongoing costs. However, it is also important to compare the popular marketing automation tools for small businesses according to your organization's precise marketing needs and objectives. It is also important to keep an eye on the current marketing and digital marketing trends to keep yourself updated for better results.