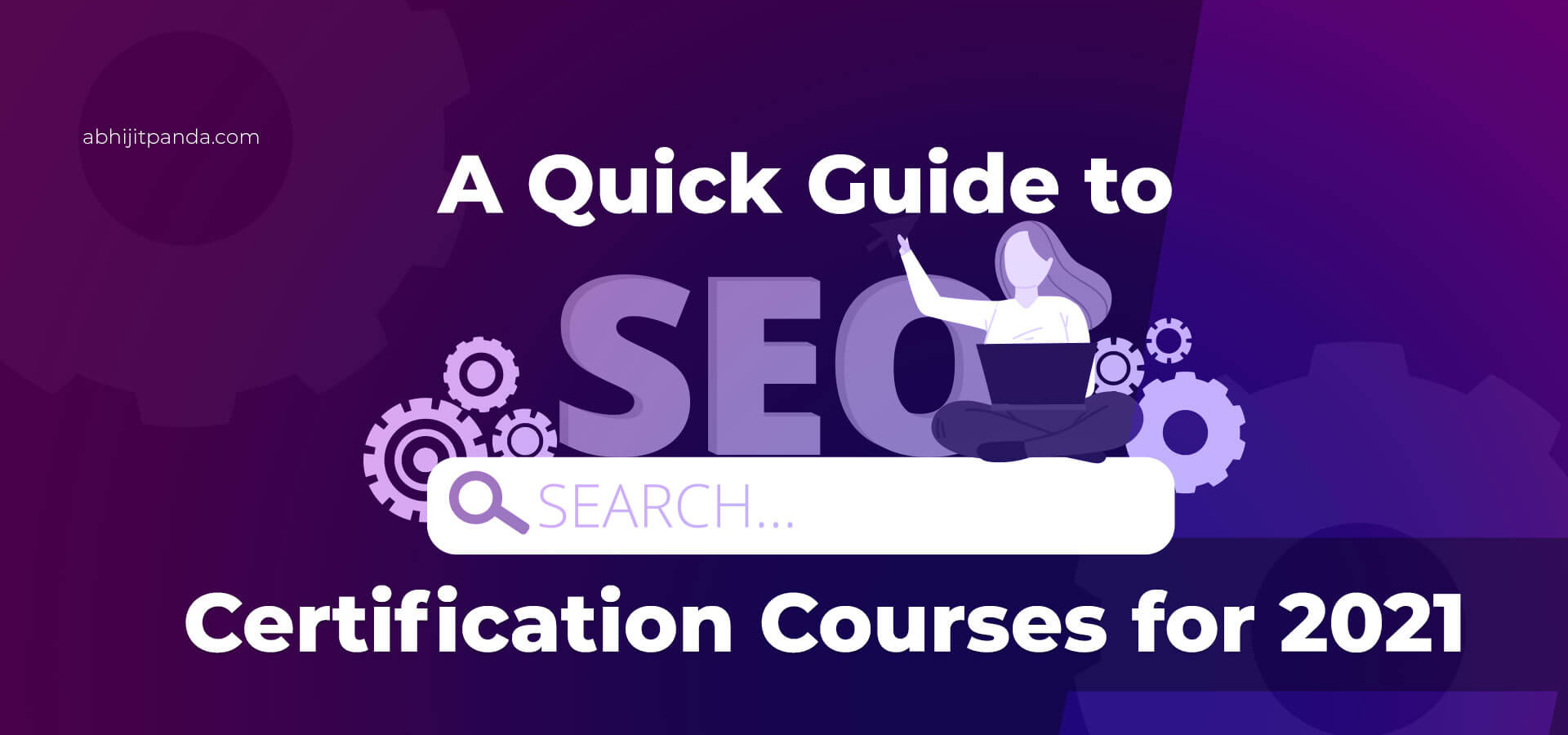 SEO Certification Courses for 2021
According to a Channel Performance Report released by BrightEdge,

"Organic search drives 51 percent of all visitors to B2B and B2C websites, trumping all other non-organic search channels, including paid search (10%) and social (5%)."
Businesses across the world implement SEO strategies to drive more visitors to their websites from search engines. Some of these companies outsource SEO campaigns, while others hire trained SEO professionals. You can use SEO certification courses as a powerful tool to impress B2B and B2C companies by showcasing your knowledge, skill, and expertise.
In addition to providing you with a competitive edge, the official SEO certifications depict your exposure to emerging SEO trends and commitment to learning SEO techniques. Also, you can enhance your career prospects in the digital marketing industry by joining many SEO certification courses. But it is also important to join an SEO certification course that keeps your skills relevant beyond 2021.
9 SEO Certification Courses to Boost Your Digital Marketing Career in 2021
Complete SEO Training + SEO for WordPress Websites
It is one of the most popular SEO training courses offered by Udemy. This course can help you to understand SEO concepts and techniques, along with learning how to optimize WordPress websites for search engines. You can join the paid course to learn the factors affecting a website's search engine ranking, content SEO, keyword research, page speed, backlinks, technical SEO, and negative SEO. Also, Udemy has been updating the course regularly by adding new chapters and lectures.
SEO Fundamentals Course by Pluralsight
The course offered by Pluralsight helps beginners to understand and learn basic concepts and techniques in search engine optimization. You can join the course if you do not have prior SEO experience. Firstly, the course will make you understand what makes search engines love a website, and how to divert search engine traffic to a website regularly, and how to prepare SEO strategies by beating frequent search engine algorithm changes. Secondly, after completing the course, you can easily learn the advanced concepts and changing trends in SEO.
Free SEO training: SEO for beginners by Moz Academy
At present, Yoast plugin is the most popular SEO plugin for WordPress. The free SEO training course designed by Yoast Academy aims to prepare beginners to learn basic concepts in search engine optimization. You can join the free online SEO training program to learn both content side and technical side of SEO. Also, after completing the SEO crash course, you can subscribe to Yoast Training to access advanced courses on all-round SEO training, keyword research training, site structure training, local SEO training, international SEO training, SEO copywriting training, and technical SEO training.
SEMrush SEO Toolkit Course
The SEO tools provided by SEMrush help digital marketers to plan, monitor, and optimize search engine optimization campaigns without putting extra time and effort. The course offered by SEMrush Academy aims to familiarize with the tools for planning and analyzing SEO campaigns. Also, you can join the free course to learn about some of the widely used SEO tools by accessing 14 video lessons. In addition to learning about SEMrush tools, the course will help you to plan and monitor SEO campaigns efficiently.
SEO Essentials Certificate Series by Moz Academy
The online course designed by Moz Academy makes you gain foundational knowledge of SEO by accessing video lessons and answering quizzes. Also, you can obtain Moz SEO certification after clearing the final exam. You can consider joining the SEO certification program to website audits and local SEO techniques. The website audit lessons will prepare you to increase search engine ranking by fixing content issues and indexing errors. Also, the lessons on local SEO will make you learn how to rank higher of local search results.
The SEO Playbook by Robbie Richards
The popular online SEO training course is designed by Robbie Richards for digital marketers who know the fundamentals of SEO. The paid course includes 14 hours of video training and 23 in-depth training modules, along with over 100 video lectures. You can join the course to learn advanced SEO concepts and techniques step-by-step through a series of playbooks – content audit, keyword research, and quick wins. Robbie Richards allows you to enroll in the course by making a one-time payment. Also, the one-time payment will enable you to access the growing SEO playbook library in the future without any restrictions.
Free SEO Training Course By Hubspot Academy
The free online course designed by HubSpot academy consists of 15 videos, 3 lessons, and 1 quiz. You can consider joining the SEO certification course to learn how to use blogs as an SEO tool to make your website rank better. The first lesson helps you to identify the issues affecting a website's search engine visibility. The second lesson focuses on building backlinks and implementing a backlink strategy. Also, the third lesson will make you understand how HubSpot increases search engine ranking of websites by posting and optimizing blogs.
SEO Courses by Traffic Think Tank
Traffic Think Tank aims to make SEO training an ongoing process by allowing you to join several courses by making a monthly payment. In addition to providing SEO training to both beginners and experienced digital marketers, it also helps you to network with other SEO professionals. Also, you can opt for the courses provided by Traffic Think Tank to learn how to build links on scale, how to generate qualified leads by writing content, how to solve complex technical SEO issues, how to choose the most relevant keywords, and how to make local SEO strategies effective in beating search engine algorithm changes.
Beginner Local SEO by Udemy
Udemy has designed the SEO course to help entrepreneurs to learn how to make local business rank higher on Google SERPs. You should consider joining Beginner Local SEO to acquire fundamental knowledge of local SEO. Also, the online SEO training program prepares you to learn advanced local SEO techniques. And, Udemy allows you to choose from free and paid versions of the course. You can obtain a certificate of completion only by joining the paid course.
You can enhance your career by joining a slew of SEO certification courses. But you must remember that some of them cover basic concepts in SEO, while others cover advanced concepts and techniques. Also, the SEO certification courses and programs differ from each other in the category of price. That is why; you must evaluate the credibility and relevance of professional certifications to invest in the right SEO certification program.