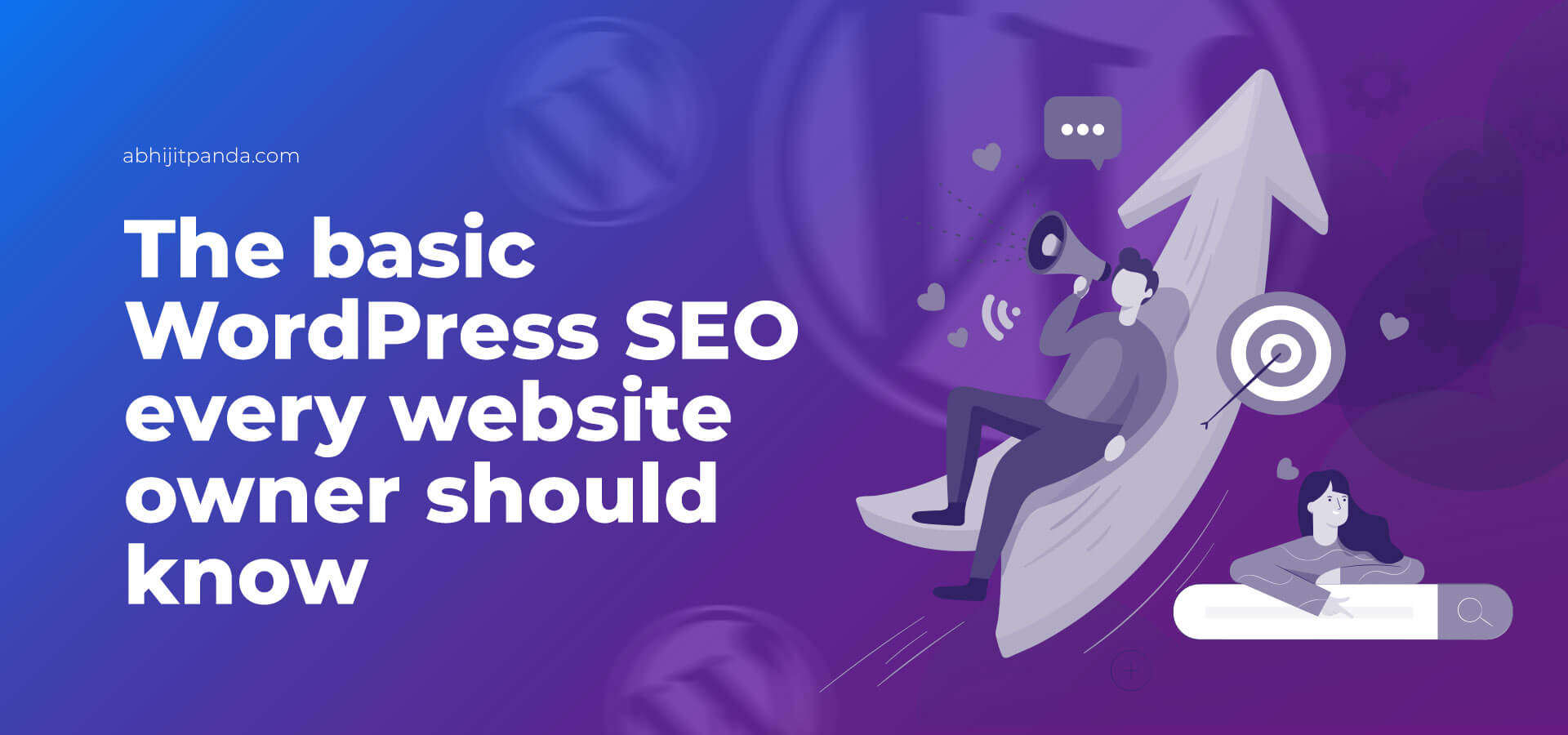 The Basic WordPress SEO Tips and Tricks Every Website Owner Should Know
While building a website, website owners and web developers have the option to choose from a wide range of content management systems (CMS). But a large percentage of website owners and developers opt for WordPress to reduce website development time and cost.
According to the latest WordPress statistics posted on HostingTribunal.com,
"WordPress powers 39.6% of the internet in 2021, a growth of nearly 5% from 35% in 2020, and a 4% rise from the year before. If you count only the CMS-built sites, then about 60% of them are WordPress. Over 400 million people visit WordPress sites each month."
In addition to simplifying and accelerating website development costs, WordPress helps website owners to increase both the quality and content of website traffic from popular search engines like Google and Bing. Unlike other content management systems, WordPress focuses extensively on search engine optimization (SEO).
It helps website owners to boost their website's search engine visibility and ranking by providing a variety of options. Along with using popular SEO plugins and tools for WordPress, website owners can optimize the website content and pages for popular search engines in a number of ways. However, it is always important for website owners to keep in mind the basic WordPress SEO tips and tricks.
21 WordPress SEO Tips and Tricks Every Website Owner Must Know
Use a Theme that is optimized for Search Engines
While using WordPress, website owners have the option to choose from many free and premium themes. Each theme helps website owners to define the look and feel of the website. But the website owners must remember that all themes are not optimized according to search engine guidelines. They need to opt for a theme that allows search engine crawlers to scan their source code. The search engine-optimized theme will help website owners to implement SEO strategies effortlessly. 
Choose the Right SEO Plugins and Tools
While using WordPress, website owners have the option to choose from a wide range of SEO plugins and tools – Yoast SEO, Rank Math, All in One SEO Pack, SEOPress, SEMRush, Google Search Console, Google Keyword Planner, Broken Link Checker and Ahrefs. Most of these SEO plugins and tools come with similar features and functionality. But they differ from each other in several aspects including efficacy and use cases.
We have published a guide to WordPress SEO plugins, interested users can check it out. You can also check out our in-depth guide to the Yoast SEO plugin and RankMath SEO Plugin.
Add XML Sitemap to the WordPress Website
Google describes a sitemap as a file that conveys information about and depicts the relationship between various pages, images, videos, and other files on the WordPress website. XML sitemap makes it easier for search engines to find and rank web pages. The website owners can easily generate XML sitemaps using a number of WordPress plugins – Google XML Sitemaps, Google XML Sitemap Generator, Sitemap Generator, Simple XML Sitemap Generator, and WordPress XML Sitemap.
Assess the Website Content Just Like Google
Sometimes the website owners need to modify and update the content to increase the WordPress website's search engine ranking. They can easily make changes to the content by assessing the resources just like a search engine. The website owners can use WebMaster Tools to check how the content is seen by Google. In addition to assessing content quality, WebMaster Tools also identifies duplicate content and restricted resources.
Make the Website Load Faster
According to Entrepreneur.com, 40% of visitors abandon websites that take more than 3 seconds to load. Also, while ranking websites Google uses page load speed as a key parameter. The website owner can get more website visitors and prevent website abandonment by focusing on optimization. He needs to assess the loading speed of the website from time to time using a reliable online tool.
They can make WordPress website load faster by implementing caching; removing unnecessary plugins; optimizing images; implementing Gzip compression; minimizing JavaScript and CSS files; and using a content delivery network (CDN). However, the website owner must not forget to the WordPress website's loading speed at regular intervals.
Review and Change Permalink Structure
A permanent link or permalink acts as the permanent address or URL of a web page. It further contains the keywords that convey the nature of content to both website visitors and search engines. A website owner can easily enhance his website's search engine visibility by creating SEO-friendly permalinks. While posting content, he must check the default post name in the permanent settings. He can make the permalink URL-friendly by embedding specific keywords or relevant phrases depicting the nature of the content.
Use HTTPS instead of HTTP
Unlike HTTP, HTTPS encrypts interaction between the client and service using Secure Socket Layer (SSL). When a website does not have an SSL certificate, popular web browsers like Chrome inform the visitors that it is not secure. Website owners can easily improve the WordPress website's security and credibility by switching from HTTP to HTTPS. Also, HTTPS will contribute towards increasing the website's search engine ranking as Google uses HTTPS as a key ranking factor.
Enable Breadcrumbs on the WordPress Website
As a navigational tool, breadcrumbs help both website visitors and search engines understand the current location of the page in the context of the website. While setting up the website, the website owners can enable breadcrumbs using various SEO plugins for WordPress. The breadcrumbs will help the website visitors navigate through the website and the search engines to understand the website's structure and hierarchy. This will further boost the website's search engine ranking by implementing an internal link structure.
Keep Meta Descriptions Original and Relevant
The meta description summarizes a web page's content on search engine results pages (SERPs). Often website owners use the same meta description on multiple pages. They must remember that duplicate meta descriptions impact the page's search engine visibility directly. It is always advisable for website owners to create unique meta descriptions for each web page and optimize the meta description for search engines by embedding the focus keywords.
Here is a guide to meta description SEO best practices.
Make External Links Nofollow
While posting content using WordPress, the website owners can use both dofollow and nofollow external links. Unlike dofollow links, nofollow links are not considered by search engine crawlers while indexing web pages. Each external link in WordPress is dofollow by default. If the website owners do add nofollow tags to the external links, the SEO score or link juice will be transferred to the external website. The website owners can easily retain the link juice and improve the website's search engine ranking by adding nofollow attribute to each external link.
Focus on Creating Quality Backlinks
Despite frequent search engine algorithm changes, backlinks or incoming links remain an integral part of SEO. Major search engines still use backlinks as a key website ranking factor. However, they emphasize the quality of backlinks instead of the number of backlinks. While preparing an SEO strategy, website owners must focus on getting backlinks from authoritative websites. However, they must remember that the creation of quality backlinks is an ongoing and time-consuming process. They must not increase the number of backlinks using black hat SEO practices.
Identify and Define Focus Keywords
While writing content for the WordPress website, the website owners must target both search engines and website visitors. They must do elaborate keyword research to identify the relevant focus keyword for each web page or blog post. The focus keyword will help content writers to check keyword density and embed keywords naturally in the content. Website owners can easily optimize the content for search engines by including the focus keyword in the first paragraph of the blog post.
Have an Amazing Content Calendar
It's very important for website owners to have a content calendar. The content calendar can be prepared using your focus keywords, competitive research, current business trends, and many more. Here are some innovative ways to come up with interesting topics for blog posts for a great content calendar.
Focus on Content Quality Optimization
Google keeps updating its search algorithms to provide searchers with relevant and updated information. The search engine algorithm updates often penalize websites that are plagiarized and have low-quality content. Website owners cannot make their websites rank higher on SERPs without posting valuable and informative content. Also, they must keep the content engaging by embedding images, graphics, videos, podcasts, charts, and infographics. The high-quality content will make the WordPress website get more visitors and keep the visitors engaged.
Create and Publish Long Form Content
Major search engines recommend website owners promote their websites by posting long-form content on a regular basis. However a large percentage of websites still publish short-form content. While preparing an SEO strategy, website owners must focus on creating only long-form content. They need to ensure that the content length always exceeds 750 words. The word count of content will still vary according to the nature of the information. For instance, website owners cannot post news rapidly without creating short-form content.
Here is an interesting article on the ideal content length for your blog post.
Optimize Blog Posts for Search Engines
In addition to producing informative and valuable content, website owners must optimize the content for search engine optimization. They must choose the right keywords and embed the keywords in the content naturally. Also, they need to implement on-page SEO rules like adding titles, meta descriptions, and slugs to every web page. The options provided by WordPress help website owners implement on-page and off-page SEO rules while posting content.
Link Blog Posts Internally
The internal links connect a web page or blog post with other pages on the website. In addition to interlinking web pages and blog posts, internal links help Google understand the WordPress website's structure. They further improve search engine visibility of new blog posts by passing the credibility of existing blog posts. While creating content for the WordPress website, content writers must focus on linking the article or blog with existing website content instead of describing the same concept or writing the same information repeatedly. This is one of the easiest WordPress SEO tips that site owners conveniently neglect.
You can check out my take on internal linking SEO best practices here.
Use the Appropriate Heading Tags
While posting content, the website owners have the option to use heading tags ranging from H1 to H6. They must remember that the heading tags convey the web page's hierarchical structure to the search engines. They need to use the H1 heading tag to define and differentiate the title of the web page or blog. Likewise, they must use the H2 heading tag to define additional titles and the H3 heading tag to define sub-headings. The right heading tags will improve the website's search engine ranking and user engagement at a time.
Customize and Optimize the Images
While optimizing the content, the website owners must focus on customizing and optimizing the images. In addition to posting attractive images, they need to focus on improving their visibility on image search results. It is always important to add a relevant name and tag to each image at the time of uploading. The website owners can further optimize the image for search engines by customizing its title, description, alt text, and caption.
Here is your guide to image SEO best practices.
Emphasize Content Sharing
While implementing SEO strategies, website owners must focus on promoting the WordPress website content on popular social networking platforms. The options on each web page make it easier for the visitor to share the content on popular social networks like Facebook, Twitter, and LinkedIn. As the visitors share the content on various social networking platforms, the website will get more traffic. Also, social media sharing will increase the website's search engine ranking by improving its credibility.
Prevent Google from Blacklisting the Website
According to WebARXSecurity.com:
"Google quarantines around 10,000 suspicious websites every day and puts them on a "Google blacklist""
Google puts websites on its blacklist for a variety of reasons including malware and fishing. Once the website is put on the blacklist, the website traffic will drop suddenly. The website owners can easily prevent Google from blacklisting the website by enhancing security using specific plugins. Some of the security plugins prevent targeted security attacks, while others scan for malware continuously.
WordPress helps website owners to implement SEO strategies without deploying extra resources. But the website owners must remember that search engine guidelines and algorithms keep changing at regular intervals. In addition to implementing a customized SEO strategy, they must review the important WordPress SEO tips and tricks and update the SEO strategy from time to time to get more traffic from search engines regularly.
Do you have any important WordPress SEO tips and tricks to share? Your comments are most welcome.