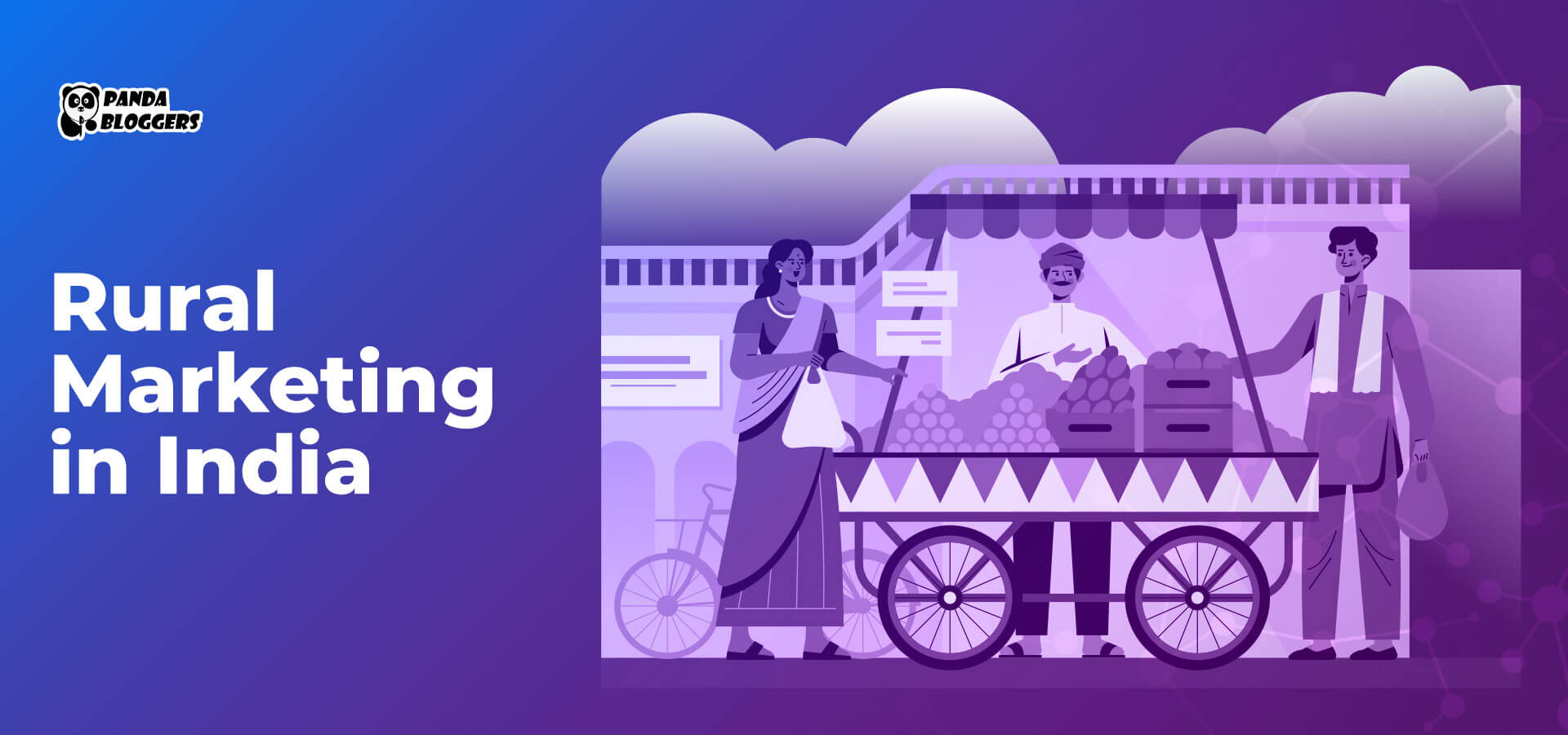 Rural Marketing in India
According to the World Bank Collection of Development Indicators, 64.13% of Indians live in rural areas. Likewise, a report published by the National Sample Survey Organization (NSSO) suggests a steady increase in demand for consumer goods/services and the average monthly per capita expenditure (MPCE) in rural areas.
The consistent growth of the rural market in India makes it essential for domestic and multinational companies to consider consumers living in rural areas while planning, distributing, promoting, and marketing a product or service. Many analysts believe that rural marketing in India is the next stop for aspiring and experienced marketers.
Their marketing strategies consider the functional and economical characteristics that differentiate rural consumers from urban consumers in India. At the same time, they keep in mind the distinct purchasing and consumption patterns of consumers living in villages. However, rural marketing strategies and tactics differ across organizations.
Rural Marketing Process in India
Digital communication and marketing channels create opportunities for enterprises to market and promote products in rural markets in several ways. Some companies in India run marketing campaigns that simultaneously target consumers living in urban and rural areas.
At the same time, some companies implement marketing strategies that focus extensively on consumers living in rural areas. That is why; the rural marketing process in India is multidimensional. We can understand the process by discussing various aspects of rural marketing transactions.
Urban to Rural
Many companies these days sell the same consumer durables and FMCG products in urban and rural markets. They engage urban marketers to generate demand for a product/service in rural areas. Urban marketers help employers generate revenue by promoting and selling the product across villages.
Rural to Urban
Many rural companies these days sell products to consumers living in urban areas. Some of them sell the products at lower rates to consumers directly or digitally. At the same time, some companies distribute and market the product through intermediaries like agencies and cooperative societies.
Rural to Rural
Many rural entrepreneurs generate revenue by selling products to consumers living in the same or neighboring villages. This form of rural marketing transactions usually involves agricultural products, cattle, livestock, and common tools.
Common Rural Marketing Strategies in India
Enterprises promote rural marketing in India using both digital and conventional communication channels. Hence, rural marketing strategies adopted by individual companies differ. Hence, marketers should understand and evaluate commonly used rural marketing strategies in India.
Retail Marketing
This strategy makes companies create awareness and generate demand using channels of distribution. Urban companies partner with stores in rural areas to promote their products or services. The retailers provide elaborate product information to consumers by displaying ads with textual and visual elements. Also, consumers can gather information and answer questions by interacting with the retailer directly.
Mobile Van Marketing
While implementing this strategy, companies promote products or services using mobile vans. Van marketing creates opportunities for them to market a product in several ways – displaying ads, distributing flyers, showing product demos, and giving product samples. Companies further attract and engage rural consumers by organizing contests.
Periodic Marketing
Many consumers living in rural areas still prefer local marketplaces like haats and mandees. Every village sets up an open marketplace once a week. The local marketplace creates opportunities for companies to showcase their products and create brand awareness. Many companies in India implement periodic marketing strategies to promote products ranging from consumer durables to automobiles.
Digital Marketing
Most consumers living in rural areas these days use online search engines and spend time on social media regularly. The growing popularity of digital channels helps enterprises connect with rural consumers by publishing and promoting a variety of digital content – blogs, social media posts, videos, and infographics. Many companies boost rural digital marketing campaigns by distributing multi-format content tailored for consumers living in rural areas.
Mobile Marketing
The Annual Survey for Education Report (ASER) suggests an exponential rise of rural families owning smartphones in India after the COVID-19 pandemic. The increased proliferation of smartphones helps companies promote products by sending text messages and voice messages to consumers living in rural areas. Also, they can build relationships and share additional information with consumers by running missed call campaigns.
Influencer Marketing
Rural entrepreneurs in India promote their products or services by partnering with various influencers. Leading companies promote their products digitally by partnering with content creators and YouTubers popular with rural people. Also, they work with local influencers to promote products or services in rural areas using local languages.
Approach to Make Rural Marketing Successful in India
In India, urban and rural marketers can influence consumers living in rural areas using several strategies. However, they must differentiate rural marketing strategies from urban marketing strategies by adopting a consumer-oriented model. Also, they can enter rural markets and run successful rural marketing campaigns by focusing on some important factors.
Availability
Many rural markets in India lack robust physical and distribution systems. In addition to promoting a product or service, companies must make the offering available in rural areas. Many companies ensure product availability by building strong distribution systems. However, enterprises have to address location-specific issues to deliver a product to rural areas seamlessly and continuously.
Affordability
The per capita income of consumers living in rural areas is lower than the per capita income of urban consumers. Companies must make their products affordable to rural consumers by adopting a differential pricing strategy. Leading consumer brands have already launched low-priced products for consumers living in rural areas. Likewise, some companies have launched special editions of electronic appliances targeting rural markets.
Awareness
No company can create and enhance brand awareness in rural markets using only digital communication channels. In addition to running multichannel digital marketing campaigns, enterprises must create product awareness by running television ads, distributing flyers, installing billboards, and using wall paintings. The combination of conventional and digital marketing strategies is essential to engage and influence rural consumers.
Acceptance
Companies often find it challenging to make rural consumers accept their products due to various misconceptions. For instance, some marketers believe that rural consumers are less quality-conscious than urban consumers. Likewise, some brands make limited and selected products available in rural markets. Digital communication and urbanization have bridged the gap between towns and villages in India. Marketers must eliminate such misconceptions and leverage market research data to enter rural markets successfully.
Conclusion
About 65% of consumers in India live in rural areas. They differ from consumers living in urban areas in purchasing and consumption patterns. Rural marketing in India creates opportunities for domestic and international companies to increase revenue by leveraging the steady increase in their average monthly per capita expenditure.
However, an enterprise can make rural marketing successful in India only by considering the socio-cultural differences across villages. In addition to using traditional and digital communication channels, they must address issues and solve problems by boosting the availability, affordability, awareness, and acceptance of a product or service.