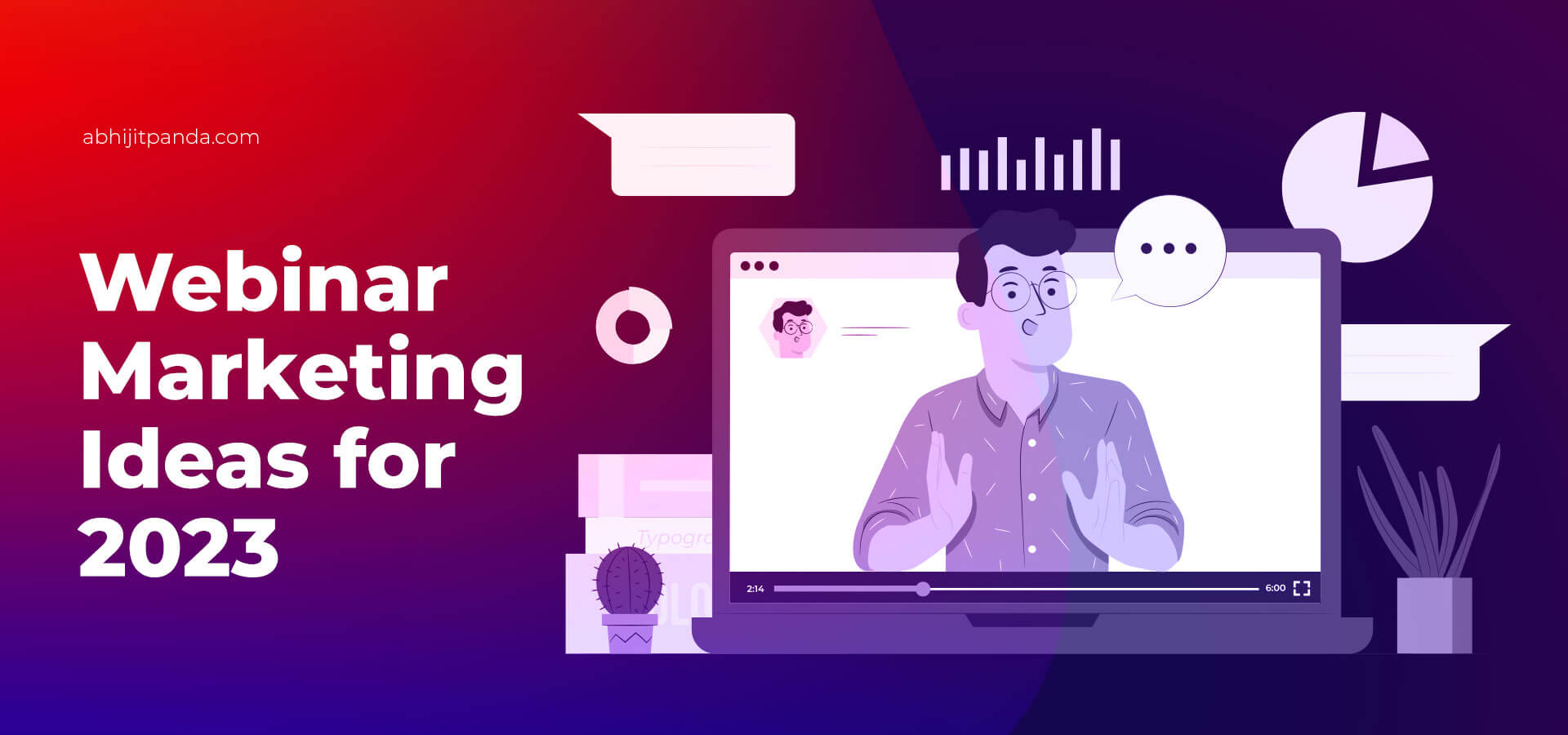 Webinar Marketing Ideas for 2023
Internet users spend more digital time on online videos than other forms of digital content.  A global survey conducted by Statista suggests that respondents watch an average of 17 hours of online video content per week in 2023.
The surge in online video consumption creates opportunities for marketers to boost digital marketing campaigns by publishing various forms of videos. Webinars or web seminars belong to that category of marketing videos that promote brands by educating and engaging the target audience.
The live interaction component of webinars helps brands build authority and create relationships. While making marketing strategies, you can achieve the desired marketing goals by hosting many types of webinars.
Why Should Your Business Leverage Webinars as Marketing Tool in 2023?
Many bloggers describe webinars as a conventional form of marketing videos. But 85% of marketers currently use webinars as a powerful marketing tool to generate high-quality leads and keep them engaged.
Also, 57% of marketers host more than 50 webinars every year for marketing and promotion purposes. Hence, your company or startup can achieve several marketing goals by hosting webinars regularly in 2023.
Brand Awareness           
Like other online videos, webinars help your brand reach out to a wider audience. Hence, more consumers will know about your brand. You can enhance brand awareness and beat the competition by hosting various forms of webinars regularly. Also, you can make the audience know your brand deeply by asking various questions.
Brand Credibility
In addition to creating brand awareness, webinars help your brand gain credibility and establish authority. Your brand's credibility will increase consistently when industry influencers and practitioners join the web conferences. Guests' reputations and networks will make many bloggers, media people, and digital platforms share your webinars.
Audience Engagement
Unlike other marketing videos, webinars create opportunities for your brand to foster real-time audience engagement. Once you embed the webinar in your blog or post it on social networks, consumers will post comments and ask questions. You can interact with existing and potential customers in real-time by responding to their comments and appreciating their feedback.
Lead Generation
You can create video content easily by recording webinars. You can distribute and promote the recorded webinars to get more organic traffic to the website from search engines and social media. The increase in website traffic will help you generate high-quality leads. Also, you can use webinars as a marketing tool to nurture and convert leads by building email marketing lists.
Content Repurposing
You can leverage many marketing benefits by hosting webinars. At the same time, you can boost various marketing campaigns by repurposing the webinar. For instance, you can boost search engine marketing campaigns by repurposing the webinar into articles and blogs. Likewise, you can repurpose the webinar into marketing and promotional videos.
What Types of Webinars Should Your Business Host in 2023?
While exploring webinar marketing ideas for 2023, you must focus on deciding the format and form of webinars. You should decide on the form of the webinar according to specific marketing goals. Likewise, you should choose a webinar format that keeps the target audience engaged.
Formats of Webinars
Webinar creates opportunities for you to present information and discuss topics in multiple ways. For instance, you can opt for the panel discussion format to make multiple industry experts discuss a specific topic and share their perspectives.
Likewise, you can make an industry expert share insightful and inside information related to specific topics and trends by choosing the question-and-answer interview style. At the same time, you can discuss a topic with an industry expert in a less formal way by choosing the chat show or talk show format.
Forms of Webinars
You can use multiple marketing goals by hosting webinars regularly and successfully. But you must not try to accomplish multiple marketing goals by hosting a single webinar. It is always important to decide the type or form of webinar according to specific marketing goals.
Product Webinars
This type of webinar allows you to demo new products as well as highlight new features added to an existing product. You can host product webinars to influence customers by showcasing the key features, major use cases, and prominent benefits of a product/service. The information delivered through these webinars helps your business influence potential customers and convert them into buyers.
Panel Webinars
Panel webinars create opportunities for you to boost audience engagement. While planning panel webinars, you have to focus on choosing the most relevant topic and discussing the topic with reputable industry experts/industry influencers/industry practitioners. The insightful discussions will enhance your brand's reputation and credibility.
Educational Webinars
Educational webinars help businesses highlight expertise and nurture leads. Instead of promoting a product or service, this form of webinar focuses on solving customers' problems and pain points. You can host educational webinars successfully only by identifying the existing and potential problems faced by customers and solving them by sharing expertise.
Q&A Webinars
Consumers these days ask a variety of questions about a product, service, or business while conducting pre-purchase research. You can increase sales conversions by answering the questions asked by existing and potential customers. Question-and-answer (QA) webinars help you engage and influence the target audience by getting their questions answered by industry experts and influencers.
Networking Webinars
Networking webinars create opportunities for you to form connections and foster relationships with the target audience. While hosting networking webinars, you should focus on discussing the latest changes, groundbreaking innovations, and recent developments in the industry.
Thought Leadership Webinars
This type of webinar helps entrepreneurs showcase their expertise or leadership in the industry. Entrepreneurs project themselves as thought leaders by discussing industry development and trends. You can host thought leadership webinars to connect with new audiences and generate high-quality leads.
How Can You Plan and Run Webinar Marketing Campaigns Successfully in 2023?
The outcome of webinar marketing campaigns depends on two major factors. Firstly, you have to make the online event a success by increasing the webinar attendance rate. Secondly, you have to promote the recorded webinar and follow up with the audience to achieve various marketing goals. Hence, you should adopt many ideas and best practices to make webinar marketing campaigns successful in 2023.
Webinar Topic
You cannot increase the webinar attendance rate without picking a topic that is exciting and captivating. While considering webinar topics, you should focus on the hottest trends or the latest developments in the industry. Also, you can use social media and search engines to find topics that your target audiences are interested in.
Webinar Structure
The right structure or outline will make the webinar successful by keeping the target audience engaged. You can boost audience engagement by dividing the webinar topics into multiple sections – introduction, presentation, and discussion. Each section will cover a specific aspect of the topic. However, you must explore ways to promote the relevant product or service before the webinar ends. Likewise, you should focus on converting attendees into leads and customers by giving special offers and discounts.
Webinar Length
It is always important to decide the length of a webinar according to its topic. But you should remember that 44% of attendees prefer webinars that run less than 45 minutes. Most brands set the webinar length between 45 minutes to 60 minutes. You should set the webinar length at 60 minutes while including adequate time for answering questions at the end of the live event.
Day and Time
Most brands find it convenient to host webinars during weekends. But several studies suggest that they can increase the webinar attendance rate to 52% by hosting the online event on Wednesday or Thursday. Likewise, brands can increase the webinar attendance rate by scheduling the web conference at 10 AM. Hence, you should focus on hosting the webinar at the right time and on the right day.
Right Webinar Platform
You can host online conferences effortlessly using many webinar platforms. Widely-used webinar platforms provide features required to facilitate session recording, audience collaboration, and data analytics. But you can focus on choosing webinar software that enables you to focus only on content and audience. It is always advisable to evaluate the platforms in real-time by requesting a demo and reading reviews posted by existing users.
Webinar Landing Page
You can make it easier for the target audience to sign up for the webinar by creating a dedicated landing page. But you must focus on keeping the visitors engaged by making the landing page stand out from the crowd. It is always important to keep the content compelling and the call-to-action direct. Also, you should optimize the landing page for search engines to increase more visitors. Hence, you should consider several landing page optimization strategies while creating the webinar landing page.
A Thank You Page
You must complement the webinar landing page with a thank you page. A visitor will be redirected to the thank you page after signing up for the webinar successfully. The page must appreciate her decision to sign up for the online event. But the page should increase the webinar attendance rate by requesting her to attend the online event with friends or coworkers. Also, you must request her the share information about the online event using the right call-to-action and showing your brand's social media details.
Confirmation and Reminder Emails
You need to ensure that a confirmation email is sent to every attendee as soon as she signs up for the webinar. The email must convey the date and time of the virtual conference clearly. However, you must ensure that a person attends your webinar after signing up for the online event by sending reminder emails.
Owned Channel Marketing
This marketing strategy focuses on promoting the webinar using your own digital assets. For instance, you can promote the webinar by showing information on the home page of your website. Likewise, you can use the pin option to display the webinar at the top of your social media profile or page.
Earned Channel Marketing
Earned channels create opportunities for you to get free publicity for a webinar or online event. You can promote an upcoming webinar through earned channels by distributing press releases, creating alerts for the event, or mentioning the webinars in podcasts and webcasts.
Paid Event Marketing
This approach requires you to promote the webinar by investing in paid advertisement options provided by search engines and social media. However, you can promote the webinar conventionally by publishing ads in various industry publications.
Post-Event Marketing
You can achieve several marketing goals by converting the webinar into promotional videos. After hosting the event, you should allow the interested audience to access and watch your webinar on demand. Also, you can post the sections of the webinar that were edited to reduce length. The post-event marketing is essential to keep the webinar relevant after the live event.
Follow-up Emails
You must thank the audience after sending follow-up emails after the webinar. In addition to appreciating them for attending the online event, your emails should remind them to leverage the special offer or discount included in the webinar. You can use follow-up emails as a marketing tool to generate leads and drive sales.
Limited-Time Replay
Many people will not attend your webinar after signing up. You can impress such an audience by allowing them to re-watch the webinar for a limited period. You can share the replay link with the audience who can watch the recorded webinar within 48 to 72 hours. The option will help you make more people watch the webinar.
Webinar Series
Leading brands these days get higher returns by planning webinar series. They leverage the success of individual webinars to keep the audience engaged by hosting more seminars. You can host a series of webinars by choosing interrelated topics or various industry trends. The webinar series will help you showcase your brand as an industry leader.
Conclusion
In 2023, your business can use webinars as a tried-and-trusted marketing strategy to achieve multiple marketing goals – create brand awareness, generate high-quality leads, and increase conversion rates. But you cannot accomplish predefined marketing goals only by hosting more webinars.
Your content marketing strategy must focus on hosting the right webinar at the right time and in the right way. It is always advisable to host different types of webinars according to specific marketing goals. Also, you get better results by hosting webinars at regular intervals.
But you must look for innovative webinar marketing ideas in 2023 to reach a wider audience. At the same time, you must understand what is working and what is not by measuring the performance of each webinar using the appropriate metrics and KPIs.
This Blog has been reposted in May 2023 from this blog.