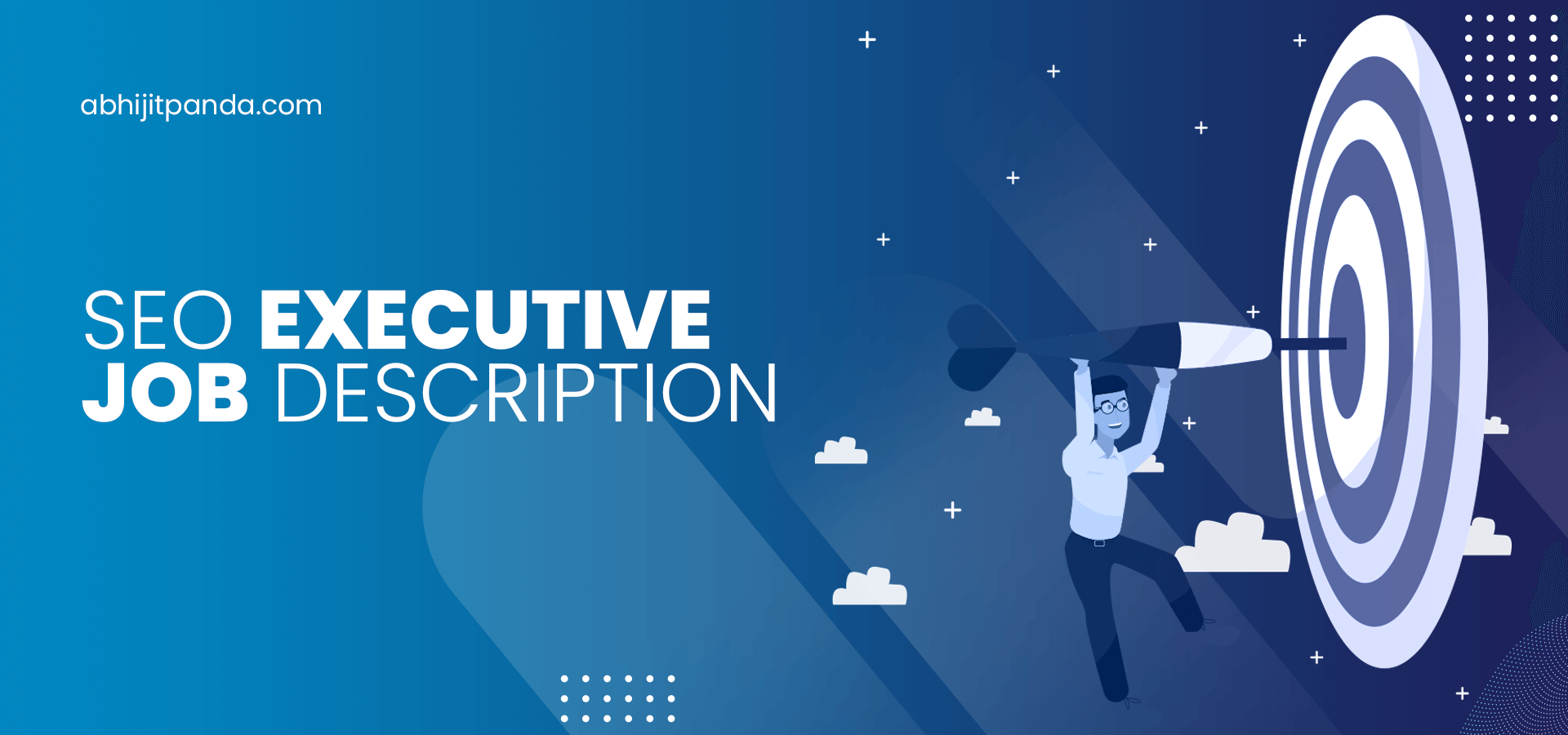 SEO Executive Job Description
I was recently hiring SEO executives for my team, and I had created the SEO executive job description so I thought I should share the same with my readers.
Search engine optimization (SEO) is one of the digital marketing strategies that show results after several months. But businesses of various types and sizes invest in SEO to achieve a slew of marketing objectives – increase website traffic, generate leads, create brand awareness, and increase customer conversion rates.
But no company or startup can get higher ROI without managing various SEO activities. Many organizations these days manage their SEO activities efficiently by deploying dedicated SEO executives or SEO specialists. In addition to making and implementing SEO strategies, SEO executives increase website traffic consistently by monitoring and improving the performance of SEO campaigns.
According to Glassdoor,
"SEO specialists are marketing professionals who use research and analysis to improve a website's ranking on search engines like Google. They find the most popular and relevant keywords used in search engine queries and insert them into websites, helping search engines find those sites and display them to web users. SEO specialists can work in digital marketing agencies or at in-house marketing departments."
These professionals acquire SEO skills by joining online courses or certification programs. Also, they hone their research, analytical, and communication skills by working in companies and startups. We can understand SEO executive job descriptions based on some of their core responsibilities. But we should not forget that the responsibilities of SEO executives vary across organizations.
SEO Executive Job Description: Key Roles and Responsibilities
Improving a Website's UI and UX
A website's user interface (UI) and user experience (UI) impact its search engine visibility directly. SEO executives measure the performance of a website using a variety of parameters – site speed, multi-device accessibility, security, content quality, and crawlability. Successful SEO specialists optimize a website's UI and UX using a slew of technical SEO methods. Also, they collaborate with web developers to implement search engine recommendations.
Making SEO Strategies
Implementation of SEO strategy is a critical element of the SEO executive job description. While making SEO strategies for a specific website, they combine three levels of search engine optimization – technical, on-page, and off-page.
As noted earlier, SEO executives improve a website's UI and UX using technical SEO methods. Also, they use on-page SEO techniques to optimize important elements of website content like keywords, HTML title tags, meta tags, and internal links.
At the same time, SEO specialists boost a web page's relevance, authority, and trustworthiness using off-page SEO techniques like high-quality link building, guest blogging, local listing, social media marketing, and forum posting.
Driving SEO Automation
The SEO tools create opportunities for users to improve a website's search performance without putting in extra time and effort. In addition to automating recurring SEO activities, the widely-used SEO tools help users track and measure SEO performance regularly. SEO executives drive SEO automation by choosing the right SEO tools. They have to compare the SEO tools using a slew of parameters, including features. At the same time, they control digital marketing costs by leveraging free SEO tools.
Conducting SEO Audit
Most businesses these days post fresh digital content and update their website frequently. Some of these changes impact the website's search visibility and organic traffic directly. SEO executives identify and fix the issues affecting a website's search performance by conducting SEO audits regularly. They further speed up the audits and produce accurate results using SEO audit tools. In addition to identifying issues affecting search visibility, some of these tools help SEO executives analyze competitors.
Optimizing Fresh and Existing Content
Creation, publication, and promotion of multi-format digital content are the most important aspects of SEO strategies. SEO executives do not create content for various digital marketing campaigns. But they have to optimize landing pages, ad copies, articles, and blogs for search engines by collaborating with the content creators and editors. Also, they perform content audits regularly to identify the content to be updated, removed, or consolidated to make the website rank higher on search engine results pages (SERP).
Tracking and Measuring SEO Performance
The performance of SEO campaigns is impacted by a variety of factors, including search engine algorithm changes. SEO executives can increase the number of website visitors only by identifying and fixing issues impacting SEO performance proactively. That is why; they need to track important SEO metrics like keyword ranking, domain authority, organic traffic, organic conversions, exit time, click-through rate (CTR), and exit rate regularly. Many SEO executives measure the website's organic performance using SEO analytics.
Identifying and Adopting Emerging SEO Trends
Search algorithm changes create new SEO trends and make SEO techniques obsolete. For instance, Google created new SEO trends by using website speed as a ranking factor. Likewise, the search engines created new SEO trends by measuring a website's overall user experience using Core Web Vitals. SEO executives have to understand the latest search algorithm updates and adopt emerging SEO trends proactively to increase website traffic consistently.
Managing Campaign Expenses
Many companies consider SEO as an investment. They measure the return on investment (ROI) by setting SEO budgets and tracking SEO expenses. While working in such companies, SEO executives manage SEO expenses and try to stay on budget. Hence, SEO expense tracking and management have become one of important aspects of the SEO executive job description. SEO executives stick to preset budgets using cost management techniques and reconciling discrepancies.
Collaborating with Digital Marketers
Most businesses these days generate, nurture, and convert leads using multiple communication and marketing channels. They generate and convert more leads by complementing organic digital marketing strategies with social media marketing, paid advertisement, and ad targeting. Hence, SEO executives often work as a member of the digital marketing team. They collaborate with other digital marketers to streamline content creation, optimization, and distribution.
Conclusion
These roles and responsibilities summarize the overall SEO executive job description. But SEO techniques and tools have been evolving consistently. Each search engine algorithm update makes businesses' revamp SEO strategies and developers update their SEO tools. That is why; new responsibilities are added to the SEO specialist job description regularly. Hence, SEO executive job description. Also, the new responsibilities keep changing the job description of SEO specialists from time to time.