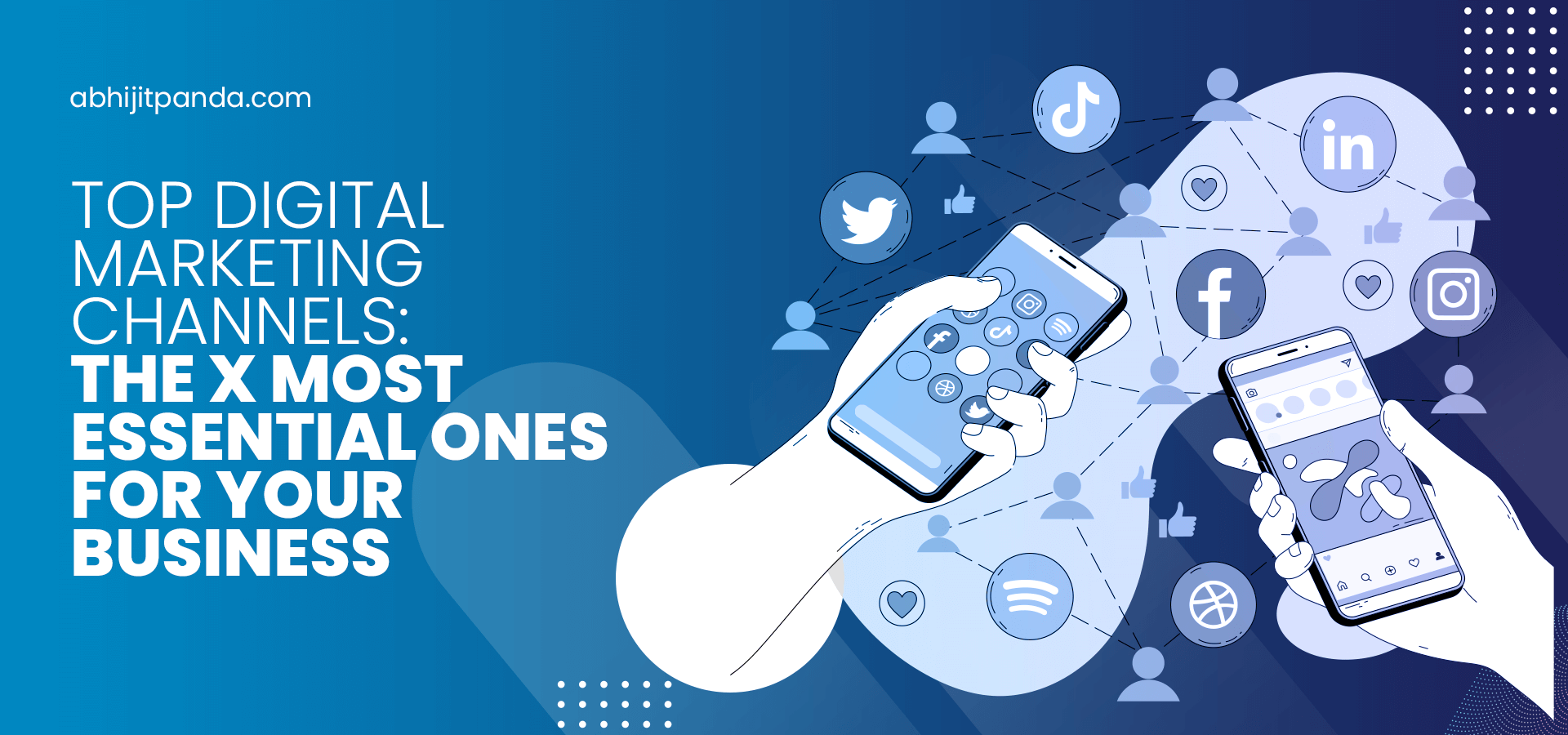 Top Digital Marketing Channels: The 9 Most Essential Ones for your Business
In the post-pandemic world, the average daily time spent by people on digital media is all set to increase to just under eight hours. The steady increase in the average digital media time and online media consumption creates opportunities for your business by running marketing campaigns using digital technologies and through digital marketing channels.
Your business can spread information about products/services more effectively only by interacting with existing and potential customers through multiple channels. It should run multi-channel marketing campaigns to generate more leads, increase sales conversions, promote customer loyalty, and create brand awareness.
According to Search Customer Experience,

"Multi-channel marketing is based on the fact that customers have more choices than ever in terms of getting information on products. The spread of available channels, including the growth of email, social media, and mobile, has caused marketing departments to increase their presence on these channels in order to develop their customer relationship management (CRM) efforts."
While comparing the top digital marketing channels, you must remember that each category of the website receives most of the traffic from specific sources. For instance, some of the top websites get more traffic from search engines than social media. That is why; you should consider and target some of the most popular digital marketing channels while planning multichannel marketing campaigns.
9 Digital Marketing Channels You Must Focus on Increase ROI
1. Website
In addition to providing an online presence for your business, the website creates opportunities for you to run content marketing campaigns. The content marketing campaigns will help your business generate, nurture, and convert leads by increasing organic traffic. But your content marketing strategy can increase organic traffic only through publication, distribution, and promotion of a variety of digital content – articles, videos, infographics, and videos.
2. Mobile App
According to BBC,

"People devote one-third of waking time to mobile apps."
The increase in the digital time spent on mobile apps makes mobile apps one of the key digital marketing channels. Your business can easily meet customer expectations and boost customer experience by launching a mobile app. At the same time, you can leverage the data collected using the app to run mobile marketing campaigns successfully. But you can leverage this new-age marketing channel only when your app delivers an engaging and positive user experience.
3. Organic Search
A large percentage of modern consumers use search engines to know and compare products/services before buying online. Your business must leverage search engines as a powerful digital marketing channel to divert regular traffic to the website. You can run search engine optimization (SEO) strategies to generate and influence leads without escalating marketing costs. However, you can boost your website's search performance only by implementing on-page and off-page SEO techniques. Also, you have to revamp your SEO strategy proactively to beat search engine algorithm changes.
4. Paid Search
The paid advertisement options provided by major search engines like Google and Bing help your business to acquire and convert leads regularly by incurring additional expenses. The pay-per-click (PPC) advertisements require you to pay only when a searcher clicks on the ads. Search engines display paid ads above the organic search results. Hence, you can run PPC ad campaigns to create brand awareness as well as drive lead generation and conversion.
5. Social Media
According to Statista,

"As of 2022, the average daily social media usage of internet users worldwide amounted to 147 minutes per day, up from 145 minutes in the previous year."
Your business can use popular social networking platforms to build and sustain relationships with both existing and potential customers. You can run organic social media marketing campaigns by posting content according to buyer personas. Also, you can reach the target audience by investing in paid social media ads. But your social media marketing strategy must focus on building rapport with followers and keeping them engaged.
6. Video-Sharing Platforms
According to Techjury.net,

"Video is the number 1 source of information for 66% of people."
Both social networks and video-sharing platforms create opportunities for your business to share information with customers by posting videos. While planning video marketing campaigns, you can share information by uploading both educational and promotional videos. But you must create the videos according to the expectations of your target audience and optimize the content to get more views, likes, and shares.
7. Email
According to Constant Contact,

"Email marketing has a return on investment (ROI) of $36 for every $1 spent."
Your business can send emails to drive lead generation, lead nurturing, and conversion activities. But you can leverage emails as one of the powerful digital marketing channels only by adopting two hottest trends – automation and personalization. You must use a specialized software solution to send the right emails to a recipient at the right time automatically. Likewise, you must personalize the email to seduce the recipient to read your message.
8. Display Ads
You can design display ads to deliver advertising messages to the target audience using images, videos, and audio. The display ads will appear as banners on websites, social networks, email platforms, and other digital marketing channels. Many businesses these days run display ads as a cost-efficient alternative to PPC ads. But you can create brand awareness and boost sales conversion only when the display ads complement the hosting platform's audience base perfectly. Also, you must use ad retargeting techniques to track the people who landed on your website by clicking on the display ads.
9. Affiliate Marketing
Several categories of websites these days get most of their traffic through referrals. You can increase your website traffic consistently through referrals by partnering with influencers and affiliate marketers. Affiliate marketers help your business generate leads as well as influence their purchase decisions. They recommend your product/service through websites, blogs, newsletters, and social networks. But you can leverage this digital marketing channel only by partnering with the right influencer or affiliate marketers. It is also advisable to partner with multiple affiliate marketers.
Your business can drive lead generation, nurturing, and conversion activities only by running multi-channel marketing campaigns. But you must focus on choosing and combining the right digital marketing channels using a slew of metrics – website category, target audience, marketing goals, advertising budget, and competition. Also, you must measure the performance of marketing campaigns across channels using the right metrics and tools.