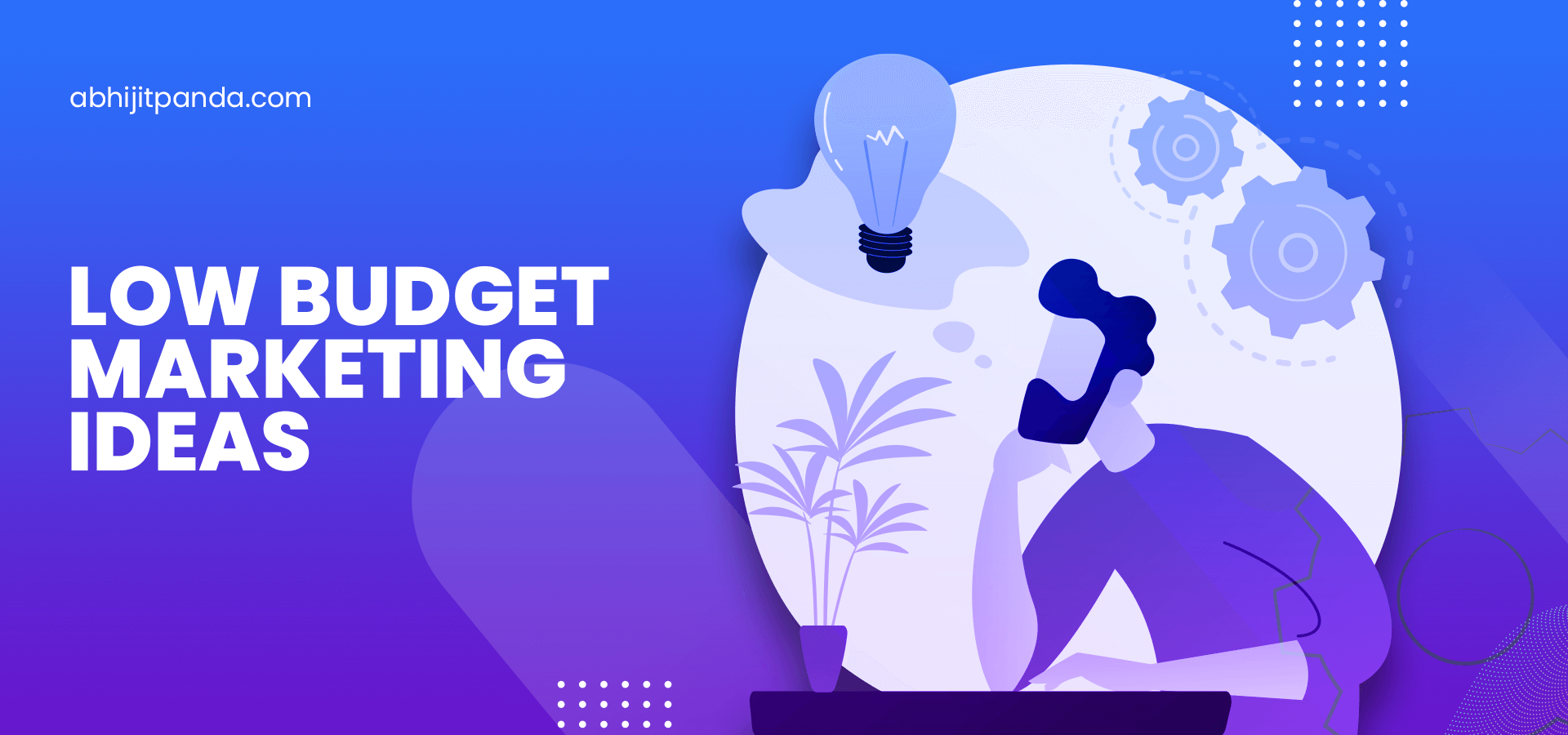 Low-Budget Marketing Ideas
Companies have been increasing their marketing budget consistently after the COVID-19 pandemic. According to a survey conducted by Gartner, "Marketing budgets have climbed to 9.5% of total company revenue in 2022, an increase from 6.4% in 2021." However, the percentage of revenue spent on marketing and advertising will vary across enterprises and industries.
Small businesses and startups will spend a lower percentage of revenue on marketing than large and established companies. Also, enterprises of varying types and sizes will focus extensively on controlling and curtailing marketing costs to maximize profits. Your business can control overall marketing costs in a variety of ways.
For instance, your business can curtail lead generation and sales conversion costs by 62% after switching from traditional or outbound marketing to inbound marketing. Likewise, you can control ongoing marketing expenses by implementing a slew of low-budget marketing ideas. These ideas help small businesses and startups to generate and convert leads regularly despite the lack of substantial marketing budgets.
You can implement some of these low-budget marketing strategies without incurring marketing expenses. At the same time, some of these ideas will require you to invest in time and effort as well as a small number of resources. However, you must keep in mind the target audience of your brand while comparing and implementing each of these low-budget marketing ideas.
14 Low-Budget Marketing Ideas to Generate Leads and Sales Consistently
1. Use Free SEO Tools
Organic search accounts for 52.3% of all website traffic. You can generate leads and sales consistently by implementing on-page and off-page SEO techniques. However, your business cannot hire an SEO agency without escalating marketing costs.
There are many free SEO tools that help you increase your website's search visibility and organic traffic in a cost-efficient way. These tools come with features to simplify common SEO tasks like website audits, keyword research, content creation, and campaign performance analysis.
2. Leverage Blogging as a Marketing Tool
Small businesses and startups these days leverage bogging as a powerful marketing tool to outperform large enterprises. You can start a blog to achieve multiple marketing goals – improve online presence, promote products/services, create brand awareness, and promote customer loyalty.
The blogs also create opportunities for you to showcase your expertise and become an industry leader in the long run. However, you can implement the low-budget marketing idea successfully only by publishing blog posts regularly, creating blogs that your customers are searching for, and promoting the content on search engines and social networks.
3. Stand out from Competitors on Social Media
Social networking platforms help you promote your brand by providing a slew of free options – profiles, pages, posts, and hashtags. But you can generate more leads and sales only by promoting your brand on the social networking platforms that are popular with your targeted customers.
Also, your social media promotion strategy must focus on engaging and influencing the users by posting a variety of digital content, telling brand stories, organizing polls, collecting customer feedback, and using hashtags. However, you must not forget to explore ways to do something outstanding on social media that will make your content grow viral. 
4. Repurpose Existing Content
Most inbound marketing strategies these days focus on the creation and publication of post content. Your business cannot create fresh content in multiple formats without increasing marketing costs. But you can publish multi-format content regularly by repurposing your existing content.
For instance, you can convert an article or blog post published by your brand into a video or podcast without escalating costs. You can use many free software tools to create videos and podcasts in minutes using an article or blog as the source. The repurposed content will help you engage, entertain, and influence customers.
5. Look for Guest Posting Opportunities
You can publish content on the websites of reputable organizations by leveraging the guest blogging opportunities provided by you. The popularity of the website will make your content read by a wider audience.
Hence, you can create brand awareness, increase website traffic, and showcase your expertise simultaneously by publishing guest posts regularly. However, your strategy must focus on getting guest blogs published on niche and industry websites.
6. Focus on User-Generated Content Creation
While conducting pre-purchase research, consumers these days prefer user-generated content to brand-generated content. They access a variety of user-generated content – comments, reviews, videos, and images – created by people already using the product or service.
You can leverage user-generated content as a cost-efficient marketing idea to promote your brand on social networks and online forums. You can create user-promoting content without increasing the marketing budget in a number of ways – conducting customer surveys, organizing contests, requesting customers to review products, and creating customer stories.
7. Increase Online Presence through Business Listing
As a powerful marketing tool, business listings make it easier for customers to access essential information about your business. You can get your business listed on specific websites to create a public profile or online entry. The public profile will convey vital information about your business, including name, address, and contact details.
In addition to increasing your business's online presence, business listings help you generate organic website traffic. But you can get your business listed free of cost on many popular websites – Google My Places, Yelp, Bing Places, and Foursquare. But you must focus on choosing the right websites and optimizing the business listing for search engines.
8. Leverage Free Trial Marketing
Leading Software as a Service (SaaS) companies acquire customers and beat the competition by implementing free trials as an effective marketing strategy. You can promote your product/service by allowing potential customers to use and evaluate it free of cost.
But you can leverage free trials as one of the low-budget marketing ideas only by following simple best practices like keeping the trial period short, not asking for credit card details, personalizing customer communications, and incentivizing users to subscribe.
9. Participate in Online Group Discussions
Many customers these days gather information about a product or service by joining online group discussions. In addition to asking questions, they read the questions asked by other customers. You can easily influence customers and promote your brands by getting involved in online discussions actively.
However, you can generate leads and sales only by staying active on social networks like Facebook and LinkedIn as well as popular websites like Quora, Reddit, and Tumblr. Most of these online platforms create opportunities for you to post relevant content as well as answer questions asked by prospective customers.
10. Attend Industry and Networking Events
Conferences, seminars, webinars, and similar industry events create opportunities for entrepreneurs to expand networks and build relationships. You should attend industry and networking events regularly to network with businesspeople, create B2B contacts, and find new marketing opportunities.
The events will help you find low-budget marketing ideas by interacting with like-minded professionals and entrepreneurs. You can easily gather information about the upcoming industry and networking events using a slew of websites and mobile apps.
11. Optimize Email Signatures
It is one of the low-budget marketing ideas you can implement in minutes. As the name suggests, the simple marketing strategy requires you to customize your email signature by including links to your website, social media profiles, and landing pages.
Many small businesses already customize their email signature to increase leads, social reach, and email responses. You can make the email signature more impactful by including a non-obtrusive marketing message and a powerful call to action. Likewise, you must consider customizing the email signatures of your employees.
12. Adopt Guerrilla Marketing Tactics
Small and local businesses these days adopt guerilla marketing tactics to promote products or services unconventionally despite a lack of marketing budgets. You have the option to surprise, attract, and influence potential customers using a variety of guerilla marketing tactics.
For instance, you can promote your product/services by posting stickers conveying marketing messages strategically and creatively. Likewise, you can promote your product or service by posting videos that convey marketing messages in a funny and entertaining way.
13. Switch to Relationship Marketing  
While planning inbound marketing campaigns, enterprises focus extensively on cultivating meaningful relationships with customers in the long run. These long-term customer relationships help enterprises boost revenue and profits consistently by promoting customer loyalty.
Your business can build and sustain meaningful relationships with customers in a number of ways. For instance, you can cultivate customer relationships using low-budget relationship marketing strategies like outstanding post-sales support, multichannel customer communication, and customer referral programs.
14. Reduce Overheads through Automation
The marketing automation statistics compiled by Oracle suggest that marketing automation reduces marketing overheads by 12.2% and increases sales productivity by 14.5%. In addition to reducing marketing overheads, automation helps entrepreneurs focus on improving operational efficiency and customer satisfaction.
You can curtail upfront and ongoing overheads by investing in one of the free marketing tools. Likewise, you have the option to choose from several small business marketing automation tools. However, it is important to increase conversion rate and customer engagement by implementing marketing automation accurately.
Conclusion
Your business can reduce marketing costs significantly by switching from outbound marketing to inbound marketing. However, you must implement a slew of low-budget marketing ideas to generate leads and sales without spending a higher percentage of revenue on marketing and advertisement. However, your marketing strategies must keep in mind the target audience for your brand while implementing these inexpensive marketing ideas.