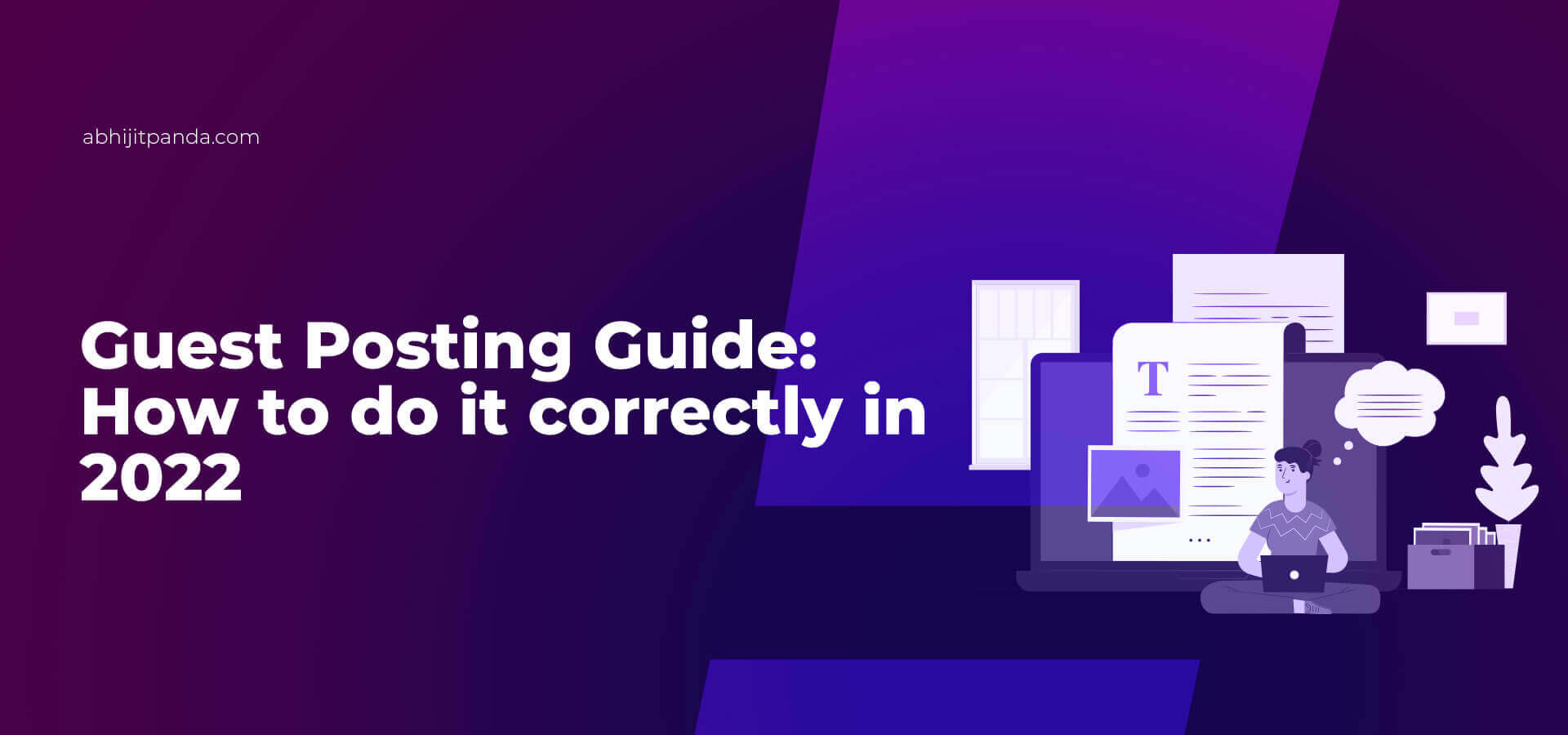 Guest Posting Guide: How to do it correctly in 2023?
In addition to posting fresh content on your own website, your digital marketing strategies must explore guest posting opportunities in 2023. You can leverage guest posting or guest blogging to write for many popular and reputable websites. Also, you can publish valuable and insightful content on external websites and blogs to accomplish a slew of digital marketing goals –establish online authority, expand the professional network, generate high-quality backlinks, increase referral website traffic, and boost lead generation activities.
But you must remember that most bloggers and content writers find guest blogging to be not easy or very difficult.

According to LucaTagliaferro.com, "33% of the experts found guest writing to be not easy. 5.6% found it very difficult. 16.7% found it very easy."
Also, guest posting, unlike other digital marketing strategies, does not deliver any short-term return on investment (ROI). You can get long-term ROI only by publishing guest posts regularly and following an elaborate guest posting guide.
While preparing the guest posting guide, you must focus on two important factors, best practices to adopt and mistakes to avoid. Also, you need to ensure that the guest posting guide does not violate any search engine guidelines using online white hat SEO techniques. You can take advantage of guest blogging as a powerful inbound marketing strategy only by adopting the hottest trends in blogging and guest posting. That is why; it becomes essential to focus on a slew of factors to do guest blogging correctly and effectively in 2023.
Search Engine Guidelines to Remember While Preparing a Guest Posting Guide in 2023
In 2017, Google highlighted a significant increase in the number of articles that contained spammy links and referred to guest posts, contributor posts, or partner posts. Google does not discourage content writers to publish content on external or third-party websites. But it requires content writers to write and publish guest posts only to educate/inform the publishing site's audience or create awareness about their business/cause.
While preparing a guest posting guide, you must comply with some of the guidelines imposed by Google explicitly.
Don't publish a single piece of content on multiple websites.
Don't stuff keyword-rich links to your own website in the content
Ensure that the content is written by a writer with adequate knowledge and expertise
Don't post the same or similar content on your website and external websites
Google has already penalized many websites accepting and publishing guest posts and guest blogs manually by disabling the value of outbound backlinks from them. Also, the search engine warns and informs website owners about the penalty explicitly by sending emails. That is why; you can leverage the SEO benefits of guest posting in the long run only by complying with the latest search engine guidelines. At the same time, it is always important to avoid websites that do not disclose paid guest blogging options clearly and convey guest posting rules unambiguously.
Best Practices to Adopt While Preparing a Guest Posting Guide in 2023
Define Your Guest Blogging Goals Clearly
As mentioned earlier, you can leverage a slew of long-term benefits by writing and publishing guest posts regularly. For instance, you can use guest blogging as a digital marketing strategy to generate inbound links, create brand awareness, showcase your expertise, increase referral website traffic, or generate more leads. But you get a higher ROI only when the guest posting strategy is perfectly aligned with your guest posting goals. While preparing a guest posting guide, you must identify and define your goals clearly.
Find Websites that Publish Guest Posts
Many entrepreneurs and bloggers these days allow content writers to guest post or guest blogs for their websites. But you can accomplish the predefined goals only by finding the right website. Google advises you to write content that informs and educates the people visiting the publisher. You can write relevant content only by choosing a website related to your industry and complementing your niche. For instance, if you have expertise in generating leads using podcasts, you must find and shortlist websites that help you to showcase your expertise to drive lead generation and conversion as a seasoned podcaster.
Evaluate Shortlisted Websites' Reputation and Credibility
Bloggers and content writers always find it easier to publish guest posts by leveraging paid options. You can increase ROI only when your content is published on popular and reputable websites. You must use domain authority (DA) as a key parameter while comparing websites shortlisted by you. It is always advisable to look for guest posting options provided by websites with higher and stronger DA. At the same time, you also need to the website's traffic size and source. It is always advisable to avoid all websites that emphasize improving the quality of content instead of increasing the number of guest posts.
Know the Website and Build a Relationship
Most websites with higher DA do not publish content written by strangers. They work with known writers to get and publish high-quality content. You can convince a webmaster to post your content only when you understand the nature and requirements of the website clearly. In addition to reading the guest posting guidelines, you must spend time understanding what type of content they publish and promote. When you follow a website regularly over a few weeks, you can easily create content that caters to the website and its audience.
Pick and Pitch a Winning Topic
You can convince a webmaster to post your content only by choosing the perfect content. While comparing content ideas, you must use two important parameters – if the topic is relevant for the targeted website and if the website does not publish content on the topic. Also, you must keep in mind the guest posting rules posted on the website related to guest post writing and pitching. Your guest posting guide must focus on pitching the winning topic to every website instead of pitching the same topic to multiple websites.
Make Your Guest Posting Pitch Stand Out
The leading websites allow guest bloggers to pitch their content ideas and topics using online forms. You can use the online forms to save the time and effort required to create and finetune guest-posting pitches. However, there are many websites that evaluate content ideas based on guest posting pitches sent by the content writer. They evaluate the relevance of your topic for their audience based on the pitch sent by you.
You must remember that such websites receive a large number of guest posting pitches regularly. You can make the webmaster read and consider your guest posting pitch only when it stands out from the crowd. Also, you can effectuate the pitch by following simple best practices like personalizing the email, including the guest post topic in the email subject, and keeping your pitch short, simple, and clear.
Write Content That Delivers Serious Value
Google advises publishers to accept guest posts that inform and educate the audience while being written by knowledgeable content writers. You can easily make the content offer serious value by opting for a longer form of content. There are multiple viewpoints on the ideal length of content. Many guest bloggers these days write guest blogs with a minimum word count of 1200 to 1500. You can make the guest post depict your knowledge and expertise by conducting elaborate research before writing the blog. At the same time, you can make the content more authoritative by quoting several experts and industry leaders.
Focus on Creating Evergreen Content
Often content writers find it easier to write guest posts on trending and newsworthy topics. But you must remember that guest posting is one of the long-lasting digital marketing strategies. You can get higher ROI in the long run only when the content remains relevant. That is why; your guest posting guide must focus extensively on the creation of evergreen content. You can keep the content relevant for a longer period by considering emerging industry trends and cutting-edge technologies. However, you should combine trending and newsworthy topics while writing multiple guest posts for a single website.
Link the Content to Your Published Guest Posts
The published guest posts will contribute towards enhancing your professional reputation and online authority. You can make the guest posts more effective in boosting your online authority by including external links to reputable websites that publish content written by domain experts and industry leaders. Most publishers allow guest bloggers to link fresh content only to articles and blogs posted on their websites. You must explore ways to connect the new guest post to other guest posts written by you and published on the same website.
Make the Post Compelling and Scannable
You cannot achieve desired guest posting goals simply by getting content posted on other websites. In addition to focusing on the quality of the content, you must focus on keeping the publishing website's audience interested and engaged. You can make the content both compelling and engaging by including relevant images in the guest post.
You should help the publisher to find relevant images by giving suggestions. Also, you must keep the guest post scannable using headings, subheadings, lists, capitalization, and bold text. The formatting will make it easier for readers to scan your guest post and help the publisher to save both time and effort. You must explore ways to keep readers engaged while reviewing and proofreading the content.
Apply Whitehat SEO Techniques
While making a guest posting guide, you must keep in mind the latest search engine guidelines. However, you must not forget to optimize the content for search engines using a slew of white hat SEO techniques.
Include one or two targeted keywords in a single guest post
Include the targeted keyword in the blog title and headings
Embed the keywords naturally throughout the blog post
Focus on keeping the content error-free, readable and scannable
Write original and well-researched content for the target audience
Explore ways to build internal and external links
Don't post content on low-quality and suspicious websites
Avoid paid guest posting opportunities
Finetune and Optimize the Author Bio
Most publishers allow writers to include a single link to their website in the content. You can leverage the option to link the guest post to your website or social media profile. But publishers often allow writers to include multiple links in the author bio. Hence, you can finetune the author's bio to create opportunities for both link-building and lead generation. Also, you need to ensure that each link included in the author bio passes authority to your website by being a dofollow link.
Track and Boost the Performance of Every Guest Post
Like other digital marketing strategies, your guest posting strategies must be reviewed and finetuned regularly. You can evaluate the effectiveness of your guest blogging strategy only by tracking the performance of individual guest posts. Google Analytics helps you to track and measure the performance of published guest posts using a variety of metrics, including referral traffic. At the same time, it is also important to boost the performance of guest posts by sharing them on social networks and sharing the link in email newsletters.
Maintain Good Relationships with Publishers
The SEO value of backlinks deteriorates gradually as you post multiple guest posts on a single website. That is why; digital marketers and content writers often ignore the significance of sustaining relationships with publishers accepting guest posts. They start looking for new publishers once content is published on a particular website. But your guest posting guide must focus on maintaining good relationships with publishers to influence and impress their audience. The influence will help you to create brand awareness and enhance brand value in the long run.
You can get long-term ROI by leveraging guest posting or guest blogging as an inbound digital marketing strategy or whitehat SEO technique. But you must remember that the search engine guidelines related to guest posting and guest blogging change from time to time. Likewise, the trends in guest blogging also change at frequent intervals. Hence, you must keep the guest posting guide flexible and dynamic to include new best practices and finetune existing strategies proactively.