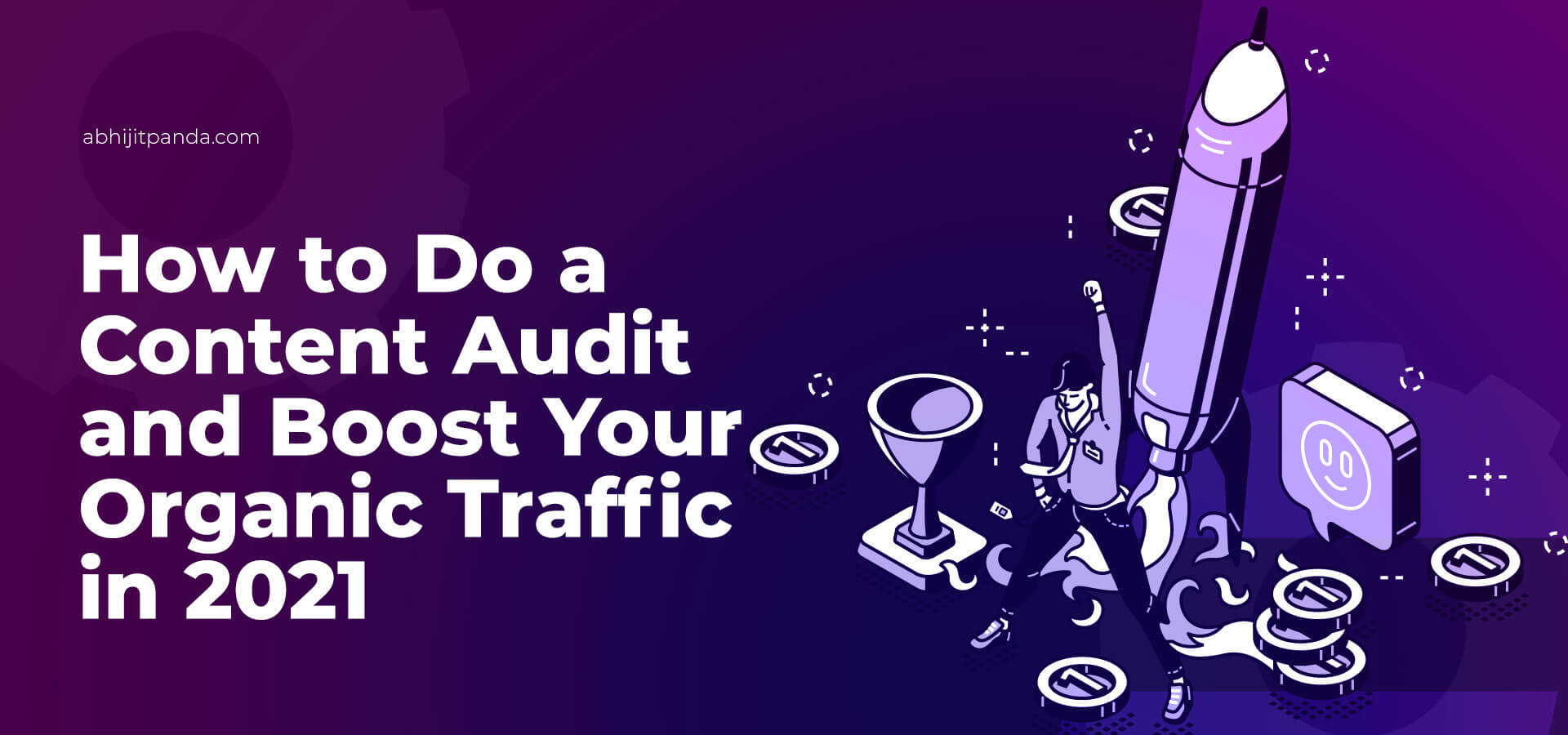 How to Do a Content Audit and Boost Your Organic Traffic
Popular search engines update their search algorithms frequently. Each search algorithm update aims to provide more relevant and updated information to the searchers. Hence, you can get organic traffic to your website by focusing on keeping its content relevant and up-to-date. In addition to posting fresh and well-researched content regularly, you must focus on boosting the performance of the existing content on search engine result pages (SERPs).
As a white-hat search engine optimization (SEO) technique, a content audit helps you to assess and analyze the performance of the existing content on your website. The content audit result will help you to identify the content that needs to be updated, removed, redirected, or consolidated. You can even improve the search engine visibility of the website by removing the low-performing and underperforming content.
Many webmasters and digital marketers believe in the myth that a website's search engine visibility is impacted adversely once the under-performing content is removed. But many popular websites get more organic traffic from search engines after removing the pieces of content that no longer add value. While auditing the content, you should focus on improving the search performance of individual pieces of content as well as optimizing the content creation and marketing efforts.
How to Boost Your Website's Search Performance by Conducting Content Audit?
Prepare an Elaborate List of Content Assets
The first step in the content audit process is to list all content assets of your website. You can list down the content assets manually by entering or pasting the URLs into a spreadsheet. But you can save both time and effort using a slew of free tools and templates.
The online tools import all URLs on your website to Google Sheets or MS Excel in seconds. The options provided by the spreadsheet application make it easier for you to organize and analyze the content assets of the website regardless of its size and type.
Gather SEO Data Points
After listing all URLs, you need to gather the SEO data points required for conducting the content audit. You must remember that SEO data points are different from content marketing data points. Also, you should focus on gathering the data points that impact the search performance of a piece of website content.
You can easily collect the SEO data points in a few minutes using a reliable online tool. The online tools help you to gather a wide range of SEO data points – targeted keywords, page title, page heading, meta description, last update date, image alt tags, internal links, external links, broken links, page visits, page bounce rate, page entries, and exits, and page bounce rate.
Define Metrics for Search Performance Measurement
You need to assess the SEO data points using the most appropriate metrics to assess the search performance of content assets accurately. It is always advisable to combine commonly used content audit metrics like organic traffic, bounce rate, backlinks, time on page, number of unique visitors, average time spent on the page, pages accessed per session, traffic source, and conversion rate.
These metrics help you to identify and differentiate the underperforming content assets. Also, they help you to identify the content that attracts more organic traffic from search engines. However, you must remember that the search performance of a specific content asset is impacted by a slew of factors. You must use the right metrics to assess and optimize the search performance of underperforming content.
Assign Scores to Each Content Asset
You can use these metrics to divide the content assets into multiple segments based on their search performance. You can assign scores to each content asset individually to decide if need to make no change, update, remove, redirect, or consolidate. It is a common practice to differentiate content assets using alphabetic scores ranging from A to F.
You can assign A to the high-performing content; B to content that needs no change; C to the content that can be updated; D to the content that must be updated; E to the content to be removed; and F to the content to be consolidated. However, you can set your own rules and create your own scores while categorizing content assets according to their search performance.
Improve the Search Performance of Content Assets
After assessing the search performance of the content assets, it is time to boost the search performance of average-performing and underperforming pieces of content. Before updating the content, you must keep in mind some simple SEO rules.
Remove or delete the pieces of content that cannot be improved or updated.
Remove or rewrite the articles or blogs that were published 24 months and no longer receive traffic.
Update the old blogs or articles that still receive organic traffic. Here is an interesting post on how to update old posts to get a better ranking.
Boost search performance of short pieces of content by increasing word count. Check out my post on the ideal content length.
Consider refreshing instead of rewriting the existing content.
Consolidate short pieces of content to create eBooks, newsletters, or slides.
Review the underperforming content manually to decide how to boost its search performance.
Expand the average-performing content to get more organic traffic.
Explore ways to create internal links and generate high-quality backlinks.
Incorporate images and videos into the articles and blogs.
Make the content search engine friendly by finetuning the page's title and meta description.
Don't forget to inform the search engines about the changes and updates made to the website content.
Audit Content Delivered through Other Marketing Channels
As mentioned earlier, the content audit helps you to assess the effectiveness of content marketing efforts. You can make the content auditing process more effective by evaluating the performance of content used in various marketing campaigns. For instance, you can assess the performance of the content used in email marketing campaigns to identify content with lower open rates. You can fine-tune the content to get a higher ROI on email marketing campaigns.
Audit Content of Competitor Websites
While performing a content audit, you should compare the search performance of your website content to the search performance of content posted on competitors' websites. You can audit the content posted on a competitor's website just like auditing your own website content. But you cannot access a slew of information required to evaluate the search performance of the competitor's content accurately. But you can observe the competitor's content assets closely to identify new opportunities to generate high-quality backlinks, increase social media sharing, and look for options to publish guest posts.
You can easily boost your website's search performance by conducting an elaborate content audit. You must remember that content auditing is an ongoing process. Also, you can automate the content auditing process using a variety of online tools, plugins, and templates. However, you must customize the content auditing strategy by according to your precise SEO goals using the right approaches and parameters.
This article was republished in February 2023.