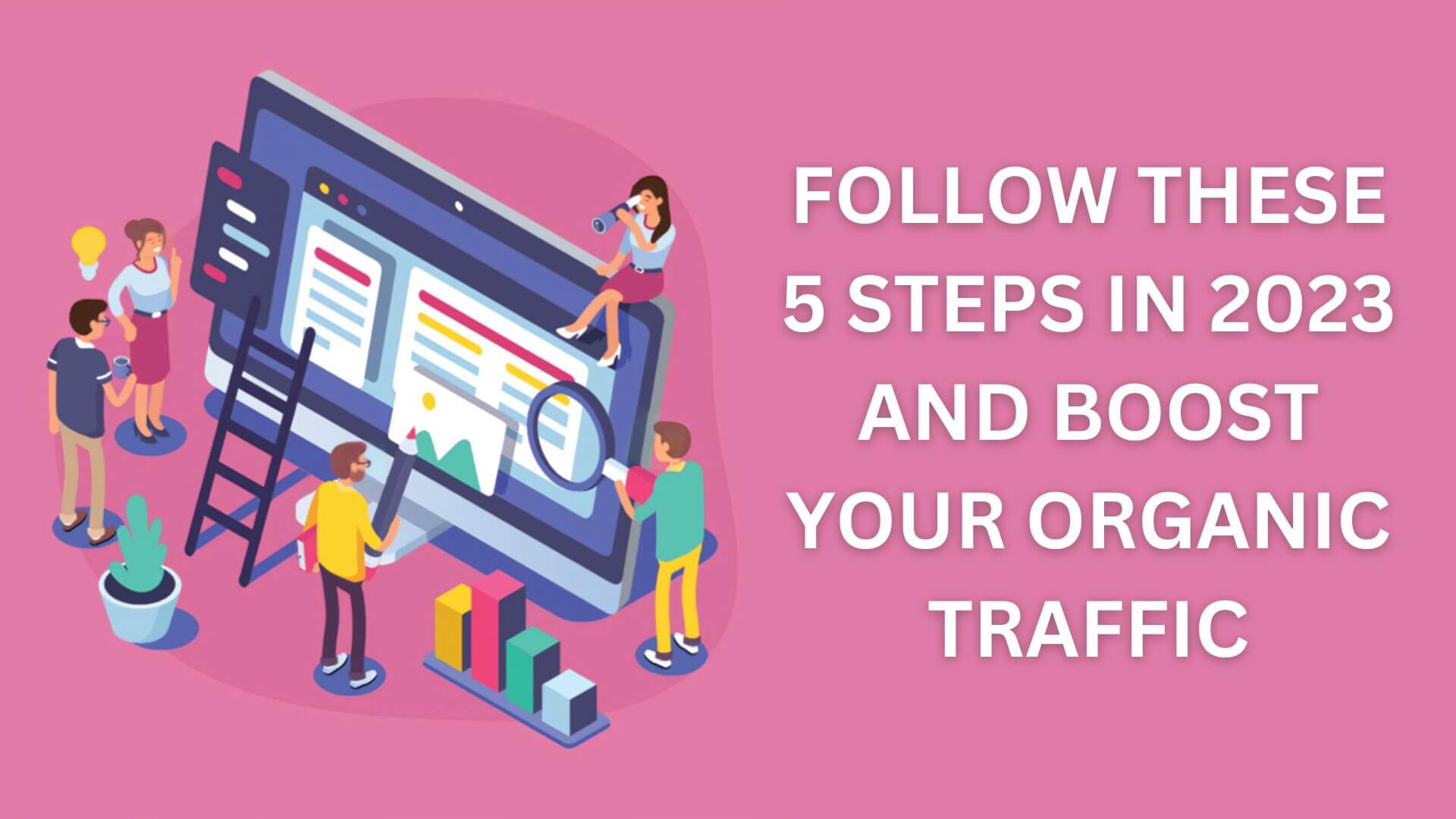 Boost Organic Traffic by Following These 5 Steps in 2023
You know the basics of Search Engine Optimization (SEO) and now want to master some additional SEO tips and tricks that will help you to boost organic traffic in 2023.
Right?
What exactly comes next to these three factors?
Keyword research
Writing top-quality content
Creating optimized meta titles and meta descriptions
This is where advanced SEO tactics come into play.
With that in mind, we have created this guide covering all Five steps that will skyrocket your site's performance.
Here you go!
Boost Organic Traffic by Using the below methods
1.   Analyze Your Competitors' Best-performing Pages
Gathering more knowledge about your competitors will give you numerous benefits.
When you spend plenty of time figuring out what works for your competitors, you can learn about their particular approaches.
You can start analyzing your competitors' best-performing pages so that you have a better idea of where the traffic is coming from.
With this step, you can have a comprehensive understanding of:
Keyword gap
Content gap
Link gap
How to fine-tune your already published content
How to find your competitors best-performing pages?
You can use tools like Ahref and Semrush and enter competitors' URLs into the input bar. Here is the list of 17 SEO competitor analysis tools for you.
These tools will uncover your competitors' sites:
Average traffic
Performance overview
Concentrate on the keyword gap
One of the proven ways to write winning content is to pay closer attention to the keyword gap. Following this step, you can find the keywords your competitors are using, and you are not. In this way, you can write content around those keywords and fill the keyword gap.
While crafting a tailor-made content strategy, you need to focus on these two areas:
Optimizing already published content
Writing brand-new content
Optimizing already published content is a good starting point. One of the most common blunders that writers make is that they start creating content blindly.
Avoid doing this!
Before diving into the writing phase, you should have a crystal-clear writing purpose in mind.
In addition, you need to justify every single chunk of content that you are going to write.
2.   Create amazing content & optimize it
All writers who are trying to drive more conversions and leads to their businesses know that content is king.
Content that provides readers with valuable information proves to be the best.
On the contrary, if your content fails to provide good information, it is just a waste of time.
Furthermore, weak content allows your competitors to perform better.
How bad it is!
So, you should create content that best fits your audience's needs and focuses on on-page SEO.
Figure out and fix copied and missing meta titles & descriptions
Figure out and fix numerous H1 tags
Fine-tune meta titles, descriptions, and page content
Struggling to write stellar content? Use a reliable paraphrasing tool to get the job done!
If you face difficulty in writing winning content, panic not.
A rephraser can help you paraphrase your content within a few seconds.
Powered by Artificial intelligence, the online paraphraser creates different versions of the same content. In addition, it keeps the original meaning of the text unchanged.
Most importantly, the paraphrased content is 100% plagiarism-free.
How to use the paraphrasing tool
You can copy your competitors' content you like the most and paste it into the input section of a rephrasing tool.
Press the "Paraphrase" button
Now is the time to click on the "paraphrase" button and wait for a few seconds.
Check the grammar of the rephrased text
The rephrasing tool paraphrases your content within seconds. After that, you need to check its grammar by pressing the "Grammar Checker" button.
It minutely checks the grammar of your text and underlines all the grammatical flaws.
Finally, you need to hit the "Export" button to download the rephrased text.
In a nutshell, using an online rephrasing tool helps you create unique content.
3.   Let Google crawl the site easily
The more your data is well-structured, the better your pages will appear in the results.
Accordingly, you should pay attention to page depth.
Pro tip:
Your page's depth should be less than three clicks. Therefore, you need to:
Look for temporary 302 redirects
Trace and eliminate redirect loops
Include structured data only
4.   Leverage competitors' broken backlinks
Building excellent backlinks can be challenging. But panic not!
You can excel in this situation by utilizing your competitors' broken backlinks.
For this, you have to find out their broken backlinks and write content that fits the link properly.
You can benefit from the Semrush Backlink Analytics tool and paste your competitor's domain there.
It will instantly show you the pages that are not acquiring ranking through the links.
So you can take advantage of the broken backlinks.
5.   Rank in the Feature Snippet
Now, Google aims to respond to queries directly to users beyond ten blue links.
Although websites compete with each other, they drive massive traffic from Google simultaneously.
It would be best to focus on Featured Snippets. So, you can take advantage of it.
How?
Follow these tips and tricks:
Respond to the query concisely
Optimize your page's H1, H2, and even H3
Add images with the relevant ALT text
Wrapping Up
These are the fundamental ways to boost organic traffic.
In order to increase your organic traffic without relying on anyone, you should follow these Five steps.
Best of luck!