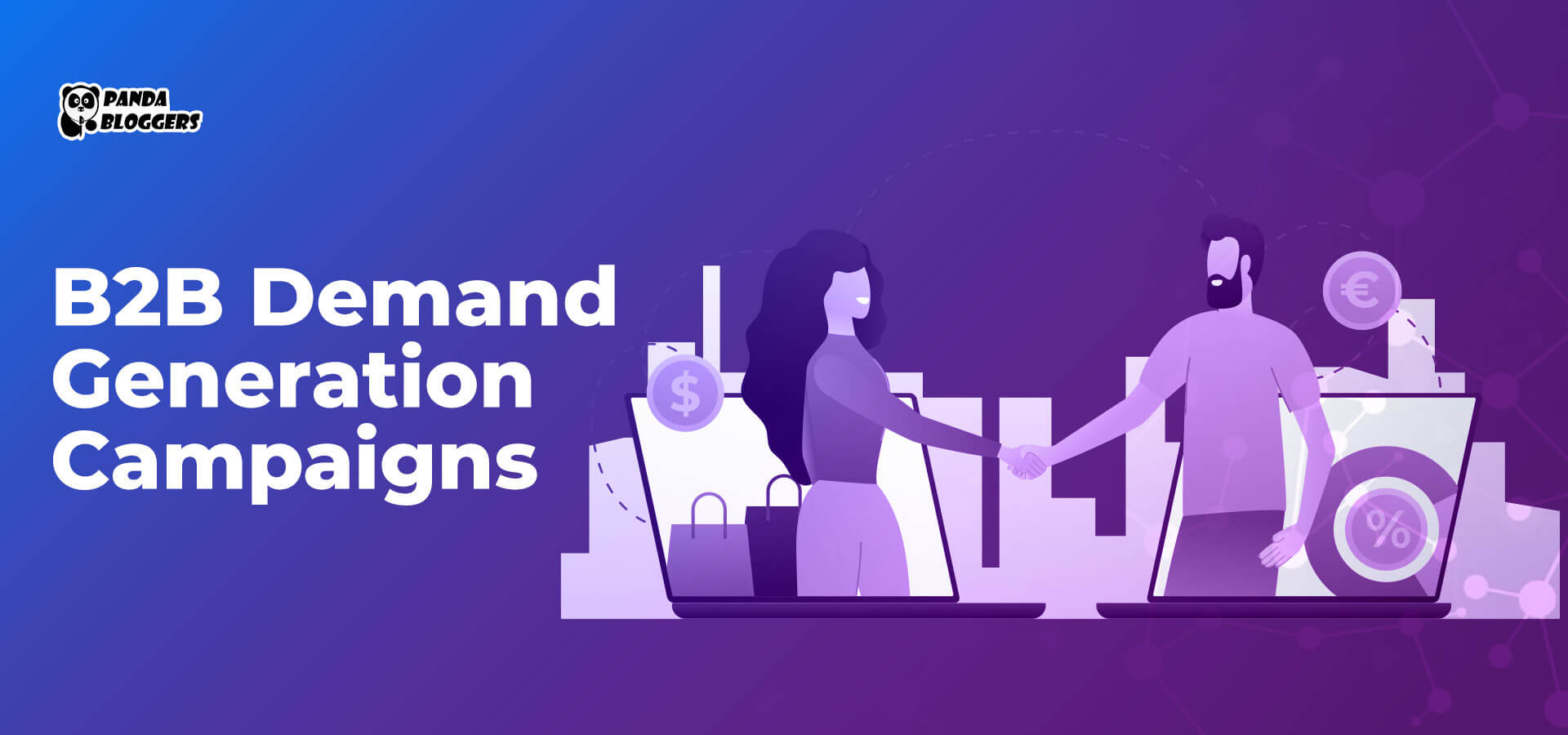 B2B Demand Generation Campaigns
As an integrated marketing approach, demand generation campaigns help you create a need or demand for B2B products/services. While planning B2B demand generation campaign campaigns, you need to focus on finding and capturing corporate customers currently at the top of the B2B sales funnel.
Hence, your strategy must focus on making more corporate customers interested in a B2B solution by delivering the right content to the right people. You should initiate the process by identifying the corporate customers who need your solution and understanding their demographics and behavior.
Hence, you can make demand-generation campaigns successful only by leveraging real-time customer and marketing data. At the same time, you need to create brand awareness and increase lead generation by running multichannel campaigns. We are making it easier for you to plan B2B demand generation campaigns by discussing several tried-and-tested tactics.
7 Tactics You Should Combine While Planning B2B Demand Generation Campaigns
Targeted Content Marketing
In addition to showcasing your B2B solution, content marketing helps you create a buzz about it. You can create and distribute targeted content to introduce your product to the target audience and explain how it will benefit them.
Your strategy should focus on creating and distributing various forms of content – articles, blogs, tutorials, whitepapers, podcasts, videos, and infographics. At the same time, you need to ensure that the content prepares the target audience to pay for your B2B solution by creating the perfect first impression.
However, you need to ensure the content is delivered to the target audience across marketing and communication channels. Also, the message delivered to prospective corporate customers remains consistent across channels.
Search Engine Optimization
Search engine optimization (SEO) drives your B2B lead generation campaigns by creating brand awareness and increasing brand recognition. You can run targeted SEO campaigns to divert searchers to your website organically.
The increase in website traffic will create opportunities for you to impress potential B2B customers by showcasing your knowledge, skills, and expertise. While optimizing your website for search engines, you must focus on on-page, off-page, and technical SEO.
At the same time, your SEO strategy should focus on providing educational and informative content to the visitors. The educational content will impress the B2B prospect by establishing your expertise in solving problems and erasing pain points.
Customer Case Studies
While making purchase decisions, most B2B customers compare case studies published by vendors. Some decision-makers read textual case studies, while others watch video case studies. You can create case studies to explain how your B2B solution has helped a company similar to your target audience.
Hence, potential corporate customers will consider your B2B product, service, or solution while looking for solutions to similar products. Also, you can make the case studies more impactful by involving happy customers who are already using your B2B solution.
Your strategy should deliver case studies to the target audience in a variety of ways – publishing on your own website, posting on social media, and sending emails. In addition to boosting demand generation campaigns, case study distribution will result in the generation of high-quality leads.
User-Generated Content Creation
Both B2B and B2C customers these days trust user-generated content (UGC) more than brand-generated content. The positive reviews posted by existing customers persuade B2B prospects to opt for a specific brand.
At the same time, corporate customers abandon a brand due to negative reviews posted by customers who use its products or services. You can boost B2B demand generation campaigns using customer reviews as a powerful marketing tool. You should request your existing customers to post reviews on social networks and online forums.
Also, you must appreciate and incentivize the customers who post positive reviews. You can add a testimonial page to your website by gathering online reviews. Also, you can win the trust of corporate customers by using testimonials in various forms of content.
Retargeting Ad Campaigns
While planning demand generation campaigns, you target corporate customers who are at the top of the B2B sales funnel. Such B2B prospects visit your website but they are not yet ready to place an order. Your strategy should focus on increasing brand awareness by reminding B2B prospects about your brand after they leave your website.
Remarketing or retargeting ads create opportunities for you to remind prospective customers about your B2B solution after they leave your website. The B2B prospects will see textual or visual retargeting ads when they visit other websites or access social networks.
You can run retargeted ad campaigns to keep reminding potential customers about your B2B solution across the sales funnel. The visibility and reminders will make them consider your B2B solution while making the purchase decision.
Webinar Hosting
B2B marketers rate webinars or online events as one of the top strategies to engage corporate prospects in the early stages of the sales cycle. The engagement helps them generate high-quality leads and shorten sales cycles.
While planning B2B demand generation campaigns, you can showcase your brand's expertise by hosting webinars. The webinar will create opportunities for you to promote the B2B solution while discussing an industry-related topic or answering frequently asked questions.
However, you can add credibility to the webinar by inviting industry leaders and influencers to join the discussion. Likewise, you can join webinars or live events hosted by others to establish yourself as an industry thought leader and promote the B2B solution.
Here are some webinar promotion strategies for interested readers.
Live Chat
Decision-makers ask a variety of questions to understand important aspects of a B2B solution. You can impress and engage the B2B prospects visiting your website by answering their questions and clearing their doubts by facilitating live chat. There are many love chat solutions that communicate with website visitors in real time.
You can embed AI-powered chatbots that function just like live agents. Website visitors can interact with the chatbot to understand how your B2B solution will benefit their company. However, you must enable website visitors to talk to someone in your lead generation or sales team to convert them into leads more effectively.
Conclusion
You can run B2B demand generation campaigns to accomplish multiple marketing goals – generate high-quality leads, enhance brand awareness, and drive sales conversions. However, you can make the campaigns successful only by identifying and understanding the corporate customers who need the B2B solution provided by your company or startups.
Hence, you must leverage demographic and behavioral data to understand how your target audiences look and behave. At the same time, you should combine multiple marketing tactics to increase brand awareness, trust, and authority. However, it is also important to measure and monitor the performance of each B2B demand generation campaign using the appropriate marketing metrics.