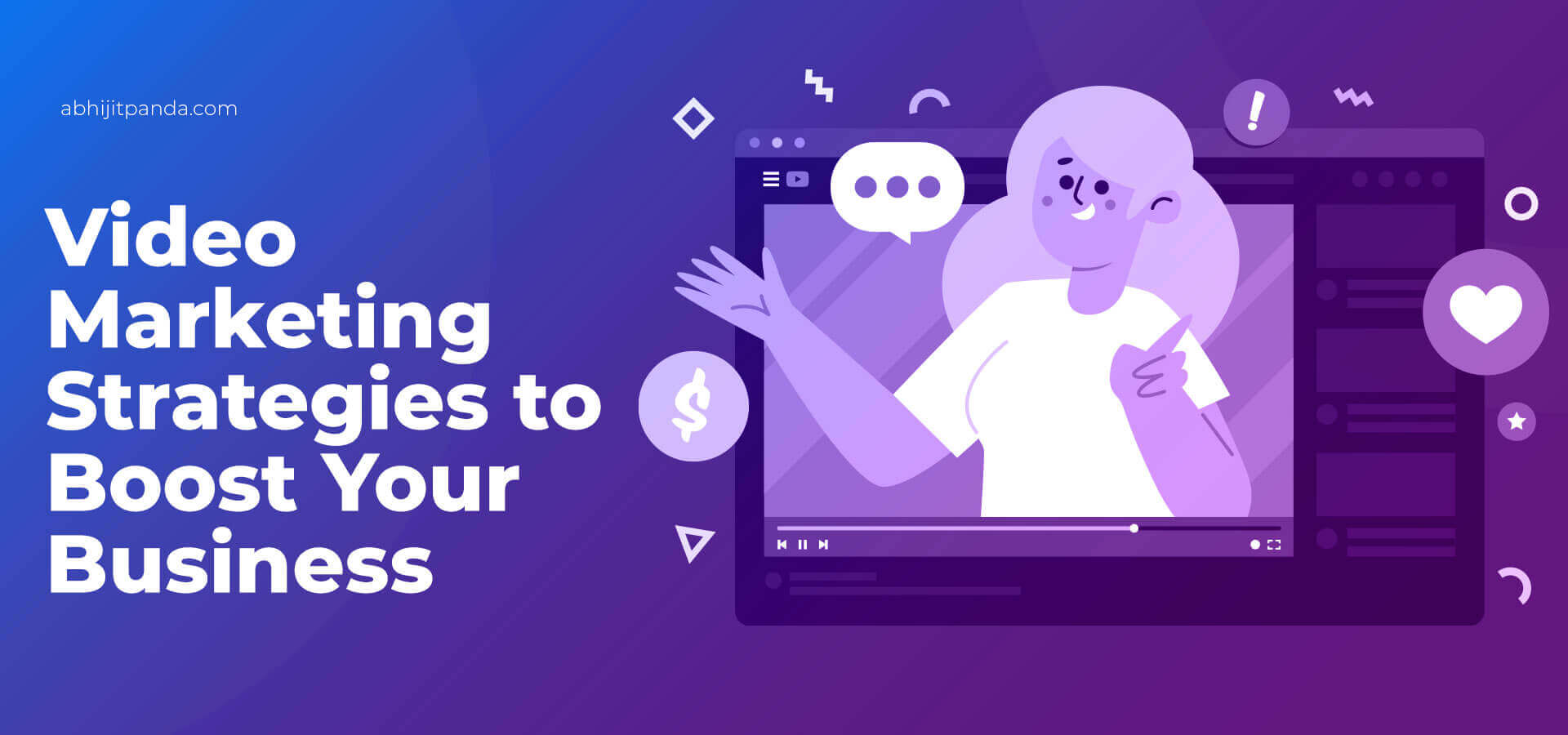 Video Marketing Strategies to Boost Your Business in 2023
At present, enterprises from various industries use videos as a powerful marketing tool to market and promote their products, services, and brands. Unlike other digital marketing techniques, videos help businesses to increase website traffic, generate leads, drive sales conversion, and make users understand products/services. The annual State of Video Marketing Survey conducted by Wyzowl highlights the relevance and effectiveness of video marketing strategies for businesses in 2023.
According to the latest video marketing statistics published by Wyzowl,

"86% of video marketers say video has increased traffic to their website. 83% of video marketers say video has helped increase the average time their visitors spend on page. 94% of video marketers say video has helped increase user understanding of their product or service. 84% of video marketers say video has helped them generate leads."
Your business can achieve a variety of marketing goals by implementing video marketing strategies. The strategies will help you to streamline video marketing campaigns by focusing on important aspects like budget, timeline, production, and evaluation. Also, the strategies will make it easier for you to promote products or services by understanding the target audience, creating the right videos, and using the right marketing channels. You can consider some of these video marketing strategies to get higher ROI in 2023.
13 Video Marketing Strategies to Achieve Preset Campaign Goals in 2023
1. Define the Campaign Goals
As highlighted by the annual State of Video Marketing Survey conducted by Wyzowl, marketers use videos as a tool to achieve a variety of marketing objectives. You can run video marketing campaigns to increase sales, generate leads, create awareness, and boost website traffic. You have to create the right type of videos to accomplish the desired campaign goals.
For instance, you need to create brand videos to make customers and prospects aware of your product, service, vision, or mission. On the other hand, you have to create explainer videos to make customers understand your product or service. That is why; you must identify and define the video campaign goals clearly before implementing video marketing strategies.
2. Understand the Target Audience
Like digital marketing campaigns, video marketing campaigns must focus on reaching the people who will buy your product or service. A video can accomplish predefined campaign goals only when it is watched by relevant customers, prospects, and buyers. You can easily identify and understand the target audience for individual video marketing campaigns by creating buyer personas.
The buyer personas will help you to answer three important questions – who will buy the product/service, what style of video will attract and engage the prospective buyers, and what channels must be used to make the prospects watch the video. The answers will make it easier for you to create the right style of video and distribute it through the appropriate communication channel.
3. Create Multiple Styles of Video
While preparing a video marketing strategy, you have the option to use many video marketing tools to create and use many styles of videos. You cannot use a single style of video to accomplish multiple campaign goals. That is why; your strategy must identify the styles of video that attract and engage the target audience. The statistics posted on several websites suggest that customers and buyers these days love to watch commercials, social content videos, product videos, explainer videos, and testimonial videos.
You can easily boost video marketing campaigns by combining different styles of videos. For instance, product videos will influence buying decisions by showcasing the top features of your product or services. At the same time, the testimonial videos will convince the buyer to opt for your product or service to get a superior experience. However, it is always important to focus on the tone, messaging, and duration of each style of video.
4. Align the Video to the Overall Branding Strategy
Your video marketing strategy must focus on the creation and distribution of multiple styles of video. But the strategies must not emphasize creating videos exclusively for video marketing campaigns. Often prospective buyers do not place orders when multiple communication channels do not reflect the brand uniformly and consistently.
You need to ensure that videos are aligned with your overall branding strategy seamlessly. The alignment will ensure that your branding will remain consistent across campaigns and channels. When a viewer accesses your landing page or website after watching the video, he will get the content and message that complement the video perfectly.
5. Focus on Authenticity Instead of Quality
You can easily impress and engage buyers by creating HD videos. But you cannot accomplish the predefined campaign goal only by ensuring that the video does not appear unauthentic and artificial.
According to Hubspot Research,

"Consumers and customers actually prefer lower quality, 'authentic' video over high-quality video that seems artificial and inauthentic."
While making video marketing strategies, you must clearly define the purpose of creating a particular video and the campaign goals to be achieved using the video. The clarity will help you to make the video appear authentic by adding the right tone and messaging. At the same time, you must make the video appear authentic by implementing best practices like making the content address pain points, not relying only on the video script, including customer testimonials, and incorporating human elements in the story.
6. Run Video Marketing Campaigns on Social Media
You cannot make the videos reach out to a larger audience without leveraging popular social networking platforms like YouTube, Facebook, and Twitter. The videos will be shared by many viewers on social networks. The shares and likes will make more customers and consumers visit your website or landing page. However, your video marketing strategies must focus on making the videos stand out from the crowd on popular social networks by adopting the latest trends.
You can run video marketing campaigns on social networks successfully by implementing simple best practices like keeping videos short, explaining products/services in detail, optimizing the videos for mobile devices, and posting both live and recorded videos. At the same time, you must finetune the strategy by adopting the emerging trends early.
7. Request Viewers to Share the Videos Explicitly
Some videos need more time to go viral than others. But no marketers can make a video clip go viral without enhancing its popularity in the first 24 hours after publishing. You can make more customers and buyers watch the video clip only by requesting viewers to share the video explicitly.
In addition to requesting the viewers to share, you also need to promote the video aggressively by getting the content shared by your friends, relatives, coworkers, and acquaintances. Your website and landing page will get more visitors as the video is being shared and promoted by many people during the initial hours.
8. Enable Viewers to Share the Video Effortlessly
In addition to requesting people to share and promote the videos, you must make it easier for viewers to share the video. Popular video players these days come with options to share content on multiple social networking platforms.
While posting the video, you need to ensure that share buttons are added to the video clips. The new-age video players add share buttons automatically to the video clip while it is being uploaded. But you must check if the video player makes viewers share the video on the right social networking platforms.
9. Optimize the Videos for Search Engines
According to the video SEO statistics posted on Zupo.co,

"Video search results have a 41% higher click-through rate (CTR) than text-based results. Also, Videos add 2 minutes to the average time a user spends on your site."
Hence, you can easily increase ROI by making video SEO an integral part of video marketing campaigns. While creating and optimizing videos, you must implement the latest search engine guidelines.
Also, you can enhance the visibility of videos on search engine results pages (SERPs) by implementing simple YouTube SEO tips and tricks for 2021 like including keywords in the video title, description, and tags; embedding social media links in the video description, customizing the thumbnail, and keeping viewers engaged.
10. Integrate Video and Email Marketing
As highlighted by several studies, marketers embed videos in emails to increase the open rate by 19% and the click-through rate by 65%. Your business can easily increase website traffic and generate more links by integrating video marketing and email marketing campaigns. While forming video marketing strategies, you must explore ways to reuse and repurpose the same videos for email marketing campaigns.
You can easily boost email marketing campaigns simply by including the same videos in emails. The leading email marketing tools come with built-in features and analytics to identify the email recipients who have watched the video. Hence, you can convert such leads into customers by sending and recommending relevant videos.
11. Engage with Viewers
Like digital marketing strategies, video marketing strategies also focus on engaging with viewers. While creating and posting videos, you must request the viewers to share their views, opinions, and suggestions by posting comments. Also, you must value the opinions and suggestions of viewers by responding to their comments proactively.
If you are broadcasting live videos, it is important to track the comments posted by viewers through instant notifications. Also, you must create opportunities during live video sessions to interact with the viewers in real-time by responding to their comments. You can make the live videos more engaging by making viewers feel that their views are being appreciated and valued.
12. Conduct A/B Testing Regularly
In addition to creating, posting, and promoting videos regularly, you must focus on boosting the performance of video marketing campaigns. You can easily assess the performance of individual video marketing campaigns using commonly used metrics like view count, engagement rate, play rate, social sharing, and feedback.
However, you must analyze these metrics elaborately to identify the measures required to boost video marketing campaigns. For instance, you must compare the number of negative and positive comments posted by viewers to check if the video is effective in meeting predefined campaign goals. Likewise, the metrics will help you to achieve campaign goals by taking the right decision at the right time.
13. Adopt Emerging Video Marketing Trends
Like digital marketing trends, video marketing trends also change at regular intervals. You cannot plan and run video marketing campaigns effectively in 2023 without adopting the hottest trends in video marketing. According to the trends and statistics posted on several websites, video marketing campaigns will be shaped and driven in 2021 by emerging trends like webinars, live video streaming, omnichannel video sharing, and video SEO.
At the same time, you must reuse every video clip effectively by embedding it in website landing pages, email marketing content, the about us page, product/service page, and PPC ads. However, you must keep the videos relevant in the long run by exploring ways to connect with customers and humanizing the brand. It is also important to review and update your video marketing strategies regularly to adopt emerging trends.
While implementing video marketing strategies, you can promote products or services by creating different styles of videos. But you must not forget that the trends in video marketing change from time to time. You can achieve the desired marketing goals only by adopting the emerging trends proactively while preparing or finetuning video marketing strategies. At the same time, you must consider some of the strategies that help businesses to run successful video marketing campaigns in 2023.