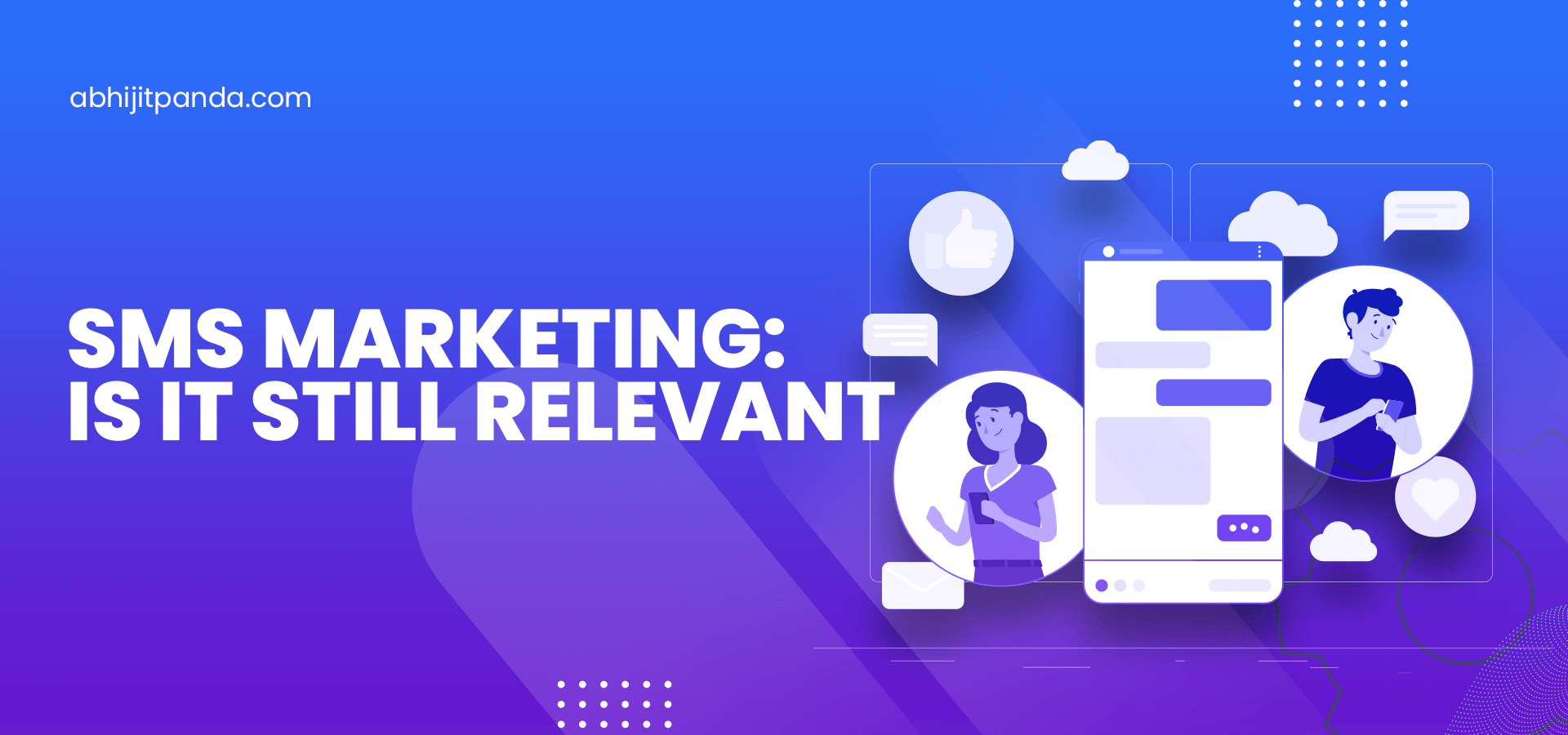 SMS Marketing: Is it still relevant in 2022?
In 2021, the average time spent on mobile phones by Americans per day increased to 5 hours and 24 minutes. Likewise, Indians spent 4.7 hours each day on average on mobile devices. The consistent increase in average cell phone usage time makes Short Message Service (SMS) one of the most prominent marketing channels for businesses.
According to SMSComparison.com,

"9 out of 10 consumers would like to communicate with businesses through text message, whether this be through sending alerts, appointment reminders, back and forth communication, etc. 48% of customers would like special offers sent to them via text message, and the click-through-rate (CTR) for these sorts of text messages are much higher (19%), compared to other marketing channels such as Email marketing (4%) and Facebook (1%)."
These statistics suggest that the relevance and effectiveness of SMS marketing will remain intact in 2022. Enterprises from various sectors will increase customer engagement by leveraging SMS as a direct and responsive marketing channel. Also, they will achieve greater customer reach and increase conversion rate by sending bulk SMS without escalating marketing costs.
But entrepreneurs and marketers have to manage SMS marketing campaigns strategically and proactively to achieve preset marketing goals. They have to explore ways to ensure that customers do not find promotional SMS messages intrusive. Marketers have to overcome a slew of challenges to make SMS marketing campaigns successful. Also, they have to implement many best practices to increase SMS open rate and conversion rate consistently.
SMS Marketing Challenges Marketers Have to Overcome in 2022
Sending Personalized Text Messages
64% of consumers expect brands to send SMS messages more often. But they expect businesses to communicate by sending one-to-one text messages. Enterprises these days avail of bulk SMS services to send text messages to a large number of customers in a cost-efficient way.
They have to invest in additional resources to send personalized messages to individual customers. Hence, bulk SMS messages often fail to influence recipients' buying decisions.
Keeping Messages Conversational
Most enterprises leverage SMS as a simple and direct communication channel. They send both informational and promotional emails to consumers using automation tools. Unlike emails, SMS messages do not create opportunities for businesses to engage recipients by starting conversations.
Promotional text messages drive sales by conveying specific offers or digital coupons to customers. Marketers must keep in place a response strategy to start conversations and foster customer relationships.
Overcoming Regulations and Policy Changes
Mobile device users stop receiving telemarketing calls and promotional text messages by including their numbers in the Do Not Call or Do Not Disturb lists. Brands have to pay penalties when such unwilling customers receive text messages. Hence, businesses these days launch opt-in campaigns to get the permission or consent of customers to send promotional messages.
Also, they keep the opt-in and opt-out processes simple to enable customers to subscribe or unsubscribe to the SMS updates. Marketers need to boost SMS marketing campaigns in 2022 by adopting permission marketing.
Building a Recipient List
No business can increase the conversion rate in 2022 without building a list of recipients. They must persuade customers to opt-in by providing both options and incentives. But businesses can expand the recipient list only over a period of time.
They have to wait for some time to make a substantial number of customers opt-in and then start SMS marketing campaigns. In 2022, marketers have to persuade website visitors and customers to share their mobile numbers on multiple platforms, including websites, mobile apps, and social networks.
SMS Marketing Best Practices Marketers Should Implement in 2022
Run Multiple SMS Marketing Campaigns
Enterprises can get higher ROI in 2022 only by running multiple and different SMS marketing campaigns. For instance, they must build customer relationships and drive sales by running different SMS promotions – SMS coupons, flash sales, loyalty programs, text-to-win competitions, and alerts and notifications.
Focus on SMS Message Structure
Most telecom operators these days support text message concatenation. They divide a large text message into multiple and individual SMS messages. But the length of a text message is considered 160 characters technically.
While composing SMS marketing materials, content creators must include the customer name, offer, conditions, instructions, expiry date, and opt-out link in the text message. At the same time, marketers need to ensure that the sender ID depicts the brand name clearly.
Send SMS Messages at the Best Time
While planning SMS marketing campaigns, marketers must focus on sending the right promotional time to a customer at the right time. The delivery time will impact the SMS open rate and conversion rate simultaneously.
The more competent marketers always decide the best time according to the type of SMS marketing campaign. For instance, they send generate marketing messages to customers between 10:30 AM and 11:30 AM or 2:30 PM and 3:30 PM. But they promote weekend sales, seasonal sales, and special events by sending multiple text messages at frequent intervals.
Send the Right Number of Promotional Text Messages
Enterprises must automate SMS marketing in 2022 to send text messages to customers regularly without escalating costs. But decision-makers must decide the number of promotional SMS messages to be sent to individual customers per month.
The effectiveness of SMS messages declines gradually when a customer receives many text messages from a single brand. Hence, brands can make SMS marketing campaigns successful in 2022 by sending three to four text messages per month to a customer.
Increase Recipient Database Consistently
Enterprises can boost these marketing campaigns in 2022 only by leveraging the benefits of permission marketing. They must run implicit and explicit permission marketing campaigns to make more customers opt-in to receive promotional text messages.
They must request customers to opt in while making online purchases, in-store purchases, and account sign-ins. At the same time, they must incentivize customers to opt-in and send text messages to a dedicated virtual phone number by organizing text-in competitions.
Combine the Right SMS Marketing Metrics
Along with running multiple text message marketing campaigns in 2022, enterprises must measure the performance of individual campaigns using the right metrics. Decision-makers usually measure SMS marketing campaign performance using open rates and click-through rate as key metrics.
But they can make informed decisions only by using additional parameters like cost per conversion. Also, marketers need to assess campaign performance accurately by tracking opt-out rates, reviewing message delivery receipts, and measuring coupon usage.
Conclusion
Enterprises will launch SMS marketing campaigns regularly in 2022 to build positive customer relationships 2022. But they can leverage SMS as a direct and simple marketing channel only by addressing a slew of challenges and implementing a number of best practices. Also, they have to include SMS marketing in their multichannel inbound marketing strategies.