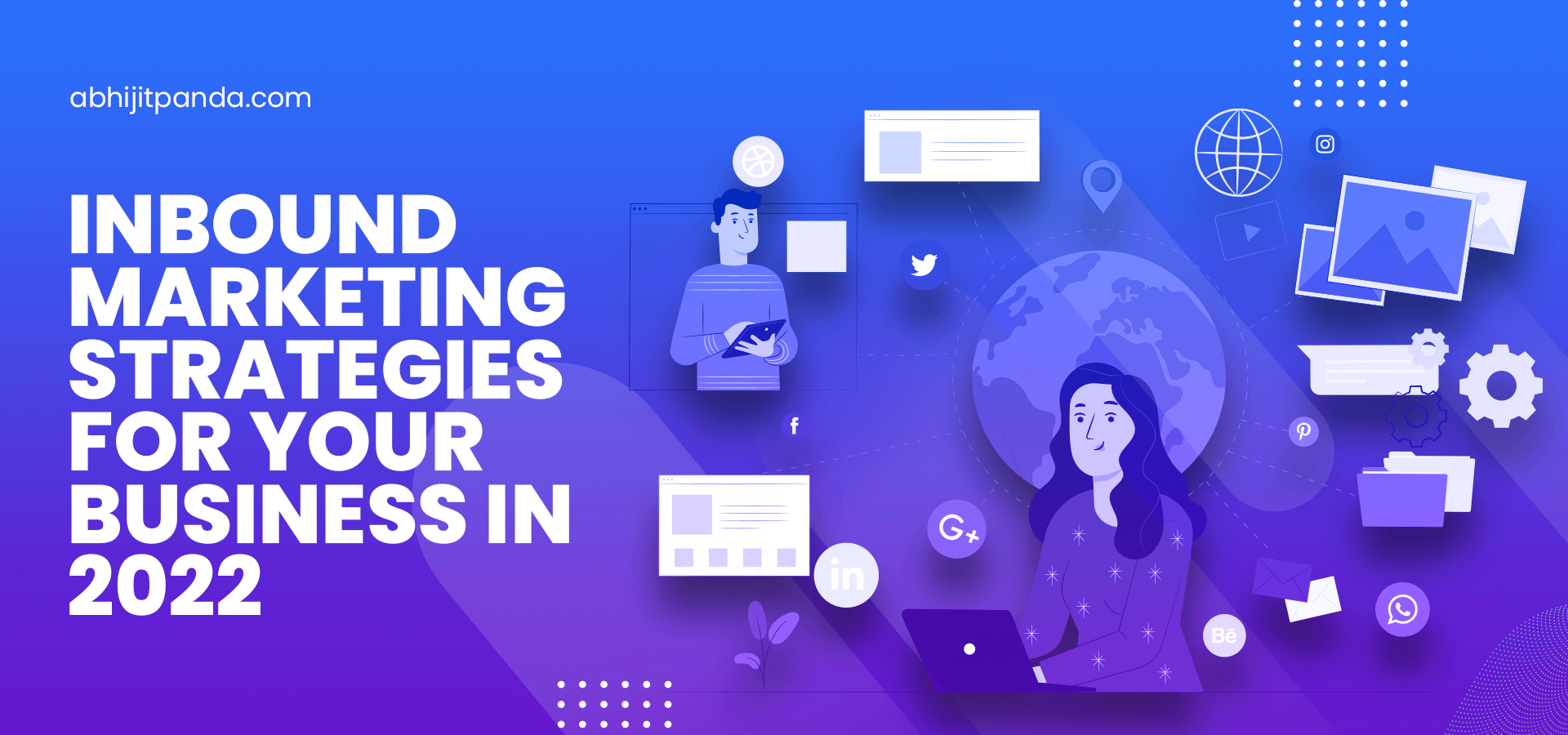 Inbound Marketing Strategies for Your Business in 2023
Unlike traditional or outbound marketing, inbound marketing does not require your business to reach out to potential customers. Instead, inbound marketing strategies enable your business to attract, influence, and convert prospects by delivering valuable content and experiences. In addition to curtailing customer acquisition costs, inbound marketing strategies help your increase website traffic and generate more leads.
According to the inbound marketing statistics compiled by Thrive,

"Inbound marketing strategies reduce customer acquisition costs by about 67% in comparison to outbound marketing strategies. At the same time, a business can generate 126% more leads and increase the close rate to 14.6% by switching from outbound marketing to inbound marketing."
In 2023, your business must abandon outbound marketing and leverage the benefits of inbound marketing. In addition to reducing customer acquisition costs, inbound marketing strategies will help your business increase its online presence, generate more qualified leads, and build long-term relationships with customers. But you must remember that inbound creates opportunities to guide prospects to your business through multiple communication and marketing channels.
You can increase website traffic consistently and convert more website visitors into customers in 2023 only by implementing multiple inbound marketing strategies. But inbound marketing strategies differ from each other in many aspects, including outcomes. Hence, you must spend some time evaluating and comparing some of the inbound marketing strategies that will help you generate more leads and grow sales in 2023.
15 Inbound Marketing Strategies to Increase Your Customer Base in 2023
1. Buyer Persona Development
The inbound marketing strategies achieve preset goals by engaging and influencing prospects during three important stages in a buyer's journey – awareness, consideration, and decision. You need to guide a prospect or potential customer throughout the inbound marketing process by delivering targeted and personalized content according to her current position in the buyer's journey.
You can deliver the right content to a prospect at the right time only by understanding her needs and addressing her pain points. As a fictional representation of the ideal customer, buyer personas describe your target customers elaborately. They define the buyer's age, gender, and location as well as identify her goals, needs, behaviors, pain points, and challenges.
While planning inbound marketing strategies, you can create multiple buyer personas based on real-time customer data collected from various sources. The buyer personas will help your inbound marketing team to create the right kind of content and influence the prospects by delivering the right information or message at every stage in the buyer's journey.
2. User Experience Optimization
The inbound marketing strategies will boost your business's online presence and increase your website traffic. You cannot make any inbound marketing campaign successful in 2023 if your website does not deliver an optimal user experience. While optimizing the website, you must focus on the key factors affecting its user experience.
For instance, you can boost the website's user experience by making it load in less than 2 seconds. Likewise, you need to ensure that a prospect can access your business website seamlessly on desktops, laptops, smartphones, and tablets. At the same time, you must focus on protecting customer data during storage and transportation from various cybercrimes.
It is always important to assess your website's user experience from time to time using a slew of KPIs. As a powerful inbound marketing strategy, website optimization will help you achieve present marketing goals by keeping the website visitors engaged and conveying the desired message. However, you must keep in mind the latest search engine guidelines while optimizing your website.
3. Search Engine Optimization (SEO)
The online experience of 67% of netizens begins with search engines. Hence, both B2B and B2C companies increase website traffic and generate leads organically by implementing organic search marketing or search engine optimization (SEO) strategies.
You can make SEO strategies effective in 2023 only by boosting a website's user experience and search experience. In addition to implementing the latest search engine guidelines, your strategy must combine the right on-page and off-page SEO techniques.
The on-page SEO activities will optimize the web page content for both search engines and searchers. At the same time, you can boost your website's popularity, authority, credibility, and reliability by implementing off-page SEO techniques.
4. Paid Search Ads
Leading search engines display paid search results before organic search results. Hence, businesses invest in paid search marketing to diver search engine traffic to their websites quickly. Paid search ads are more effective than SEO tactics in increasing the average conversion rate.
While implementing this inbound marketing strategy, you can increase website traffic by displaying a variety of paid search ads – pay-per-click (PPC), native ads, display ads, and retargeting/remarketing.
The marketing campaign costs will vary according to your choice of paid search ads. You can convert more website visitors into leads and customers by complementing paid search ads with various SEO techniques.
5. Organic Social Media Marketing
The average time netizens spend every day on social media platforms has crossed 144 minutes in 2023. Hence, your business can connect, influence, and engage prospects by adopting organic social media marketing as one of the tried-and-tested digital marketing strategies. Your business can run organic social media marketing campaigns without escalating upfront and ongoing costs. You can generate and convert leads by posting a variety of content – stories, posts, videos, images, and memes – on popular social networking platforms.
But you can build and sustain relationships with prospects by posting informative, interesting, and inspiring content regularly. Also, you can influence them at various stages of the buyer's journey by providing relevant and targeted content. Your social media marketing strategy must focus on making the content popular by getting more likes and shares.
6. Paid Social Media Marketing
Most social networking platforms allow users to promote their organic content to a relevant audience by running paid ads. The paid ads require your business to incur ongoing expenses. But the paid social media ads create opportunities for your business to target new users and convert them into customers.
In addition to sharing information about your brands, you can run social ads to increase brand awareness and drive lead generation and conversion. The social ads further create opportunities for you to increase sales revenue by promoting upcoming events, new deals, and fresh content.
7. Content Marketing
Buyers these days evaluate a product or service by gathering a variety of information and asking a slew of questions. Content marketing helps your business generate, nurture, and convert leads by providing relevant content. Many businesses these days run content marketing campaigns with the aim to increase trust, credibility, and reputation.
You can make content marketing strategies successful in 2023 only by creating, sharing, and promoting a variety of content – articles, blogs, newsletters, whitepapers, videos, and infographics. Also, the strategies must enable every lead or customer to consume the content through her choice of communication channels. However, you can attract and retain buyers only by publishing relevant and useful content regularly and consistently.
8. Video Marketing
Over 91.4% of internet users, these days spend most of their digital media time watching online videos. Many internet users choose and product by watching product review videos. At the same time, many netizens prefer gathering information by watching educational, tutorials, and how-to videos.
Your business can generate, nurture, and convert leads by leveraging the massive popularity of online videos. Your video marketing strategy in 2023 should focus on creating brand awareness and promoting products/services by publishing online videos regularly. Also, you must promote the videos on social networks and video-sharing platforms aggressively to increase views, likes, and shares consistently.
9. User-Generated Content Generation
While conducting pre-purchase research, most buyers trust the content created by consumers using the brand. Your business can influence and nurture prospects at various stages of the buyer's journey using a variety of user-generated content – comments, reviews, testimonials, photos, videos, and social media posts.
You must make user-generated or consumer-generated content creation one of the inbound marketing strategies in 2023. In addition to using the brand-related content generated by consumers organically, your strategy should encourage and incentivize buyers to post product reviews and testimonials. You can further boost a brand's online presence by using user-generated content in content marketing campaigns.
10. Landing Page Optimization
As single and standalone web pages, landing pages drive inbound marketing campaigns and lead generation activities. They act as an entry point for buyers to access a specific or relevant section of the website. You must consider landing page optimization in 2023 as one of the most effective inbound marketing strategies and conversion rate optimization (CRO) tactics.
You must conduct elaborate A/B testing to optimize key elements of a landing page – design, layout, copy, and graphics. Also, you must refine the landing pages using buyer personas and include straightforward call-to-action buttons. However, you must monitor the performance of landing pages to know what is working and what is not.
11. Email Marketing
Emails are used by 89% of marketers as the primary channel for generating leads. Your business can adopt email marketing in 2023 either as an inbound marketing strategy or an outbound marketing strategy. As the name suggests, this inbound marketing strategy focuses on creating brand awareness and building customer relationships by sending emails.
Your business can engage both customers and prospects by sending a wide variety of emails – product announcements, product updates, event invitations, and offers/deals. But you can engage and influence the recipient by choosing the perfect subject line, content, and sign-off. It is also important to send personalized and targeted emails by adopting several email marketing best practices.
12. Influencer Marketing
The massive popularity of social media creates opportunities for businesses to endorse and promote products/services by adopting influence marketing. Unlike conventional inbound marketing strategy, influence marketing emphasizes delivering your brand's message through influencers or external content creators.
Hence, your business has to partner with individuals or organizations that users love and trust on various social networking platforms. But you can make the inbound marketing strategy successful only by connecting and partnering with the right influencers according to your product/service and targeted customers.
13. Customer Service
In addition to driving sales, inbound marketing tactics focus on building long-term customer relationships. A study conducted by Microsoft suggests that 90% of customers in the USA use customer service as a key parameter while choosing a brand.
Likewise, 58% of customers switch companies due to poor customer service experience. In addition to reducing acquisition costs, a positive customer service experience helps businesses boost sales by promoting customer loyalty. Your business must make customer service experience optimization an inbound marketing strategy in 2023.
14. Customer Loyalty Programs
While implementing inbound marketing strategies, you must not forget that customer acquisition is more expensive than customer retention. Customers these days love to earn rewards and loyalty points while shopping online. Also, many customers recommend brands with good customer loyalty programs.
Your business can increase customer retention and customer loyalty using customer loyalty programs as an inbound marketing strategy. The loyalty programs will encourage customers to repurchase and recommend your brand regularly by recognizing and rewarding them in a variety of ways.
15. Monitoring, Testing, and Automation
The performance of inbound marketing will vary based on a variety of factors. You can boost the performance of inbound marketing campaigns only by understanding what is working and what is not. It is always important to refine your inbound marketing strategies through regular testing and evaluation.
Likewise, you must invest in marketing automation tools to run multiple inbound marketing campaigns without putting in extra time and effort. In addition to automating recurring marketing activities, the automation will help you to monitor and measure the performance of individual campaigns using a set of KPIs.
Conclusion
In addition to reducing customer acquisition costs, inbound marketing strategies help your business generate more leads and increase conversion rates. But you can make the inbound marketing campaigns successful in 2023 only by identifying the right channels, understanding customer needs, addressing customer pain points, and building long-term customer relationships.
You can get higher returns only by implementing multiple strategies. Also, you need to track and measure the performance of individual strategies using the right digital marketing KPIs. It is also a great idea to automate inbound marketing campaign management by adopting several marketing software and tools.
This article has been republished in June 2023.