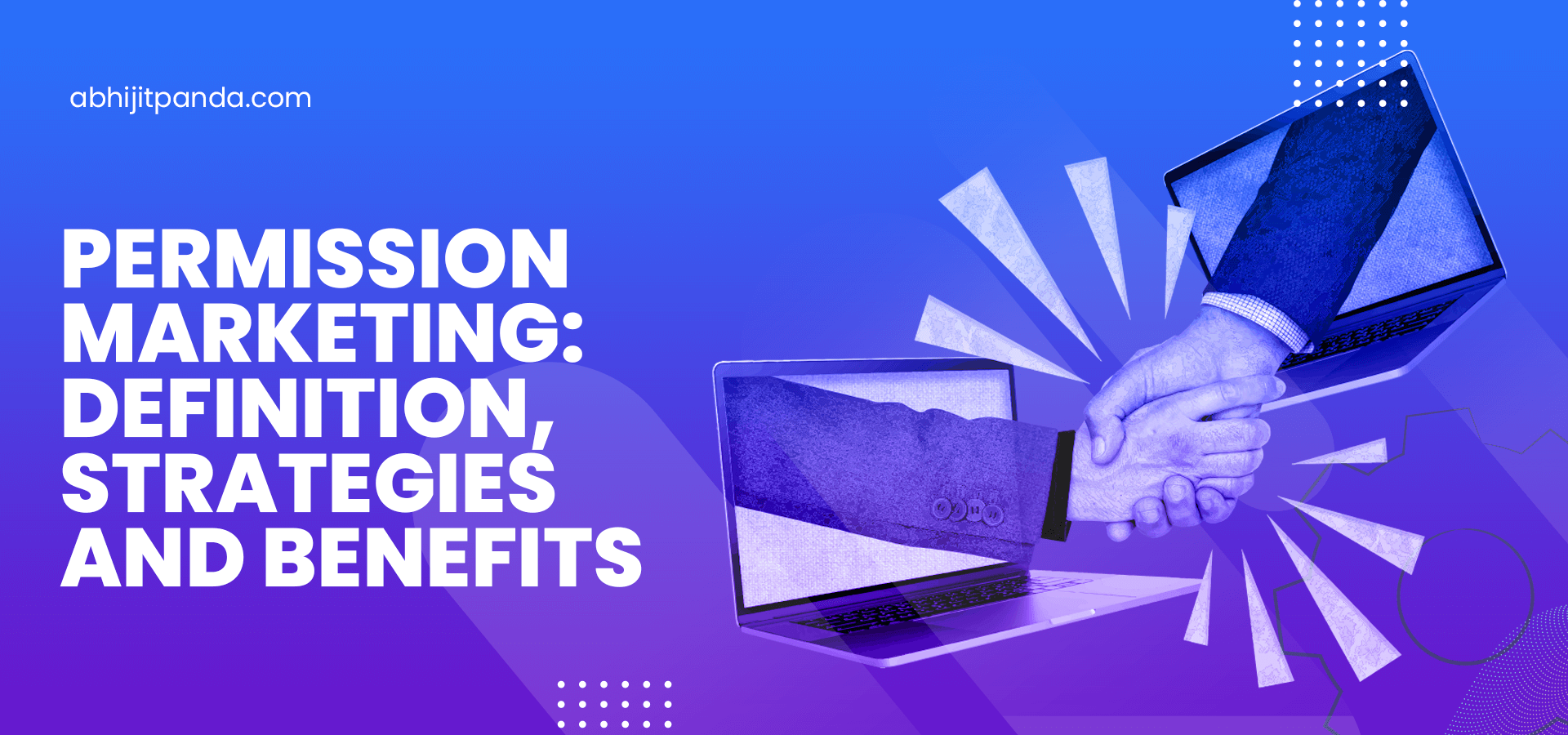 Permission Marketing: Definition, Strategies and Benefits
While running various marketing campaigns, businesses send a variety of digital content to existing and potential customers regularly without obtaining their permission. The marketing and promotional content delivered through multiple channels often interrupt a customer's experience or attention. Unlike conventional and interruption marketing, permission marketing emphasizes getting customers' permission or consent before sending them promotional messages.
According to Investopedia,

"Permission marketing refers to a form of advertising where the intended audience is given the choice of opting in to receive promotional messages. The concept has been popularized by Seth Godin, an entrepreneur, and author. He first discussed the idea of permission marketing at length in his book Permission Marketing: Turning Strangers Into Friends, And Friends Into Customers."
Different Types of Permission Marketing
While adopting this new-age marketing technique, enterprises have the option to choose from two distinct types of permission marketing – explicit/express and implicit/implied.
Explicit/Express Permission Marketing
As the name indicates, this form of marketing requires marketers to obtain permission from a customer explicitly to send marketing messages. Businesses opt for explicit permission marketing to start new business relationships. They allow a customer or website visitor to give permission physically in several ways.
Subscribing to receive newsletters
Following the brand on social networking platforms
Sharing mobile number to get software product demos
Implicit/Implied Permission Marketing
Businesses opt for implicit permission marketing to get permission from existing customers or frequent website visitors. They often obtain the permission of existing customers by including pre-checked opt-in boxes in online forms. A customer has the option to uncheck the box if she is not interested in receiving promotional messages from the brand.
Important Benefits of Permission Marketing
Many brands adopt permission marketing to overcome some of the shortcomings of interrupting marketing. In addition to boosting customer experience, permission marketing strategies help brands win customer trust and promote customer loyalty. Also, every business can leverage several benefits by making permission marketing a part of multichannel inbound marketing campaigns.
Adopt a Personalized Marketing Approach
Interrupted marketing strategies focus on delivering a variety of digital content to potential and existing customers without considering the previous history. But marketers can invoke personal history while sending content and messages if the recipient is willing to share information. Marketers can connect with willing customers based on their purchase history. Also, they can influence buying decisions by sending personalized content according to their position in the buyer's journey.
Enhance Brand Reputation
According to a report released by Markle in 2021,

"76% of customers are comfortable sharing their data for personalization."
Hence, it becomes easier for brands to request customers to share data and give permission to receive promotional messages. The customers further trust a brand that seeks their permission to send messages and content. Many businesses leverage permission marketing to enhance brand reputation.
Build Long-Term Business Relationships
Most inbound marketing strategies focus extensively on building and sustaining business relationships. But no brand can build long-term business relationships when it sends content and messages to customers who are not willing or interested. In addition to helping brands adopt a personalized approach, permission marketing creates opportunities for them to send relevant content that makes customers feel valued and meet their needs.
Increase Conversion Rates
Inbound marketing strategies help brands generate leads regularly. But decision-makers often find it challenging to differentiate sales-qualified leads from marketing-qualified leads. Permission marketing, unlike conventional marketing techniques, makes it easier for brands to nurture and convert leads by adopting a personalized approach. They can send targeted and personalized content to build relationships with leads and influence them throughout the buyer's journey.
Control Overall Marketing Costs
While running marketing campaigns, brands spend money on creating, publishing, and promoting a variety of digital content. The content helps them reach out to a larger audience. But they can build relationships with potential customers only by adopting a personalized approach. Permission marketing helps brands curtail overall content marketing costs by influencing leads by sending emails and text messages.
Permission Marketing Strategies Used by Marketers
Each business these days interact with existing and potential customers through multiple digital marketing channels. Hence, marketers get the permission of customers and send promotional messages to willing customers through multiple channels.
Opt-in Campaigns
This commonly used marketing strategy implements an opt-in process. The opt-in process focuses on getting explicit permission of existing or potential customers to receive emails, newsletters, and similar digital content. Once the customer subscribes or opt-in by sharing her email address, marketers can send her a variety of promotional content and exciting offers.
RSS Feeds
All pieces of content posted on a website are stored in an online file called an RSS feed. Often users access RSS feeds to know the latest updates or changes made to the website. A business can use RSS feeds as an efficient permission marketing strategy to send notifications to subscribers. The subscriber can access the RSS feed sent by a brand to know the latest promotional campaigns.
Social Media
Most brands these days deliver a variety of information and message to customers through their social media pages. They can deliver relevant content to existing and potential customers by requesting them to like the page. Once a social media user likes the brand's page, she can access a variety of digital content posted and shared by marketers.
YouTube
The online video consumption statistics compiled by Oberlo suggest that 91.4% of internet users consume various types of digital videos every week. Hence, most brands these days generate leads and sales by running video marketing campaigns on popular platforms like YouTube. While creating videos, marketers request viewers to subscribe to the channel. Once a viewer subscribes to the brand's channel, she will receive an automated notification every time the brand uploads a new video.
Members-Only Offers
Most businesses persuade existing customers to buy their products or services by making members-only offers. They generate a list of members based on the customers who have opted-in to receive promotional messages. The exclusive offers and discounts provided by brands promote customer loyalty in the longer run.
Conclusion
Businesses these days have started adopting this method of marketing to build relationships with potential customers by sending marketing messages without interrupting their experience or attention. They have the option to obtain customers' permission or consent in a variety of ways. But an enterprise can boost permission marketing strategies only by keeping the customer data private, facilitating effortless opting out, and delivering relevant promotional messages.