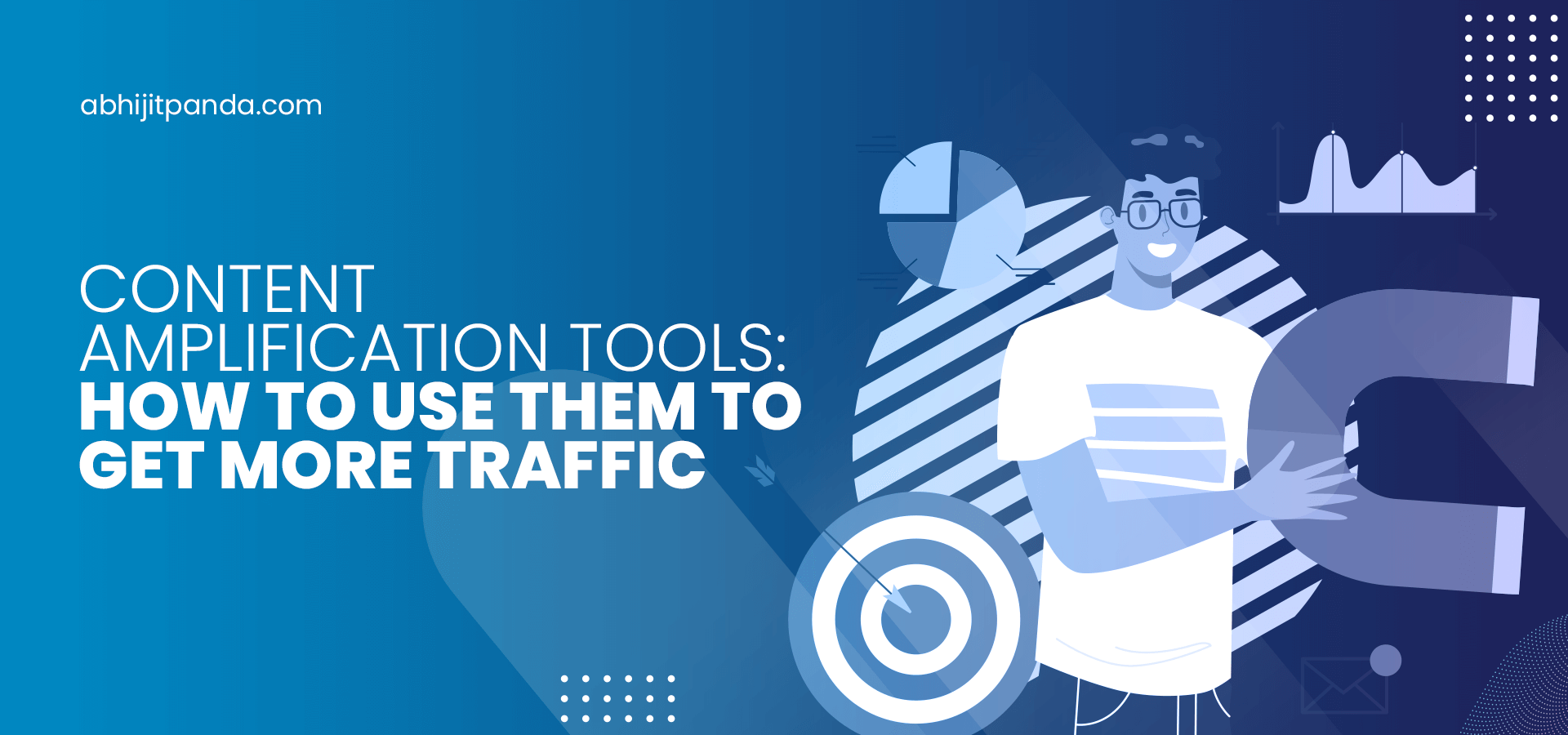 Content Amplification Tools: How to Use Them to Get More Traffic?
On-page and off-page SEO techniques help you divert organic traffic to your website or blog site regularly. But you cannot make the website visitors read the website content without increasing the content's reach. As a multichannel promotional approach, content amplification enhances your content's reach by distributing digital content through multiple online platforms and channels.
According to Content Marketing Institute,
"Content amplification is a multichannel approach that uses paid, owned, and earned media to promote and distribute content. The goal of amplification is to increase your brand's reach while encouraging your audience to move seamlessly through your sales funnel."
In addition to informing more customers about the content, content amplification helps you reduce bounce rate and increase average session duration. But you cannot promote each piece of digital content on a large number of online platforms and channels without investing in extra resources. The content amplification tools make it easier for you to increase content reach using multiple delivery channels.
You can use Content amplification tools to promote your content using shared media, earned media, owned media, and paid media without escalating digital marketing costs. They create opportunities for you to generate more leads and increase conversion rates by merging the right delivery channels. You also have the option to choose from a wide range of content amplification software solutions according to your content distribution strategies.
9 Content Amplification Tools for Increasing Website Traffic and Content Reach
1. Facebook Ads
2 hours and 24 minutes are the average time users spend on Facebook every day. You can leverage the massive popularity of the social network to increase content reach significantly. Facebook Ads allows you to promote content by targeting users based on their location, profile information, and demographic. The ads published on the Facebook platform appear on the newsfeed of users. But users can differentiate the ads from organic posts by seeing the label promoted or ad.
2. Promoted Tweets
The daily average time spent by users on Twitter currently stands at 31 minutes. You can promote your content on the micro-blogging site by promoting tweets. Twitter allows you to include text, images, and videos in the Promoted Ads. Also, the Promoted Ads appear on users' newsfeeds like regular tweets. The users can like, retweet, and reply to the ads. But Twitter distinguished promoted content by adding the label promoted.
3. Taboola
Taboola creates opportunities for you to promote content and increase website traffic by reaching 1.5 billion users across the world. You have the option to promote digital content by publishing content, video, and social ads. Also, the content amplification tool displays your ads in a non-intrusive format on reputable websites. The links appearing on third-party sites will increase traffic to your website or blog. But the links often appear as online ads. Hence, audiences can easily distinguish the links from organic content. 
4. Outbrain
The web recommendation platform promotes digital content on high-traffic and high-domain websites. Outbrain makes more people read your articles and blogs by recommending them to readers. The content amplification tool makes over 344 billion recommendations to readers across more than 55 countries. You can opt for Outbrain to increase content reach. But you lack the options to distribute and promote content by targeting specific readers. Also, Outbrain displays the links to your website or blog just like online ads.
5. Buffer
Unlike other content amplification options, Buffer helps you promote digital content on multiple social networking platforms. It makes it easier for you to publish content on social media by providing content publishing tools. You can use the content publishing tool to schedule and publish content on popular social networking platforms like Facebook, Twitter, Instagram, and LinkedIn using a single dashboard. At the same time, you can track and analyze the performance of content using social media analytics.
6. HootSuite
HootSuite helps you manage multiple social media profiles and publish content on multiple social networks using a dashboard. The social media dashboard supports many popular social networking platforms. Also, you have the option to integrate HootSuite with several social networks. In addition to scheduling and publishing content, you can use the tool to know which user is clicking on what type of content. You can further increase the number of social media followers by running contests or sweepstakes.
7. Storify
Storify drives content amplification by creating stories and timelines on popular social networking platforms and high-traffic websites. The users can find your content by initiating a search using Storify. Also, they can promote the content by dragging them to their timeline.
 The content creators can add context to the link to your website or blog by adding text. You can analyze the social media posts gathered in a single location to know what audiences are liking, sharing, and saying. But you must remember that Storify, unlike other content amplification tools, does not provide options to promote content.
8. Mailchimp
The widely-used digital email marketing platform increases content reach using emails. You can leverage this freemium marketing automation tool to amplify content by sending email newsletters. Mailchimp makes it easier for you to design email newsletters by providing ready-to-use email templates. Also, you can design customized newsletter templates using the email designer provided by the tool. But you can leverage this content amplification tool when after creating an extensive and engaging email list.
9. ShareThis
You can leverage the web tools provided by ShareThis to amplify content across the open web through the audience. These web tools make it easier for you to simplify content sharing by embedding share buttons, react buttons, follow buttons, image share buttons, and social media feeds in web pages and blogs. At the same time, the data analytics tools provided by ShareThis predict future trends and detect deeper insights. Hence, ShareThis creates opportunities for you to amplify content using multiple delivery channels.
Conclusion
The content amplification tools help you increase website traffic and content reach simultaneously. But you can leverage the content amplification software only by publishing high-quality digital content. Also, you must keep in mind the target audience and desired content promotion channels to choose the right content amplification software.