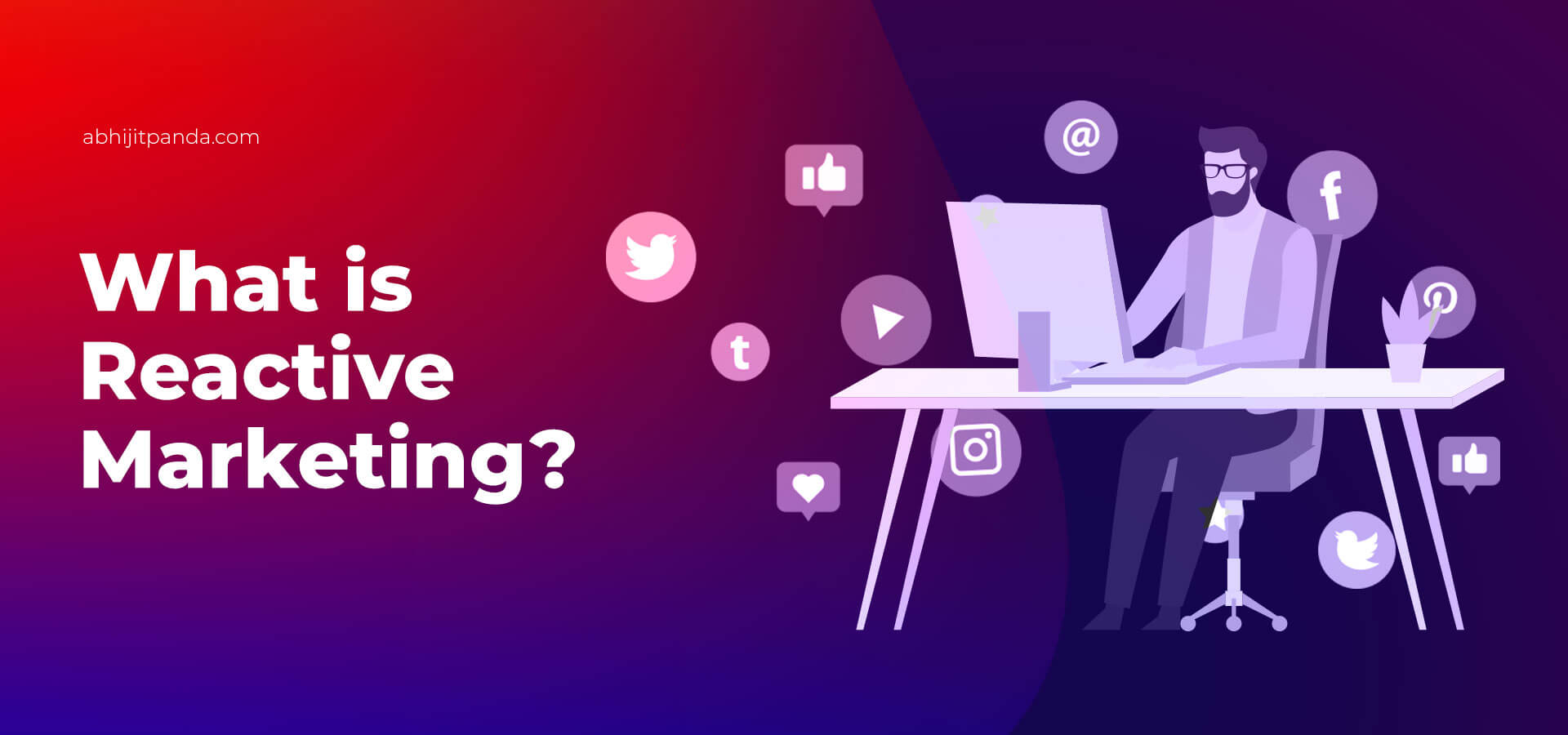 What is Reactive Marketing?
The marketing strategies implemented by companies and startups can be divided into two broad categories – proactive and reactive. Proactive or predictive marketing strategies emphasize planning marketing activities based on consumers' actions and behaviors in the future based on their latent requirements. On the other hand, reactive marketing strategies focus on responding quickly and proactively to changes in market demand and customer needs. Marketers respond to an event after it takes place or a crisis after it happens by making strategies quickly without prior preparation and anticipation.
Hence, reactive marketing requires marketers to remain flexible and agile along with understanding the market deeply. Businesses prefer this form of marketing to proactive marketing when they have to safeguard their brand reputation by responding to recent events like negative news, current trends, and competitors' mistakes.
Marketers can make reactive marketing strategies successful only by adopting some best practices. At the same time, they have to focus on eliminating some of the potential risks associated with this form of marketing. We are going to answer the question "What is reactive marketing" by discussing major benefits, potential risks, and best practices.
Major Benefits of Reactive Marketing
Deliver Timely and Relevant Messages
In the age of 24/7 news cycles, brands can engage and impress customers only by delivering the right message at the right time. Reactive marketing strategies create opportunities for marketers to promote a brand by reacting to breaking news or current event.
Marketers can outwit competitors by publishing reactive content before them. Also, the reactive content will make customers believe that a brand is paying attention to the latest events along with marketing and sales activities.
Boost Customer Engagement
Customers these days trust real humans more than businesses and brands. Most brands these days win the trust of customers by leveraging user-generated content. Reactive marketing creates opportunities for them to humanize brands by responding to the latest happenings.
A brand appears authentic and sensitive when readers access the reactive content posted by it. The reactive content makes customers trust the brand and foster long-lasting relationships. There are many instances when a brand impressed and engaged by executing reactive marketing strategies successfully.
Control Marketing Costs
Proactive marketing strategies focus on anticipating customer needs and meeting futuristic customer needs by providing solutions. Hence, these strategies require businesses to collect data from diverse sources and get actionable insights by analyzing large volumes of data.
But reactive marketing strategies do not require businesses to invest in data collection and analytics. Marketers can achieve the desired goals by publishing reactive content that includes a well-crafted message and a powerful call to action. Hence, businesses can run proactive marketing campaigns without escalating upfront and ongoing costs.
Options to Customize
This is more flexible and customizable than proactive marketing. Leading brands these days run marketing campaigns to achieve various marketing goals – create brand awareness, increase website traffic, or outperform competitors.
Smart marketers can make customized marketing strategies according to predefined marketing goals. Also, they can execute marketing strategies without requiring additional resources. Hence, this form of marketing helps small businesses and startups to promote products/services despite having limited resources.
Potential Risks Associated with Reactive Marketing
Missing out Opportunities
The outcome of the marketing strategies depends on the way a brand responds or reacts to an event or crisis. Marketers often miss opportunities for posting reactive content when they do not remain alert and agile. Marketers must keep track of current happenings to find opportunities for marketing activities. Businesses cannot beat competitors when marketers miss out on a single opportunity.
Not Reacting to Problems Quickly
In addition to finding opportunities, marketers must focus on identifying and solving various problems as early as possible. While making reactive marketing strategies, they should focus on their own brand along with competitor brands. It becomes easier for them to make the most of each reactive marketing opportunity when they resolve the existing and emerging problems early and effectively.
Inability to Adopt Changes
Unlike proactive marketing, reactive marketing does not consider or leverage real-time data. Marketers have to create and publish reactive content without adequate preparation. They simply need to identify reactive marketing opportunities by detecting changes occurring around them. Hence, marketers must remain alert to identify the changes taking place and stay prepared to create reactive content according to the changes.
Best Practices to Make Reactive Marketing Strategies Successful
Respond to an Event on Time
Reactive marketing is all about achieving business goals by reacting to the latest happenings like social media trends or news stories. But the outcome of reactive marketing strategies depends on when and how a brand responds to the specific event. Marketers should remain agile to respond to a great event or hot trend before competitors. Also, they should ensure that the reactive content delivers a powerful value while keeping the audience engaged.
Create and Publish Reactive Content Quickly
Leading brands make these marketing campaigns successful by delivering witty and catchy messages. But they remain respectful and ensure that the message does not hurt customer sentiments. Every business needs an in-house team to accelerate reactive content generation and publications. A business must focus on publishing reactive content in about one hour to leverage any great event.
Look for Current and Future Events
While making reactive marketing strategies, marketers often focus on reacting to breaking news or trending hashtags. In addition to using social media listening tools, they follow thought leaders and track hashtags on social networks. But they can get better results by focusing on upcoming events along with current events. For instance, holidays and festive seasons create opportunities for them to respond to many popular events.
Understand Industry Deeply
No marketer can detect reactive marketing opportunities regularly without understanding the market deeply. Hence, they must monitor and understand the industry by setting Google Alerts for industry keywords, following thought leaders, and subscribing to relevant industry publications. Also, they should attend trade shows, conferences, and similar industry events regularly to find reactive marketing opportunities based on real-time information.
Final Words
Reactive marketing help businesses boost brand awareness and customer engagement by responding to an event or crisis proactively. But marketers can make successful marketing strategies only by remaining alert, flexible, and agile. At the same time, they must monitor and understand the market deeply to plan well-timed marketing activities. The preparation will help them to respond to an event quickly and effectively.