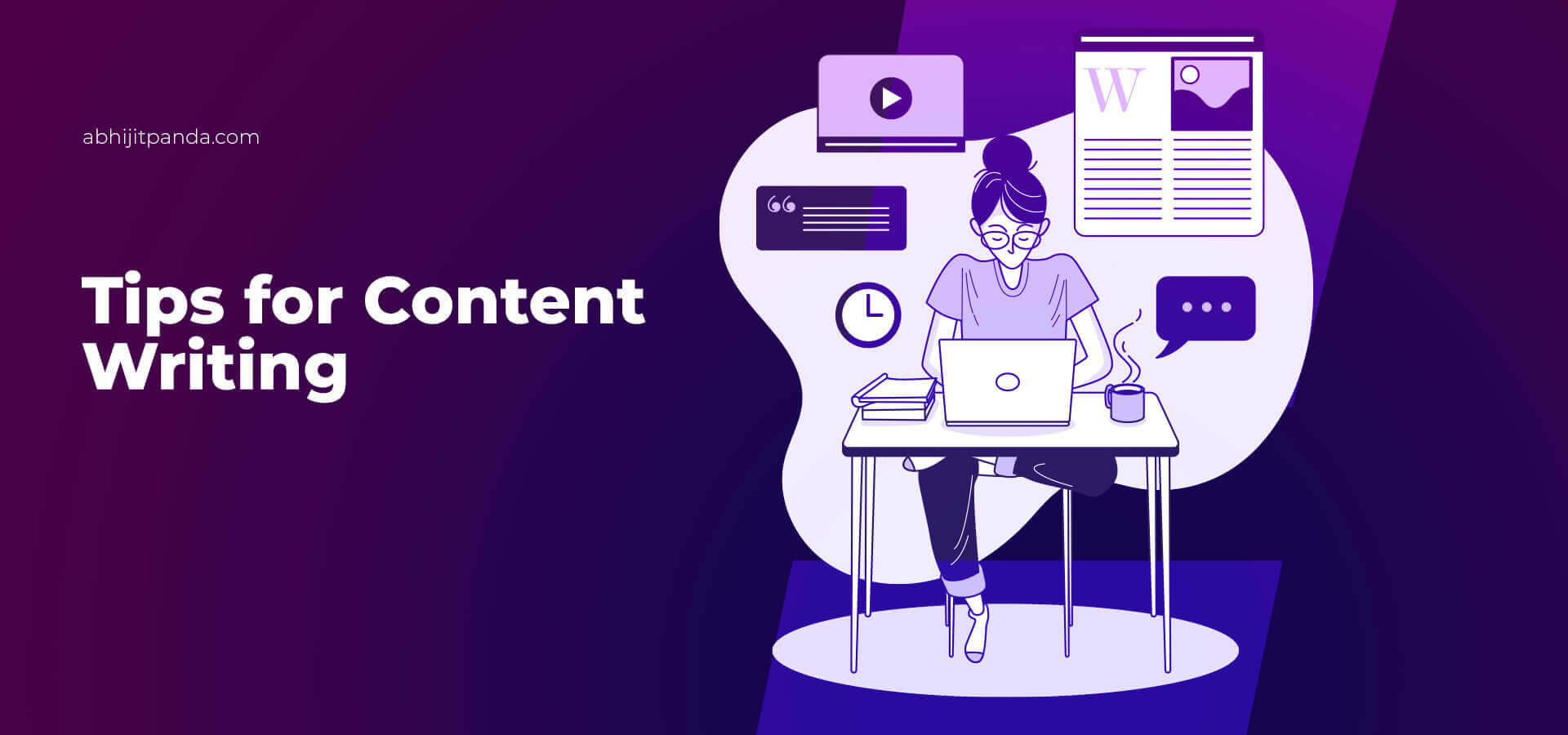 Tips for Better Content Writing
Every business can boost lead generation and lead conversion by launching a variety of digital marketing campaigns – search engine optimization (SEO), social media marketing, content marketing, and email marketing. But no business can run any of these digital marketing campaigns without creating and distributing high-quality content.
According to the updated content marketing statistics posted on HubSpot,

"Blogs are among the primary three forms of media used in content strategies today. Also, 89% of content marketers used blog posts in their content creation strategy in 2020."
Copywriters and digital marketers cannot drive digital marketing campaigns without writing and publishing blogs regularly.
While writing blogs for digital marketing campaigns, you must focus on choosing the right topic and integrating the right keywords. At the same time, you need to ensure that the content is fresh, original, and engaging. That is why; you must adopt useful tips for better content writing to write articles and blogs to deliver the desired marketing message quickly and effectively to the target audience.
9 Useful Tips for Better Content Writing to Boost Digital Marketing Campaign Outcome
1) Understand and Remember the Purpose
While creating content for digital marketing campaigns, content writers write a variety of blogs – business blogs, corporate blogs, affiliate blogs, and service blogs. But every type of blog is written for a specific purpose and to deliver a particular marketing message. Before writing an article or blog, you must identify and understand the message to be delivered to the readers. The understanding of marketing messages will help you to structure and write content by gathering relevant information from various sources.
2) Spend Some Time on Research
No blogger or content writer can create engaging and trendy content without conducting elaborate pre-writing research. You must spend some time gathering the latest and relevant information about a particular topic before writing the content. While conducting research, you must focus on gathering up-to-date information from reliable online sources. Also, you must focus on making the content more relevant and engaging by gathering the latest statistics, metrics, and industry data.
3) Improve Both Readability and Scannability
The readability and scannability of your content will impact the performance of digital marketing campaigns. While writing content, you must keep the content readable and engaging by adopting simple best practices like using simple words, avoiding jargon, keeping the sentences short, and use a conversational tone. At the same time, it is also important to keep the content scannable by adopting best practices like writing short paragraphs, keeping sentences concise, using heading and subheadings, and presenting information as lists.
4) Focus on Creating Evergreen Content
While creating content for digital marketing campaigns, writers create both trendy and evergreen content. Businesses do not remove blogs from their websites regularly. That is why; you must focus on creating evergreen content while writing an article or blog. You can keep the content relevant in the long run only by choosing the appropriate topic. Also, you must use information that showcases both authority and expertise and focus on presenting the information by targeting the beginners. You can easily create content that lasts longer by trying to answer the questions asked by customers or clients.
5) Keep Headline and Intro Compelling
You cannot persuade a reader to read an article or blog completely without keeping the headline concise and compelling. The headline must be compelling and impactful enough to make the reader finish the piece of content by providing relevant information in seconds. It is also advisable to include instructional phrases in the headline to get more shares and likes on social networks. At the same time, you must complement the strong headline with an introduction that compels readers to scroll down. The intro must convince readers that they will get ideas and information that are both useful and relevant.
6) Embed Multimedia Content
You cannot boost the performance of digital marketing campaigns only by writing fresh and compelling textual content. As highlighted by several studies, blogs/articles with images and videos are more effective in attracting and engaging readers than various categories of textual content. Hence, you can make your content more impactful only by embedding the relevant images, visuals, graphics, or videos. You can embed multimedia content in an article or blog to illustrate or explain a point more clearly. At the same time, you can engage and impress the readers by including memes.
7) Optimize the Content for Search Engines
Major search engines recommend businesses update their websites frequently and publish fresh content regularly. The articles and blogs written by you will divert organic search traffic to a website when the content is optimized for search engines. While optimizing content for search engines, you must keep in mind the latest search engine guidelines. At the same time, it is also important to adopt a slew of SEO best practices – create scannable content, embed keywords naturally, place keywords strategically, link the blog internally, and refer to external links.
8) Proofread and Edit the Content
Often spelling and grammatical errors affect the impact of original and insightful content directly. Editing and proofreading are important tips for better content writing that enable you to convey the marketing message to readers effectively and accurately. You can easily identify the spelling and grammatical errors by getting the content reviewed by another content writer or digital marketers. Also, you can improve the quality and readability of the textual content, without putting in extra time and effort, using widely-used online writing assistants like Grammarly.
9) Don't Forget to Check Content Originality
Major search engines do not penalize websites technically for duplicate content. But they reward websites that publish unique content. After editing and proofreading the content, you need to check its originality and uniqueness. You can easily check content originality and uniqueness using one of the widely used plagiarism checkers like CopyScape, QueText, or Grammarly. These plagiarism checkers will help you to identify and remove duplicate sentences and phrases from a blog or article in a few minutes.
While planning digital marketing campaigns, you must focus on the quality and quantity of content. In addition to publishing content regularly, you must focus on improving the quality of articles and blogs by adopting useful tips for better content writing. Also, you must look for content writing tips regularly to create content that drives digital marketing campaigns by remaining relevant and trendy.