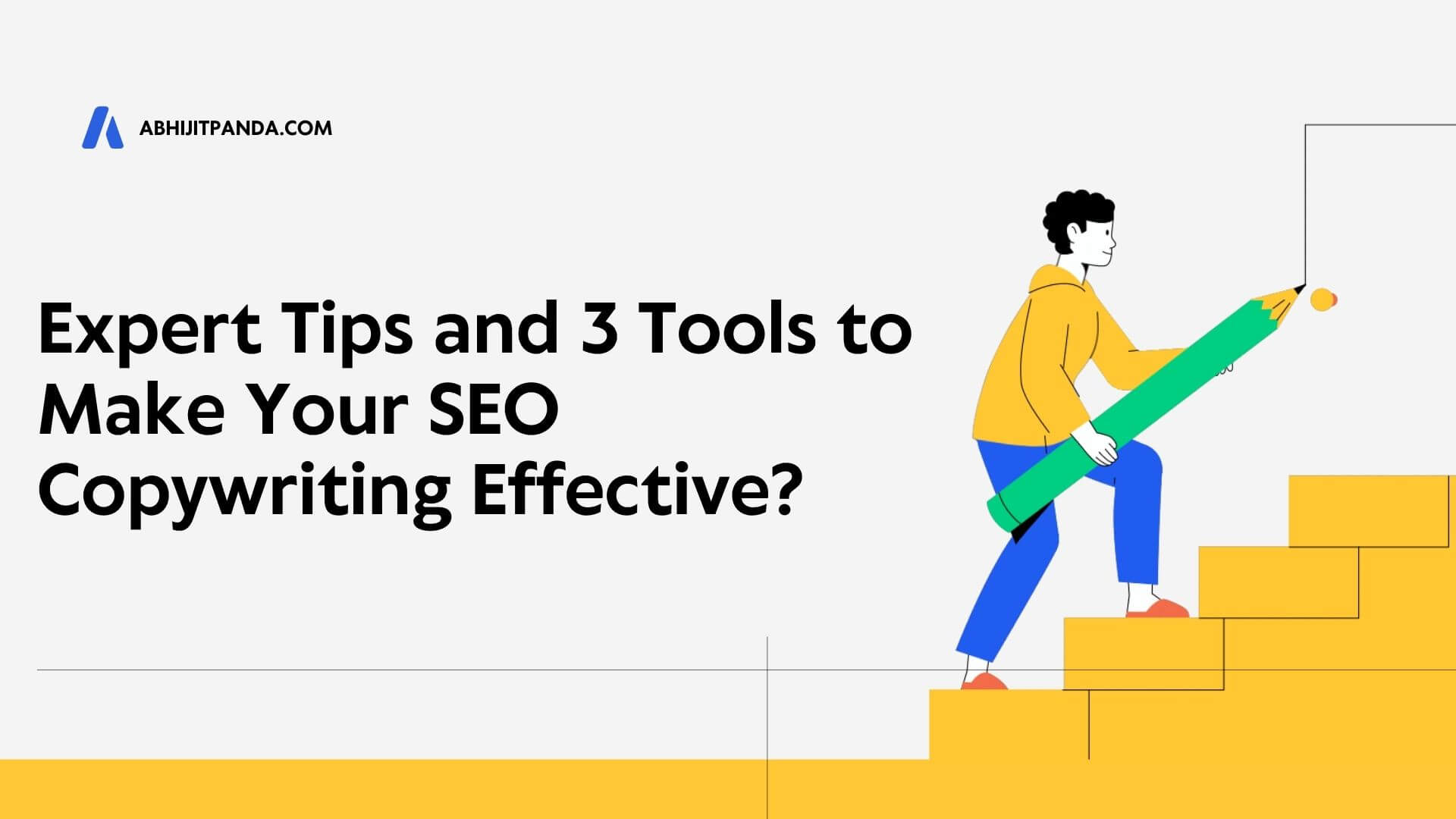 SEO Copywriting Tips and Tools for Better SERP Ranks
Want to know what copywriting is? Well, you have landed in the right place; in this comprehensive guide, we are going to tell you all about SEO copywriting and also about the best tools that can assist you in it.
First, you must know that copywriting is very important for every business that wants to build connections and make more sales.
Copywriting is actually the type of content that entices a reader to perform an action, particularly a purchase. SEO copywriting is quite similar; let us discuss it in detail:
What is SEO Copywriting?
SEO Copywriting is actually a unique way of creating a combination of content that drives traffic and intrigues a reader to take action (subscribing, purchasing, clicking, etc.); usually, this type of writing can be found in promotional blogs, websites, and on e-commerce stores.
SEO COPYWRITING is very much different from that of COPYWRITING. The main purpose of copywriting is to promote products through content in such a way that the reader converts into a potential buyer.
On the other hand, SEO copywriting is focused on generating targeted traffic for conversions and sales.
On the basis of SEO copywriting principles, one can create content for:
Checkout screens
Product Description
Navigation instructions
Website copies
Brand Messaging
Call-To-Action buttons
Landing Pages
SEO Copywriting Tips for Beginners: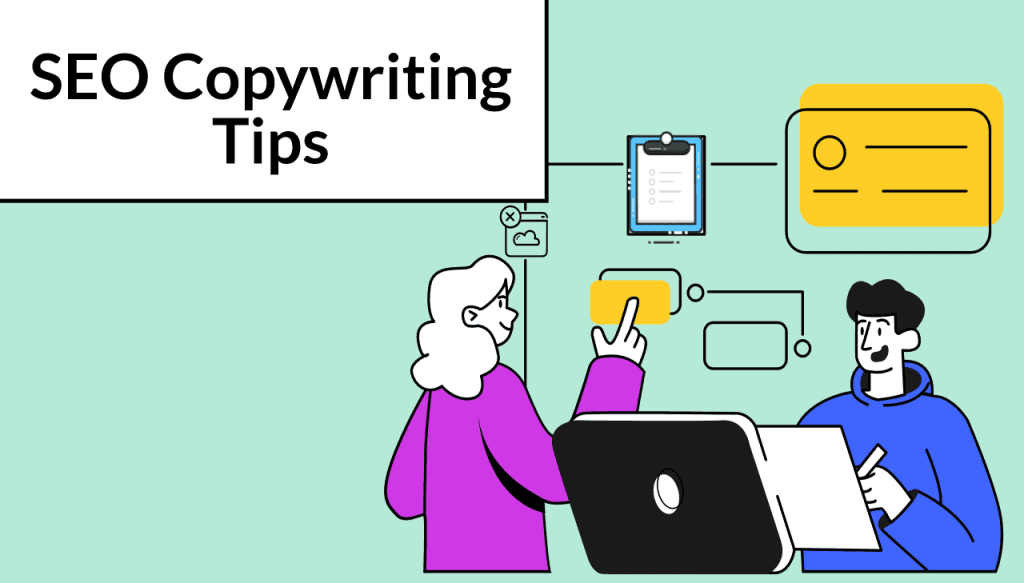 Search engine optimization is not easy, especially for people who have less knowledge and experience about it. Here we have discussed some of the most important tips that can help you with SEO copywriting:
1. Do Proper Keyword Research
In SEO copywriting, the most important thing is keyword research. Without the use of keywords, SEO copywriting is incomplete.
Keyword research is a complicated task, but you can make it easy with online keyword finder and suggestion tools.
Before starting the keyword research process, you have to make a list of terms that you think your target audience would use to find your brand/products/services.
You need to find relevant keywords to those terms.
2. Optimize Titles & Heading Tags
Metadata is an important element when it comes to search engine optimization. Metadata is actually the information that is used by the search engine to understand who your target audience is and what is the purpose of your content and page.
It includes a meta title, description, title tags, and headers in the content. You must try and include keywords in metadata and keep it under the max length given by Google. Here is a guide on meta descriptions and their importance to SEO.
3. Adjust Keywords Naturally
In SEO copywriting, you have to make sure that the keywords you add in your drafts are adjusted in an extremely natural way.
If the keywords are placed in irrelevant places and without context, then it is simply going to piss off the search engine as well as the target audience. Readability is a very important factor in SEO.
So you need to make sure that your written material is pleasing to the readers. Only add keywords where they make sense and can entice an action.
4. Include CTA in Content
As we have told you before, the main goal and purpose of SEO copywriting are to drive traffic and turn them into leads and, finally, sales.
This cannot be done without proper call-to-actions. CTA is the only thing that can turn a reader into a lead that would finally buy something from your page.
Always make sure that the CTA is clear, concise, and actionable. A reader should know what action you expect from them before they click.
5. Use Backlinks in Content
Another point to keep in mind while SEO copywriting is to create backlinks. These are directory links that can drive traffic from other sites to yours.
Getting links from high authority and relevant websites is very important as it can take your site to the top search results. The better position you would have in the search results, the more customers you will get.
6. Ensure High-Quality Content
SEO copywriting helps you win more sales. High-quality content is very important if you want to see your brand in the top search results.
Content that is free of plagiarism and other human errors would always be ranked higher by the search engine. You need to make sure that your content is well-structured, visually enhanced, and has credible information in it.
Three Best Tools for SEO Copywriting
Out of dozens of online tools, we have mentioned the top three ones that can assist you in SEO copywriting:
Online-Notepad.Net
The online notepad is a very important tool for copywriters. The tool can be used for taking notes and making lists during the research phase in copywriting.
You can write down the search terms being used by your target customers on the notepad and can find relevant keywords against them. The online notepad is considered to be the perfect research assistant because it has a search bar in its header.

Users can enter the possible search terms/queries in the search bar and get results from Google. The notepad's search bar can be used to find out relevant results and keywords which are commonly used by competitors.
Research is very important in SEO copywriting. You have to find out keywords that are related to the possible search terms being used by your target audience.
The notepad can help you search and write down all important keywords that you can use in your descriptions, messages, metadata, and in other content copies.
The notepad is free to use, and you don't have to worry about any restrictions or limitations while using it.
Buzz Sumo
Buzz Sumo is another tool for SEO copywriting. The main function of this tool is to find trending topics that would intrigue your target audience.
You can find topics that are popularly being searched by audiences. Not only can you get new content ideas, but this tool also helps you monitor content being published by your competitors.
You can find out what kind of content is being published by your competitors and how much traffic they are gaining from it. Other than this feature, you can also use buzz summon to audit your content.
The tool can help you identify posts that have performed well and have helped you get the most sales.
By gathering this information, marketers can easily repurpose their content and generate more leads.
Grammarly
Grammarly is another important tool for SEO copywriters. Grammarly is quite popular among most people related to the content writing fraternity.
The main purpose of this tool is to find out human errors in content. Not only does it find mistakes, but it also fixes them with the best possible solutions.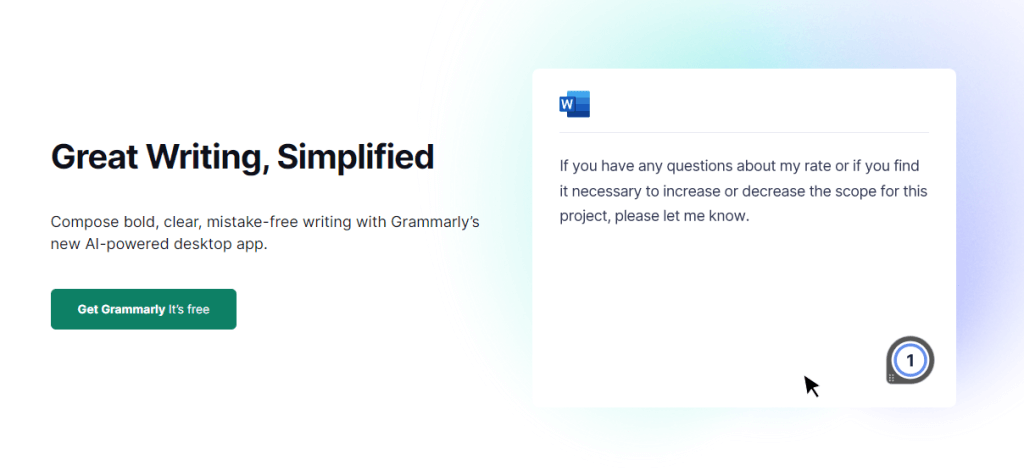 SEO copywriting, as we have told you earlier, should be free of human errors and plagiarism. Well, Grammarly can be used to check out the quality of content and whether it is unique or not.
Other than checking and preventing human errors, the tool can be used to check plagiarism.
Writers can easily improve the quality of their content and remove plagiarism with the help of Grammarly. It is available in both free and paid versions. Moreover, it provides extensions for Word and Google docs.
End Words
The tips and tools we have discussed in this post can help you a lot in automating your workflow. Other than that, you can get complete assistance in search engine optimization.
An important point that you need to know is that these three tools can surely streamline your work, but they cannot replace your personal value. So make sure you put personal effort into making your SEO copywriting effective!