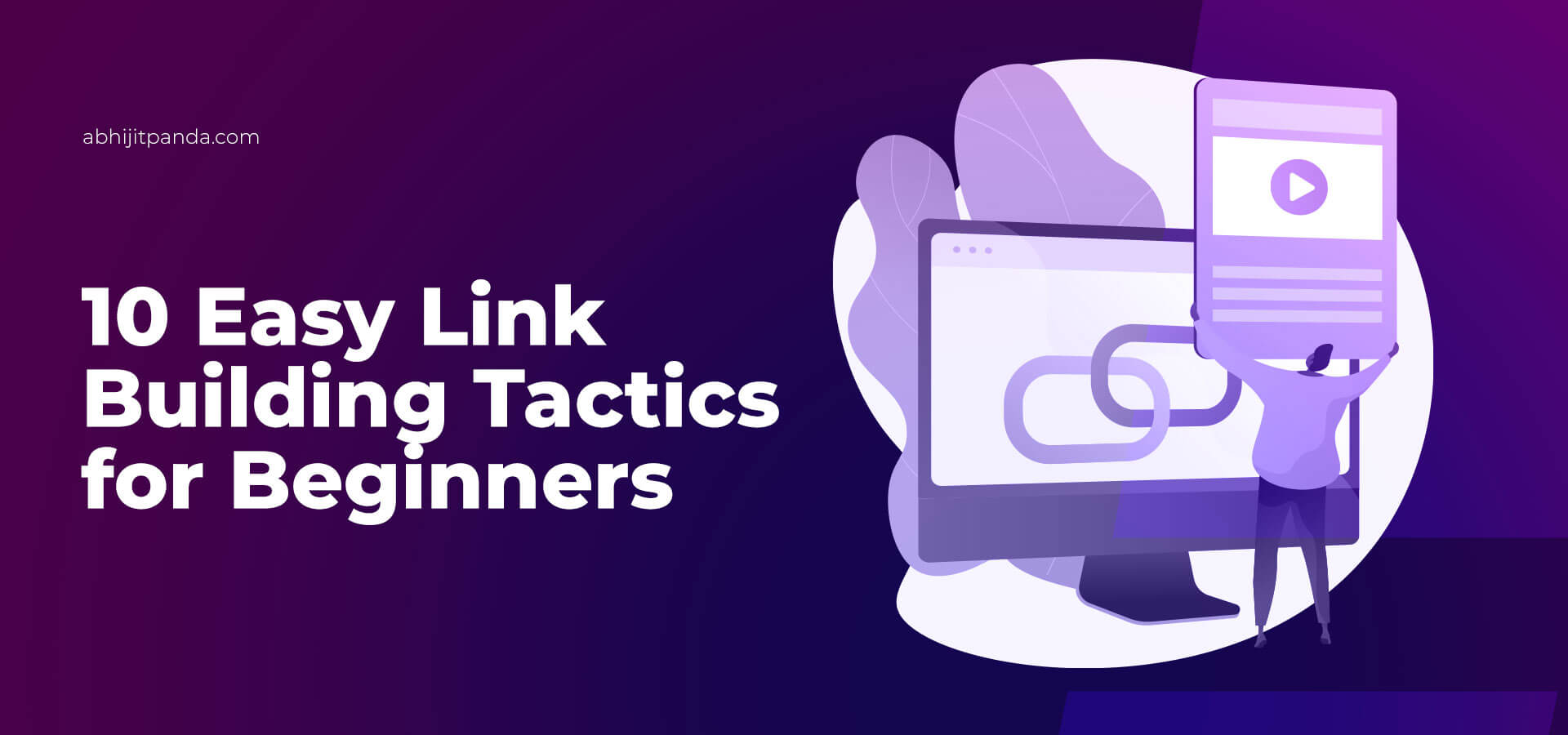 10 Easy Link Building Tactics for Beginners
The search engines use a wide variety of ranking signals to deliver relevant search results to searchers. As one of the key search engine ranking signals, backlinks, inbound links, or incoming hyperlinks make search engine algorithms understand if the content is relevant, credible, valuable, and useful. Both beginners and experienced digital marketers implement link building tactics to improve the ranking and visibility of a website on the search engine results pages (SERPs).
According to WPBeginner.com,

"Search engines like Google use backlink as a ranking signal because when one website links to another, it means they believe the content is noteworthy. High-quality backlinks can help to increase a site's ranking position and visibility in search engine results (SEO)."
The research conducted by several websites has highlighted the impact of the number and quality of backlinks on a website's position on organic search results.
According to Backlinko.com,

"The #1 result on Google search results has an average of 3.8x more backlinks than the results rankings #2-#10." But the experienced digital marketers observe that the white hat link building efforts increase a website's search engine ranking and visibility gradually over one month to three months.
While implementing link building tactics, you must keep in mind the differences between black hat link building and white hat link building. You need to avoid all black hat link building tactics that increase a website's search engine ranking by gaming or violating search engine guidelines. They need to implement white hat link building tactics to boost a website's search engine without violating the latest search engine guidelines.
10 White Hat Link Building Tactics to Boost a Website's Search Engine Visibility
Guest Blogging
Many popular and reputable websites these days allow outsiders to write for them. The guest blogging options provided by popular websites make it easier for you to earn high-quality backlinks. You can use any search engine to find guest blogging opportunities and shortlist the relevant websites. But you must remember that Google has been changing guidelines related to guest blogging regularly. You must not create and publish guest blogs with the sole intention to build backlinks. You need to pick a relevant topic, identify the target readers, and provide benefits to the reader.
Digital PR Campaigns
As a popular online marketing strategy, digital PR helps you to boost your online presence and its website's search engine ranking by networking with bloggers, journalists, and influencers. The digital PR agencies will earn high-quality backlinks for your website by sending online press releases. They can also help in increasing social media mentions. However, you can leverage the link building tactic successfully only creating unique stories and back the stories with real-time data. The digital PR campaigns will help you to earn high-quality inbound links from several websites and publications in a short amount of time.
Resource Pages
The resource pages are designed specifically to provide useful resources and links related to a specific topic. For instance, some resource pages make it easier for beginners to learn digital marketing by providing specific information. You can use any search engine to find resources pages providing links related to a wide range of topics. You can even perform a competitor analysis to identify the resource pages containing links to your competitors. But you must create a web page that must add value to the links displayed on the resource page. After creating a relevant page, you can earn backlinks by including the URL as one of the resources.
Testimonials and Reviews
Most businesses these days promote their products and services through user-generated content. They provide customers and users with options to share their experience, review the product/service, and post testimonials. You can leverage the option to earn high-quality backlinks to your website by writing and posting short reviews and testimonials. Also, you can approach the website to feature you in various ad campaigns to boost the sale of the product through genuine user-generated content.
Help A Reporter Out (HARO)
As a hugely popular online service, Help A Reporter Out (HARO) makes journalists and bloggers connect with relevant and expert sources.
According to HelpAReporter.com,

"HARO distributes more than 50,000 journalist queries from highly respected media outlets each year. Its straight-forward pitching process allows sources to find topics related to their expertise, industry or experience, while allowing journalists and bloggers to spend more time writing and less time sourcing."
You can easily earn a backlink to your website by responding to the requests sent by the website through emails. However, you cannot earn more backlinks by responding to the requests frequently. While responding to a request, you must check if you can provide expert comment on the specific topic, concept, or issue. When you provide relevant and expert comment, your website will get an authoritative backlink without putting extra time and effort.
The Skyscraper Technique
The popular link building technique was developed by the SEO blogger Brian Dean. Brian Dean has used the skyscraper technique successfully to increase his website's search engine ranking and organic traffic. The skyscraper technique emphasizes earning high-quality backlinks by creating content that is more engaging and impactful than an existing piece of content which is popular and has more backlinks. You should approach the webmasters to add more value to the content by linking the web page to the superior content created by you.
Original Research and Studies
While creating fresh content, bloggers and content writers collect information, data, statistics, and trends from many reliable sources. You can get backlinks from many articles or blogs by creating content that writers will refer and link to. You can easily get many backlinks by conducting market research, gathering industry statistics, or conducting original research. The unique content will make your website stand out in the crowd. Also, many bloggers and writers will connect their content by quoting from the unique content.
Broken Links
The broken links directly impact a website's search engine visibility and user experience. But many webmasters do not audit their website's link profile regularly. Hence, they often do not remove the web pages that visitors can find or access. You can easily identify the broken links in a website using many online tools and plugins. After identifying the broken links, you should approach the webmaster to get the broken link repaired. Also, you can use the broken links as a link building tactic to request the webmaster to replace the broken link with a similar and superior web page on your website.
Content Roundups
Many websites these days helps visitors and subscribers to access great content about a location, industry, or topic by performing weekly or monthly roundups. They collect great content from multiple sources and make the content accessible to users by creating a single page. You can easily get backlinks from a popular website by getting your article or blog feature in the list of curated content. But the link building tactic requires you to create and post great content before approaching the webmaster to include your web page in the list.
Competitor Mentions
The new-age tools make it easier for you to track a specific brand, keyword, or hashtag being mentioned on popular social networking platforms. You can use the tools to track the monitor the websites and online resources mentioning your competitors. Also, you can approach webmasters to mention your brand or content on the same web page. You can even persuade the webmaster to replace the competitor by writing superior and better articles or blogs. But you must approach the webmaster in the most appropriate way to get a high-quality backlink to your website.
While comparing and implementing link building tactics, you must remember that high-quality link building or link acquisition is an ongoing process. You must keep in mind the latest search engine guidelines to identify and avoid the black hat link building tactics. Also, you must assess and audit the backlinks from time to time to ensure that you have built high-quality backlinks.