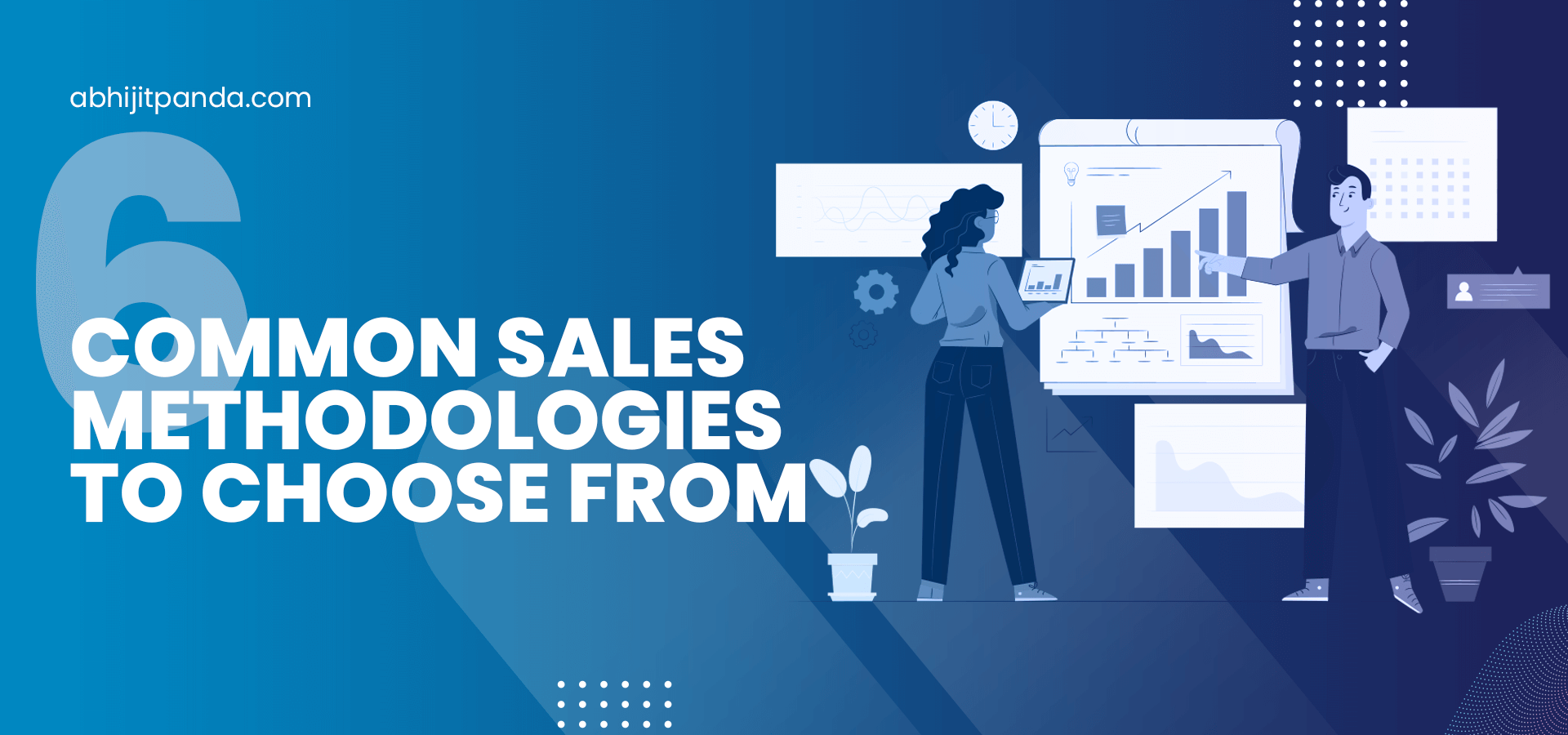 Common Sales Methodologies to Choose from
Every organization these days sell the same products or services to a wide variety of customers. Salespeople can close more deals only by understanding and streamlining the buyer's journey. Sales methodologies make it easier for salespeople to streamline buyers' journeys by providing them with the right strategies or guiding principles. Salespeople can refer to the right sales methodology to approach the sales process more efficiently and close more sales deals.
According to Gartner Glossary,

"Sales methodologies are the guiding principles for how a sales organization engages current and prospective customers, dictates sales processes, and develops seller skills and enablement support."
Enterprises these days adopt many common sales methodologies to boost sales conversions regularly. But every organization has the option to choose from many tried and trusted sales methodologies. It can boost the performance of salespeople and optimize the sales process only by adopting the right sales methodology. We are helping you integrate the right sales methodology into your organization's sales culture by comparing some of these widely used sales methodologies.
Summarizing and Comparing 13 Tried and Tested Sales Methodologies
1. SPIN Selling
SPIN (Situation, Problem, Implication, and Need-Payoff) selling methodology makes salespeople build a rapport with the buyer by understanding her needs, challenges, and pain points. Salespeople can identify a buyer's pain points by four categories of questions – situation, problem, implication, and need-payoff. They should ask the prospect's current situation, asking situation questions, and understand her pain points by asking questions pertaining to problems.
Likewise, they make the prospect aware of the implication of not healing pain points by asking implementation questions and make her consider the change or improvement in the scene once the problem is solved by asking need-payoff questions. The methodology does not require salespeople to promote a product/service explicitly. Instead, it emphasizes making prospects realize the benefits and value of the product according to their pain points.
2. Conceptual Selling
Conceptual selling methodology focuses on aligning the buyer's journey to the sales process. It requires salespeople to present and sell the product/service as an idea of the solutions. The salespeople need to ask targeted and intelligent questions to understand the decision-making process and customers' perceptions or concepts of the product.
While using the conceptual selling approach, salespeople continue the sales process in three stages – collecting information, sharing information, and getting commitment. Also, they focus on winning the customer's trust and building a long-term relationship. This sales methodology is used commonly by enterprises for complex sales deals and large accounts that involve multiple decision-makers.
3. SNAP Selling
This common sales methodology is developed based on four key principles – keep in simple (S), be invaluable (N), always align (A), and raise priorities (P). Enterprises adopt the SNAP methodology to deal efficiently with busy prospects with adequate knowledge. The salespeople influence such decision-makers by convincing them about the importance of the product/service for their organization.
The salespeople can make it easier for the busy prospect to buy the right product by addressing his precise needs and exceeding his expectations. SNAP selling is one of the sales methodologies that are best suited for modern selling environments where decision-makers gather information from multiple sources despite their packed schedules.
4. Challenger Sale
This sales methodology divides B2B salespeople into five broad categories – hard workers, relationship builders, reactive problem solvers, lone wolves, and challengers. Also, it considers challengers more successful in closing sales deals than others. Challengers control the conversation or negotiation by educating the customer and presenting the product/service as a tailor-made solution.
They influence purchase decisions by addressing prospects' concerns and clearing misconceptions. They act as a trusted advisor to the client by understanding the client's industry and focusing on major pain points. Many organizations these days adopt challenger sale methodology to build trusted relationships with prospects and differentiate their product/service from competitors in complex sales environments.
5. N.E.A.T. Selling
N.E.A.T methodology was developed as a flexible alternative to widely used lead qualification methodologies like BANT and ANUM. It emphasizes lead qualification based on four important parameters – needs (n), economic impact (e), access to authority (a), and timeline (T).
Salespeople can leverage this sales methodology in case of both simple and complex sales cycles. But they must focus on building an authentic relationship with the prospect by presenting solutions that address and prioritize their concerns. The authentic relationship helps salespeople to evaluate and qualify the leads by asking the right questions.
6. The Sandler System
The sales methodology developed by David Sandler requires salespeople to focus on both lead qualification and relationship development by acting as a trusted advisor to the prospect. While implementing the Sandler System, salespeople need to follow three basic steps – build a relationship, identify the opportunity, and close the sales deal.
This sales methodology is flexible enough to fit into varying sales environments. But the salespeople must gather adequate information about the prospect early by asking the right question. The information gathered from the prospect helps them to build and present customized solutions according to the prospect's pain points and budget.
7. MEDDIC
This B2B sales methodology focuses on driving close rates by improving the customer qualification process. MEDDIC requires salespeople to qualify leads using six important parameters – metrics (M), economic behavior (E), decision criteria (D), decision process (D), identify pain (I), and champion (C). These parameters identify leads who will become paying customers when the salespeople adopt the right approach. Most enterprises adopt MEDDIC methodology when the B2B selling environment is complex.
8. Solution Selling
It is one of the simple but widely-used sales methodologies. Solution selling methodology does not require salespeople to promote or push products. Instead, salespeople should focus on providing customized solutions to prospects according to specific problems. Hence, salespeople need to focus on identifying the precise problems faced by the customer and help them solve the problem by recommending the product or service. Enterprises always adopt solution selling to boost the sale of customized products or services. But they can leverage the sales methodology only when the salesperson acts as a consultant and help prospects solve specific problems.
9. Value Selling
As the name suggests, value selling methodology emphasizes the value or benefits delivered by a product/service instead of the product/service. It measures value or benefits as the difference between the price paid by the consumer and benefits delivered by the product/service. Customers spend more to avail themselves of a product/service that delivers higher value.
Also, they stop considering the product price after receiving adequate value. While adopting the value selling methodology, organizations find it challenging to balance a product's value and price. They conduct elaborate market research to ensure that the product/service reduces the buyer's pain points while being available at the right price.
10. Target Account Selling
Organizations these days use buyer personas and use lead qualification frameworks to find and nurture the right leads. They adopt target account selling methodology to identify and distinguish the prospects with higher chances of becoming paying customers. Organizations invest in customer relationship management (CRM) software and sales automation tools to identify prospects who are interested in a particular product or service. Unlike other sales methodologies, target account selling prioritizes quality and quantity. It helps salespeople close more sales deals by focusing only on qualified leads from the early stages of the sales process.
11. Command of the Sale
Enterprises often find it easier to integrate this sales methodology with their existing sales system. Also, command of the sale helps businesses boost close rates in B2B sales environments that are complex or technology-driven. But salespeople can leverage this sales methodology only by guiding the prospects through the decision-making process by acting as their trusted advisors. That is why; they need to analyze information gathered from various sources to identify customer pain points and opportunities required to craft and present value-based and customized solutions.
12. Gap Selling
As the name indicates, this sales methodology drives sales conversion by focusing on the gap between the prospective buyer's current state and future state. Salespeople need to bridge the gap by helping the prospect move from the current state to the future or expected state by addressing specific problems and reducing particular pain points.
That is why; they need to identify the prospect's needs clearly and precisely by understanding her business, goals, and issues. The deep understanding helps them sustain a strong relationship with prospects by focusing on solving their core problems and issues. But salespeople need additional time to understand the root cause of the business problem by gathering varying information and asking many questions.
13. Inbound Selling
Unlike outbound sales methodologies, inbound sales methodology aligns sales and marketing activities. It requires salespeople to personalize and influence the prospect at three stages in the buyer's journey – awareness, consideration, and decision – through interaction with targeted content. Salespeople reach out to potential customers through multiple marketing channels, including search engines and social media.
Multichannel communication makes it easier for salespeople to find and connect with prospects who are interested in a specific product or service. Organizations these days adopt inbound selling methodology to generate, nurture, and convert leads in a cost-efficient way. They launch multiple digital marketing campaigns to influence prospects who conduct elaborate research before communicating with sales representatives.
Conclusion
Every organization has the option to adopt and implement a slew of sales methodologies. But you must remember that every sales methodology has its pros and cons. Your organization must focus on adopting the right sales methodology through elaborate exploration and testing. Also, you must compare these tried and trusted sales methodologies according to the nature and complexity of each sales environment.