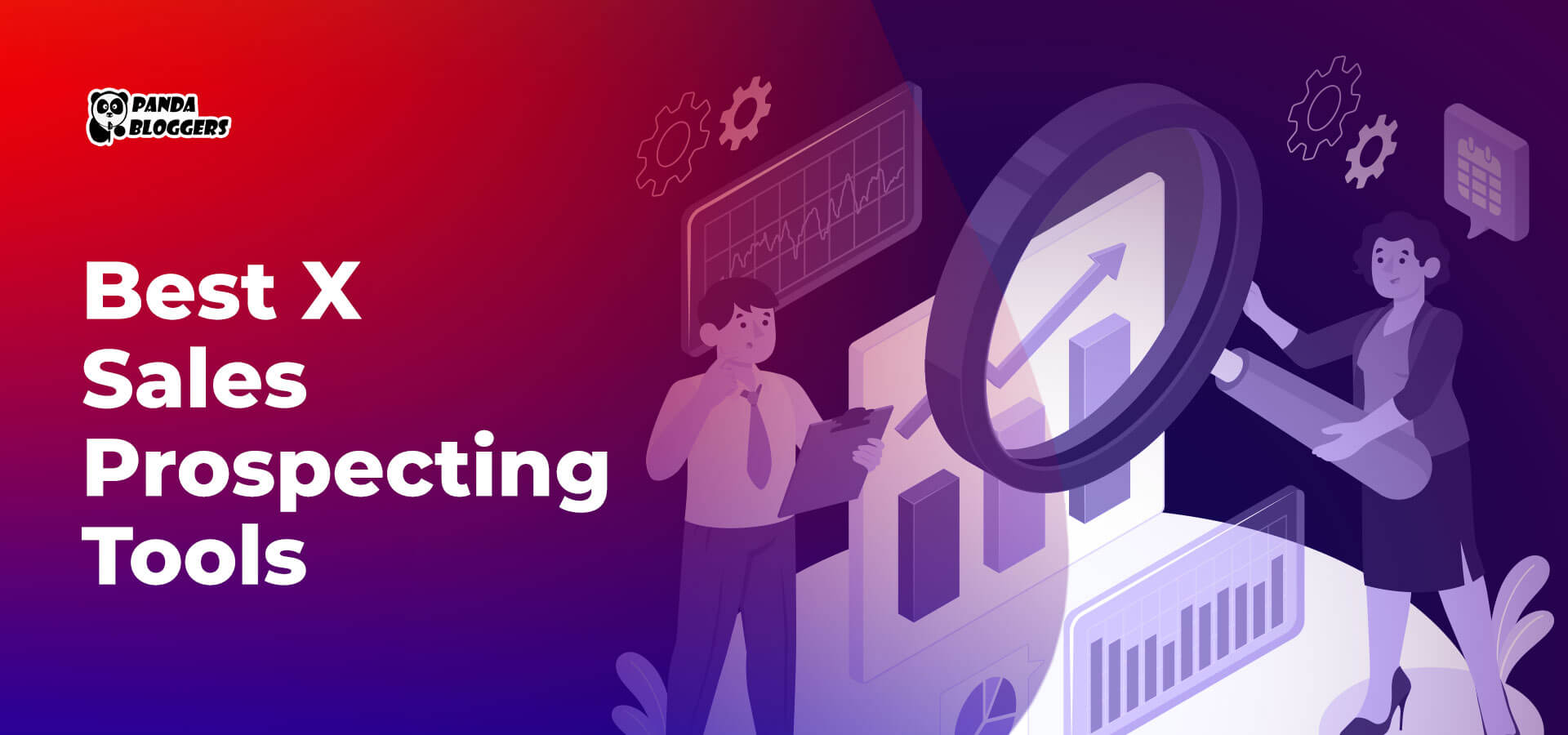 Best Sales Prospecting Tools
Multichannel marketing strategies help marketers generate leads regularly. Lead generation strategies focus on identifying potential customers who have shown interest in a product or service. Salespeople create sales opportunities by identifying qualified leads and reaching out to them through multiple communication channels.
What is Sales Prospecting?
According to the U.S. Chamber of Commerce,
"Sales prospecting is the process of growing and developing your business by searching for potential customers, clients or buyers for your product and services. By finding these potential buyers, your sales team can then work with them through the sales funnel to turn them into revenue-generating customers."
As a multistep process, sales prospecting helps salespeople find potential customers or prospects for a product and create sales opportunities by reaching out to them. Salespeople convert prospects into buyers by contacting and nourishing them throughout the buyer's journey. But they increase the chances of closing a deal by contacting the prospect early in the sales process.
Why Automate the Sales Prospecting Process?
Often salespeople have to put in extra time and effort to qualify and contact leads manually. Enterprises boost the productivity and performance of sales representatives by investing in the best sales prospecting tools. The features and tools provided by these specialized software solutions help salespeople automate one or multiple steps in the sales prospecting process.
They make it easier for your sales team to find more prospects by evaluating and rating leads based on buyer personas. Also, sales prospecting tools help your sales representatives close deals quickly by automating routine sales prospecting activities like creating a list of qualified leads, gathering contact details, and preparing content for communication.
What are some of the Best Sales Prospecting Tools?
While automating the sales prospecting process, you have the option to choose from many free and premium tech solutions. Each of these sales prospecting tools helps you automate routine and repetitive activities in the process by providing features and tools. We are making it easier for you to streamline and automate the crucial process by discussing some of the best sales prospecting tools.
Overview of 18 of the Best Sales Prospecting Tools
1) LinkedIn Sales Navigator
LinkedIn Sales Navigator helps users identify potential customers from a product or service using buyer intent signals. The insights provided by the software make it easier for users to identify and prioritize accounts based on real-time data.
At the same time, salespeople can influence accounts' purchase decisions by influencing them through friends and past coworkers. You can use LinkedIn Sales Navigator by choosing from three pricing models – Core, Advanced, and Advanced Plus.
The free version of the tool helps you identify and nurture leads by providing data-driven insights. But you have to upgrade to premium versions to track prospects, nurture relationships, and leverage a customer relationship management (CRM) system.
2) Product Hunt
The online community platform displays new products to visitors and members on a daily basis. Enterprises leverage Product Hunt to showcase their new tech solutions. At the same time, buyers access the website to find the latest tech solutions according to their requirements.
That is why; companies offering Software as a Service (SaaS) leverage Product Hunt as a robust sales prospecting tool. The thriving community makes it easier for them to find prospects for specific tech solutions. Also, users can find potential customers in minutes by entering specific topics or keywords.
3) HubSpot Sales Leads and Prospecting Software
HubSpot Sales Leads and Prospecting Software is one of the tech solutions that automate the sales prospecting process fully. It helps users generate sales leads by tracking website visitors. Also, users can leverage the data-driven insights provided by the software to identify interested leads.
Hence, salespeople can close more deals by prioritizing interested leads over cold leads. At the same time, they can identify and target the most relevant prospects using filtering criteria like company size and geography.
The software shares information about new prospects by sending automated emails to each member of the sales team. Salespeople can use the same software to contact prospects by sending emails, scheduling meetings, queuing up cold calls, or initiating a live chat.
4) Hunter.io
Unlike other sales prospecting solutions, Hunter does not help users qualify and shortlist leads. But it makes it easier for the salespeople to connect with B2B prospects by gathering contact information of decision-makers. Salespeople usually use the tool after the lead qualification process.
They use Hunter to find the email addresses of decision-makers simply by entering the company's name or domain. Also, they can collect email addresses in bulk by entering a list of company names or domains. Many enterprises invest in this online tool to increase close rates by connecting with prospects early in the sales process.
5) Kixie
The features provided by Kixie help users reach out to potential customers early and quickly. Salespeople leverage the all-in-one phone solution provided by the software to contact prospects by making phone calls and sending text messages.
They connect with the right prospect at the right time by scheduling sales calls. Likewise, they send text messages to the prospect's business phone numbers automatically. Enterprises can boost sales prospecting by integrating Kixie with widely-used CRM software like Salesforce, Hubspot, and Zoho.
6) WellFound
WellFound (earlier known as AngelList Talent) is developed as a talent acquisition platform for startups. It enables job seekers to connect with startup founders directly without involving any third-party recruiter.
Many salespeople use WellFound at the time of sales prospecting to access a robust directory of startups. They find prospects by filtering startups using a variety of parameters – type of business, number of employees, and stage of funding.
7) Crunchbase
The all-in-one prospecting solution helps users discover qualified prospects. Crunchbase helps salespeople gather information about private and public companies. Also, salespeople can use the online tool to qualify prospects based on buyer personas.
At the same time, the software helps them contact prospects early by gathering contact data of decision-makers. Users also have the option to get automated recommendations and track shortlisted prospects in real-time by receiving alerts from Crunchbase.
8) Datanyze
Datanyze drives B2B sales prospecting by helping users connect with prospects. Salespeople use this sales prospecting tool to collect B2B contact data quickly and accurately. Datanyze gathers the email addresses and mobile numbers of decision-makers directly from LinkedIn and company websites. Also, it helps users control sales prospecting costs by offering many free and premium packages
9) Ring.io
Enterprises can integrate this cloud-based phone solution seamlessly with widely-used CRM systems like Salesforce, Zoho, Hubspot, and Pipedrive. The integration helps salespeople contact prospects using a dialer provided by Ring.io. Sales representatives can use the dialer to make instant calls as well as leave pre-recorded voice messages.
The dialer boosts their productivity by enabling them to make more calls. Also, it boosts communication by routing incoming calls to the right sales representatives. The real-time data captured by Ring.io helps enterprises evaluate sales prospecting strategies using several important metrics.
10) Lusha
Salespeople use Lusha to access a robust B2B database. They can use the software to gather contact information for valuable prospects. In addition to providing email addresses and contact numbers of decision-makers, Lusha helps users prepare a prospecting list based on prospects' buyer intent.
The features provided by Lusha boost sales prospecting by enabling users to shortlist prospects and find their contact data. An enterprise can leverage Lusha for customer prospecting by availing the software based on one free and three premium plans.
11) Gong
The quality of customer interactions impacts the sales prospecting process directly. Salespeople can boost sales prospecting and close more deals only by understanding and assessing customer conversations.
Gong helps them understand what is working and what is not by unifying and evaluating various customer interactions – voice calls, video calls, emails, and text messages. It uses intelligence technologies to share insights and tips that help salespeople boost customer interactions across channels.
12) SalesHandy
SalesHandy helps salespeople follow up with prospects after the lead qualification process. Sales representatives can use SalesHandy to verify the list of prospects and send personalized emails to each prospect. At the same time, the software helps them influence prospects by comparing multiple versions of subject lines, call-to-actions (CTAs), and email content.
Users can keep marketing communications organized using the unified inbox provided by the software. Likewise, they can measure the email marketing results by knowing which recipients have opened and read the emails. Your organization can kickstart and scale cold email outreach by accessing the software based on monthly or yearly pricing plans.
13) LeadFeeder
The popular B2B lead generation software streamlines sales prospecting by providing a specialized tech solution. In addition to driving lead generation and account-based marketing, LeadFeeder helps salespeople identify and contact high-intent prospects.
It detects prospects by analyzing website visitors based on what they browse on the website. Also, it provides company names by gathering information about anonymous website visitors. Salespeople can use LeadFeeder to gather email addresses and social profiles of decision-makers.
14) Outreach
The sales execution platform makes salespeople more productive through digitalization driven by AI and ML technologies. Sales managers use Outreach to get a 3600 view of the sales cycle. The data-driven insights provided by the software help sales representatives to connect and engage with prospects in a more effective way.
At the same time, the insights make it easier for salespeople to make meetings successful by identifying the relevant trends and competitive threats. Enterprises opt for Outreach to discover prospects and convert them into customers by leveraging next-generation technologies.
15) Owler
Salespeople leverage Owler as a community database. They use the software for sales prospecting purposes to discover prospects, track competitors, and access the latest industry news. Owler collects information about prospects and competitors from a community of over 5 million business professionals.
Members of the community share detailed, up-to-date, and accurate information about companies. The information helps salespeople shortlist prospects using a variety of filters – sector, revenue, location, and employee count. Owler helps them track prospects and competitors by sending automated alerts on a regular basis.
16) Emissary
Emissary helps enterprises increase sales conversion by leveraging a robust advisor network. The network creates opportunities for sales representatives to boost sales prospecting and shorten sales cycles by interacting with over 12000 advisors.
Most of these advisors have worked in Fortune 500 companies as directors and global heads. Subscribers can gain ideas and insights by interacting with these advisors in person. Also, they have the option to choose advisors from specific industries like technology, retail, or financial services.
17) Albacross
Albacross streamlines sales prospecting and boosts sales conversion using buyer intent data. Enterprises use this software to uncover unseen website visitors and convert them into leads. Albacross helps users identify B2B companies who have visited a website and understand their buyer intent.
Also, it facilitates B2B lead nurturing by helping users craft personalized account-based marketing campaigns. The software can be integrated seamlessly with popular CRM systems like HubSpot, Salesforce, and Slack. Many enterprises start using Albacross with Self Service plan and upgrade to the Growth plan after the initial trial.
18) Rebump
Salespeople initiate contact with prospects by sending emails. But they have to follow up with prospects to get responses. Rebump drives sales prospecting by helping users send follow-up emails to such prospects automatically. The email automation software allows users to set the number and frequency of follow-up messages to be sent to individual prospects.
Also, sales representatives can use Rebump to monitor email threads and know responses. They can further send follow-up emails smoothly by integrating the customer prospecting solution with Gmail. Each edition of the software allows unlimited follow-up emails to prospects.
Conclusion
Sales prospecting is a crucial and multistep process. Sales representatives have to put in extra time and effort to close more deals by streamlining the sales prospecting process. The best sales prospecting tools help them speed up the process by automating routine and repetitive tasks.
Some of them make it easier for the sales team to evaluate and qualify leads, while others help them initiate contact with potential customers early and effectively. Hence, you must evaluate these widely-used sales prospecting tools to improve slow and complex steps in your sales lifecycle.