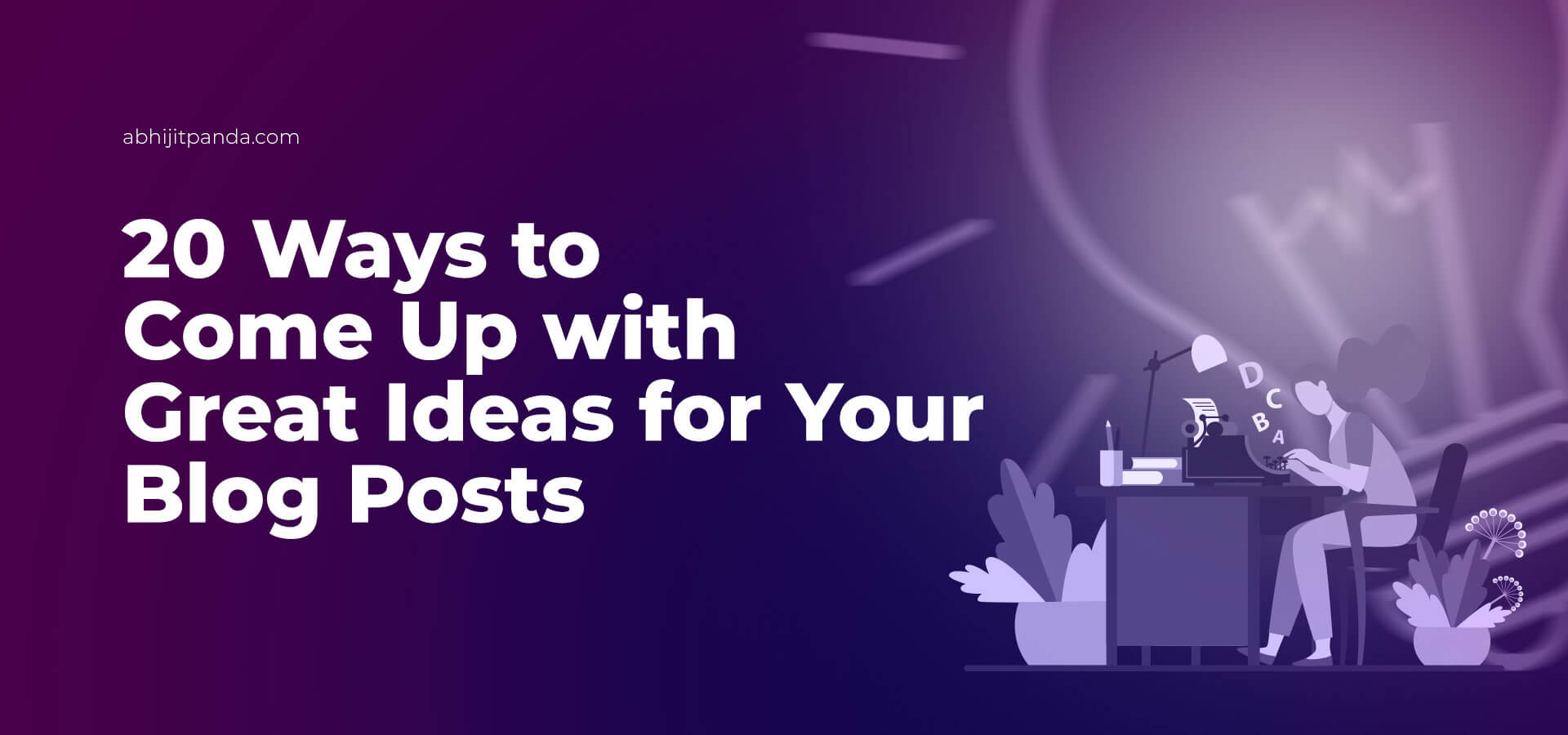 20 Ways to Come Up with Great Ideas for Your Blog Posts
If you are someone like me, who is in charge of preparing a content calendar every month, you are in the right place. Many people also ask me how to come up with innovative ideas for the editorial calendar. Here are 20 ways to come up with interesting blog post ideas.

"Companies that publish 16+ blog posts per month get nearly 3.5x more organic traffic than those that publish 0-4 monthly. Also, longer, in-depth blog posts generate 9x more success in lead generation than short ones."

According to the blogging statistics compiled by GetCodeless.com
Website owners and bloggers can get more website visitors and generate more leads by publishing in-depth and insightful blogs regularly. But they cannot achieve the predefined marketing goals without persuading visitors to read the blog post.
"Bloggers might regularly spend 3.5 hours on carefully crafting their posts but, on average, a visitor to their site will barely spend half a minute on that page."

The blogging statistics posted on 99Firms.com
In addition to publishing blog posts regularly, bloggers need to come up with creative and innovative blog ideas. The out-of-box blog ideas will help businesses and websites to make their content stand out in the crowd. Also, they can use blogs as a powerful marketing tool to beat the competition. The writers or bloggers lack the option to predict if a blog post will go viral. But they can easily come up with new blog posts new ideas and content topics by applying some simple techniques.
20 Ways to Come Up with Great Ideas for Blog Posts
Answer Commonly Asked Questions
The bloggers can create valuable content without answering relevant questions – what, how, where, when, who and why. They must explore ways to answer these relevant questions using specific products, services, or keywords. While using search engines, most people collect information by asking questions. Hence, bloggers can keep searchers engaged by creating content that answers the frequently and commonly asked question. However, they must link the questions and answers to the targeted keyword. Here is a list of commonly asked questions in Google in 2023.
I have started using these 2 cool tools: Answer The Public and Also Asked. If you find any other interesting tools like this, please put it as a comment.
Gather Ideas from Industry Blogs
Businesses from a specific industry often publish blogs by targeting the same readers and using identical keywords. The bloggers can easily come up with new content topics by looking at the blogs published by competitors. However, they cannot keep the website visitors engaged by copying the topic or rewriting the content. They need to form catchy topics and write fresh content based on the ideas collected from various blogs. Also, the writers must focus on creating content that is more impactful than the existing industry blogs.
Take Suggestions from the Target Audience
Online communities and social networking platforms enable content writers to connect with readers without putting in extra time and effort. Bloggers can use online platforms to understand what the readers want to read. They can use popular social networking platforms to get suggestions from the target audience by conducting online polls. The suggestions collected from various sources will help the writers to create content according to the preferences and expectations of the target audience.
There are several cool free tools for creating a poll, I have used Doodle, Survey Monkey, and Poll Maker : they are easy to use. Doodle also gives the option to integrate the poll with your calendar. Most of these tools also allow you to embed the poll in your website directly.
Join Industry Meet Ups
Many professionals these days host meet-ups to discuss ideas and trends with people from the same industry. The people joining the online meet-ups normally belong to the same industry and share similar interests. Bloggers can easily get ideas for blog posts by joining various meet-ups regularly. Likewise, they can get innovative ideas for writing blog posts by attending seminars, conferences, and trade shows related to the specific industry. Bloggers can further create engaging content by sharing their experiences at meet-ups or seminars.
Being a digital marketing enthusiast, I have attended many such meetups. Globally Meetup.com is the most popular site where you can choose and meet like-minded people from your domain or industry.
Elaborate Ideas of Industry Influencers
Many industry influencers these days share ideas and concepts on popular social media platforms like LinkedIn and Instagram. Bloggers can easily get new blog ideas by following industry influencers. They can use online platforms like Upfluence to identify relevant industry influencers across social networking platforms. The ideas and concepts will help them to create content that is both relevant and unique. However, the bloggers must elaborate the ideas or concepts effectively by giving real-time examples, adding actionable pointers, and supporting the ideas with relevant data.
Explain the Same Ideas in Different Ways
While conveying an idea, bloggers have the option to choose from many approaches and narrative styles. They can always focus on explaining the same ideas in completely different ways when do not come up with fresh ideas. However, they must not rewrite the existing blog post. They need to explore ways to describe the concept and present information with a new approach. The bloggers can even consider presenting some of the popular blog posts in a new way.
Play the Devil's Advocates
When bloggers do not come up with new ideas, they must consider playing devil's advocate. As devil's advocates, they can easily present the same topic from an opposite perspective. The bloggers can easily create fresh content by presenting topics on tips and best practices. For instance, if a blogger has already written a blog on the reasons to build a content management system (CMS) based website, he should write a new blog on reasons not to a build CMS-based website. The opposite perspective will make the new blog both fresh and relevant.
Work on Popular Email Subject Lines
Many businesses these days send promotional emails to subscribers regularly. They further use online tools to measure the performance of email marketing campaigns using key metrics like open rate and click-through rate. The bloggers can analyze the emails with higher open rates and click-through rates to understand what is relevant for the customers. They can pick popular email subject lines and convert them into content topics. However, bloggers must change the email subject line and content to produce fresh content.
Read Comments on Various Posts
The readers who post blog comments are the people who have read the content completely. Sometimes these genuine readers share fresh ideas and opinions or ask questions through the blog comments. Content writers can easily find new and relevant blog ideas by reading through the blog comments. However, they need to read through the comments posted by readers on their own blogs and external blogs. They can use blog comments as an ideation technique to produce content according to the expectations and requirements of readers.
Write Fresh Content on the Same Topic
Content writers can create fresh but distinct content on the same topic when they do not come up with new blog ideas. They can easily write fresh content using additional information on the same topic or concept. For instance, I had written a blog on top programming languages to learn in 2017, so, when I felt that it had become outdated, I chose to write a fresh post on that. In addition to creating fresh content, they can use the new blog as a search engine optimization technique for internal linking.
I feel, this is a low-hanging fruit and most site owners have not been using this method properly. Neil Patel, one of my favorite writers, has suggested the use of the Content Decay tool in one of his recent blog posts on the SEO tool kit.
Leverage Google Trends
Most bloggers use Google Trends to compare various keywords and pick the most relevant keywords. In addition to providing information about the keywords, the Google trends data helps bloggers to learn queries and topics related to specific keywords. When bloggers do not come up with new content ideas, they can use Google Trends data to pick relevant topics. However, Google Trends does not enable bloggers to gather a wide range of topics and ideas for creating fresh content.
Share Personal Experience
A large percentage of new-age customers love blogs and ad copies that look and feel like real-time stories. Bloggers can easily make personal connections with readers by sharing their personal and professional experiences from the perspective of the business or brand. Along with describing the journey of a brand, they can share what made the brand popular and what impacted the brand's popularity negatively. The success and failures will make the fresh content interesting and relevant for the target audience.
Predict Industry Trends and Changes
Often political and economic environments of a country make new industry trends emerge. Bloggers can easily create amazing content by assessing the impact of an event, announcement, or idea on a specific industry. Bloggers, who have been writing niche content for specific industries, can easily identify and predict industry trends. Their experience and expertise will help them to create content that is more impactful than the competitors. However, bloggers must add credibility to the content by backing their predictions with solid data.
Convert Videos and Podcasts to Blogs
Most businesses these days allow customers to gather information by accessing a variety of content – videos, podcasts, and blogs. Sometimes the bloggers do not cover the topics or concepts used by an organization for videos and podcasts. When bloggers do not come up with fresh content ideas, they can easily convert videos and podcasts to blogs. For instance, bloggers can write a step-by-step blog post based on how-to videos or product demos. They can further enhance the value of the blog post by including screenshots or video clips.
Focus on Industry Data and Statistics
Most readers want to gather the latest industry data and statistics without visiting multiple websites. Bloggers can easily provide the latest industry data and statistics by writing blogs. They can collect the latest industry data from diverse and relevant sources. However, they must verify the credibility of the source and currency of the data while compiling the information. In addition to creating fresh content, bloggers can use the content as a medium to generate organic backlinks.
Use Content Idea Generators
Bloggers can easily generate blog ideas and content titles using a wide range of online tools. These tools suggest blog post titles based on keywords or phrases entered by the bloggers. Bloggers cannot leverage online tools to create fresh content. However, they can use online tools to learn how to present the information from a new angle and how to structure the blog post. They can use multiple online tools to compare the blog ideas elaborately.
Hold Group Brainstorming Sessions
Often bloggers find it challenging to come up with new blog ideas on their own. However, they can easily get innovative blog ideas by holding group brainstorming sessions. For instance, bloggers can include professionals from the marketing and support teams in brainstorming sessions to understand what customers and prospects want to know. The discussions and debates will help the bloggers to present information in a distinct and innovative way. However, they need to ensure that the group brainstorming sessions are held in an informal environment.
Write Interview-Based Blogs
Often consumers and readers want to ask a variety of questions to leaders or professionals from a specific industry. Many bloggers these days switch to interview-based blogging when they do not come up with new ideas. They can use various online platforms to identify want readers want to ask the professional. After gathering the questions, the blogger can interview the professional to get the questions answered. However, the bloggers need to ensure that the information and ideas shared by the professional during the interview are presented accurately and precisely.
Review Specific Products or Brands
In addition to sharing information about a product/brand, bloggers can help consumers by reviewing specific products or brands. However, they need to review the products in an honest, unbiased, and polite way. Also, they need to ensure that their review is not impacting the product/brand negatively. The product reviews will help the bloggers to produce fresh content and generate valuable links. They can further make the blog post popular by requesting the company or manufacturer to share the URL on their websites or social networking pages.
Update and Expand Existing Blog Posts
Sometimes bloggers find it difficult to come up with new blog ideas for specific keywords. However, they can easily provide up-to-date information about a product or service to website visitors by expanding or updating existing blogs. The search engines consider both recently published blogs and recently uploaded blogs as fresh content. While revisiting the old blog posts, the writers can add value to the content in a number of ways – updating statistics and facts, adding new information, rectifying mistakes, and changing keywords.
In addition to coming up with innovative ideas for blog posts and publishing content regularly, website owners need to put dedicated effort into improving the loading speed of the website and invest time and energy in SEO. They also need to learn about powerful blogging tools, which can help them reach more target customers. They cannot impress and engage website visitors without coming up with out-of-box blog ideas. Hence, they must use blog ideation techniques and methods to convey the desired message to the website visitors.
This article has been re-published in May 2022.