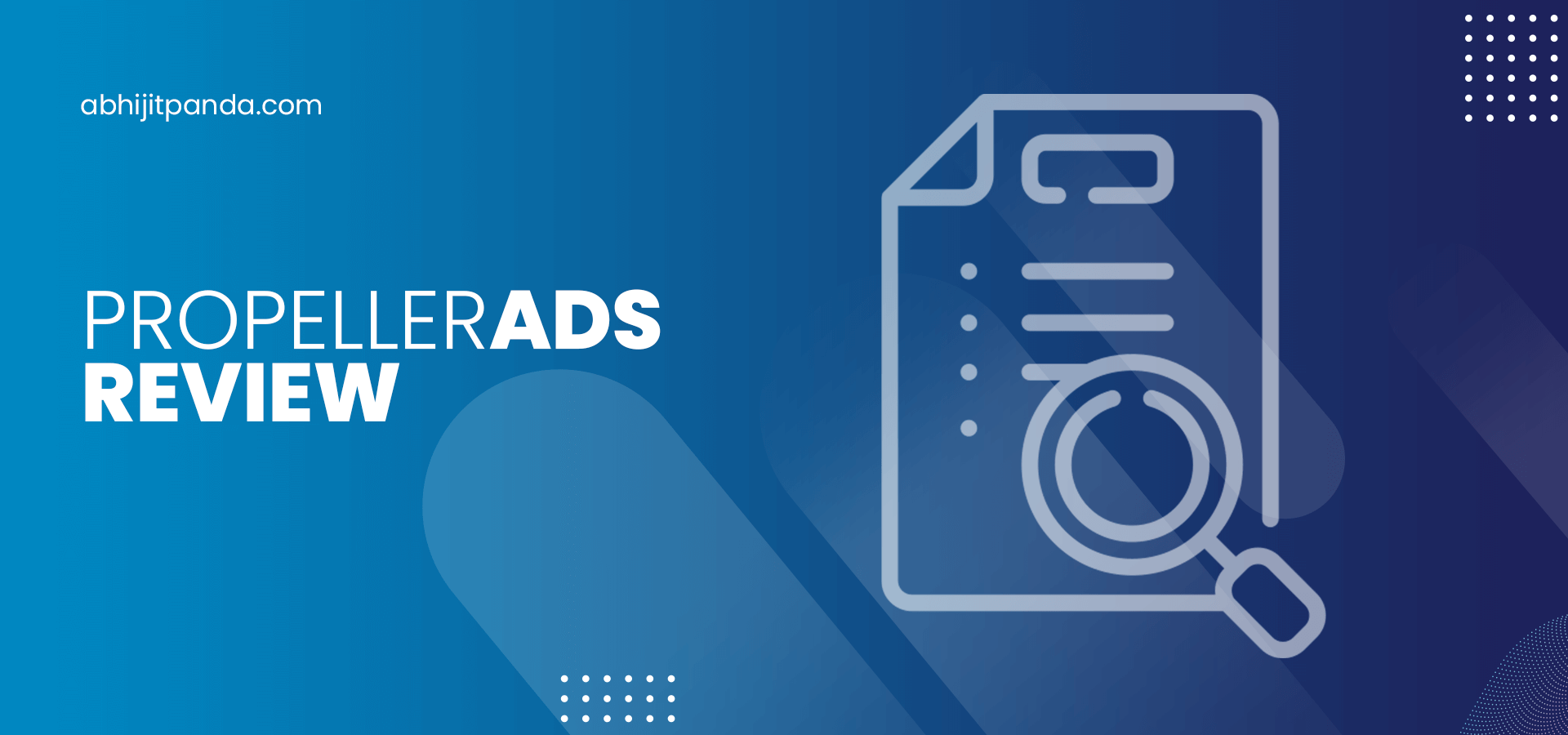 PropellerAds Review
Ad networks create opportunities for content creators and publishers to earn recurring income by connecting them to advertisers. While monetizing a blog, bloggers these days have the option to choose from several ad networks. PropellerAds is one of the leading ad networks with over one billion users.
The performance-driven ad network monetizes blogs by running conversion-focused campaigns. While monetizing your blog with PropellerAds, you have the option to choose from multiple ad formats – on click ads, push notifications, in-page push, and interstitials. Also, PropellerAds suggest multiple cost models and payment methods.
The global ad network helps you to create ad campaigns, boost ad performance, and analyze campaign performance by providing an easy-to-use interface. It further makes it easier for beginners and novice bloggers to earn recurring income by setting a low payment threshold and ignoring minimum traffic requirements.
But you must not forget that PropellerAds, like other popular ad networks, has its pros and cons. We make it easier for you to choose the right ad networks by highlighting the important features, advantages, and disadvantages of this popular alternative to Google AdSense.
PropellerAds Review: Important Features
A Self-Serve Platform
PropellerAds simplifies ad creation and optimization by providing you with a self-serve platform. You can use this platform to create, optimize, and monitor ads using a simple interface. Also, you can use the interface to generate ad performance reports in minutes based on real-time data.
AI-Driven Ad Optimization
You can optimize ads using the self-serve platform provided by PropellerAds. At the same time, the performance-driven ad network uses artificial intelligence (AI) to finetune and optimize your ad campaigns based on the latest data with no human interventions.
Multiple Ad Formats
Like other leading ad networks, PropellerAds supports multiple ad formats – native direct ads, pop-under ads, mobile push-up ads, banner ads, and interstitial ads. Hence, you can monetize your website or blog optimally by choosing the right ad format according to the nature and type of content.
Global Publisher Network
PropellerAds has built a global network of advertisers and ad publishers. The network creates opportunities for you to earn more revenue by monetizing website traffic fully. You can leverage the network to show ads to non-English readers in their native languages.
Focus on Ad Quality
PropellerAds focuses extensively on keeping the ads clean. In addition to monitoring ad quality across websites, it removes offensive content and malware proactively. At the same time, the ad network uses fraud prevention technologies to ensure that each traffic supplier is legit.
Ad Network Compatibility
In addition to building a large network of traffic suppliers, PropellerAds has makes ads compatible with several popular ad networks, including Google AdSense, Infolinks, and CJ. Hence, content publishers get more revenue when their ads as published on multiple ad networks.
Option to Bypass Ad Blocks
Ad blocking or ad filtering is one of the key barriers to website traffic monetization and online advertising. PropellerAds overcome this barrier by introducing a feature – AdBlock Bypass. This solution converts standard display ads into native and non-intrusive ads when the reader uses ad blocking software.
Mobile Push Notifications
PropellerAds is one of the ad networks that provide specific options for mobile content publishers. Mobile publishers can leverage push notification services to drive more traffic to their websites or blog sites by displaying push notifications to mobile users. They can show push notifications to showcase the latest or most relevant content.
Online Community of Publishers
PropellerAds promotes an online community of publishers. Many publishers share ideas and suggestions with other members of the community. Also, they help beginners and novice bloggers to get the most out of this global ad network.
PropellerAds Review: Pros
Many Ad Formats
As noted earlier, you have the option to choose from a slew of ad formats while monetizing a website or blog site using PropellerAds. Hence, you can generate more revenue by choosing ad formats that complement the nature and needs of your content perfectly.
Several Payout Models
PropellerAds allows you to choose from several cost models – cost per acquisition (CPA), cost per click (CPC), and cost per mile (CPM). Hence, you can increase revenue by choosing the appropriate pricing model according to your verticals.
Multiple Payment Options
PropellerAds transfers payments every week on Thursdays. Also, it makes it easier for you to receive payment by supporting many payout methods – wire transfer, debit/credit cards, PayPal, American Express, UnionPay, and ePayments.
No Traffic Requirements
Most ad networks consider the number of monthly website visitors as the primary criterion while reviewing a website or blog site. But PropellerAds creates opportunities for you to monetize your site regardless of its monthly website traffic.
Low Payment Threshold
PropellerAds has set the minimum payment threshold at $5. Hence, it becomes easier for small publishers and novice bloggers to earn money every week on Thursdays if their revenue is more than $5.
Automation
Propeller Ads automates many recurring activities using AI technologies. It optimized ads automatically based on real-time data using AI. Likewise, it leverages AI to help beginners choose the optimal ad format for their blog sites.
Fast Activation
It is one of the ad networks that keep review processes simple and short. Beginners and novice bloggers always opt for PropellerAds to leverage fast activation regardless of the size of website traffic.
PropellerAds Review: Cons
Preset Quality Standards
PropellerAds assesses the user experience of your website or blog site as part of the review process. It reviews a website's UI and UX using a set of parameters. Hence, you cannot generate more revenue unless your website meets the quality standards set by the ad networks.
Varying Ad Revenue
You can use PropellerAds to monetize both English and non-English websites. But the ad network generates more revenue for English websites than non-English websites. Many bloggers look for alternatives to monetize non-English websites more efficiently.
No Support for Specific Website Traffics
You cannot opt for PropellerAds to monetize for all types of website traffic. PropellerAds does not support specific website traffics like torrents, adults, and copyright-infringing content. Hence, you should choose this ad network only when your website does not get traffic from these sources.
Conclusion
PropellerAds is currently one of the steadily growing ad networks. It helps beginners and experienced bloggers earn recurring revenue by supporting multiple ad formats and cost models along with a low payment threshold and no minimum traffic requirement. But you must compare PropellerAds with other leading ad networks to choose the best option to monetize your blogs.