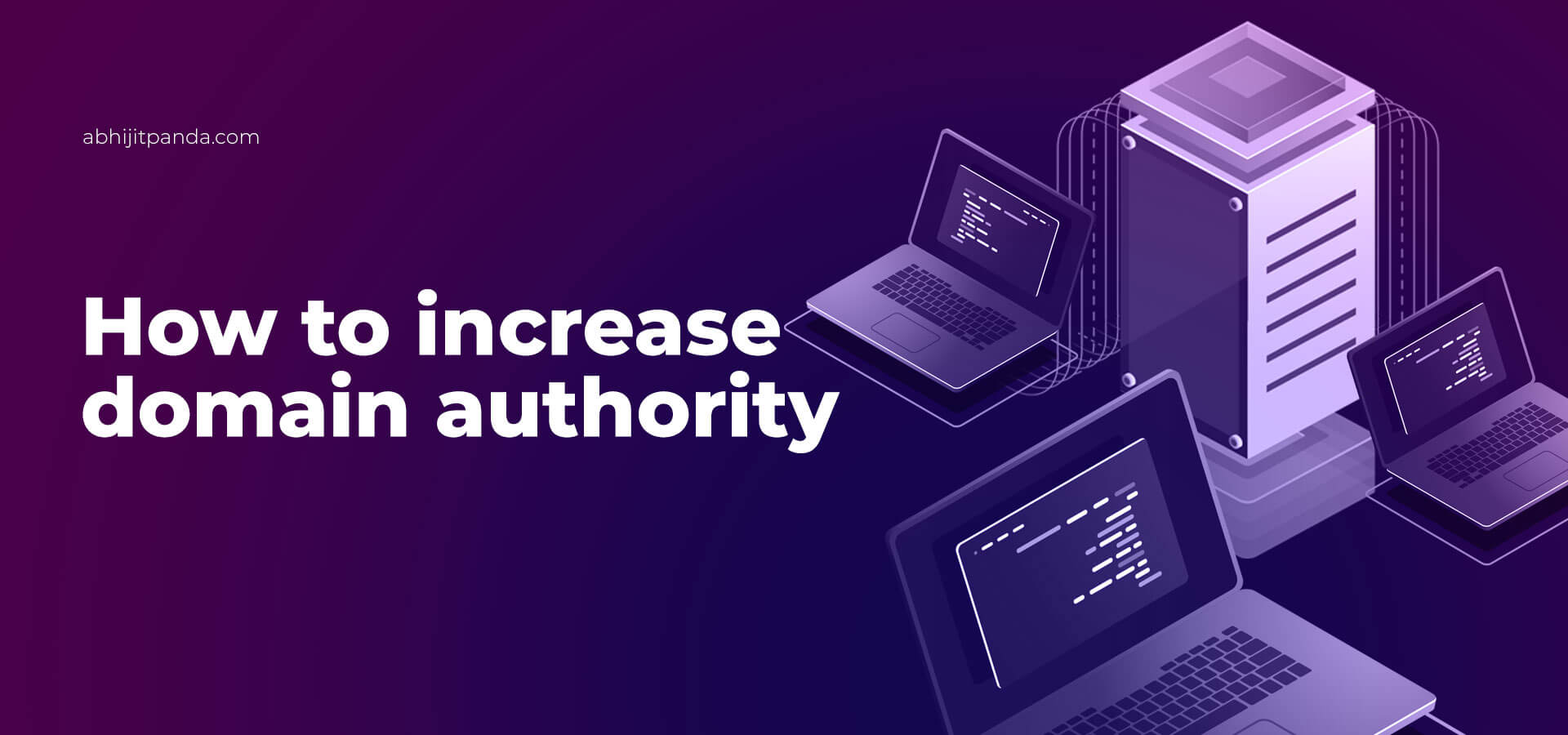 How to Increase Domain Authority?
While implementing a search engine optimization (SEO) strategy, digital marketers have to focus on analyzing and predicting the performance of the website on search engine results pages (SERPs). Moz, a leading Software as a Service (SaaS) company, makes it easier for webmasters and digital marketers to check how a website will perform on SERPs by developing a search engine ranking score – domain authority or website authority.
According to Moz.com, "Domain Authority (DA) is a search engine ranking score developed by Moz that predicts how well a website will rank on search engine result pages (SERPs). A Domain Authority score ranges from one to 100, with higher scores corresponding to a greater ability to rank."
Moz determines a website's domain authority score based on over 40 signals. You need to work on some of these important signals to increase domain authority score of your website.
How Does Domain Authority Differ from Page Authority?
Webmasters and digital marketers must remember that domain authority and page authority are two distinct concepts. Unlike domain authority, page authority score predicts the performance of individual web pages on SERPs. Hence, you can use the domain authority score to measure the search engine performance of the domain or sub-domains. But you cannot boost a website's domain authority score without increasing the authority of individual web pages.
How Moz Determines a Website's Domain Authority?
Like search engines, Moz does not reveal information about its algorithms for calculating a website's domain authority score. But it considers over 40 signals while measuring and predicting a website's performance of SERPs. Some of these major signals used by Moz are the number of incoming links, quality of incoming links, quality of website content, social signals, and overall search engine performance of the website. However, webmasters must remember that domain authority score sometimes does not depict a website's search engine ranking accurately.
Here are some important points you should note about Domain Authority:
Moz DA is based on a logarithmic scale. That means it is easier to improve your website's DA from 10 to 20 but it becomes much more difficult to take it from 60 to 70.
Google does not consider DA as a ranking signal. Google's John Mueller has also confirmed this fact.
DA does not change overnight. It takes a lot of hard work and continuous dedication to improving your website's domain authority. So the key here is to be patient and keep on working.
Domain Authority is an indicator of success, it is an aggregator of your link profile.
High DA does not always mean that your site will rank higher than a low DA website for a particular keyword.
How to Check a Website's Domain Authority?
Moz helps digital marketers to calculate a website's domain authority score by providing a Free Domain SEO Analysis Tool. You can go to the Moz website and input any website domain and Moz gives out the data instantly. However, if you have not taken the premium version of Moz i.e. Moz Pro, you will be able to check the data for only 10 websites only per month.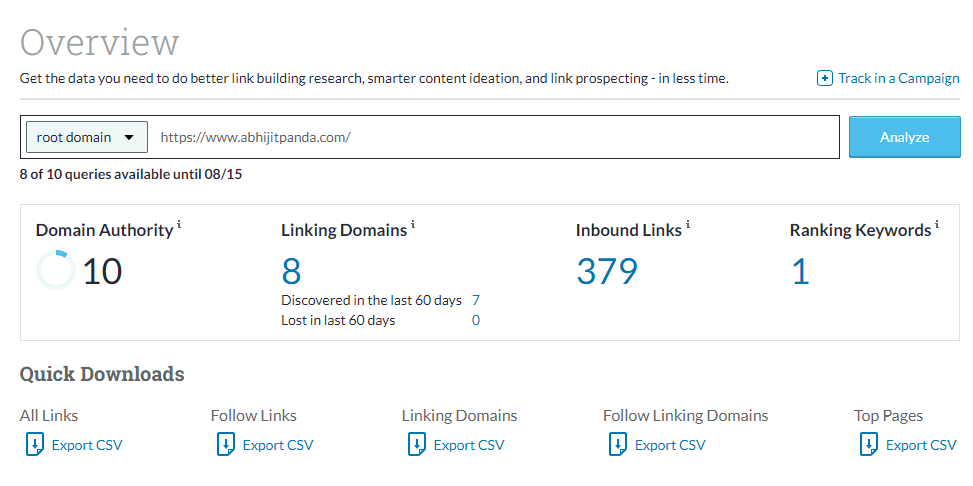 Digital marketers have the option to choose from a wide range of domain authority checkers or website authority checkers. For instance, they can also check a website's authority using the DA checker tools available on WebsiteSEOChecker.com, and SmallSEOTools.com. I highly recommend these 2 websites, they also have a plethora of free SEO tools: I use them almost on a daily basis.
A domain authority score over 60 is considered excellent, while a website authority score between 50 and 60 is considered average.
How to Increase Domain Authority Score of a Website?
The domain authority score enables the site owners to predict a website's performance on SERPs while planning SEO campaigns. But the digital marketers cannot drive search engine traffic to the website without improving its domain authority consistently. They must use the domain authority score as a robust tool to measure their SEO efforts and perform competitor analysis. Digital marketers can increase a website's domain authority by adopting a set of best practices.
Post Fresh and Compelling Content
While ranking websites, search engines use several engagement metrics – traffic data, page views, bounce rate, return visits, and brand mentions. Moz rewards higher domain authority scores to websites that keep users engaged and persuade them to return. No website can engage visitors and persuade them to come back without publishing fresh and compelling content. The compelling content will help digital marketers to increase brand mentions and get organic backlinks. Hence, high-quality content is essential to boost a website's domain authority.
Webmasters also need to keep an eye on "Content Decay". They need to refresh the old content on a regular hiatus to maintain the freshness of the content. They also need to perform content audits from time to time to optimize the existing web pages for search engines.
Take Care of Technical SEO
Site owners, generally with their busy schedules, tend to miss the technical SEO part. But the technical SEO techniques contribute hugely to increasing a website's domain authority over a period of time. Webmasters can easily boost a website's domain authority score by implementing a set of technical SEO techniques:
Creating and maintaining XML sitemaps
Keeping the robots text file updated to allow search engines to crawl relevant web pages
Enhancing website security by switching from HTTP to HTTPS
Submitting the website to Google Search Console and Bing Webmaster Tools.
Use the hreflang properly to boost the domain authority of multilingual websites.
Proper use of canonical tags.
Implementing Structured data
Implementing proper Robots Meta tags
Optimizing your Crawl Budget
Auditing the server log files regularly
Optimize the On-Page Content
Along with creating compelling and engaging content, webmasters must focus on optimizing the content for major search engines. Needless to say, proper keyword research is the first step. While writing content, the content writers must keep in mind both search engines and human visitors. Before posting the content, they need to optimize important aspects like:
Properly write the Meta title tag: don't forget to include your most important keyword(s) here
Meta Description: Make sure to write compelling meta descriptions within specified character limits
Headlines
Header tags
Maintaining proper keyword density for all target keywords
Including long tail and LSI secondary keywords for optimization
Images need to have proper alt tags, descriptions, etc.
Earn High-Quality Backlinks
No webmaster can increase a website's domain authority without earning and building high-quality backlinks at regular intervals. However, it is always important for webmasters to focus on both the quality and quantity of backlinks. They must not create any backlinks that might impact the website's domain authority negatively. Webmasters can easily build high-quality backlinks by getting links from websites relevant to the product, service, or industry.
Improve Internal Link Structure
Like the quality of external links, the internal link structure impacts a website's domain authority directly. While writing content, the writers must explore ways to link the new page to existing web pages internally. The internal links will keep visitors engaged and help search engines to navigate the website. However, the writers must focus on building relevant internal links, keep each internal link as a do-follow, and avoid stuffing keywords in the internal links' anchor text.
Audit Link Profile Regularly  
Along with building external links and internal links regularly, webmasters need to evaluate the quality of these links from time to time. They must perform a link audit regularly to identify broken links, bad links, and low-quality links. These toxic links impact the website's domain authority as well as search engine visibility directly. Webmasters can easily boost the domain authority score by keeping the website's link profile up-to-date.
Step by Step process on how to Audit your backlink profile
Step 1:
Login into Google Search Console and go to Links and check Top Linking Sites and you will get an idea of how many websites are linking to your website
Step 2:
Create a free account in SEMRush and Create a project by inputting your website name. You can see your link audit results in the "backlink audit" section.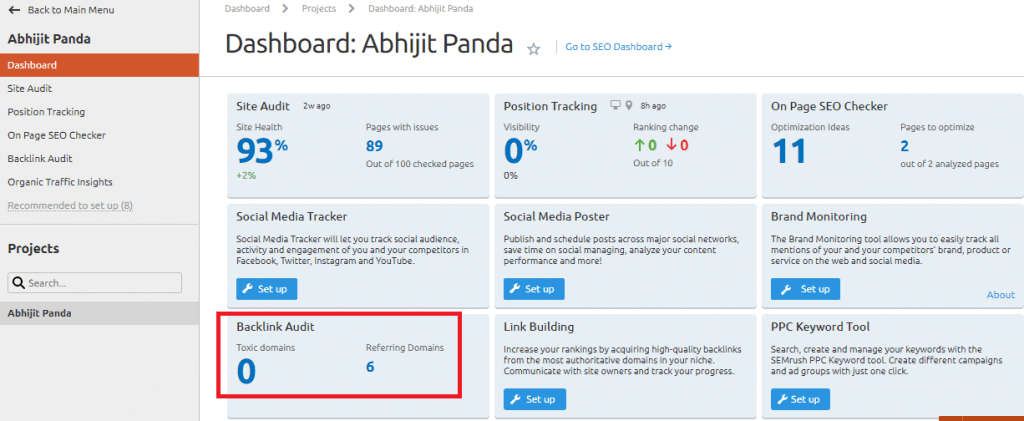 Step 3:
If your site is comparatively new or you don't have many backlinks, you can choose to connect your Google Search Console data access to the SEMRush tool. You can do that by adding the email id backlink.audit.pro.109@gmail.com and granting full access to the same.
Step 4:
The tool will also notify you of the toxic domains.
Step 5:
It is advisable to check the list of toxic domains manually and create a list of links that are really toxic. Then you can approach the site owners to remove these toxic links.
Step 6:
In case the removal does not happen, you can go ahead and disavow the links in the Google Search Console. Here is a detailed guide on how to disavow backlinks.
Make the Website Load Faster
The loading speed of a website directly impacts its search engine performance and user experience. While building a website, webmasters must focus on reducing their loading speed to 2 seconds. Also, they must measure the website's loading speed regularly to identify and fix the issues affecting its search engine performance. Webmasters can speed up their websites by implementing some simple hacks and best practices.
Here are 2 tools that I use generally for page speed checking:
GTMetrix: I love GTMetrix because of the fact that it's completely free and provides actionable steps for improving your page speed apart from giving out the page speed score. It also provides a waterfall chart for request-by-request visualization.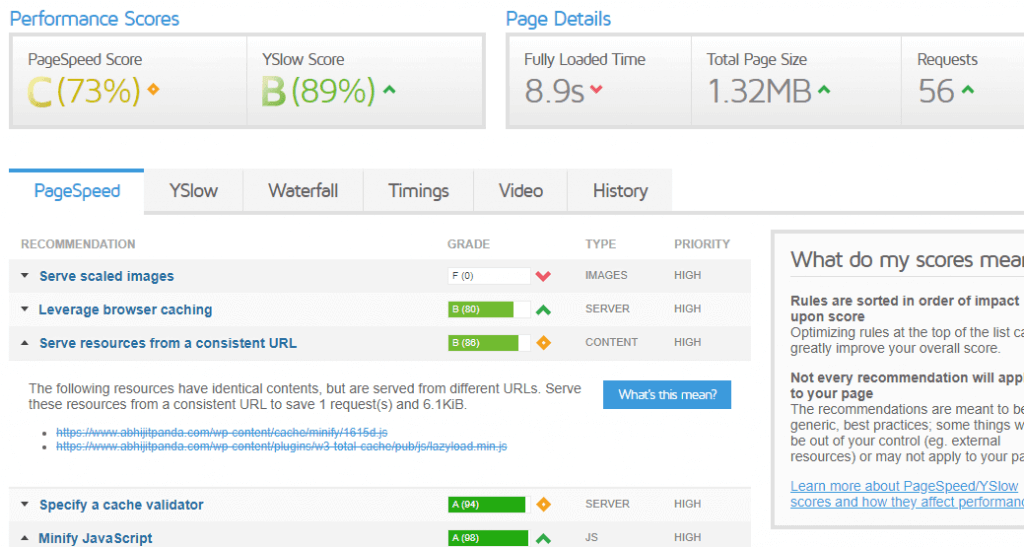 Google Page Speed Insights Tool: The second tool that I suggest is the Google page speed insights tool. And the reason behind that is it is from the big daddy Google and we all want to impress the big daddy, right? Well, jokes apart, it is a very effective tool and suggests all recent changes that are supposed to be implemented to rank better in Google.
As a website owner, one must have a basic understanding of page speed factors. Here are 20 tips for WordPress website owners to improve WordPress performance.
Keep the Website Mobile Friendly
While determining the domain authority score, Moz uses the mobile-friendliness of the website as a key metric. Webmasters can easily improve a website's domain authority and search engine performance by optimizing it for mobile devices. Google makes it easier for them to assess the mobile-friendliness of the website by launching an online tool. Webmasters can use the tool to check if the website is optimized for mobile devices.
Here are some tools for your reference:
If you want to do bulk testing of multiple URLs, this tool from Merkle is highly recommended.
Improve Social Signals Consistently
Moz awards higher domain authority scores to websites with more social media mentions and interactions. You must enhance the website's presence on popular social media platforms regularly. While building websites, you must include options on each page to facilitate social media sharing. Also, you must share the website content and blog posts on social networks. Likewise, you need to persuade the audience to share, comment, and like the content.
How I Increased my website AbhijitPanda.com's Domain Authority from 1 to 10 in 2 Months?
I have adopted some of these best practices to increase the domain authority score of my website from 1 to 10 in just two months. Here are some of the easily implementable tips that helped me to improve domain authority in a short amount of time.
Improving the Website's Mobile User Experience:
I redesigned AbhijitPanda.com to enable users to access the website seamlessly on both computers and mobile devices. Also, I reduced my website's loading time to less than 2 seconds to impress and retain the searchers.
Speeding up the Website for Mobile Visitors:
In addition to optimizing the website for mobile devices, I used AMP Plugin for WP to churn out AMP Pages. The AMP plugin helped me to speed up the website for mobile visitors by leveraging Google's Accelerated Mobile Pages (AMP) project.
Posting Fresh Content Regularly:
I have been posting blog posts regularly despite my packed schedule. In addition to following a regular blog calendar, I spend time choosing the right topics and writing well-researched content on every topic.
Using the Right WordPress SEO Plugin:
I am using Yoast SEO to identify and fix over 90% of the issues affecting my website's search engine visibility. Also, the plugin helps me to engage visitors and persuade them to revisit by improving content readability.
Making the Most out of WordPress Tag Pages:
Most webmasters do not allow search engines to crawl the WordPress tag pages. However I posted content on each WordPress tag page, in addition to allowing search engines to crawl them without any restrictions.
Interlinking Blog Posts:
While writing and posting content, I always focus on interlinking the new blog post with the existing blog posts. However, I always try to create internal links organically by keeping in mind content relevancy.
Digital marketers and website owners can use domain authority as a powerful tool to predict and improve a website's performance of SERPs. However, they must remember that Moz updates the algorithms for domain authority score calculation frequently. Each new update impacts a website's domain authority score directly. Hence, webmasters and digital marketers need to keep in place a strategy to monitor and improve domain authority regularly.
This blog was republished in July 2023.