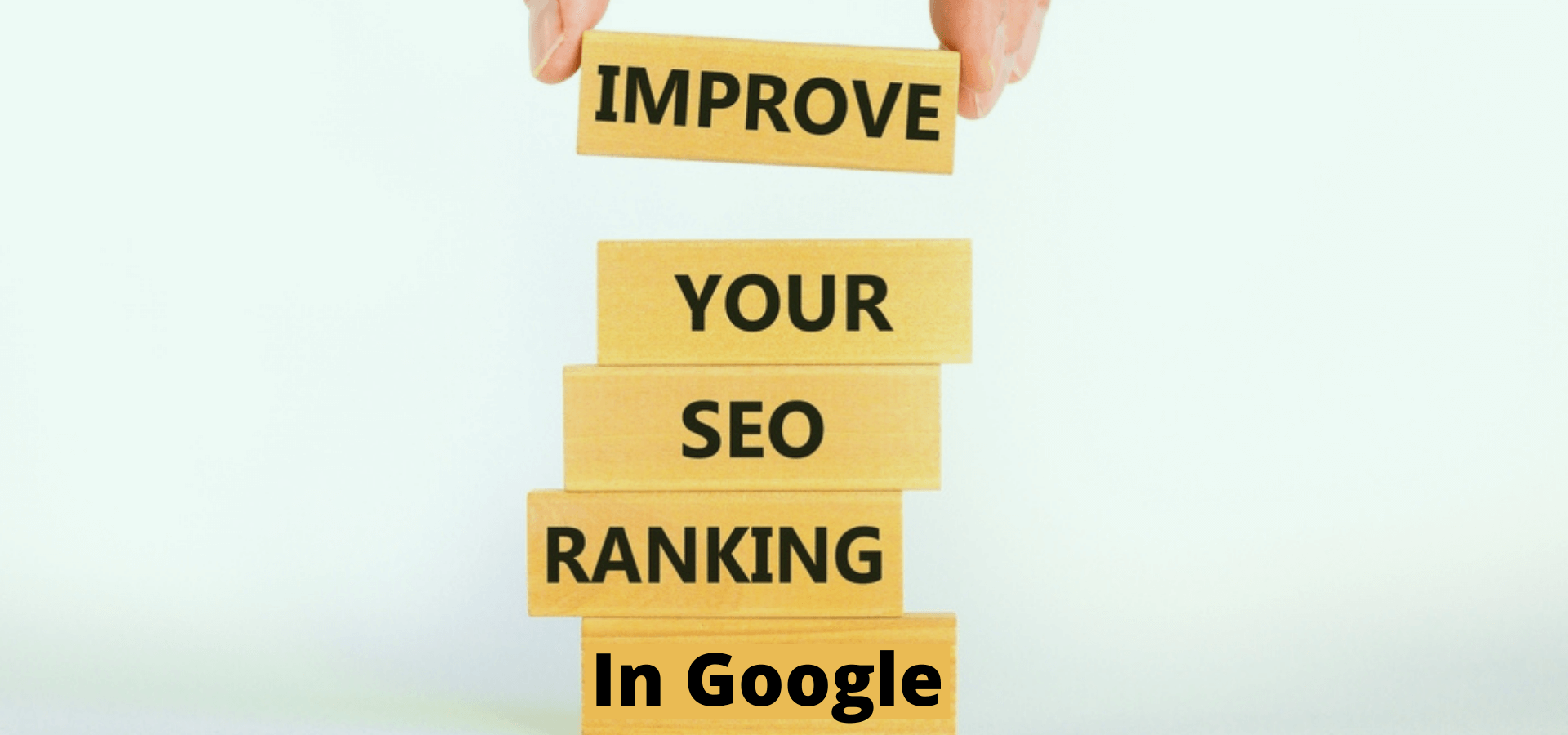 8 Free SEO Tools to Help You Improve Website Ranking in Google SERPs
The technology used by competitors to increase the traffic to their blogs has already made a big difference. Is your website not ranking high after so many efforts and not becoming a brand name? This article covers the 8 Free SEO Tools to Help You Improve Website Ranking in Google SERPs to help your website quickly rank higher and become a huge brand name.
When everyone is trying to Improve Website Ranking in Google SERPs, competition is relatively high. In this regard, many SEO tools can assist you in staying competitive. You optimize your website's content and increase organic traffic by using them.
SEO tools analyze how well the content is written and increase your visibility to increase traffic. Furthermore, it provides information about new and trending keywords to improve Search Engine Rankings.
Additionally, it provides you with backlink opportunities, which naturally boosts your traffic and your website becomes a good brand name.
These are the best free SEO tools you can find online. You can get them for free, and they're intuitive, slick, powerful, and effective, and you can use them anywhere.
1.     Yoast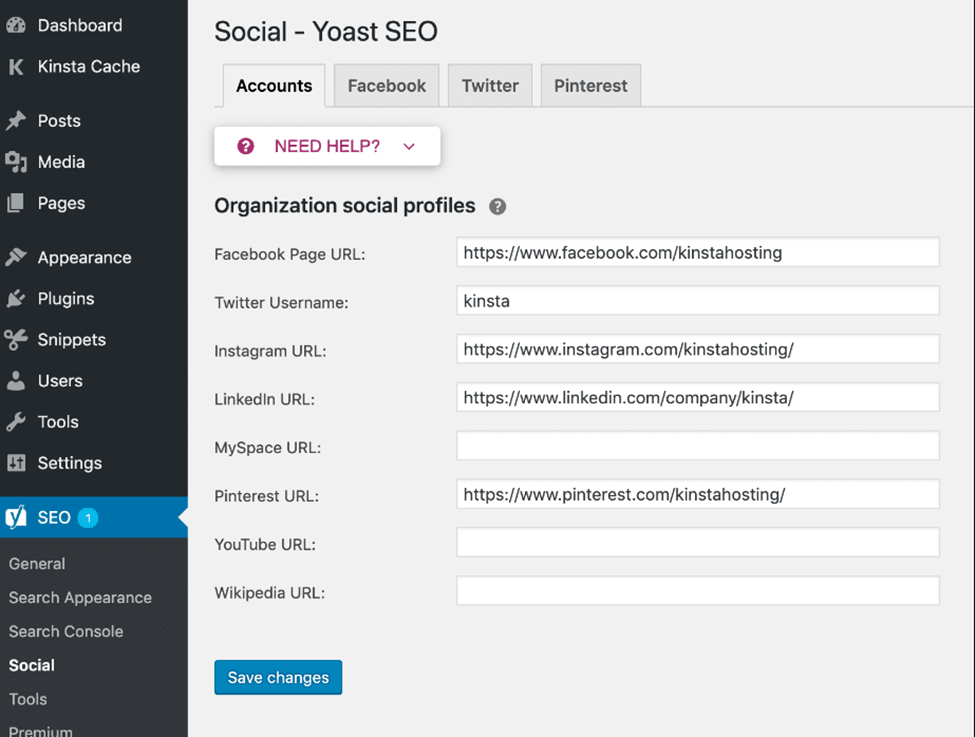 A popular and comprehensive SEO plug-in for WordPress, Yoast is one of the most popular. It allows bloggers to create Google-friendly content and help their blog rank higher on Google. Additionally, it's free with millions of downloads and a 5-star rating, making it doubtlessly the best SEO tool.
Key features
It helps deliver by structuring the paragraphs and making them more readable; always keep an eye on keyword density. It is important to check plagiarism before publishing your web page to ensure it has been created accordingly. You can say it's a brand name among all tools.
Pricing
The good news is Yoast SEO Plug-in is free to use. Hence, you can opt for a Yoast premium version for better functions. It will cost you approx $80/per year.
Visit: Yoast
2. Ahrefs
Several leading brands, including Adobe, Uber, and Netflix, rely on Ahrefs' SEO tools to improve the SEO of any website.
Key features
This tool shows the ranking history for any keyword, backlink audits, guest links, and internal links and allows us to generate content using it.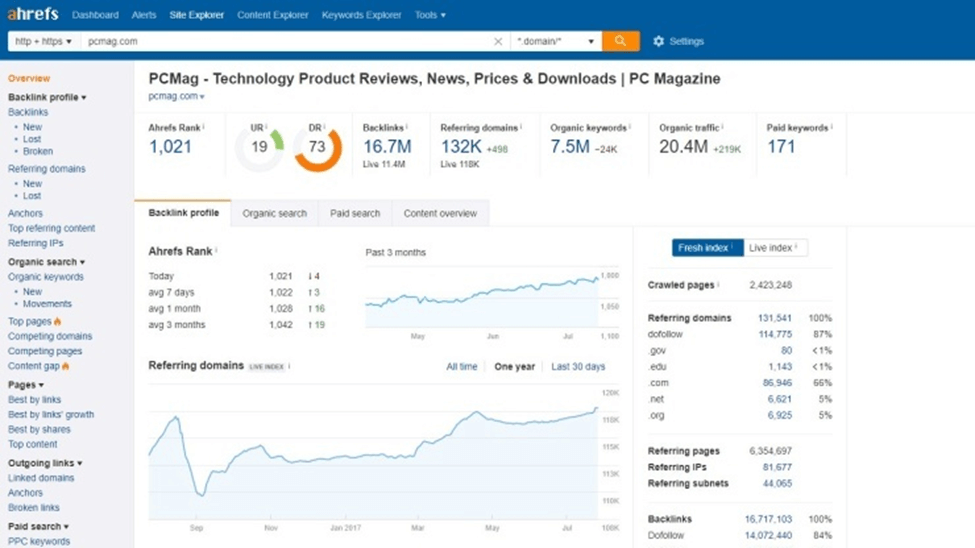 Pricing
It allows you a 7-day trial for $7, and then you can go for an advance subscription with prices ranging from $100 to $1000
Visit: Ahrefs
3. Pre Post SEO
This platform is popular among writers, bloggers, and webmasters for providing more than 100 SEO and writing tools for free.
It helps users to optimize their content for websites, blogs, articles, search engines, and more.
Prepostseo provides a free plagiarism-checking tool that helps users to check the uniqueness of their content before publishing or submitting it.
Key Features
The best thing about this platform is that all of its tools are free and you don't have to complete any signup process to access its tools.
Its wide range of toolsets includes a plagiarism checker, a paraphrasing tool, a DA PA checker, and an online image-to-text converter.
The paraphrasing tool by Prepostseo lets users rephrase their content by using top-notch AI technology. All of its tools are easily accessible and secure to use for all purposes.
The image-to-text converter lets users extract text from the given image by using advanced OCR technology.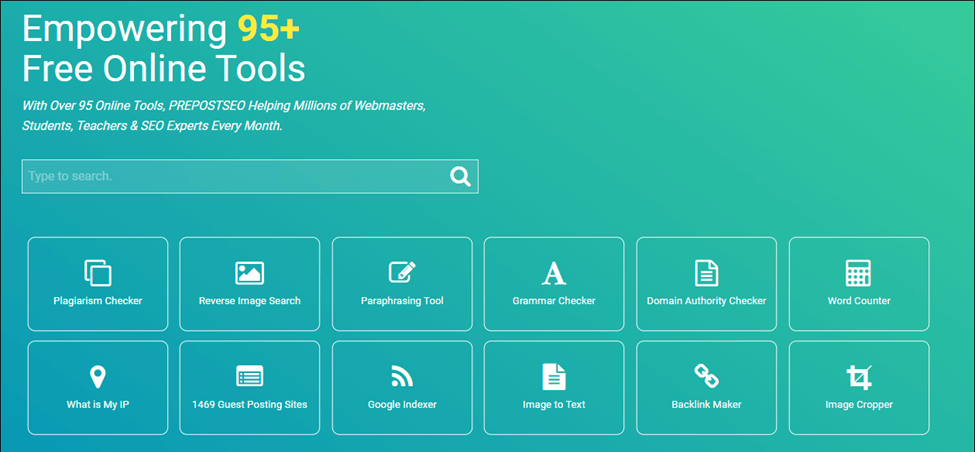 Pricing
This website also offers premium plans for its tools to unlock its incredible features. It provides both monthly and yearly premium plans starting from $10 to $350.
Visit: Prepostseo
4. Moz Pro
Moz Pro is a widely used SEO tool and brand name. Various features enable users to run competitive analyses, find related keywords and audit their sites. Plus, it builds a strategy that grows traffic to a website. It's easy to monitor what your competitors are doing with Moz Pro. Search engines recommend improving your blog and web content to remain visible.
It provides standard metrics, Moz score, and optimization suggestions and allows Google SERP.
Key features
Some key features are keyword research, content, and site explorer. it is also beneficial to backlink tracking and competitive analysis.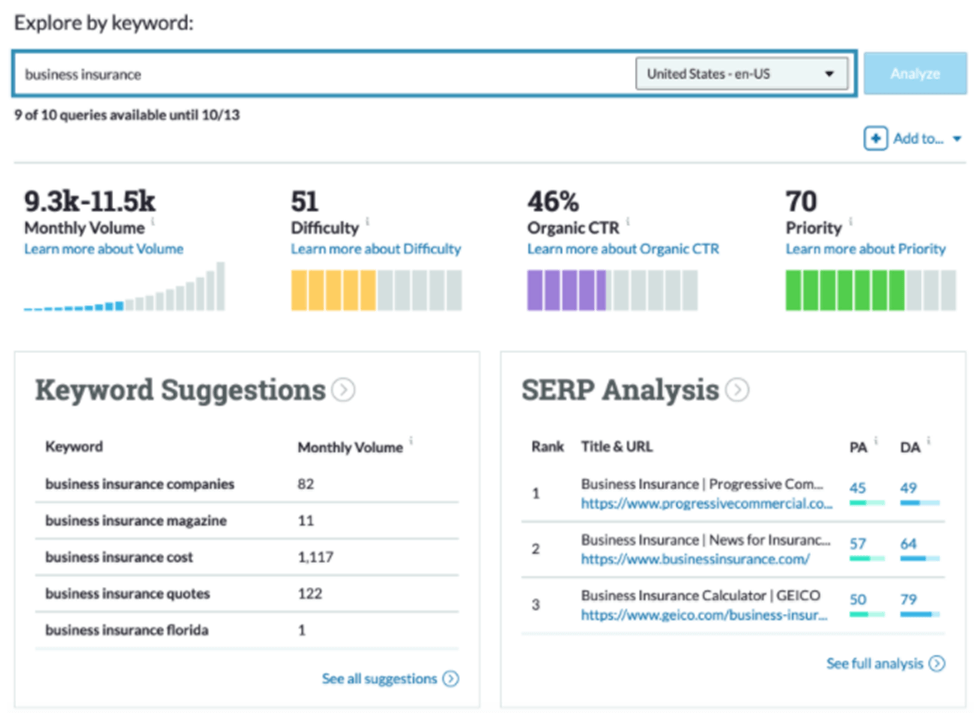 Pricing
It offers a free 30-day trial. Further, you can avail Subscription of $10/month.
Visit: Moz Pro
5. Mangools (KWFinder)
KWFinder by Mangools will continue to be the top SEO tool for providing related and trending keywords in 2022. So, your content is better optimized for search engines. The term "long-tail keywords" has gained popularity among SEOs. The importance of long-tail keywords is well-known to marketers, bloggers, and content creators. Similarly, KWFinder knows it too.
It searches for the best long-tail keyword for its user. Moreover, it analyses competitors' keywords as well. That will boost the ranking of the website and increase organic traffic.
Key features
The Mangools (KW Finder) features suggest Long-tail keywords and improve Local keywords. it can help you to Provide SERP analysis, Track competitor's keywords Provide a high-quality keyword list for better search engine optimization.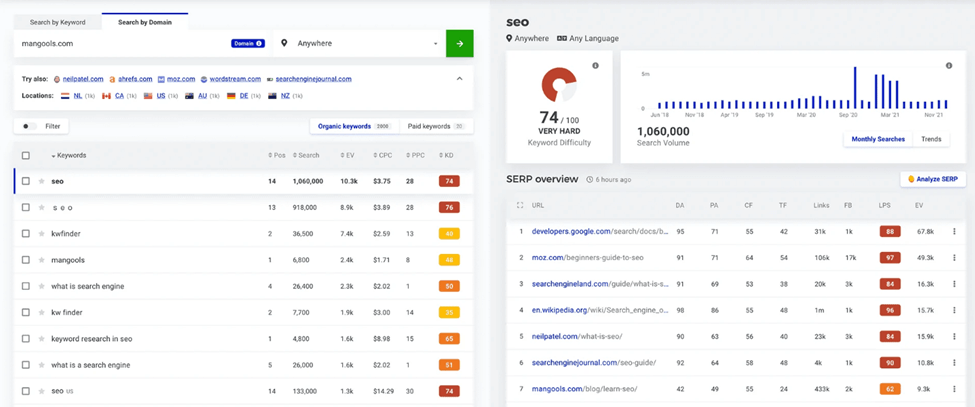 Pricing
It offers a 48-hour money-back guarantee. Its prices are $30/month for basic, $40/month for premium, and $80/month for an agency.
Visit: Mangools
6. Semrush
A huge advantage of SEMrush is its excellent UI (User Interface). This tool is easy to use by subscribers for comparisons and ranking purposes. At this point, SEMrush is the best tool for creating blog posts from SEO. Hence, Blogger's favorite tool to work on it.
Organic traffic is captured by conducting site audits, tracking backlinks, researching keywords, and analyzing competitors. It helps you evaluate your data and competitors' content as well.
Key features
This tool will help you conduct a comprehensive technical site audit, Organic Keyword Research, Content Optimization, and Competitive research of Ads and products.
Pricing
Semrush prices vary in different categories. It starts at $99/ month if you go for a basic plan. And if you opt for a business plan, it is between $200 to $400.
Visit: Semrush
7. Ubersuggest (Freemium)
Neil Patel founded it as a beginner-friendly SEO tool. Toolbox Marketing offers a quick tool that analyzes domains, conducts keyword research, reverse-engineers competitors, uncovers backlink data, and performs other essential SEO tasks.
Key features
You will use the Keyword Ideas tool to develop lots of low-competition keywords for your website. Also, you can perform competitor keyword analysis to find keywords from the competition quickly.
Thanks to the Content Ideas tool, you can get dozens of content ideas with suggested keywords. This tool will help you identify critical SEO errors on your sites, such as 404s, broken internal links, and duplicate content.
You can find hundreds of websites linking to your competitor's domains but not your own using the Backlink Opportunity tool.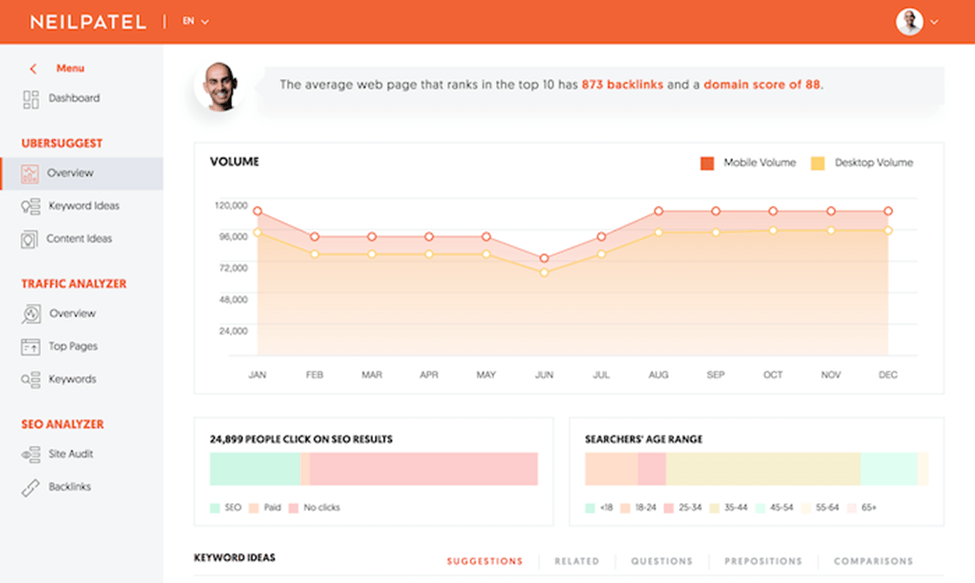 Pricing
It offers a free 30-day trial. Further, you can avail Subscription of $9/month.
Visit: Ubersuggest
8. KeywordChef (Freemium)
You can find many relevant, ranked keywords with KeywordChef's long-tail keyword research tool. Unlike other keyword research tools, KeywordChef returns keywords that match the user's search intent.
Key features
With the help of the tool, you can easily find quality keywords with a high search volume and their ranking potential. When searching for related keywords to your seed keyword using the wildcard search, you can find relevant keyword opportunities automatically. By adding "*" to keywords, you can perform wildcard searches like "best * for frozen" or "can you cook * in the oven," and KeywordChef will display search terms with those terms.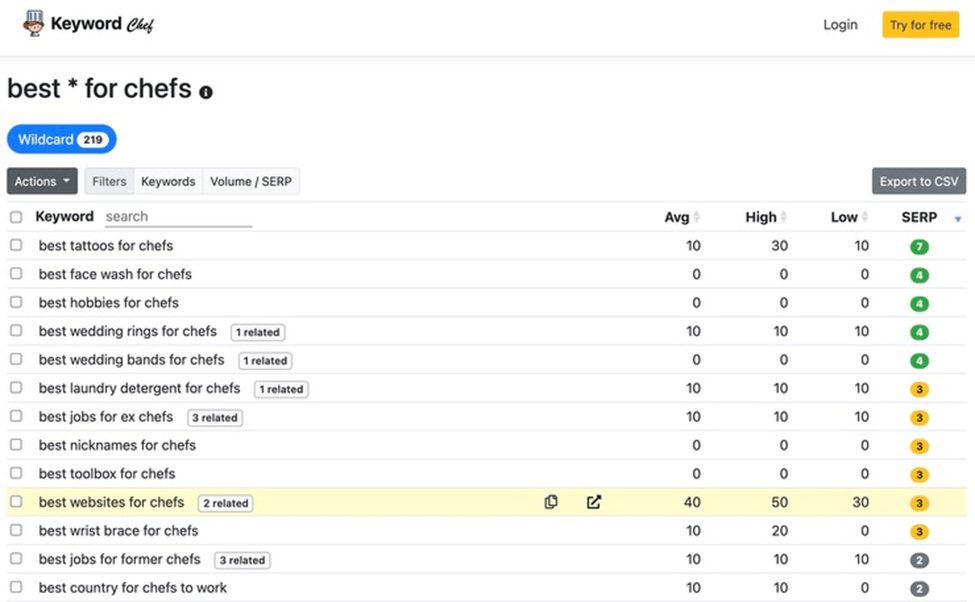 Pricing
It starts at $99/ month 
Visit: Keyword Chef
A platform for you that helps in SEO Optimization
You can also get help by browsing this site and getting the best information and learning search engine Optimization, Search Engine Marketing, and content strategy. That will boost the ranking of the website and increase organic traffic.
Abhijit has been in the digital space for over 10 years. An accomplished marketing leader, he has more than ten years of experience in Events Marketing, B2B Lead Generation, Product Positioning & Marketing, Social Media Marketing, Brand Management, Marketing Communication, Public Relations, Advertising, and Internal Communications.
Some expertise of Abhijit Panda is:
Developing On-Site and Off-Site strategies based on extensive keyword research and competitor analysis 
Managing Google Display Ads, Google Ads, Linkedin Campaigns, and Remarketing Ads. 
Creating content for each buyer persona and at every stage of decision making 
Utilizing targeted lists, lookalike audiences, and databases to retarget on Google, Facebook, Linkedin 
Checking Google Analytics, optimizing your website using Google Analytics, and stack analytics 
Last words On 8 Free SEO Tools to Help You Improve Website Ranking in Google SERPs
Here are just eight of the most important tools a search engine optimizer should use to become a brand name. Choosing a freemium tool to test to see if it meets your conversion goals is an easy way to figure out if they are the right tools for your conversion goals, and if they work well for you, you can always upgrade.
If you find a tool that works well, stick with it once you find one that meets your needs and budget. Make sure that whichever tool and plan you select maximize its value.
The most important aspects of search engine optimization are implementation and experimentation. But if you don't follow through and implement what you have learned, all these results and recommendations are worthless.
The online world has greatly influenced marketing and business since most people work online. Improving your web traffic through SEO content is crucial to blogging writing, digital marketing, and online business. It's important to use SEO tools to build organic traffic on your website to become a brand, and we have selected the best SEO tools for you. It makes your life easier.