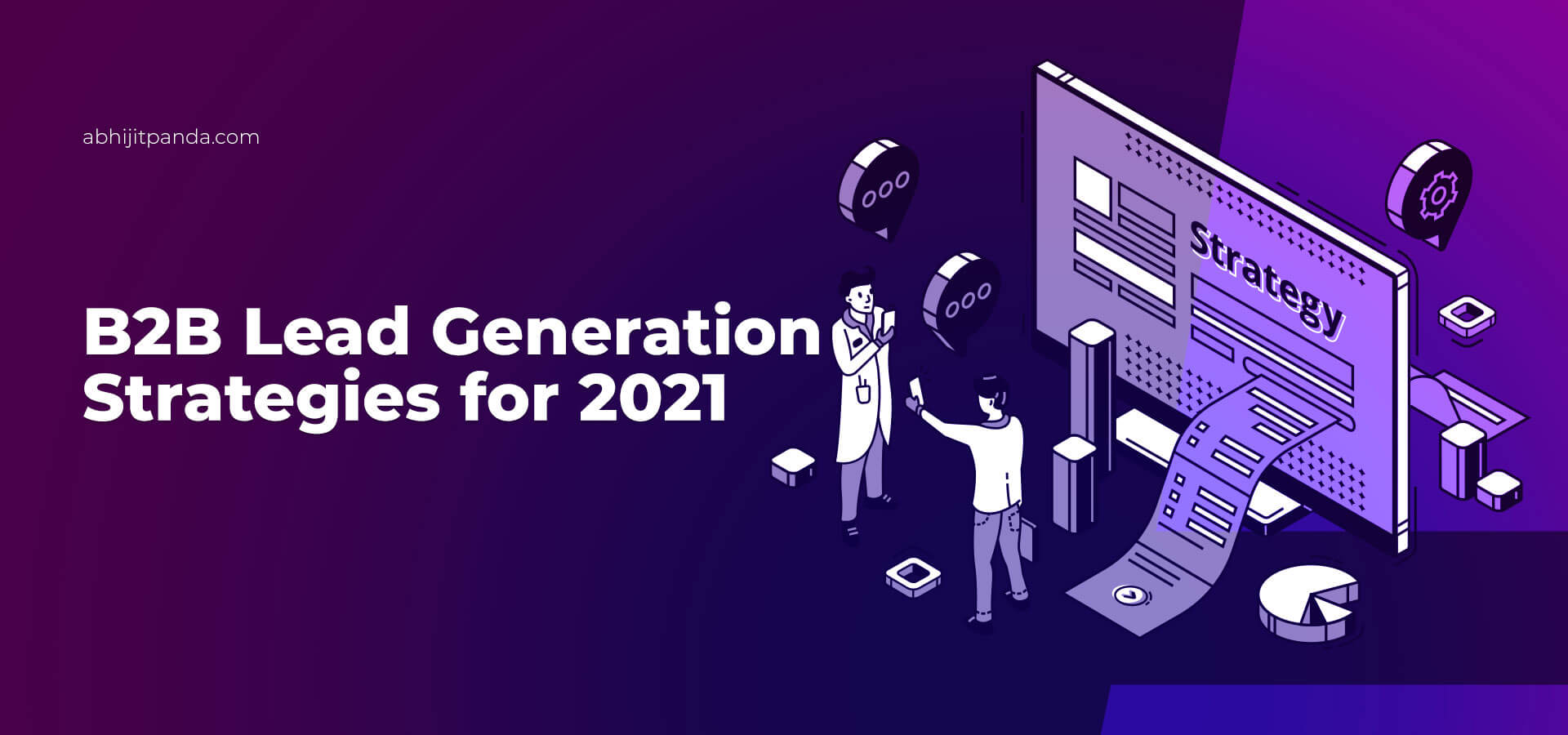 B2B Lead Generation Strategies for 2023
Saurav, One of my good friends, who has recently set up his own startup recently, called me last Friday evening and asked me "Hey, I have started working on my 2023 marketing plan. We have a robust email marketing plan ready. Can you quickly tell me what are the other ways to generate B2B leads". My answer to him was "It Depends. It all starts with your products, target customers, what are the problems they are facing, what kind of problems are solved by your products, and also, the price points of your products. Based on that you will need to create multiple touch points for your target customers to influence their purchase decisions and create your B2B lead generation strategies".
Many marketers think that B2B business lead generation is only about email marketing and events, but it's not the case. Your business can generate high-quality leads by creating strategies for multiple channels. However, you must consider a slew of B2B lead generation tactics to make your strategy effective in collecting important information about potential customers that will help your business to boost sales using personalized content and communication.
24 Proven B2B Lead Generation Strategies to Drive Your Sales
1. Send Personalized and Targeted Emails
As per the B2B Lead generation statistics published by ZoomInfo,

"The three most commonly used B2B lead generation strategies are email marketing (78%), event marketing (73%), and content marketing (67%)".
Email marketing has been one of the oldest tools available to the B2B marketer. Many email marketers use automated tools to collect detailed information about the B2B customers who visited your website after reading the emails. Your B2B lead generation strategy must focus on monitoring and optimizing the email marketing campaigns to persuade more B2B customers to open and read the emails sent by your business.
You can boost email marketing campaigns by implementing some of the B2B email marketing best practices.
2. Attend Targeted B2B Events
According to a study conducted by the Content Marketing Institute,

"81% B2B marketers attend in-person events regularly to generate leads."
Event marketing needs no introduction for B2B marketers. A robust event marketing plan is a must for most companies, with a strong lead generation focus. You can generate more B2B leads by attending big events like conferences and trade shows as well as small events like breakfast for limited industry people.
The targeted events will help you to build and sustain relationships with leads through face-to-face communication. Also, your business must organize B2B marketing events regularly as an effective B2B lead generation strategy.
3. Boost Your Website's User Experience
You cannot persuade B2B customers to share information without preventing them from abandoning your website. Your B2B lead generation strategies must focus extensively on optimizing the website's user experience across devices. You can easily keep the visitors engaged by reducing the website's loading time to 2 seconds, improving the website's mobile experience, redesigning the key pages, and repairing all broken and dead links. The optimized user experience will contribute towards increasing the website's search engine ranking.
4. Implement a Robust SEO Strategy
According to SearchEngineLand.com,

"In terms of volume, B2B marketers report that the largest quantity of leads (coming from a single source) is generated from organic search (i.e. SEO efforts)."
SEO remains one of the most effective lead-generation tactics for 2023. You must optimize your website regularly as the search engine algorithms and guidelines change from time to time. In addition to complying with the most recent search engine guidelines, your SEO strategy must focus extensively on earning high-quality backlinks and publishing fresh content.
Also, you need to have a handy on-page SEO checklist ready.
5. Maintain Your Content Calendar
According to DemandMetric.com,

"Content marketing generates approximately 3 times as many leads as traditional marketing."
As the first step, You need to have a regular content calendar, catering to your prospective customer's needs across the decision-making funnel. It is advisable to have and maintain an active blog. Here are some ideas to maintain an innovative content calendar.
In addition to generating more leads, content marketing helps your business to promote brand loyalty and discover new sales opportunities. As B2B sales are driven by logic, you can generate more leads by providing the right content to the decision-makers in the right way. However, it is always important to create and distribute content customized according to the precise needs of B2B customers.
6. Provide Immediate Assistance through Live Chat
Unlike other communication options, live chat enables decision-makers to get answers and solutions immediately. You can easily engage the B2B customers by interacting with them in real-time through live chat.
According to MKTGShowcase.co.uk,

"Implementing live chat can increase the total number of leads collected by 30%."
You can easily generate more leads by replacing static forms on the website with live chat. The live chat option will collect important information about B2B customers by providing real-time sales assistance.
7. Automate Lead Generation Process using Chatbots
As AI-driven computer programs, chatbots have the capability to simulate human conversation and conduct online chat conversations. Many businesses these days use chatbots to collect information about B2B customers through personalized but automated conversation.
According to Bold360.com,

"Chatbots are becoming increasingly popular–almost ubiquitous–on B2C retail websites."
Your B2B lead generation strategies must explore ways to leverage chatbots to generate more leads without investing extra resources.
8. Make Omni-channel Communication Seamless
According to the Demand Generation Benchmark Survey Report, email is more effective in generating more leads than other communication channels. But your business cannot generate relevant B2B leads by relying only on emails. Your lead generation strategy must focus on Integrated marketing campaigns: generating leads through multiple channels of communication – emails, website, search engines, social media, direct mail, online ads, and content syndication.
However, marketers need to maintain the brand voice while adopting integrated marketing campaigns. Here are some pointers for creating brand marketing strategy in the era of inbound.
9. Share Interactive Content Using Pop-Ups
You must use interactive pop-ups as a lead generation tool to persuade visitors to share relevant information. You can easily generate B2B leads using a variety of pop-ups – on-load, engagement, and exit-intent. The pop-ups help you to showcase your products/services and create an email subscriber list.
But you cannot persuade visitors to share information without offering free giveaways like eBooks and market research data. But you need to ensure that the pop-up is not impacting the visitor's website experience by blocking content.
10. Leverage the Right Social Networking Platforms
Most businesses these days leverage the popularity of social networking platforms to generate and nurture leads. But you have to choose the right social network to connect and engage with professionals and decision-makers. It is always advisable to generate leads using LinkedIn as the social network of professionals is being accessed by decision-makers from various industries. However, you cannot generate B2B leads by posting sales and marketing messages. You must post targeted content that helps B2B customers to solve specific problems and understand industry trends.
11. Speed up Lead Generation by Running PPC Campaigns
Unlike SEO and content marketing campaigns, pay-per-click (PPC) campaigns help you to generate B2B leads quickly. The paid Internet advertising model will make you pay each time a person clicks on your ads. Also, the cost of PPC campaigns will vary according to your product, service, and industry. But the investment will help you to generate more B2B leads.
Most businesses these days use Google Ads to generate ads by posting ads across Google networks. However, you must reach out to more potential customers by combining various options – search network, display network, and remarketing.
12. Conduct Online Surveys
Many B2B marketers conduct online surveys to generate leads without investing in extra resources. You can easily conduct an online survey using Google Forms. Also, you can conduct online polls using the options provided by popular social networking platforms.
There are several free tools available online for creating a poll, I have used Doodle, Survey Monkey, and Poll Maker : they are easy to use. Doodle also gives the option to integrate the poll with your calendar. Most of these tools also allow you to embed the poll in your website directly.
But you must persuade the customers to participate in the survey or poll by asking the right questions in the right way. At the same time, you need to ensure that the participants can answer the questions effortlessly simply by selecting the right option. It is also a good idea to make more B2B customers participate in the surveys by offering something in return.
13. Follow up on the Cold Emails
Your business can generate leads and expand the business email list by sending cold emails. But you must remember that cold emails are sent to B2B customers without prior consent and contact. You cannot persuade the recipient to read an unsolicited message without keeping the content compelling. It is always advisable to get the attention of prospects by including graphics or memes in the email content.
Also, you need to ensure that the B2B customer receives at least two follow-up emails. The follow-up emails will increase the chances of your message being noticed by the customer.
14. Switch to Account Based Marketing
Unlike conventional inbound marketing tactics, account-based marketing requires you to synchronize marketing and sales activities. The sales and marketing teams must work together to influence the purchase decisions of B2B leads by sending highly personalized and targeted content according to his position in the sales funnel. Instead of focusing on dormant leads, account-based marketing will help your business to identify and nurture the sales-ready B2B leads. Your business can leverage account-based marketing as an effective B2B lead generation tactic by implementing a slew of best practices.
15. Keep in Place a Lead Nurturing Strategy
According to Abardeen.com, "Aligning content to specific stages of the buyer's journey yields 73% higher average conversion rates for marketers who do so, verses marketers who do not."
Your business must focus on building and reinforcing relationships with potential B2B customers at every stage in the sales funnel. You can easily nurture the B2B leads by conveying the right information at the right time. The DemandGen Report released by SilverPop suggests that lead-nurturing emails get 4-10x times the response rate compared to standalone emails. But your business must implement a set of lead nurturing tactics and best practices in addition to using emails as the primary channel of communication.
16. Educate B2B Customers by Hosting Webinars
Many businesses these days host webinars regularly to generate leads without increasing marketing overheads. The webinars help you to engage B2B customers by sharing information and insights on relevant topics.
Choose your webinar host wisely. My advice here would be to keep your target persona in mind and choose someone, who is an influencer for your target customers.
However, you must host the webinar in the right way to leverage this lead generation tactic. Instead of making blatant sales pitches, you must keep the webinar informative by including step-by-step instructions, case studies, market research, or product demo. Many decision-makers will share their email addresses with your business to acquire knowledge from a subject matter expert.
17. Repurpose B2B Content Using Videos
According to Forbes.com, "Adding a video to marketing emails can boost click-through rates by 200-300%. Embedding videos in landing pages can increase conversion rates by 80%."
Your business can generate more leads by running video marketing campaigns and embedding videos in other marketing campaigns. Also, you can better connect with B2B customers by creating and sharing informative videos. Here is an interesting guide by Hubspot on video email marketing.
However, you are not required to generate fresh videos for lead generation campaigns. Many businesses already generate leads by converting their existing content into informative videos.
18. Generate Leads by Offering Free Productivity Tools
Creating good utility tools and giving them away for free is one of the best options to attract prospective customers to your website. Companies like Hubspot have been using this method to perfection. The important point here is, it can be a very small tool or a full-fledged tool like the Hubspot CRM.
Your business has to invest both resources and funds to build a sophisticated tool, which solves the customer's problems. But this will help you acquire an email list of highly relevant people in your domain. Also, you can nurture them with properly planned cadences and convert them to paid customers.
18. Attract B2B Buyers by Publishing Original Research
While conducting pre-purchase research, decision-makers often refer to original research to make informed decisions. Your business can impress and engage B2B customers by publishing a variety of research. You can also opt to be associated with top companies that conduct original research and produce co-branded research reports with them.
Also, you can prepare research reports on a relevant topic by including insights and ideas shared by industry experts. In addition to generating more leads, the original research will add credibility to your services and earn high-quality backlinks to your website.
20. Create a strategy for Valid B2B Directories
While comparing lead generation tactics, you must use business directories as a reliable source to collect contact details of B2B customers. You have the option to collect leads from different types of business directories – yellow pages directories, white pages directories, membership directories, and association websites.
Important information like contact numbers and email ids collected from these directories will help you to send cold emails or make cold calls. Also, you can further use the using automated lead generation tools to collect information about more B2B leads without putting in extra time and effort.
21. Capture Lost Leads through Re-marketing
B2B sales decisions are taken by multiple executives. The executives switch from one website to another frequently while conducting pre-purchase research. Hence, an executive may not return to your website or reconsider your product or services during the process.
You can run re-marketing or re-targeting campaigns to make the decision-maker remind you of your website while conducting various activities online. The remarketing platforms assign a code to the B2B customer when she visits your website and uses the code to remind her about your site through display ads.
Google Ads Platform- You can use Google Ads or Analytics tag
LinkedIn Re-marketing- You need to use the LinkedIn Insights tag
Facebook Re-marketing
Instagram and Twitter Re-targeting
Use sites like AdRoll and Perfect Audience etc.
22. Run Ads on Authoritative and Niche Sites
Decision-makers often visit niche websites to latest industry news and emerging industry trends. Most of these top websites allow businesses to place various types of ads like banners through various ad networks. But you must remember that the price of the ad placement will vary based on a slew of factors – display time, display duration, channel, and target audience.
Also, most niche websites allow you to publish content as a guest blogger. You can always consider placing ads and posting guest blogs on niche websites related to your industry. It is still important to place ads on a site that decision-makers from your industry trust and visit.
23. Expand Your Business Email List Organically
 Your lead generation strategy must focus on expanding the business email list regularly and organically. The new email ids will help your business to generate high-quality leads.
The first step here is to capture the pain points of your target personas and create well-researched content catering to their needs. Make sure that your content and blog posts must include a call to action requesting readers to share their email ids. You need to also hand pick the best content and create lead magnets.
You can collect contact information of prospective customers by using lead magnets: allowing them to download gated content e.g. case studies, whitepapers, market research reports, etc.
24. Track Changing Customer Needs and Industry Trends
Both customer needs and industry trends change from time to time. You cannot use the same B2B lead generation tactics to collect information about more customers regularly. Moreover, It is always important to adopt new tactics and change existing tactics to keep the B2B lead generation strategies aligned with changing customer needs and emerging industry trends. It is also important to assess the efficacy of each of the B2B lead generation tactics using the right metrics and parameters.
The right lead generation tactics will help you to collect information about relevant customers regularly in 2023. But you must remember that your business cannot increase sales conversion only by generating more B2B leads. In addition to generating new B2B leads regularly, you must focus on nurturing every lead throughout the sales process by sending personalized and targeted content. You must complement the B2B lead generation strategies with elaborate B2B lead nurturing strategies to increase the number and value of orders.