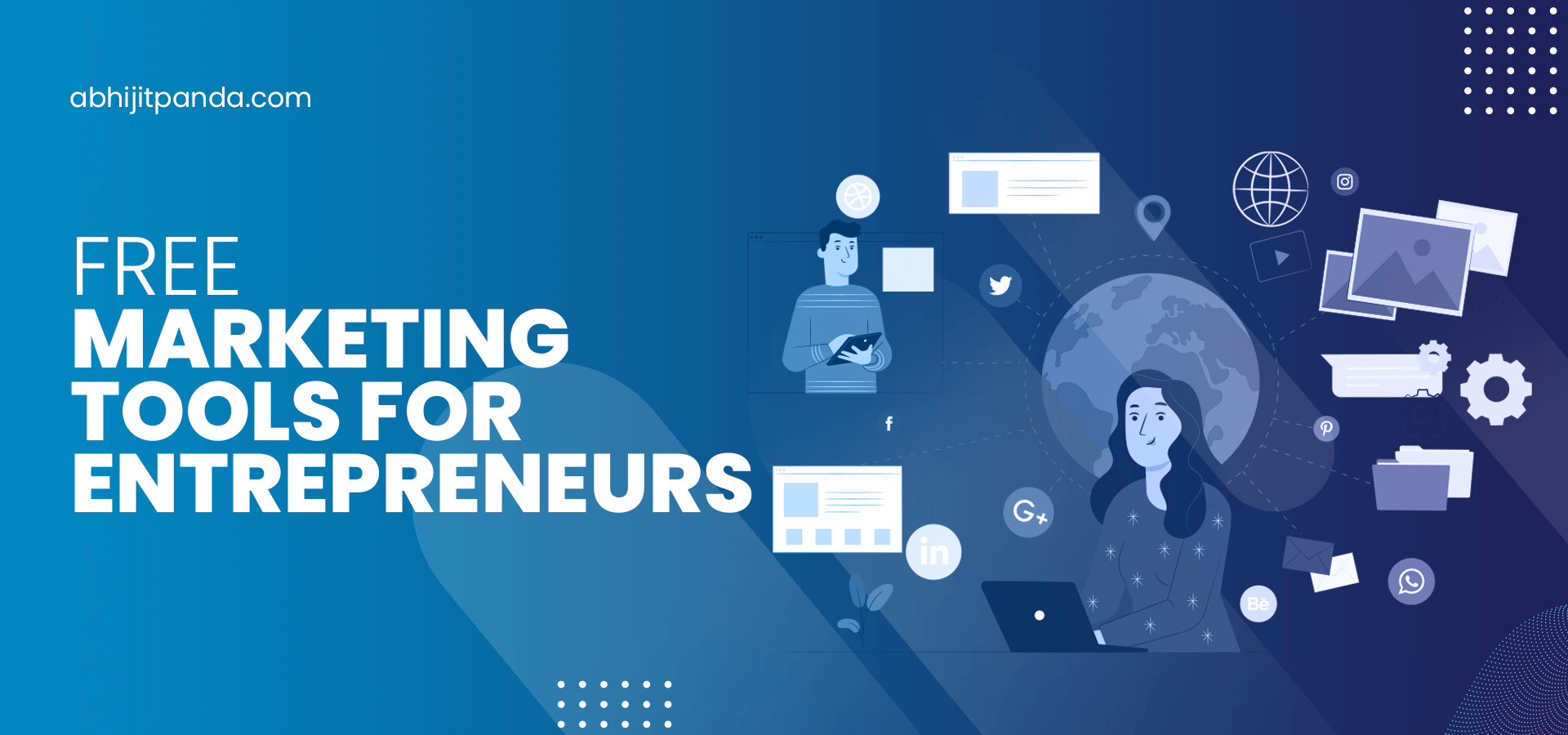 Free Marketing Tools for Entrepreneurs
Enterprises implement multichannel marketing strategies to achieve a variety of goals – create brand awareness, generate leads, drive sales conversions, and promote customer loyalty. But entrepreneurs cannot achieve preset goals without managing multiple marketing campaigns efficiently and simultaneously.
Premium and free marketing tools make it easier for entrepreneurs to plan and manage multichannel marketing campaigns through automation. According to the marketing automation statistics compiled by Startup Bonsai, marketing automation helps entrepreneurs generate more leads, boost marketing productivity, improve customer engagement, and beat the competition.
An entrepreneur can leverage marketing tools to automate routine and repetitive tasks without increasing overheads. But she must combine the right marketing tools to automate varied marketing activities. We are helping entrepreneurs to adopt marketing automation by recommending a slew of free and widely-used marketing tools.
11 Free Marketing Tools for Entrepreneurs to Leverage Marketing Automation
1. Wix
Wix helps entrepreneurs create, develop, and manage their business's web presence. An entrepreneur can use this free website builder to build a variety of websites. For instance, she can use Wix to set up online stores selling products or websites offering digital services to clients. The templates provided by Wix make it easier for the business owner to create customized websites. The website is further optimized for mobile devices and search engines.
2. Hotjar
A business can drive lead generation and lead conversion activities only by meeting users' needs and expectations. Entrepreneurs must monitor the behavior of website visitors to understand what they see, feel, and want. Hotjar helps entrepreneurs understand and measure a website's user experience visually and intuitively. The website owner can leverage the tools provided by Hotjar to visualize user behavior, record user interactions, and collect user feedback. She can further evaluate a new feature or product by conducting targeted surveys.
3. Google Analytics
The free web analytics service launched by Google helps entrepreneurs track and analyze website traffic. An entrepreneur can use Google Analytics to monitor and measure the performance of multiple marketing campaigns based on traffic sources like search console, social media, Google Ads, or campaigns. Also, Google Analytics helps entrepreneurs plan and manage marketing campaigns more effectively by providing in-depth data about customer demographics.   
4. Buffer
With customers spending more digital time on social networks, entrepreneurs have to explore ways to connect and interact with people on social media. Buffer helps entrepreneurs reach more people on social networks in an authentic and affordable way by providing a slew of tools. Many entrepreneurs start social media marketing campaigns using the free plan offered by Buffer. The free plan allows entrepreneurs to manage up to 3 social channels, schedule posts, and invite users.
5. Canva
While planning marketing campaigns, entrepreneurs create a variety of visual content to keep the audience interested and engaged. Canva makes it easier for entrepreneurs to create a variety of visual content – videos, social media posts, logos, presentations, and posters. An entrepreneur can use the professional templates provided by Canva to convert innovative ideas into visual marketing content in minutes. The free edition of Canva allows enterprises to access over 100 design types and over 250000 templates.
6. Google Alerts
No entrepreneurs can run marketing campaigns successfully in 2022 without optimizing digital content creation, publication, and promotion. They need to collect information and ideas from diverse sources to create digital content that the target audience desire. Google Alerts makes it easier for entrepreneurs to find interesting content by monitoring the web. An entrepreneur can leverage this free marketing tool to create alerts for various topics and keywords. Google Alerts will make the entrepreneurs find fresh and relevant content by sending email alerts automatically.
7. Mailchimp
The free version of Mailchimp provides entrepreneurs with a multichannel marketing tool. The software facilitates marketing automation by featuring a marketing customer relationship management (CRM) system, along with tools to build websites, landing pages, and forms. Entrepreneurs can further use Mailchimp to generate and nurture leads by sending up to 10000 emails every month. Small businesses and startups leverage the free edition of Mailchimp to start email marketing campaigns and conduct customer surveys.
8. Yoast SEO Free Plugin
Entrepreneurs must leverage this widely-used SEO plugin to optimize their websites developed using WordPress. The free edition of Yoast SEO helps website owners start search engine optimization (SEO) activities and automate various technical SEO tasks. However, they must remember that Yoast SEO Free Plugin lacks some of the useful features provided by the premium plugin. They have to upgrade to the premium edition to assess content quality, get link suggestions, optimize keywords, and avoid dead links.
Here is a guide on Yoast SEO.
9. SITE123
The free edition of SITE123 is used widely by entrepreneurs for creating landing pages quickly and effortlessly. An entrepreneur can use this free website builder to create landing pages for a variety of websites. She can customize the landing for specific marketing campaigns by choosing colors, fonts, header, and footer. Also, she can save time by adding pre-designed content blocks to the landing page along with essential elements like buttons and fonts. However, she must upgrade to the premium edition of SITE123 to get additional storage space and bandwidth.
10. Hello Bar
Entrepreneurs can use the Starter edition of Hello Bar to convert website visitors into leads, buyers, and subscribers using customized and appealing popups. Hello Bar enables users to create a variety of popups – alerts, bars, modals, sliders, and page takeovers without writing code. Also, entrepreneurs can display more relevant information to the website visitors by customizing the popup's themes and styling. They also have the option to deliver targeted messages to visitors based on their location, device, page, and visit.
11. Databox
An entrepreneur can divert traffic to her business website by running multi-channel marketing campaigns. But she cannot convert the website visitors into leads and customers without tracking and improving the website's performance continuously. Databox helps entrepreneurs track and measure website performance without using multiple tools. While using Databox, the entrepreneur can track and visualize performance through a customizable dashboard. In addition to integrating performance information from diverse sources, the dashboard enables users to measure performance using custom metrics.
Many free marketing tools help entrepreneurs leverage marketing automation without escalating costs. But no enterprise can run multiple marketing campaigns using a single marketing tool. She must focus on choosing and combining the right marketing automation software according to her enterprise's multichannel marketing strategies.