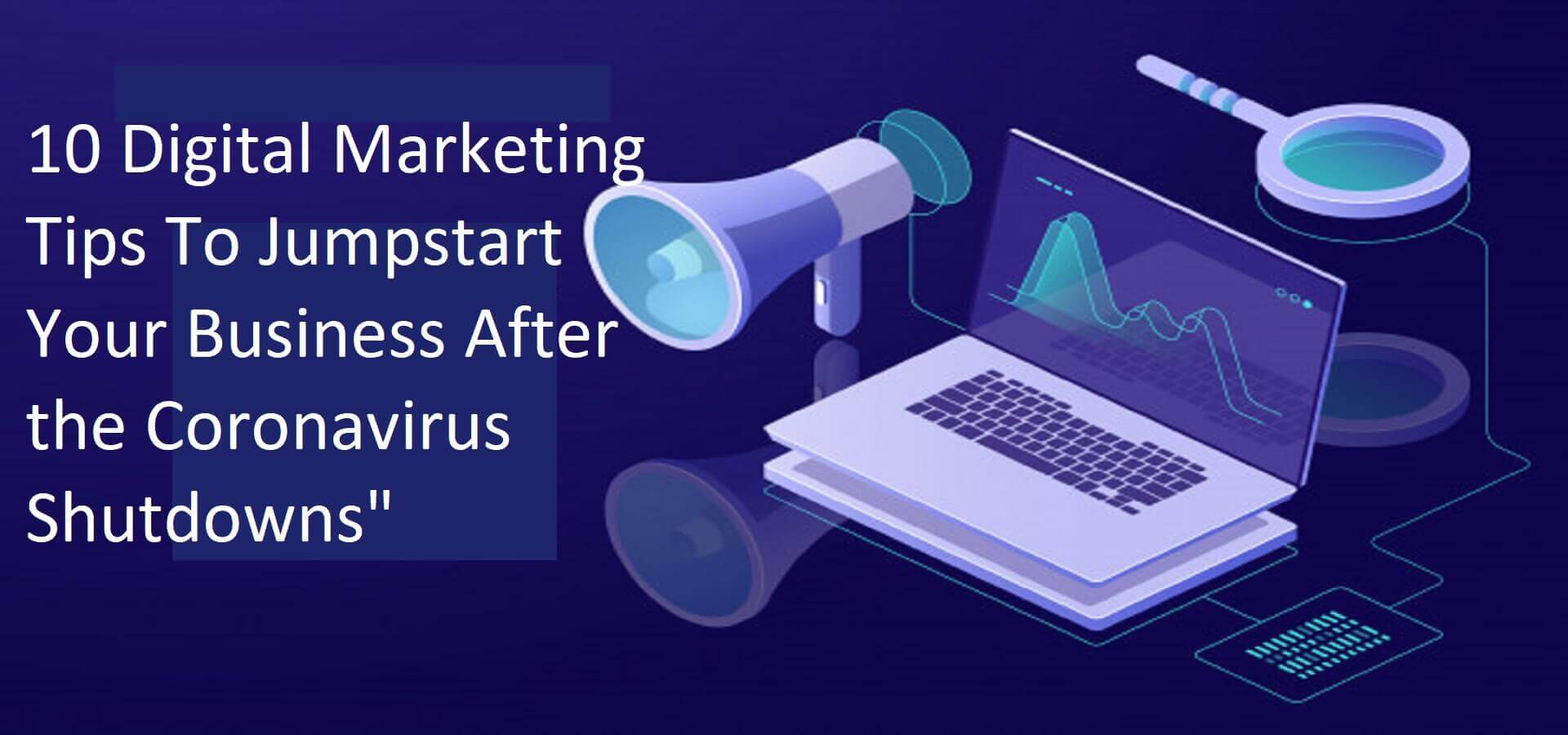 Digital Marketing Tips To Jumpstart Your Business After the COVID-19 Shutdowns
The coronavirus epidemic has brought attention to every aspect of corporate marketing. Entrepreneurs need to take a practical approach to research post-pandemic digital marketing solutions to return to the game. The pandemic has spread worldwide, affecting millions of people and encouraging businesses to keep at least 75% of their human resources at home. It means closing many places and businesses, including restaurants, movie theaters, entertainment venues, and other places where people gather.
If you think your company is ready to do business normally, here we have come up with some of the best COVID-19 digital marketing techniques to restore and improve your brand's online existence. The adverse effects of the pandemic are being felt in all industries and businesses, so knowing the Digital Marketing Trends is also essential. Below are the top ten digital marketing tips that will allow your business to grow and maintain stability during COVID-19.
1. Audit your website
If you think you have more time to stay at home, now is the ideal time to do a spring cleanup on your website. If you are used to buyers completing their customer's journey offline but need to go online, ensure the process is as simple as possible. Here are some SEO audit tools and content audit ideas for your website.
Some things you can do:
●     Improve your website for easy finding with natural search.
●     Upgrade your website's user understanding to boost conversion rates. Check the location of your call-to-action (CTA). Perhaps you should add more content or change the wording to make them more effective.
●     Think of adding a chatbot to your website to help your customers even more. Basic chatbots are cheap, and make sure that your business is reachable 24 hours a day, seven days a week.
●     If you are used to depending on usual retail, make sure your e-commerce transition to your customers is smooth. Ensure you have a clear impression of the products, services, and prices clearly stated.
2. Launch a remote work option
Since many people now work remotely, entrepreneurs can use many free tools to help their team stay connected and keep working, yet if they are not in the exact location. Execute a remote work strategy (that includes email, Slack, video calls, etc.) when the team should be online or available, communicate, and deliverables each team representative is accountable for completing.
3. Establish a Robust Social Media Existence
Brand management on social media is an ongoing task. In other words, building an online image and raising brand awareness is more critical than ever at this time, even if there is no current flow of people in the store. To develop your digital footprint, you need to share reliable and honest content and ensure timely responses to comments, reviews, and questions.
4. Use Your Database
The database is essential whether you use social media, email marketing, or text messaging. Let them know what you do, how you work, and the latest information about your business. Instead of looking for a new business, it is best to stay with someone already familiar with your business. People who do business with you are more likely to support you than those who know nothing about you.
5. Alter your sales strategy to online
Chinese companies are forced to face the reality of coronavirus closure earlier than most US companies and provide a model for this storm. As the store windows closed and workers stayed home, business owners changed their sales strategies to avoid significant losses. If you want to close your store, find a way to pay your employees by selling on social media, getting the most out of your mailing lists, or using video tools to attract new customers.
6. Improve Your Digital Infrastructure
The digital foundation of your business is your website. With robust integrated digital marketing and web design solutions, you can reach more options and expand conversion chances. Due to thriving needs, redesigning the website, increasing the use of social media, and the use of online technology is not just a trend. Over the next few years, these practices will continue to be an essential part of corporate marketing.
To adapt to these changes in the industry, you should boost your digital infrastructure. Let us take a look at various COVID-19 marketing techniques that can help you tailor your online policy to the effect of the coronavirus pandemic.
●     Upgrade your site's eCommerce facilities
●     Make engaging videos and graphics
●     Keep your branding consistent
●     Upgrade your site's eCommerce capabilities
●     Optimize your pages
●     Update your site subject with essential information, such as scheduling and delivery details
●     Fix your product photos
●     Increase your site security with web-presenting services
7. Concentrate on Transparency and Communication
It is the time when your prospects and clients want to hear from you more frequently. Improve your email marketing strategy and use bulletin to inform customers about policy alterations, updates, or business developments. You can use this platform to stay in touch with potential customers and let them know you respond to their urgent needs.
8. Enhance Your Targeting Strategies
Evaluate your advertising expenses and strategically allocate your financial plan to stay in touch with the consumers who need your services and products the most. Pursue your analytics and improve your pay-per-click marketing strategy that does not generate positive returns.
9. Showcase Your Unique Value Propositions through Videos
Video marketing is an operative means to improve your business and convey your brand image and value. Here are some COVID-19 marketing tips that can help you expand the quality of your video subject:
●     Leverage client testimonials and campaign success stories
●     Be careful of packaging the significance of your products post-coronavirus
●     Do not convey fear or negativity
●     Concentrate on how your company can meet specific customer needs
●     Highlight your team in action