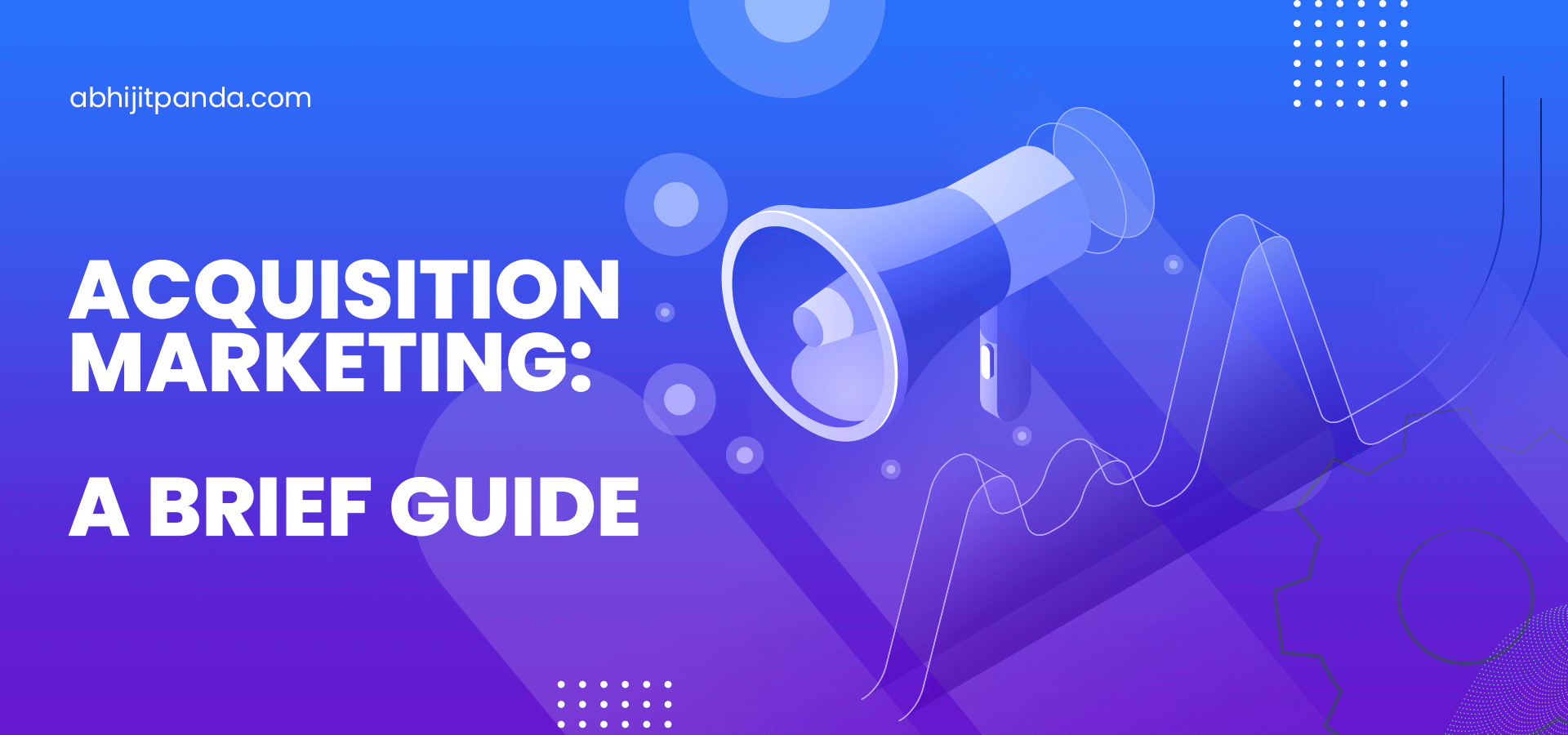 Acquisition Marketing Strategy: A Brief Guide
While planning various marketing campaigns, enterprises target both existing and new customers. But businesses focus on promoting their products or services to new consumers while planning acquisition marketing campaigns. They promote a product or service to a new customer base through multiple customer acquisition channels.
However, they always target new customers who are either in the consideration or the decision stage in the buyer's journey. While planning acquisition marketing strategies, decision-makers do not focus on making new customers aware of the brand, product, or service. Instead, they target customers who are considering the product/service or showing interest in the product/service.
The emphasis on a new customer base makes the acquisition marketing strategy different from other inbound and outbound marketing approaches. Also, businesses have to make the marketing team and customer support team work together to make the acquisition marketing campaigns successful.
Acquisition Marketing Channels
Like inbound marketing strategies, acquisition marketing strategies attract, engage, and convert new consumers through multiple marketing channels and platforms. However, marketers often select acquisition marketing channels according to the business type and target audience. Also, they boost the performance of acquisition marketing campaigns by combining multiple channels and platforms.
Blogs
While conducting pre-purchase research, consumers these days gather up-to-date information from various online sources. Many marketers provide relevant content to new consumers by publishing blogs regularly. In addition to educating and engaging consumers, blogs help brands showcase their knowledge, experience, and expertise. Also, businesses can use blogs as a tool to establish authority.
Visual Media
While planning acquisition marketing campaigns, many marketers these days prefer video blogs or vlogs to blogs. They showcase and promote products/services to new consumers by publishing a variety of visual content – images, infographics, and videos. The visual content conveys the desired message to the target audience in an interesting and engaging way. Also, the target audience can gather relevant information in seconds.
Search Engine
Both B2B and B2C consumers these days rely on search engines to gather relevant information about a product or service. Hence, enterprises attract and engage new consumers by running both search engine optimization (SEO) and paid search marketing campaigns.
SEO campaigns help businesses attract and influence customers organically by targeting different types of search queries. On the other hand, businesses have to incur additional expenses to influence new customers by running pay-per-click (PPC) ads.
Social Media
Many consumers these days prefer social networking platforms to search engines while selecting and comparing products/services. The massive popularity of social media creates both free and paid opportunities for businesses to attract and engage new customers.
Social media creates opportunities for businesses to showcase a product or service organically by sharing updated information, answering questions, organizing polls, and showcasing testimonials and reviews. At the same time, businesses can run for run acquisition marketing campaigns using paid social media advertising options.
Emails
Email remains one of the popular acquisition marketing channels despite the massive popularity of search engines and social networks. Many businesses still convey important information about a product/service to new consumers by sending emails.
In addition to sharing quality content and up-to-date information, emails seduce new customers through discounts and promotional offers. But enterprises must adopt a slew of email marketing best practices to leverage this customer acquisition channel fully.
Premium Content
Many businesses these days boost acquisition marketing campaigns by complementing blogs and visual content with premium content. They deliver higher value to new consumers by allowing them to download a variety of premium or gated content – ebooks, whitepapers, webinars, and training resources. In addition to establishing authority and expertise, the premium content helps marketers draw new consumers into the sales funnel.
Acquisition Marketing Tactics and Best Practices
No business can make acquisition marketing strategies drive revenue growth only by defining the target audience and combining multiple channels. The decision-makers must keep the acquisition marketing flexible and sustainable. Also, they must make the strategies more effective by adopting a slew of acquisition marketing tactics and best practices.
Define the Target Audience
The acquisition marketing campaigns draw new consumers into the marketing funnel by delivering a variety of content. The content can attract, engage, and influence new customers only by meeting their desires, addressing their issues, and reducing their pain points. That is why; marketers must define the target audience by creating buyer personas. The buyer personas will help them to deliver the right content through the right customer acquisition channel at the right time.
Leverage Customer Stories While Creating Content
Like digital marketing strategies, acquisition marketing strategies can leverage user-generated content and customer stories. While creating content, writers must explore ways to present new customers with reviews, testimonials, case studies, and customer stories. The customer stories will add credibility to the content as well as get new customers influenced by existing customers. Hence, customer stories must become an integral part of content delivered to new customers.
Monitor Changes in Consumer Behavior
In the digital age, customers' preferences and behaviors change constantly. The acquisition marketing campaigns can achieve the preset goals only by meeting their changing behaviors. Marketers must keep the strategies flexible to accommodate changes and make adjustments proactively. Also, they must measure the performance of campaigns across acquisition marketing channels.
Keep Strategies Sustainable
A business can adopt acquisition marketing to achieve long-term marketing goals. For instance, it has to publish multi-format content over a period of time to attract quality leads. Likewise, it can engage and influence more leads only by posting content on social networks regularly. Decision-makers must keep the acquisition marketing strategies sustainable to run campaigns successfully and get higher ROI.
Explore Partnership and Networking Opportunities
Many businesses these days drive acquisition marketing by collaborating with influencers and celebrities. Similarly, many businesses acquire new customers through customers and other businesses. Businesses acquire customers by requesting their customers and other influencers promote and recommend the product/service to new customers. Also, many businesses use affiliated marketing as a tool to boost acquisition marketing strategies.
Acquisition Marketing KPIs and Metrics
Acquisition marketing strategies focus on attracting and engaging new consumers through multiple customer acquisition channels. Hence, decision-makers must monitor and measure the performance of individual campaigns to know which strategies are working and which are not.
Decision-makers often measure the performance of acquisition marketing campaigns using various customer acquisition metrics. But many managers these days use specific acquisition marketing KPIs like prospects, visits, impressions, new sales/offers, revenue increase, visit rate, lead rate, and offer rate.
Conclusion
Many businesses these days adopt acquisition marketing to increase revenue by attracting and converting new consumers. But decision-makers have to unify marketing and customer service activities to engage and convert new customers. Also, they must adopt a slew of best practices and use the right KPIs to boost the performance of acquisition marketing campaigns.