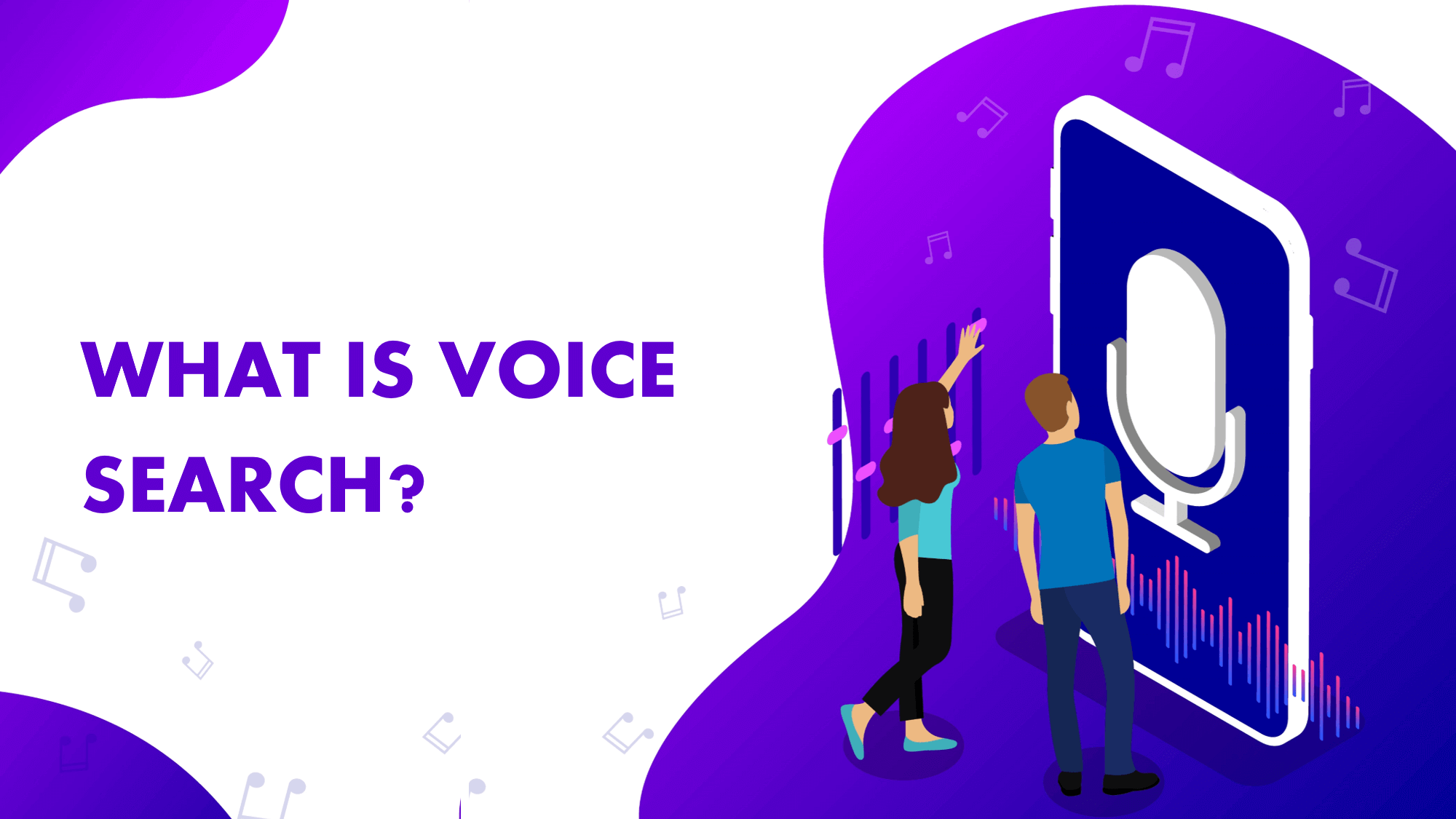 What is Voice Search SEO?
In 2011, Google introduced voice search as a new feature in web search. The feature enables users to find information using voice commands instead of typing search queries. Major search engines have been updating the voice search feature regularly. Likewise, the number of searchers switching from text search to voice search has been increasing consistently.
According to ThinkwithGoogle.com,

"27% of the global online population is using voice search on mobile."
Likewise, the research conducted by Adobe Analytics suggests,

"The most common voice activities are asking for music (70%) and the weather forecast (64%) via smart speakers. Other popular activities include asking fun questions (53%), online search (47%), checking the news (46%), basic research/confirming info (35%), and asking directions (34%)."
What is Voice Search SEO?
As a speech recognition technology, voice search allows searchers to collect information by saying search queries to a mobile phone or speaker instead of typing search queries into a search field. While making search engine queries, searchers find it easier to give voice commands instead of typing search queries.
According to WhatIs.com,

"Voice search is a speech recognition technology that allows users to search by saying terms aloud rather than typing them into a search field. The proliferation of smartphones and other small, Web-enabled mobile devices has spurred interest in voice search."
What Makes Voice Search Different from Text Search?
An average person can type 30 to 40 words or 190 to 200 characters per minute. But an average person can speak about 100 to 130 words per minute. That is why; average words per minute (WPM) makes voice search different from text search. We cannot understand what voice search is without understanding the key differences between voice search and text search.
Search Query Length:
The searchers find it easier to give voice commands than typing search queries. While typing search queries, the searchers often use abbreviations and include about two words. But the searchers answer questions and speak full sentences while initiating voice search. Hence, voice search queries are longer than text search queries.
Natural Language:
Often, searchers do not type questions while doing a text search. But they ask questions while giving voice commands. Most voice search queries start with commonly used question words like what, when, where, who, and how. Hence, the voice search queries appear natural and complete, unlike the text search queries.
Location:
Unlike text search queries, mobile voice search queries are often location-based. While using mobile devices or smart speakers, the searchers often give a voice command to get localized information.
According to Meticulosity.com,

"Most voice searches are location specific and mobile voice-related searches are 3X more likely to be local-based than text. Users often opt for voice search when looking for a product, shop or service near them and 50% of local mobile searches by a consumer leads to a store visit in a day."
What Do the Voice Search Results Look Like?
A featured snippet or answer box appears on top of the organic search results delivered by Google. The featured snippet appears in a box just below the paid ads displayed by Google. Google displays featured snippets with the intention to answer the question asked by the searchers directly and instantly.
The popular search engine created the features snippet dynamically using content collected from various online sources, including articles and blogs. Google displays information in the featured snippets in a variety of formats – paragraphs, data sets, and lists.
While processing voice search queries, Google delivers voice search results from the featured snippet. The featured snippet appears on the SERPs before the organic search results. Hence, digital marketers have to focus on making their content appear in position zero on SERPs.
How Does Voice Search Work?
Both Google and Bing these days use artificial intelligence (AI) and machine learning (ML) to interpret the voice search query and understand the searcher's intent. But they still rely on text-to-speech technology to analyze the voice search query and identify the questions. Hence, search engines process voice search commands and deliver voice search results through a series of steps.
The voice command given by the searcher is processed and transcribed by the device into a text
The device detects questions, instructions, or commands by analyzing the text
The device connects to the search engine to find relevant information or answers
Search engine delivers voice search results using the information in the featured snippet
The device delivers the voice search results in a digestible format to the searcher after translating the information
Voice Search SEO: How to Create and Optimize Content for Voice Search?
Smart speakers and AI-driven voice assistants these days deliver voice search results by collecting information from diverse sources – search engines, Wikipedia, and reputed websites. Digital marketers cannot boost the articles, blogs, and website content for voice search using conventional search engine optimization (SEO) techniques. They have to fine-tune SEO techniques to make the content discoverable by various devices and applications.
Include Question Words
As mentioned earlier, searchers ask questions while doing a voice search. While selecting keywords for the content, you must explore ways to include commonly used question words – what, when, who, why, where, and how – in the keywords and keyphrases. The question words will make your content match various voice search queries.
Use Longtail Keywords
While giving voice commands, the searchers neither shorten the search query nor use abbreviations. Hence, you must optimize the content for voice search by including longtail keywords and keyphrases. Also, you must make the longtail keywords and keyphrases conversational by including commonly used filler words like to, from, I, of the, on the, and the.
 Optimize the Content for Rich Answers
In addition to delivering information from the featured snippet, Google also delivers rich answers to the questions. You can optimize the content for rich answers by targeting Google's knowledge panel, knowledge graph, knowledge snippet, and knowledge box. The optimization will increase the chances of your content appearing at position zero on voice search results.
Optimize the Content for Local Search
While doing voice searches, many searchers look for information about local or near-me businesses. They give voice commands to gather a variety of information about local businesses – directions and opening hours. You can easily optimize your website for voice search by enhancing its local presence. Google helps entrepreneurs to optimize their business for voice and local searches by listing on Google My Business. The listing will help searchers to collect your business's address and phone numbers while doing a voice search.
Restructure the Existing Content
In addition to creating fresh content for voice search, you must restructure and optimize the existing website content for voice search. You can make the website voice search-friendly by including questions and precise answers. But several studies suggest that voice search results deliver results in about thirty words. You have to keep in mind the search result length while restructuring the content. Also, you must explore ways to add multiple frequently asked questions (FAQs) pages to various pages and blogs.
Use Conversational Language
While giving voice commands, most searchers use conversational language. Hence, you must use conversational language while creating articles, blogs, and website content. The conversational language will increase the chances of your content appearing on voice search results. However, it is also important to keep in mind the searcher's intention while creating and updating the content. The search intent will help you to prepare a list of questions that a searcher will ask while looking for your products or services.
Boost Your Website's Mobile Experience
In addition to optimizing the content for voice search, your SEO strategy must focus on improving the website's user experience according to the latest search engine guidelines. For instance, Google advises you to boost the website's loading speed, mobile experience, and security. You can easily make the content appear in featured snippets by making the website deliver a superior user experience on mobile devices.
While answering questions like what is voice search, we must remember that both Google and Bing have been updating voice search features regularly. The latest voice search options enable searchers to give voice commands directly using devices or speakers with no screen. Also, disruptive technologies like artificial intelligence (AI), machine learning (ML), and natural language processing (NLP) enable searchers to initiate voice searches using a variety of devices and applications.