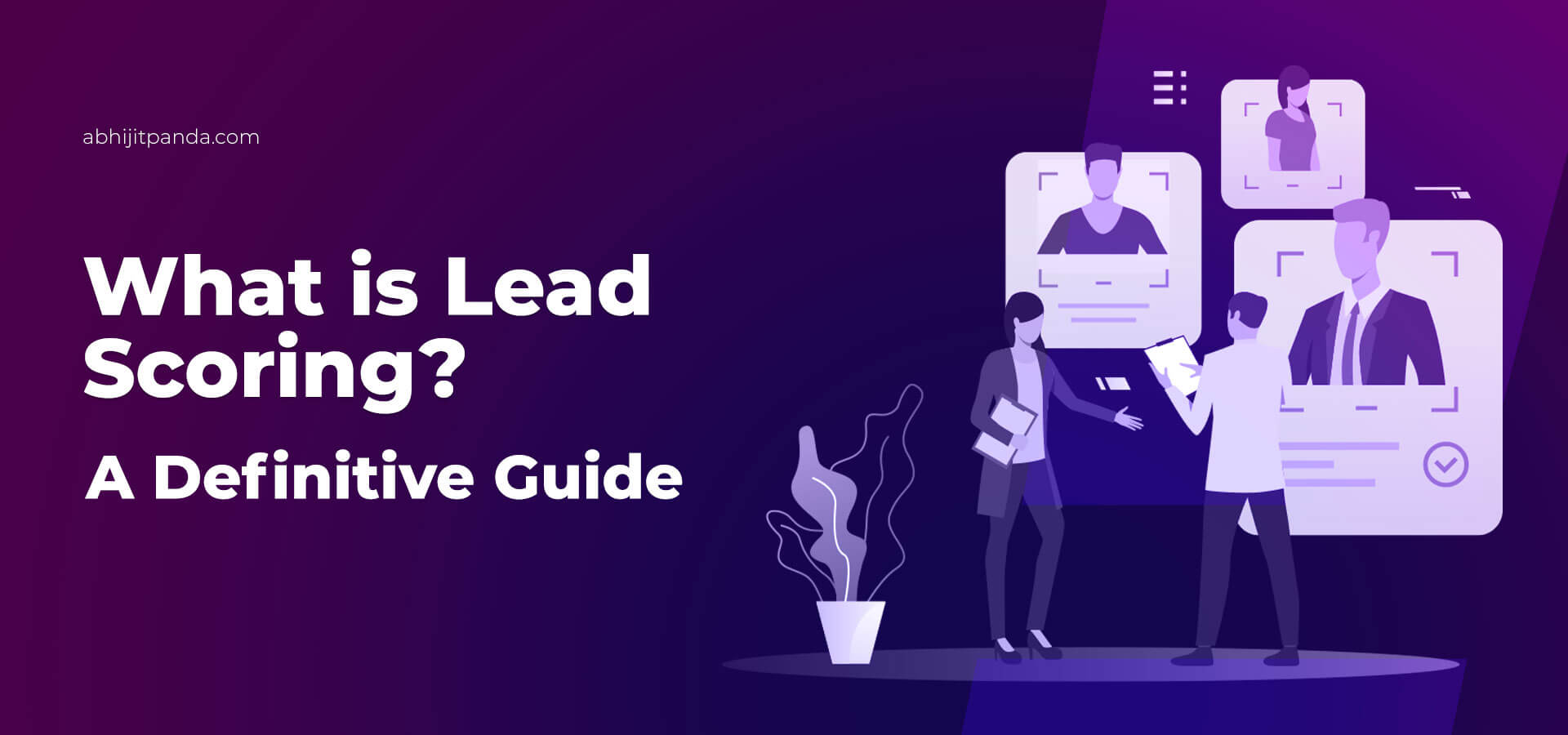 What is Lead Scoring – A Definitive Guide
Your business can easily collect leads from various sources by running inbound marketing campaigns. But you must nurture the leads effectively by sending the right information at the right time to drives sales conversion. As a key step in the lead nurturing process, lead scoring helps you to determine the worthiness of prospective customers by assigning a numeric score to every lead. In addition to assessing the worthiness of individual leads, lead scoring helps you to identify and segregate the highly qualified or sales-ready leads.
Several market research studies have highlighted the effectiveness of lead scoring in boosting lead nurturing campaigns and content marketing campaigns.
According to a research report released by the Lenskold Group, "Lead scoring ranks as a primary driver of revenue from content marketing for top tier marketers and those with integrated marketing automation."
Your business can assign values to the leads in a number of ways – assigning numeric values (0, 1, 2, 3 …), implementing alphabetic rankings (A, B, C, D …), and adding labels (hot, warm, and cold)
5 Important Benefits of Lead Scoring
Don't Lose Any Sales Opportunity
According to MarketingSherpa.com, "73% of B2B leads are not sales-ready." Your business will lose many sales opportunities by focusing on all leads. Lead scoring helps you to identify and prioritize the sales-ready leads.
Hence, your business will not lose a significant percentage of sales opportunities by following up on the dormant or cold leads.
Drive Sales Conversion
In addition to identifying the sales-ready leads, assigning scores to leads helps your business to exploit most of the sales opportunities. Hence, your business can easily drive sales conversion by assigning value to every lead. Also, the salespeople can increase revenue consistently by spending time only on following up on the sales-ready leads.
Align Sales and Marketing Activities
Unlike conventional marketing methodology, lead nurturing helps you to align sales and marketing activities perfectly. Both marketing and sales professionals can collaborate to convert leads into customers by running targeted marketing campaigns. The sales-ready leads share by the marketing team will help the salespeople to close sales deals successfully.
Boost Sales Efficiency and Productivity
Often salespeople have to invest extra time and effort to close complex B2B sales transactions. The lead scores help salespeople to save both time and effort by differentiating the prospects who are ready to place orders from the prospects who are interested in the product or service.
Measure and Fine-Tune Marketing Campaigns
Your business can use lead scoring mechanism as an effective tool to measure the performance of various marketing activities. You can easily identify the marketing campaigns and channels that help your business to generate more sales-ready leads. Also, you can boost the marketing campaigns by sending the right content to the right prospects through the right communication channel.
7 Lead Scoring Best Practices Your Business Should Implement
Consider Both Demographic Information and Behavior
The lead scores help marketers and salespeople to evaluate a lead or prospect using a variety of parameters. But you must assess the worthiness of a lead based on both demographic information and behavior. While setting lead scores, you must consider the important demographic information about the lead – age, gender, location, education level, industry, job title, company name, company size, and company revenue. At the same time, you also need to keep in mind the lead's email behavior, website behavior, and social media behavior.
Allow Lead Scores to Fluctuate
While designing a lead score model, you must focus on assigning both positive and negative values to the leads. Also, you need to ensure that the lead score assigned to a prospect must change frequently according to her activities. You can even consider increasing the lead score gradually over a period of time based on the interests and activities. The negative scoring and score degradation will help you to follow up on the sales-ready leads in a timely manner. However, you must allow the lead score to fluctuate from time to time based on real-time data.
Set up Product-Specific Lead Scoring Models
You cannot nurture multiple leads using a single lead scoring model. It is always important to set up an individual scoring model for every product line. The multiple scoring models will help you to understand the interests and needs of every prospect clearly. Also, specific models will help you to segregate the prospects based on their interest in a particular product line. Hence, you can easily identify the sales-ready leads for every product line by setting up multiple and specific lead scoring models.
Assign Values Based on Multiple Interactions
While creating and customizing lead scoring models, many decision-makers consider only email open rates. You must remember that the email open rate is one of the many criteria for assessing a prospect's interest in your product or service. Instead of focusing only on email open rates, you must understand the prospect's interests by combining a slew of online and offline interactions – phone communication, social media engagement, mobile app engagement, page views, landing page conversions, and even participation.
Define the Lead Scoring Threshold
The lead scoring tools enable you to share the sales-ready leads to the salespeople only when they meet the predefined qualification threshold. You can set the qualification threshold to ensure that the sales team follows up only on the most qualified leads. Also, you must set lead scoring threshold to ensure not to spend time or resources on following up cold leads. The threshold will help your business to eliminate guesswork from the lead scoring and lead nurturing process.
Consider High-Value Web Pages and Actions
Some web pages on a website enable visitors to place orders or make inquiries. Such web pages are more valuable than others for the purpose of lead scoring. While customizing the lead scoring model, you must clearly identify the high-value web pages like the contact us or product pricing. You need to ensure that higher values are assigned to the leads who are visiting the high-value pages. Likewise, you must assign scores to the leads based on the value or significance of their actions.
Personalize Predictive Lead Scoring
Unlike conventional scoring models, predictive lead scoring assigns value to leads using algorithms. The algorithms determine the worthiness of a lead using important parameters like purchase history and behavioral data. However, the predictive or automated lead scoring model often ignores the personal aspects of the scoring. You must explore ways to implement the suggestions and feedback shared by the salespeople based on their interactions with customers. You must fine-tune and customize predictive lead scoring to leverage personal interactions while minimizing the chances of human errors.
As a new-age sales and marketing methodology, lead scoring helps your business to assess the worthiness of leads and identify the sales-ready leads. But you must remember that this is not an isolated process. You must use scoring as a mechanism to boost your lead generation and lead nurturing efforts. Also, your lead nurturing strategies must focus on engaging hot, warm, and cold leads to drive sales conversion consistently.