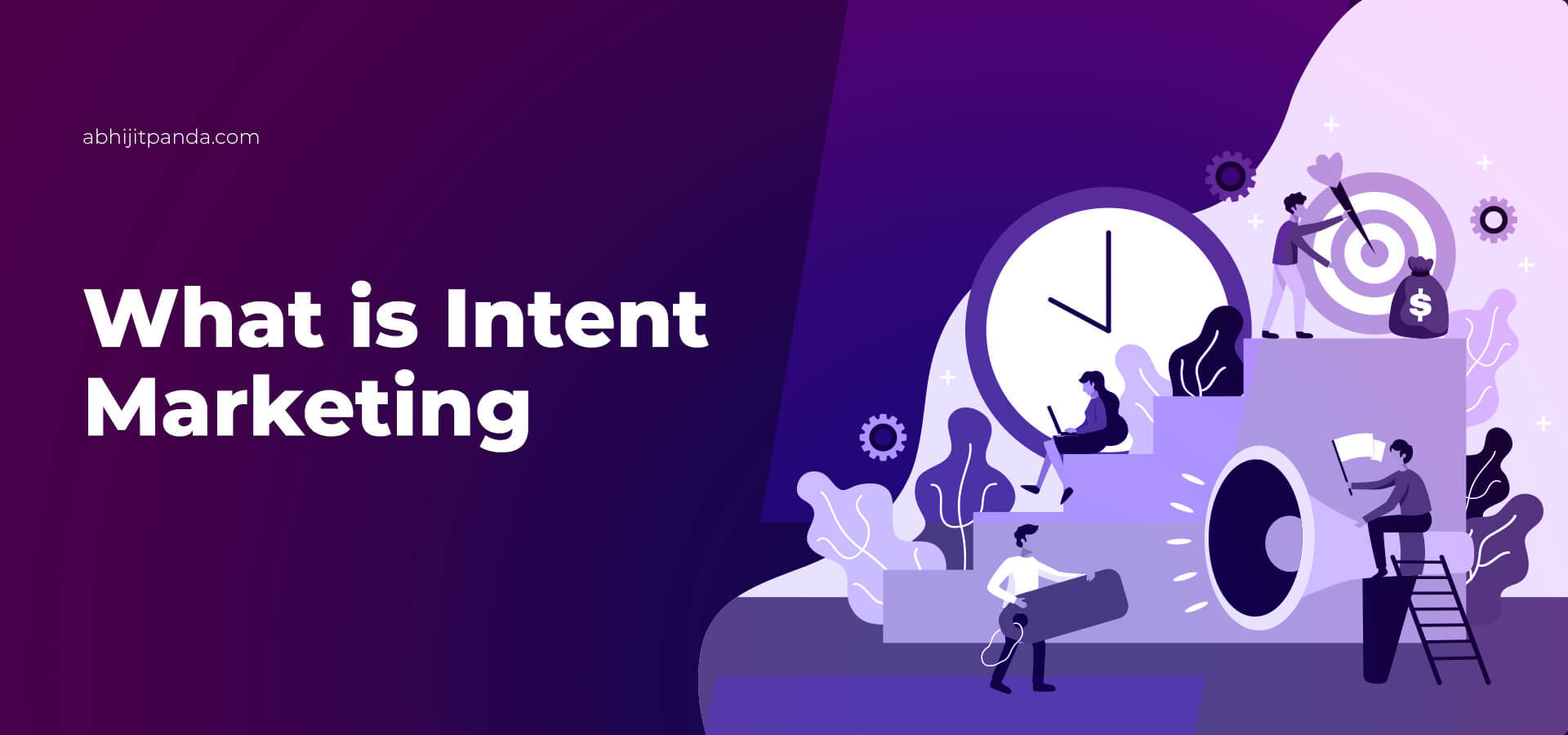 What is Intent Marketing?
Unlike traditional marketing techniques, intent marketing helps businesses to personalize marketing efforts to meet a buyer's current intent. The term "buyer intent" refers to a customer's or prospect's requirements or needs during a specific period of time.
According to ThinkWithGoogle.com,

"Marketers who rely only on demographics to reach consumers risk missing more than 70% of potential mobile shoppers. Why? Because demographics rarely tell the whole story. Understanding consumer intent is much more powerful."
When a business understands the buyer's intent clearly, it becomes easier for marketers to promote a product or service more effectively.
Wikipedia describes intent based marketing as

"Marketing a product or a service based on consumers' intent to adopt, purchase or consume that particular service which may have been either explicitly or implicitly conveyed by the subscriber."
While implementing intent marketing strategies, marketers often rely on search engines to collect intent data. However, the marketer can collect intent data from many sources – website data, social media data, content consumption data, off-site digital activities, customer relationship management (CRM) systems, and point-of-sale devices.
The real-time intent data collected from various sources help marketers to target the right customers in the right way according to his current position in the buyer's journey – awareness, consideration, and stage. Many B2B businesses already revamped their sales and marketing strategies based on intent driven marketing principles. Hence, your business can easily boost B2B sales conversions by implementing an intent marketing strategy early.
9 Reasons Why Your Business Must Keep in Place an Intent Marketing Strategy
1. Deliver the Right Content at the Right Time
An infographic posted on Inc.com suggests that 70% of internet users want to learn about products through content instead of traditional advertisements. But your business cannot influence the purchase decision of a buyer without sending the right information at the right data. The intent data collected from various sources help your business to customize the content according to the buyer's current intent.
You can leverage the intent data to understand a buyer's precise needs, goals, or pain points by developing realistic buyer personals. Also, the intent data will help you to send personalized and targeted content to every prospect by choosing the right information, time frame, and call-to-action. You can even leverage the intent data to bridge the gap between search engines and searchers.
2. Get Higher ROI on SEO Campaigns
Leading search engines like Google already deliver intent-based search results instead of keyword-based search results by changing their search algorithms. Hence, your search engine optimization (SEO) strategy must focus on generating and publishing intent-based content. Instead of promoting your products or services, the intent-based content needs to educate, inform, assist, or entertain the searchers. You cannot create intent-based content without leveraging the intent data.
The intent-data will help you to meet a B2B buyer's need, goal, or pain points precisely by conveying the most relevant information. Also, you can use the intent data to boost the content's search engine visibility by choosing the right keywords and including the relevant long-tail keywords. On the whole, you can leverage the intent data to switch from keyword-based SEO to intent-based SEO seamlessly.
3. Increase Landing Page Conversion Rates
B2B marketers explore ways to optimize the landing page to generate more leads and boost sales conversion. The landing page further helps B2B marketers to differentiate the sales-ready leads from less interested leads. The intent data helps you to optimize and personalize various components of the landing page according to the precise needs of a customer according to her position in the buyer's journey.
The smarter B2B marketers leverage intent data to boost landing page conversion rate in several ways – fine-tuning the title according to buyer's intent, display relevant images and videos, highlight key information using bullet points, and include links to useful resources. The intent data help marketers to influence the buyer's purchase decision by helping her to accomplish precise goals.
4. Boost Paid Search Marketing Campaigns
Many internet users these days use ad blockers to carry out their digital activities without any disruptions. But the PPC statistics posted on 99Firms.com suggest that 55% of internet users who use Google prefer text ads. A buyer will click on a text ad only when it meets her current needs or goals. The text ads will get higher clicks only when they complement the buyer's needs and behaviour perfectly.
According to ThinkWithGoogle.com,

"Ads served with intent signals alone have 30% higher consideration lift and 40% higher purchase intent lift than when they're served using demographic signals alone."
While launching paid search marketing campaigns, you can leverage intent data to display the most relevant text ads to a buyer in two different ways:
Bidding for high-intent keywords and
Re-targeting the buyers after they left your website.
5. Personalize Your Lead Generation and Nurturing Campaigns
Apart from having a robust B2B lead generation strategy, the B2B marketers need to nurture every lead effectively by sending personalized and targeted content throughout the buyer's journey. But the B2B marketers cannot influence the purchase decisions of the leads simply using their demographic data. They must combine the demographic and intent data to deliver the right information to a lead at the right time and in the right way.
The intent data collected from various sources help the marketers to boost email marketing, lead nurturing, and outbound marketing campaigns. While launching email marketing and outbound marketing campaigns, the marketers can leverage intent data to send highly personalized and targeted content to a buyers according to their current position in the sales funnel. Likewise, the intent data helps marketers to identify the sales-ready leads and reconnect with the cold leads by understanding their intent.
6. Boost Various Local Marketing Campaigns
In addition to boosting the digital marketing campaigns, intent marketing helps businesses to improve the performance of local marketing campaigns. The marketers can combine a customer's demographic and intent data to deliver information that complements both buyer intent and current location.
A large percentage of buyers these days make local searches before visiting a store in person. The intent data help businesses to seduce customers by giving offers and deals. A business can further leverage the intent data to improve product positioning and local PR activities.
7. Exploit More Sales Opportunities
Most customers these days buy products from a company or brand that provides more relevant and useful information. No company or brand can deliver useful information to a customer without understanding buyer intent clearly. Intent data helps in increasing landing page conversion and boosting the performance of marketing campaigns. It also helps businesses to identify and exploit new sales opportunities.
When the marketers know buyer intent clearly, it becomes easier for them to engage the customer in several ways – sharing relevant information, giving personalized offers, organizing product demos, and inviting buyers to sales events. At the same time, the intent data will help marketers to focus on the right prospects by assigning scores to every lead and prioritizing the sales-ready leads.
8. Facilitate Seamless Team Collaboration
Unlike conventional marketing techniques, intent marketing focuses on driving sales conversion by unifying marketing, sales, and customer support activities. Many organizations unify their departments by making the marketers, salespeople, and customer service executives focus only on buyer intent. The customer support executives help marketers to understand customers' pain points.
The information helps marketers to engage leads by sending more relevant content. Also, the marketers can share the information with the salespeople to generate qualified leads regularly and nurture the leads effectively. The focus on buyer intent helps various teams to generate more leads, promote customer loyalty, enhance brand recognition, and identify emerging trends.
9. Improve Customer Experience and Engagement
The conventional ads are designed and delivered based on customer's demographic information. Hence, buyers often consider such ads as spam. But the intent-based ads complement the customer's current needs or objects. The customer-focus ads get more clicks by providing the right information to the buyer intent precisely.
The intent-driven ads further influence the buying decision of B2B customers by sending the right information at the right time. The better customer experience delivered through the intent-based ads helps businesses to improve customer experience and engagement, along with brand recognition.
Unlike conventional marketing, intent-based marketing helps B2B businesses to drive sales conversions by targeting the right prospects in the right way throughout the buyer's journey. Your business can easily implement an intent-driven marketing strategy by leveraging the real-time intent data collected from diverse sources. The strategy will help your business to boost both customer experience and sales conversions consistently.