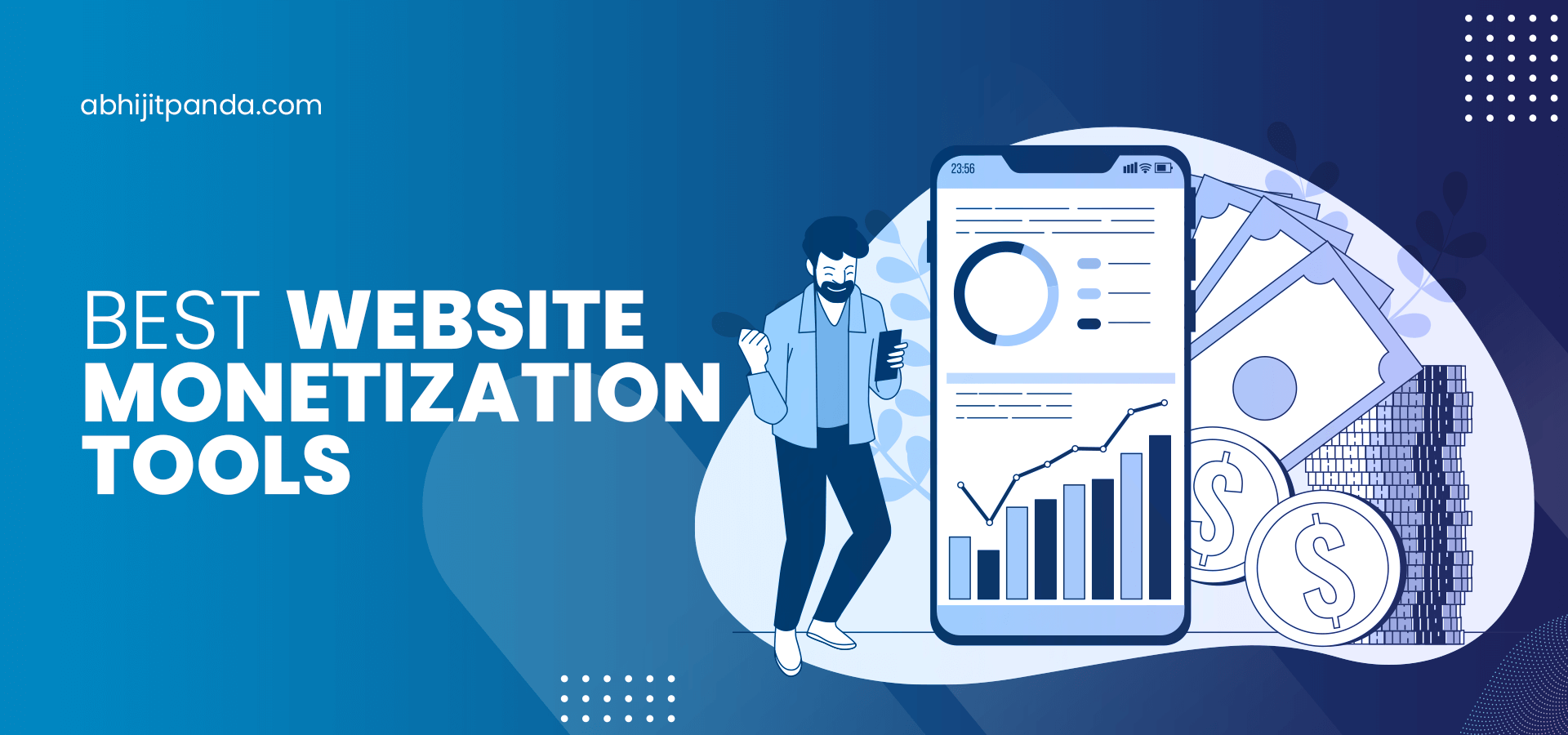 8 Best Website Monetization Tools
As a content creator or content publisher, you can drive organic traffic to your website by publishing blogs, vlogs, or podcasts regularly. But you cannot convert the website traffic into revenue without focusing on website monetization. You can make money from the website by implementing several website monetization strategies.
For instance, you can convert the website traffic into revenue by publishing sponsored blog posts, offering premium/exclusive content, selling ad space, running subscription services, and selling digital products. Likewise, you can generate revenue by connecting with advertisers using a slew of website monetization tools.
The website monetization tools and platforms create opportunities for you to make money by selling inventory like ad space without putting in extra time and effort. They provide you with options to monitor ad performance and track ad revenue. They allow you to choose from many ad formats, pricing structures, and payment options according to the nature of your website.
But website monetization tools differ from each other in many aspects. Also, each website monetization tool has its pros and cons. We are making it easier for you to generate more revenue by comparing some of the widely used website monetization tools and platforms.
Comparing 8 of the Best Website Monetization Tools and Platforms
1. Google AdSense
As the name suggests, this popular ad program is launched by Google. While monetizing their website, many content creators opt for Google AdSense to leverage the largest ad network. Google has kept the setup process simple. You can use this ad program without incurring extra expenses.
But you will receive payment only when your earnings exceed $100. Also, you can make more money only when your website traffic increases consistently. Many bloggers these days implement SEO strategies to drive more traffic to their websites and generate more revenue using Google AdSense.
2. PropellerAds
PropellerAds is one of the ad networks that help you generate revenue despite low website traffic. In addition to supporting multiple ad formats, PropellerAds keeps the review process simple. Also, it makes it easier for you to manage and optimize ads by providing a self-service platform.
PropellerAds optimizes ads and increases ad revenue using artificial intelligence (AI). However, you can earn more revenue using this ad network if your website is in English. Also, you must boost the website's user interface (UI) and user experience (UX) as part of the review process.
3. AdThrive
Most content creators want to monetize their blogs using AdThrive as the ad network shares 75% of ad revenue with them. The ad networks support a higher RPM than competitors. But AdThrive has a low acceptance rate ranging from 15% to 20%. Its stringent acceptance parameters often make bloggers opt for alternatives to AdThrive. 
You should consider this ad network to monetize a website with minimum monthly page views of 100,000. Also, the ad network is best suited for websites that receive most visitors from specific regions – the USA, UK, CA, NZ, and AU. 
You can check out the detailed AdThrive review and the list of AdThrive alternatives.
4. Infolinks
Infolinks is one of the ad networks that monetize websites using contextually relevant ads. It allows you to choose from various ad formats – search ads, expandable ads, skyscraper ads, and interstitial ads – without affecting your website's UI and UX. It uses cookie data to display the most relevant ads to every visitor.
It further scores over other leading ad networks in the category of approval span. However, the ads served by Infolinks often appear intrusive when a user accesses your website on mobile devices. Also, you can make more money using this ad network if your website receives most of its traffic from developing countries.
5. Media.net
You can choose Media.net to monetize your website using a slew of solutions and services – search, display, mobile, video, and native. The leading ad network creates opportunities for you to increase revenue by publishing contextually targeted ads. It further helps you connect with a large network of advertisers.
But you can leverage Media.net to monetize a website that receives the majority of traffic from the USA, UK, Canada, and similar top-tier countries. Also, Media.net makes payments only in US dollars. Hence, you will receive payments only after the currency conversion process.
6. BuySellAds
The online advertising platform helps bloggers to monetize their website traffic by selling ad space on their website. You can leverage BuySellAds as an intermediary platform to connect with advertisers directly and sell them ad space. You have the option to approve the ads either manually or automatically.
But you will receive payment from the advertisers through BuySellAds. Manu content creators opt for BuySellAds to monetize their small blogs or new blog sites effectively despite low website traffic. You can attract more advertisers and increase revenue only by keeping advertising rates competitive.
7. Uscreen
Many content creators opt for Uscreen while monetizing their video blogs. The video monetization platform enables you to control audience, branding, and revenue using a unified platform. In addition to including features for administrators, the platform comes with OTT and analytics features.
You also have the option to customize the all-in-one platform according to the precise nature and needs of your website. The features and tools provided by Uscreen are available at affordable prices. However, you must remember that the video monetization platform supports limited payment methods and does not deliver hands-on customer service.
8. Patreon
Unlike other website monetization tools, Patreon helps content creators earn revenue by connecting with fans and subscribers. Many bloggers these days prefer Patreon to ad networks to monetize websites by running subscription services. The membership platform provides a business infrastructure to independent content creators.
Also, it facilitates consistent and automated monthly payments. But you have to pay up to 10% of your earnings to the membership platform as fees. Also, you have to sacrifice 100% control of the digital content while complying with the guidelines set by Patreon.
Conclusion
Website monetization tools and platforms create opportunities for you to convert website traffic into revenue. But you should remember that these tools and platforms differ from each other in many aspects, including eligibility criteria, revenue sharing percentage, minimum payment threshold, and payment methods. Hence, it becomes essential to keep in mind the pros and cons of individual website monetization tools.