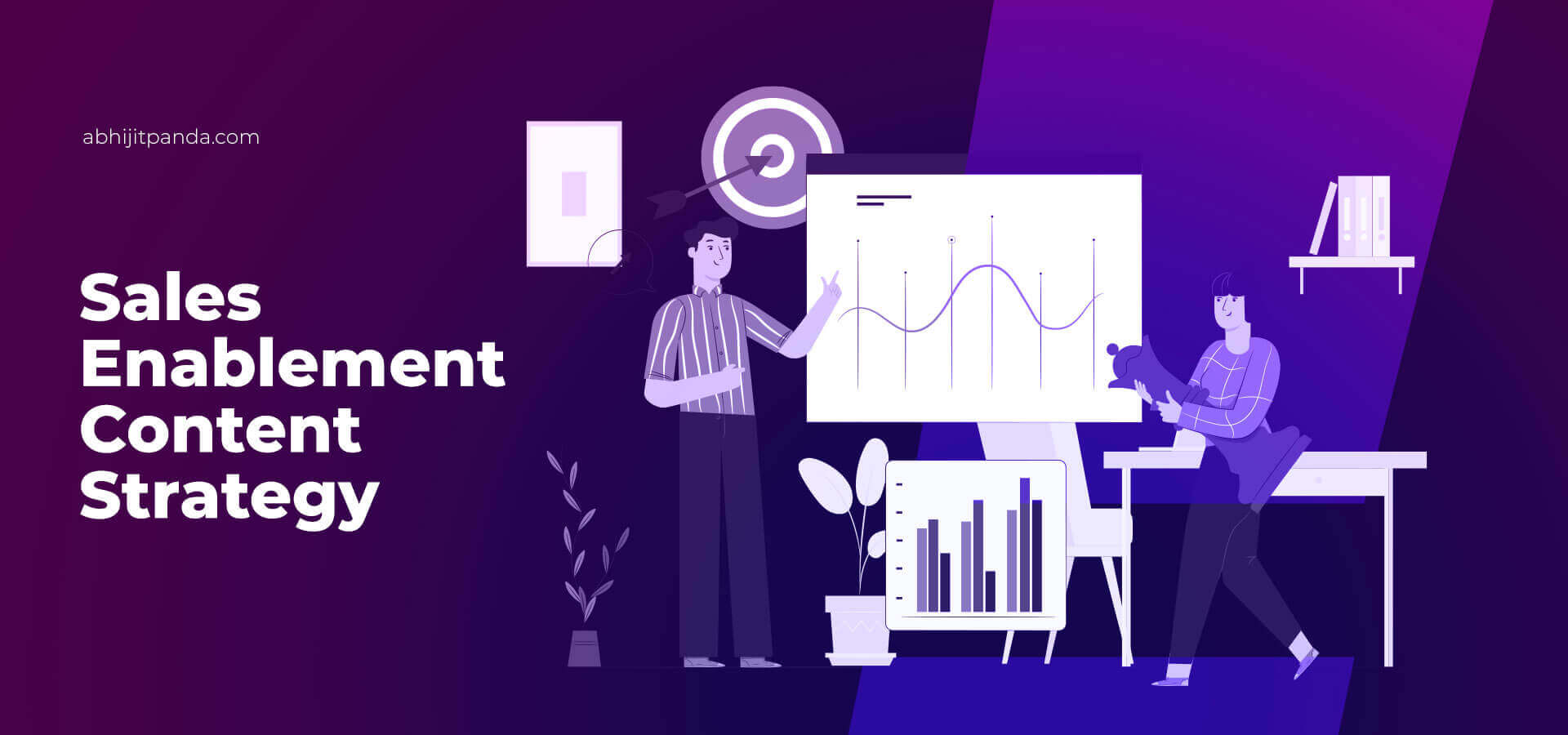 Sales Enablement Content Strategy
Businesses these days generate leads by running various digital marketing campaigns. But the salespeople need a variety of resources to engage and convert leads into customers. Most organizations these days implement sales enablement strategies to ensure that the sales team can engage leads throughout the buying process using the relevant information, content, and tools.
According to Hubspot.com,

"Sales enablement is the iterative process of providing your business's sales team with the resources they need to close more deals. These resources may include content, tools, knowledge, and information to effectively sell your product or service to customers."
While implementing sales enablement strategies, you need to focus on creating and providing two different categories of information. Firstly, you must provide salespeople with information, research, tools, and best practices. Secondly, you need to create the content that salespeople will use to engage and influence prospective buyers.
Hence, you must implement an elaborate sales enablement content strategy to ensure that salespeople can access relevant content during the closing or conversion stage in the sales funnel. Also, your strategy must focus on creating and providing a wide variety of sales enablement content. At the same time, you must adopt a slew of best practices to make the sales enablement content strategy more impactful in boosting sales conversions.
8 Best Practices to Strengthen Your Sales Enablement Content Strategy
1) Create Different Types of Content
You can make the sales enablement content strategy successful only by creating two distinct categories of content – internal and customer-facing. Internal content like competitor research, competitor analysis reports, customer use case stories, market trend reports, sales scripts, and success stories will help salespeople to close sales deals more effectively. At the same time, salespeople can influence and engage customers by sharing customer-facing content like blogs, curated articles, whitepapers, case studies, how-to guides, and analysis reports.
2) Identify and Bridge the Content Gap
Often businesses save resources by using the same content for digital marketing and sales enablement. But you cannot increase the conversion rate without creating various types of sales enablement content. While implementing a sales enablement content strategy, you must spend some time auditing the content already created by your business. You can easily save time and resources by repurposing some of the content created for digital marketing campaigns. Also, the content audit will help you to identify the additional content to be created to help salespeople and influence customers.
3) Decide Precise Content Requirements
The content audit will help you to identify the content gap. But you can create relevant sales enablement content only by involving the sales and marketing team in the content planning and creation process. You must collect inputs from marketers and salespeople to understand the information and content required to close sales deals. Also, they will help you to create relevant content by identifying the customers' needs, expectations, concerns, and pain points. The consultation will make it easier for you to create content that answers questions frequently asked by customers throughout the buying process.
4) Leverage Existing Knowledgebase
Your business can create high-value sales enablement by experienced content writers. But the content writers have to put in both time and effort to create fresh sales enablement content. Your organization can easily curtail content creation time by leveraging the existing knowledge base. You must allow the content creators to access your business' internal knowledge base during content research and creation. The access will enable them to use the valuable information shared by product experts. Likewise, the salespeople can close deals more efficiently by accessing the internal knowledge base.
5) Present Content Visually
While implementing a sales enablement content strategy, you must remember that visual content is more effective than engaging customers than text-based content in the age of mobile apps and social networks. You can make it easier for salespeople to close deals by providing them with both text-based and visual content. Also, the visual content will help salespeople to acquire knowledge and skills effortlessly. Your content creators must explore ways to present information visually through videos and infographics while creating both internal and customer-facing content.
6) Align Content to Buyer's Journey
You must remember that salespeople will use the content to influence customers throughout the buyer's journey. They can engage and influence more effectively when the sales enablement content is aligned to various stages in a buyer's journey. The targeted and aligned content will help salespeople to deliver the right content to the customer according to their current position in the sales funnel. You must make content creators and salespeople collaborate to influence different customers in the most effective way by delivering the most appropriate content.
7) Encourage Salespeople to Create Content
No salesperson can close a sales deal quickly and effectively without accessing the right sales enablement content at the right time. Your sales enablement content strategy must be flexible enough to allow salespeople to request fresh and additional content. Also, the strategy must encourage salespeople to create their own content. It is also a great idea to get the first draft of content created by the salespeople. The content encouragement and involvement will help you to create content that can be leveraged by both marketers and sales representatives.
8) Assess and Monitor Content Performance
In addition to creating varying and relevant content, your sales enablement content strategy must track how customers respond to every piece of sales enablement content. You can leverage analytics to know which sales enablement content performs better. For instance, analytics will help you to know if blog posts are more effective than whitepapers in keeping customers engaged. But you must collect feedback and suggestions from salespeople to check if customers ask additional questions after accessing the content.
Content is one of the key factors that impact the sales enablement process directly. While implementing a sales enablement content strategy, you must focus on creating a variety of content by targeting both salespeople and customers. Also, you must involve marketers and salespeople in the sales enablement content creation process to create content to meet the needs, concerns, expectations, and questions of customers.