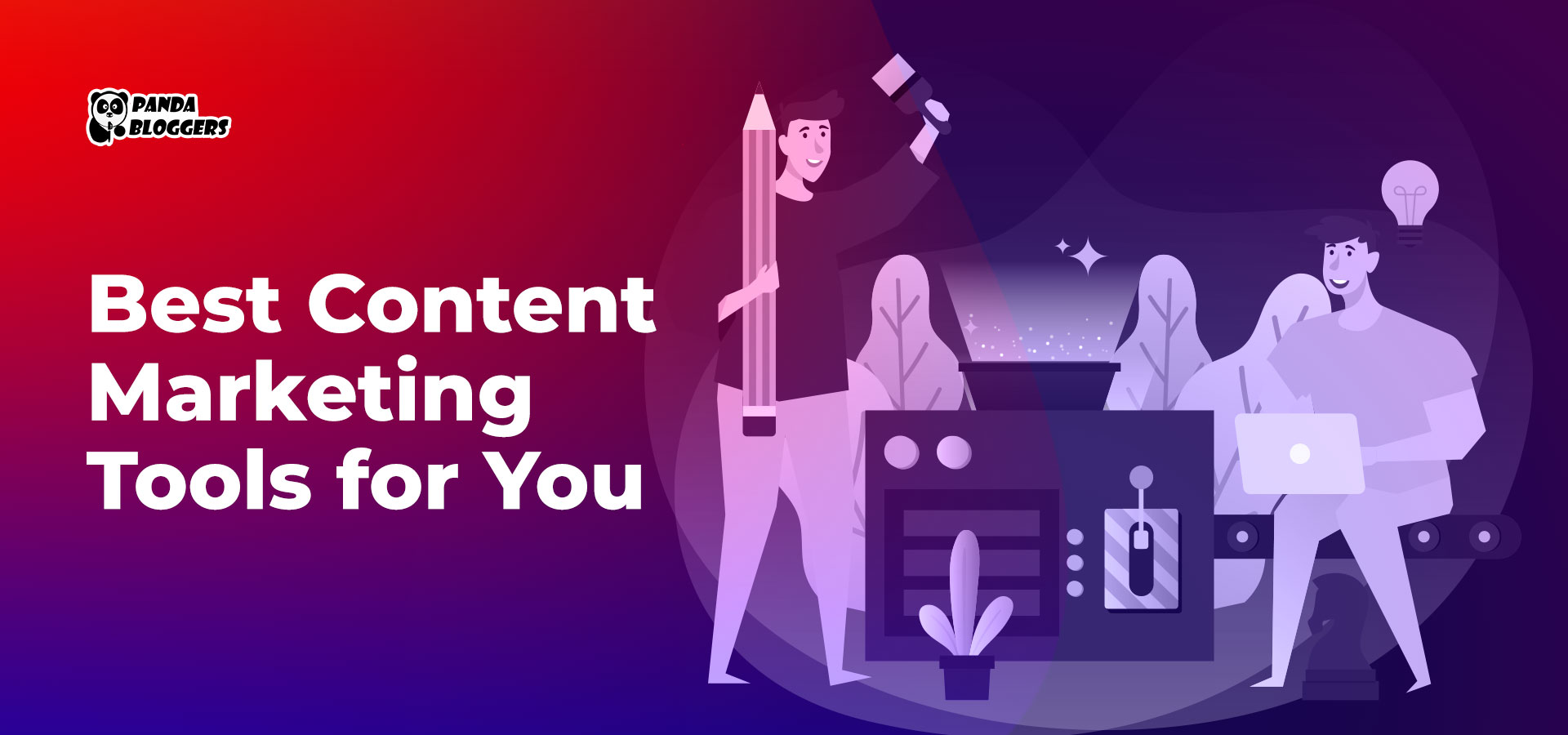 Best Content Marketing Tools for You
Content marketing creates opportunities for enterprises to win the trust of existing and prospective customers by establishing authority and showcasing expertise. 70% of B2C marketers and 73% of B2B marketers engage and influence customers by publishing a variety of content – blogs, videos, short articles, and graphics.
Also, both B2B and B2C marketers increase their content marketing budget every year. But intelligence technologies have already started transforming content marketing. You cannot run content marketing campaigns effectively without the automation of routine tasks and activities.
Your team needs content marketing tools to plan, create, optimize, distribute, and promote multiform digital content. At the same time, they need tech solutions to identify the target audience and understand what is working and what is not.
You should combine multiple tech tools to automate and boost content marketing campaigns. We are making it easier for your team to leverage content marketing automation by suggesting some of the best content marketing tools for you.
Shortlisting 17 of the Best Content Marketing Tools for You:
1. Clearscope
While planning content marketing campaigns, you must understand what the target audiences look for. Clearscope uses artificial intelligence (AI) algorithms to help you boost the performance of content. You can leverage this premium tool to gather important information about high-performing content – content structure, content quality, word count, and keywords.
The insights will help content writers increase your website's organic traffic by creating and optimizing content based on competitor data. You can use the tech tool in multiple forms, including the WordPress plugin and Google Docs add-on. You can assess the importance of this content marketing tool from the fact that it is currently used by companies like YouTube.
2. Planable
Content marketing has become one of the collaborative activities. You must facilitate seamless communication and collaboration between various members of the content marketing team to streamline multichannel content creation, review, and publication. Planable makes it easier for your team to speed up content review and approval.
Your team can use this project management tool to speed up the publication of a variety of digital content – blogs, newsletters, emails, and social media posts. You can save time by setting a custom approval workflow for each content or project. Also, you can streamline content distribution using the visual content calendar and content planner provided by Planable.
3. Grammarly
Search engines do not consider spelling and grammatical errors while ranking content. But they recommend webmasters publish only high-quality content. Writers cannot improve the quality of content without identifying and fixing spelling and grammatical errors.
Grammarly helps writers proofread and refine content using AI technology. The real-time suggestions made by the tool make it easier for writers to improve content readability by fixing spelling and grammatical errors, shortening sentences, and replacing confusing terms. Your writers can access Grammarly as a desktop application or a mobile app.
4. Copyscape
Several marketing blogs suggest that search engines do not penalize websites for publishing duplicate content. But you cannot meet Google's expertise, authoritativeness, and trustworthiness (E-A-T) when your content marketing strategy does not focus on the publication of original and fresh content.
Your content writers can use Copyscape to compare the fresh content with existing online content word by word. Hence, it becomes easier for them to produce original content by eliminating issues of content plagiarism or theft. Your team can use the premium version of Copyscape to check content originality before publication.
5. ChatGPT
ChatGPT is one of the massively popular and hugely-controversial tools in the content marketing world. Some analysts believe that the AI-driven chatbot has the potential to automate content writing end-to-end. At the same time, many bloggers have highlighted the flaws and inaccuracies in the content produced by ChatGPT.
Organizations find it challenging to prevent content creators from using this large language model. But you should encourage your team to leverage ChatGPT to reduce the time and effort required for content research and planning. Also, you need to ensure that no writer uses AI-generated content directly for content marketing purposes.
Here is our detailed guide to using ChatGPT for content marketing.
6. Canva
Your content marketing strategy cannot keep the target audience engaged without complementing textual content with appealing graphics. Your team can use Canva to create and customize graphics without being prior graphic designing experience. They can use this online design tool to produce professional-grade graphics with a wide range of images, templates, and visual content.
The graphics created using Canva can be evaluated and shared by various members of the content marketing team effortlessly. Also, the graphics can be published and shared without any restrictions. You can simplify graphic design using three distinct editions of Canva – free, pro, and team.
7. Venngage
Infographics boost content marketing strategies by adding a visual element to informative content. It is also one form of digital content that your target audience likes and shares regularly on social networking platforms. Venngage helps your team convert data-driven content into infographics in a short amount of time.
It allows content creators to access a robust library consisting of over 10000 templates, 3 million stock images, and 40000 icons. Hence, your team can use Canva to create infographics by adding the required visual elements to content and data. Also, the drag-and-drop editor provided by the software helps them produce infographics, charts, and presentations in minutes.
8. Vidyard
The premium video marketing platform helps your team host videos, use them for marketing purposes, and track their performance. You can leverage Vidyard to build and nurture customer relationships by recording personal messages. You can host these video clips in a centralized location after recording and editing.
Also, you can share them with the target audience by embedding video clips in emails, social networks, and CRM software. Canva helps to measure and track the performance of individual videos using data analytics. You also have the option to share the best version of a video by conducting A/B testing.
9. Adobe Photoshop
Adobe Photoshop is one of the content marketing tools that do not require an elaborate introduction. The widely-used graphic editor makes it easier for your team to create a variety of visual content – logos, social media graphics, blog covers, and screenshot-based tutorials. Also, your content marketers can design and edit graphics on the go using their mobile devices.
Once content marketers become proficient in Photoshop, they can create a wide variety of graphics without using pre-built templates or layouts. You can leverage the free edition of Photoshop to edit photos, change alignments, adjust colors, and remove unwanted parts. But you have to upgrade to the software's premium edition to access over 160 million royalty-free photos.
10. Lumen5
Internet users these days spend more digital time on visual content than textual content. Content marketers leverage the surge in online video consumption by converting and repurposing blogs, whitepapers, case studies, and similar textual content. Lumen5 enables content marketers to convert blogs into videos using AI and machine learning technologies.
While using Lumen5, a content marketer can generate videos in two distinct ways – pasting the URL of the blog post or pasting the textual content into an editor. In addition to summarizing the blog post, Lumen5 add stock footage matching the scene. Your team can access the video content creation tool based on monthly or yearly pricing plans.
11. Yoast SEO
Yoast SEO is the most popular search engine optimization (SEO) plugin for WordPress. The features and tools provided by the tool help content marketers divert traffic to a website from search engines and social media. Yoast SEO helps your team optimize content for search engines based on relevant keywords and their synonyms.
Also, your team can use the tools provided by the WordPress plugin to boost a website's search performance by creating internal links, adding structured data, and fixing 404 errors. Yoast is one of the SEO tools that take care of technical SEO activities. Also, it enables users to review Google and social preview before posting content.
12. Zoho Social
Internet users spend most of their digital time on social media. But the choice of the social network varies across internet users. Your content marketing strategy can boost lead generation and sales conversion only by posting content on multiple social networks. Zoho Social helps your team post content on several popular social networks, including Facebook, Instagram, LinkedIn, Twitter, and Pinterest.
Content marketers can use Zoho Social to schedule a large number of posts across social networks. Also, they can use the dashboard provided by the software to keep the target audience engaged by responding to their comments. Zoho Social makes it easier for your team to understand how the target audiences interact with your posts using analytics.
13. Trello
Trello is not developed as a content marketing tool. But the teamwork project management tool is used widely by enterprises to organize content marketing campaigns. Members of your content marketing team can use Trello to capture ideas, plans, and tasks. They can prepare to-do lists to track important content marketing activities.
Trello makes it easier for them to track content marketing activities using lists, cards, and boards. At the same time, Trello helps them automate repetitive tasks like changing project status, assigning tasks, and sending emails using a native automation tool. Individual members of your team can use the free edition of Trello as an easy-to-use project management tool.
14. ClickFunnels
ClickFunnels is a cloud-based lead generation platform. It is developed with features to help marketers visualize and customize a customer's journey. Your team can use pre-build sales funnel templates to convert a website visitor into a customer by guiding him step-by-step through the buyer's journey.
Your team can leverage these features to build websites, blog sites, and landing pages. The drag-and-drop editor provided by the software enables them to create digital resources without writing lengthy code. Also, they can choose the best version of a web page or landing page by conducting A/B testing. ClickFunnels use analytics to help marketers understand what is working and what is not.
15. Google Optimize
Content marketers use this free tool provided by Google to keep website visitors engaged by optimizing and personalizing their experiences. Google Optimize helps them compare different website experiences by conducting A/B testing, multivariate testing, and split URL testing.
It combines statistics and analytics to help users understand what version of website content keeps visitors engaged based on real-time data. Marketers can use Google Optimize to run multiple tests on website content in a short amount of time. Also, they can decide the actions required to boost the website's user experience by reviewing the elaborate test results reports produced by the software.
16. Semrush
Semrush is developed as an all-in-one content marketing platform. Your team can use plan, create, and optimize content. Also, they can boost the performance of content marketing campaigns by measuring the performance of their own and competitors' content.
While planning content marketing campaigns, your team can use the software to perform content gap analysis, identify relevant topics, and find popular audience questions. Content creators can leverage the information to produce relevant and original content for the target audience.
At the same time, Semrush helps them optimize the content for search engines by refining metadata and finding external link-building opportunities. The content creators can further use the actionable insights provided by the software to optimize the content based on the performance of external content.
17. Google Analytics
The popular web analytics service helps enterprises run data-driven content marketing campaigns. Marketers can use Google Analytics to understand what type of content is more effective in achieving preset goals based on real-time website data. The data-driven insights provided by the software help them understand who is visiting a website and what type of content they prefer.
The insights help content creators to produce relevant content tailored according to the preferences and expectations of website visitors. At the same time, marketers can use Google Analytics to measure content performance using important metrics like page views, bounce rate, keyword ranking, and organic click-through rates.
Conclusion
Intelligence technologies have been changing the way content marketing strategies are planned and executed. Providers have been upgrading the best content marketing tools for you using artificial intelligence and data analytics.
Hence, you should prioritize the content marketing tools that help you improve content marketing strategies by leveraging real-time data and emerging trends. However, your automation strategy must focus on choosing and combining the right content marketing tools for you.