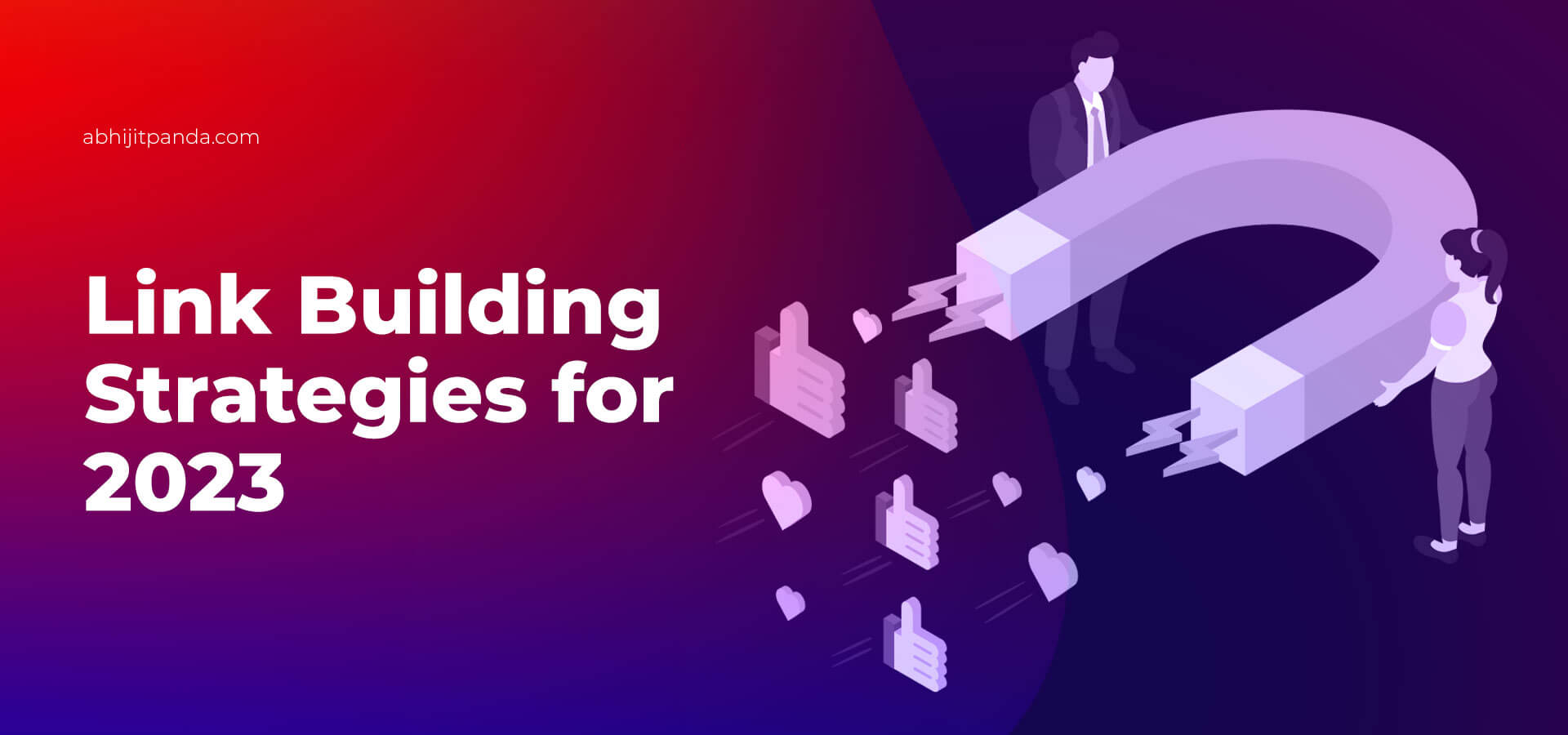 Link Building Strategies for 2023
In 2023, webmasters and digital marketers will increase a website's search engine ranking and visibility by combining on-page and off-page SEO strategies. They will optimize website content for search engines using on-page SEO tactics. Likewise, they will make it easier for search engines to discover and understand web pages using off-page SEO tactics like link building.
What Should You Implement Link Building Strategies for 2023?
According to Wikipedia,

"Link building is the process of establishing relevant hyperlinks (usually called links) to a website from external sites. Link building can increase the number of high-quality links pointing to a website, in turn increasing the likelihood of the website ranking highly in search engine results. Link building is also a proven marketing tactic for increasing brand awareness."
In addition to increasing its organic search engine ranking, link building strategies establish a website's credibility and authority. Also, high-quality backlinks help the website get referral traffic and reduce bounce rates. In 2023, you can earn backlinks to a website using various strategies. But your link building strategies for 2023 must focus extensively on building quality backlinks organically and ethically.
What Should You Consider While Making Link Building Strategies for 2023?
While making link building strategies for 2023, you should focus on building a variety of links – backlinks, internal links, dofollow links, nofollow links, and referral links. But you must focus on earning relevant links from websites and blogs related to your business. Also, you should explore ways to earn high-quality links from websites with high-quality content and high domain authority.
Dominant search engines like Google use backlinks as one of the key ranking signals while ranking online content. But they emphasize organic link building. They advise webmasters to avoid building links with the intention to manipulate a website's search engine ranking.
Google considers exchanging links randomly, buying links for ranking purposes, and creating links using automated tools or services as link spam. While making link building strategies for 2023, you must focus on acquiring relevant backlinks from external websites organically. At the same time, you need to ensure that none of your link building strategies results in link spam.
What Strategies Should You Use to Build Quality Link Organically in 2023?
Smart marketers generate quality backlinks organically and ethically in a number of ways. Here are some of the tried and trusted link building strategies you should consider while making link building strategies in 2023.
18 Actionable Link Building Strategies for 2023
1) Great Content Publication
Technology and industry trends these days change frequently. Both content creators and readers track emerging trends proactively. You can earn organic backlinks to your website by publishing content on the latest and hottest trends.
For instance, you can create link-worthy content on a trending topic like ChatGPT. When you publish content on new aspects of ChatGPT before others, your website will get relevant backlinks organically. However, you must focus on choosing the perfect topic and complementing it with engaging and insightful content.
2) Guest Blogging
Guest blogging is a commonly used content marketing strategy that creates link building opportunities. The strategy requires you to write articles/blogs and publish the content on an external website. You can earn backlinks organically by posting blogs on various websites. But you must not post the same blog on multiple websites.
Also, your link building strategy must focus on earning contributor status. The contributor status will enable you to post blogs/articles on a relevant website regularly and generate more backlinks. However, you can become a contributor only by forming partnerships with specific websites and writing guest blogs for them regularly.
3) Backlink Hunting
As the name indicates, this link building strategy makes you find relevant websites from which you will build backlinks. You can find relevant websites by shortlisting websites related to your brand or industry. Also, you can analyze competitors' backlink profiles using SEO tools.
You can evaluate these web pages or URLs individually to identify opportunities to feature your brand and earn backlinks. You can earn quality backlinks by contacting the webmaster directly or targeting the website while planning content marketing campaigns.
4) Link Reclamation
The content posted on several websites refers to or mentions your brand or business. But many of these articles and blogs are not linked to your website. Link reclamation is a strategy that makes you generate quality backlinks by requesting bloggers or webmasters to complement the mentions with links to your website.
You can find websites and blogs mentioning your brand using SEO tools. You can further use the tools to identify the keyword used by the content creator while mentioning your brand. Hence, you can easily request the webmaster to insert a link to your website by sending an email.
5) Help a Reporter Out (HARO)
As an online service, Help a Reporter Out (HARO) is used widely by journalists to collect feedback and gather information. Journalists often gather information by asking questions on specific information. HARO sends notifications to subscribers each time a journalist asks questions relevant to your brand or industry.
There are always chances that your response will feature in the article written by the journalist. You can increase the chances of being featured by responding to the question early and providing information that is both accurate and valuable. The strategy will help your website get high-quality links from authoritative websites.
6) Infographic Promotion
While gathering information, internet users these days prefer infographics to text articles. Brands publish infographics regularly to increase website traffic to websites through social shares. There are many reputable websites that publish and promote infographics regularly.
You can get contextual backlinks by creating infographics and submitting them to these websites. Also, you can get more backlinks to your website by creating infographics on trending topics or emerging trends in your industry.
7) Podcast Hosting
Podcasts create opportunities for you to discuss many topics and trends with industry leaders and influencers. You can host podcasts regularly to enhance your brand's online authority by discussing with industry practitioners. But you can use podcast hosting as a strategy to generate quality backlinks organically.
Once you publish the podcast, industry practitioners and influencers will share the URL on their blogs and external websites. The sharing will make your website gain organic backlinks from reputable websites. However, you have to explore ways to convince industry practitioners and influencers to participate in your audio shows.
8) Online Forum Posting
While indexing and ranking content, search engines prioritize certain websites due to relevance and authority. Search engines often prioritize the content posted on popular question-and-answer platforms like Quora and Reddit due to trustworthiness and neutrality.
The massive popularity of such platforms creates opportunities for you to get natural backlinks to your website by answering questions and posting content. However, you must focus on posting relevant and accurate answers to questions. The link building strategy will help you increase brand awareness and divert organic traffic to your website.
9) Industry Reports and Statistics
Most bloggers and writers these days back content with industry statistics and survey results. They create backlinks for websites that curate industry-related statistics and conduct market surveys. Your website can earn many natural backlinks when you publish industry statistics, trends, and predictions as well as results of surveys and opinion polls. Hence, the publication of industry reports is one of the easiest ways to get authoritative backlinks for your website.
10) Listicle Publication
Unlike articles, listicles present content to readers in list formats. Hence, modern netizens prefer listicles to articles to gather the required information in seconds. As highlighted by a recent study, listicles are more effective than articles in increasing website traffic.
Also, they generate 1.5 times more backlinks than articles and blog posts. Hence, you can get organic backlinks regularly by publishing listicles like "8 Free SEO Tools to Help You Improve Website Ranking in Google SERPs" and "9 Inbound Marketing Tools for Smart Marketers".
11) Directory Submission
Wikipedia describes a web directory as a "list or catalog of websites". There are many online directories with high domain authority. In addition to increasing your website's search visibility, directories create opportunities for you to build links.
You can easily increase the number of backlinks by submitting your website to multiple online directories. But you need to ensure that important business information like name, address, and phone numbers do not change across directories.
12) Comprehensive Guides
Long-form content appears higher on search engine results pages (SERPs) than short-form content. You can boost a web page's search performance using long-form content like guides. Elaborate and useful guides will help your website get organic traffic from search engines. Also, the readers and bloggers will generate backlinks to the website by linking to the content that provides complete information about specific topics.
13) Brand Reviews
Most brands these days impress and influence potential customers by sharing reviews, testimonials, and user-generated content. When you publish brand reviews or product reviews, your content will be used by the company to win customers' trust. Your website will earn organic backlinks each time the business shares or uses your content for marketing campaigns.
14) Marketing Communities
Many brands these days generate organic backlinks regularly by partnering or collaborating with other brands. They collaborate with relevant brands by joining online marketing communities and social media groups.
The online interactions result in earning backlinks for a website from authoritative websites. However, you can make this link building strategy successful only by joining the right communities and remaining active.
15) Expert Roundup Posts
Your organization can publish roundup posts to increase the number of backlinks to your website in a short amount of time. While creating roundup posts on topics relevant to your industry, you have to interview selected industry leaders and practitioners.
You have to include their opinions, insights, and prediction in the content to create roundup posts that appear definitive and authoritative. Your website will get many backlinks organically when content creators start linking articles and blogs to the roundup post.
16) Internal Link Building
Internal links make it easier for search engines to crawl web pages and for searchers to navigate the website. Your link building strategies for 2023 must focus on keeping in place an internal link structure by building different forms of internal links – navigational links, content links, taxonomy links, and recently-added links.
But you should create internal links that are relevant to the web page and add value to it. At the same time, you need to ensure that the internal link interlinks web pages organically. It is always important to boost the internal link structure by adopting a slew of best practices.
17) Broken Link Repairing
In addition to increasing the number of backlinks to a website, your strategies must focus on finding and repairing broken links. Broken links refer to the hyperlinks that divert website visitors to an external web page that no longer exists or is not accessible due to technical issues.
You can detect broken or dead backlinks using any of the widely-used SEO tools. You can boost your website's search performance by deleting the broken link, redirecting users to another page, or fixing technical errors.
18) Paid Promotions
Search engines like Google advise webmasters to avoid purchasing and exchanging links. But they do not consider paid links or sponsored links as spam. As the name indicates, sponsored links for a product or service can be obtained by a webmaster after making payments.
You can buy relevant links from reputable websites in several ways. For instance, you can sponsor an article or blog related to coffee, if your business is dealing in caffeine products. Likewise, you can earn paid backlinks for your website by writing sponsored content for relevant websites.
Final Words
As a tried-and-trusted off-page SEO tactic, link building will help you increase a website's search engine ranking and visibility in 2023. You can improve the website's search performance consistently only by getting relevant backlinks organically and ethically. While making link building strategies for 2023, you need to comply with the latest search engine guidelines and avoid link spam.
You can build high-quality backlinks organically in several ways. But you must not forget to optimize web pages while evaluating link building strategies. You can get better results in 2023 by complementing link building strategies with on-page SEO tactics. At the same time, you must evaluate individual link building strategies from time to time to know what is working and what is not.