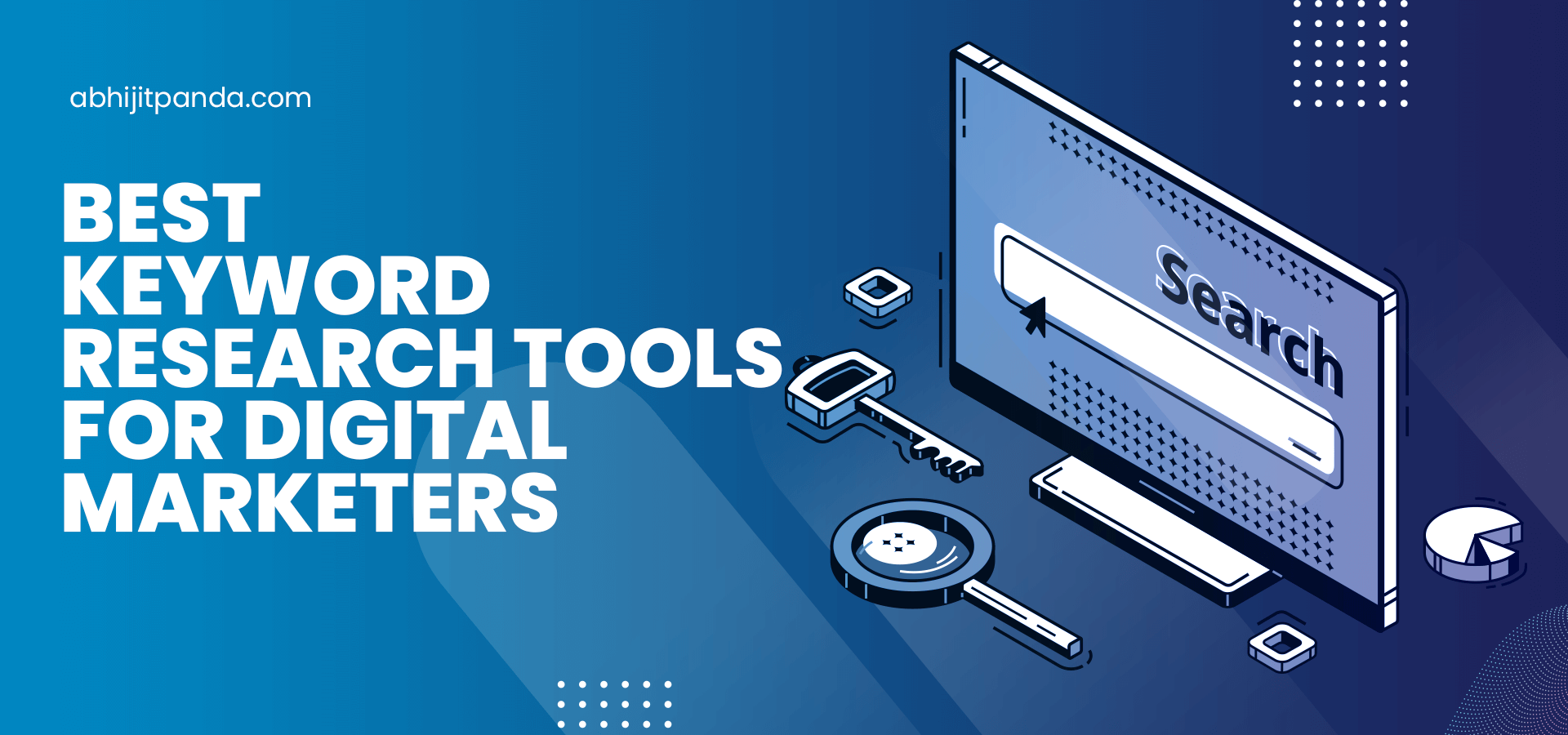 19 Best Keyword Research Tools for Digital Marketers
In the digital age, it is hard to find a person who does not use search engines to find information on various topics and get answers to many questions. While initiating web searches, 86.64% of searchers opt for Google. But 7% of searchers prefer Bing to Google. Likewise, searchers enter a wide variety of search queries or search terms while finding information.  
Digital marketers have to target each type of search query efficiently to divert search engine traffic to a website organically and regularly. No digital marketer can target the search queries in the most appropriate way without finding and using relevant search terms. They have to conduct elaborate keyword research to know what words or phrases searchers enter to get information about a product, service, or topic.
According to Wikipedia,

"Keyword research is a practice search engine optimization (SEO) professionals use to find and research search terms that users enter into search engines when looking for products, services or general information. Keywords are related to queries, which are asked by users in search engines."
While planning SEO campaigns, digital marketers conduct keyword research in several stages. They start the process by discovering all keywords related to a website, product, or service. After preparing the keyword list, they prioritize and identify profitable keywords using a slew of parameters – relevance, search visibility, and ranking difficulty. Finally, they divide the keywords into relevant categories according to targeted customers or specific business goals.
Most digital marketers these days leverage keyword research tools to simplify and speed up the keyword research process. Leading search engines make it easier for digital marketers to find profitable keywords by providing free keyword research tools. Also, digital marketers have the option to choose from a wide range of third-party and popular keyword search tools.
Brief Overview of 20 Keyword Research Tools Used Widely by Digital Marketers
1) Google Keyword Planner
The keyword research tool developed by Google helps digital marketers discover, prioritize, and organize keywords while planning new SEO campaigns. A digital marketer can use Google Keyword Planner to discover new keywords as well as prioritize keywords based on search volume, competition, and impression share. Also, she can use the tool to organize keywords based on brands, categories, and themes. However, beginners have to put in extra time and effort to use Google Keyword Planner efficiently.
2) Google Trends
The keyword research tool helps digital marketers to gain actionable insights based on real-time Google data. Digital marketers use Google Trends to identify relevant and profitable keywords for SEO campaigns based on top search queries. The online tool displays the interest of searchers across regions, sub-regions, and periods based on the topic or search term entered by the user. Also, the user can prepare a list of keywords based on related topics and search queries. However, Google Trends, unlike Google Keyword Planner, does not display absolute search volume data of the topic or query.
3) Soovle
Soovle is developed as a customizable search engine. But it does not crawl the internet like popular search engines. Instead, it offers suggestion services by gathering information from diverse online sources. Soovle helps digital marketers to find profitable keywords based on data collected from many online sources – Google, Bing, Yahoo, Wikipedia, YouTube, and Amazon. The user can generate a list of suggested keywords simply by entering a topic or search term. Soovle further organizes the list based on online sources. The digital marketer can save the list of keywords using the drag-and-drop feature provided by Soovle. 
4) AnswerThePublic
Many people these days use search engines to get a variety of questions answered. They enter questions instead of terms or phrases while initiating a web search. AnswerThePublic helps digital marketers to find relevant keywords based on search queries formed as questions. It displays the questions asked by searchers pertaining to a particular topic based on search queries including specific search words like what, why, when, how, where, and which. Digital marketers use AnswerThePublic to find relevant keywords by conducting elaborate keyword research.
5) Semrush Keyword Magic Tool
Semrush has developed Keyword Magic Tool with the aim to make it easier for digital marketers to find the most profitable keywords for SEO and PPC campaigns. The keyword research tool helps users to find the exact match, broad match, phrase match, related keywords, and questions related to the topic or term entered by them. Digital marketers can further compare and prioritize the keywords based on search volume and keyword difficulty. However, they must subscribe to one of the plans offered by Semrush to use this keyword tool.
6) Keyword Surfer
This popular keyword research tool is available as a free Google Chrome extension. Digital marketers can use Keyword Surfer to find relevant keywords based on Google search data. They can further use this tool to get keyword suggestions, visibility metrics, and related terms. Keyword Surfer helps them to optimize content according to the latest search engine guidelines by providing data-driven content guidelines. The users can create SEO-friendly content directly using the NLP-powered content editor included on Keyword Surfer.
7) Keyworddit
This keyword research tool is developed by a large network of communities and forums – Reddit. Keyworddit generates up to 500 keywords based on the subreddit entered by digital marketers. It generates and suggests relevant keywords from titles and comments of conversation threads. Novice digital marketers leverage this free keyword research tool to find keyword ideas despite having no in-depth knowledge about a specific topic. Keyworddit helps them to find relevant keywords as well as know the languages searchers use while describing or discussing such topics.
8) Questiondb
While planning SEO campaigns and creating content, digital marketers access Questiondb as a large collection of user questions. Unlike other keyword research tools, Questiondb does not generate or suggest relevant keywords. Instead, it enables users to get keyword ideas based on millions of questions people ask over the internet. Questiondb generates a large list of questions based on the term or phrase entered by the user. Digital marketers can access and analyze these questions to understand searchers' interests, problems, and concerns.
9) Keyword Sheeter
The premium keyword research tool provides digital marketers with a slew of tools – keyword generator, keyword finder, keyword ideas, and domain sheeter. Digital marketers subscribe to Keyword Sheeter to find the most relevant keywords based on Google autocomplete suggestions. Keyword Sheeter allows them to organize the keywords using multiple filters – products, news, images, books, and YouTube. Users can create an elaborate list of profitable keywords in seconds simply by saving the terms and ideas suggested by Keyword Sheeter.
10) Ahrefs Keyword Generator
The free keyword research tool provided by Ahrefs helps digital marketers get keyword ideas based on data collected from Google, Bing, Amazon, and YouTube. The Keyword Generator allows digital marketers to enter 10 words or phrases related to a specific product, service, or type. Also, users have the option to choose from six keyword ideas reports based on the term or phrase entered by them. They can compare and prioritize these keywords using a slew of SEO metrics – monthly search volume and keyword difficulty. At the same time, Keyword Generator helps users find many untapped keywords with high potential to generate organic website traffic.
11) Bulk Keyword Generator
This keyword research tool helps users find the most profitable keywords for local SEO campaigns. Digital marketers can use Bulk Keyword Generator to generate local keywords related to a specific industry. Also, they have the option to customize keyword research by specifying the city and business type. Bulk Keyword Generates supports DIY keyword generation as well as provides keyword suggestions. Many digital marketers prefer Bulk Keyword Generators to other keyword research tools while performing keyword research.
12) Moz Keyword Explorer
Moz has developed Keyword Explorer with features to speed up keyword research. A digital marketer can access the keyword research tools using her Moz account to get keyword suggestions and understand the search volume of each suggested keyword. She can further prepare a list of the most profitable keywords based on the scores calculated using important SEO metrics like search volume, ranking difficulty, and predicted click-through rate. Unlike other keyword research tools, Keyword Explorers helps users identify untapped keywords by providing out-of-box suggestions.
13) Jaaxy
Jaaxy is developed by affiliated marketers with features to simplify keyword research and competition analysis based on over 500 million search terms used by searchers every day. Digital marketers use Jaaxy to identify both profitable and untouched keyword ideas while planning SEO and PPC campaigns. Also, they gain actionable insights into brand-new niches by accessing widely used platforms like Affiliate Search, Alphabet Soup, and Brainstorm. Jaaxy simplified competition analysis by displaying the number of websites trying to rank higher on search engine results pages (SERPs) for every keyword.
14) SECockpit
SECockpit is hugely popular with both small business owners and leading brands. In addition to supporting multiple languages and regions, the premium keyword research tool generates thousands of keyword ideas based on data from Google, Amazon, and YouTube. Also, it helps users to evaluate each keyword idea elaborately based on both search volume and search trends. At the same time, digital marketers can use SECockpit to monitor the search engine ranking of websites daily and automatically.
15) KeywordTool.io
KeywordTool generates and offers keyword suggestions based on search data gathered from multiple sources – Google, Bing, YouTube, Amazon, Instagram, Twitter, Play Store, and eBay. Many digital marketers opt for this premium keyword research tool to get a large number of keyword suggestions. Also, they can find the most profitable keywords using a slew of filters supported by KeywordTool. Unlike other popular keyword research tools, KeywordTool helps digital marketers generate keyword ideas based on the content posted on competitors' websites.
16) Keywords Everywhere
This premium keyword research tool is designed as an add-on for Google and Firefox browsers. After installing Keyword Everywhere, a digital marketer can perform keyword research and competition analysis on the go. In addition to suggesting relevant keywords, Keyword Everywhere helps digital marketers compare and prioritize these keywords based on search volume, trend data, and AdWords competition. The users are not required to copy and save the keyword suggestions as the data are displayed directly on the web browser. They can further see what terms or phrases searchers enter while searching for a particular product or service.
17) Keyword Tool Dominator
Keyword Tool Dominator suggests keywords based on search data from Google, Bing, Amazon, YouTube, and Walmart. It allows digital marketers to access platform-specific keyword research tools like Google Keyword Tool, YouTube Keyword Tool, and Amazon Keyword Tool. The keyword ideas generated by Keyword Tool Dominators are variations of the search term types by various searchers. Also, the free keyword research tool helps users find the most searched keywords quickly by assigning popularity scores ranging from 0 to 100.
18) AlsoAsked
As the name indicates, this keyword research tool helps digital marketers and content creators find questions asked by searchers. While using AlsoAsked, digital marketers can find the most relevant questions by choosing the appropriate region and language. In addition to displaying questions asked by searchers related to a particular topic, the online tool helps users understand the link or connection between these questions. Digital marketers can start using AlsoAsked as a free service by accessing its beta version.
19) StoryBase
StoryBase is one of the keyword research tools that help digital marketers find and prioritize long-tail keywords for SEO and content marketing campaigns. Digital marketers subscribe to online keyword research services to access useful features like questions, phrases, lists, and missing keywords. Many content marketers opt for this premium tool to get ideas to understand searchers' needs, expectations, concerns, and questions. Also, StoryBase provides a CTR tool that recommends the most appropriate title tags and meta descriptions for every web page.
20) Searched Words
This tool lets you research your main keyword with any modifier or words and get a list of keywords, all collected from search engine databases like Google, Bing, Yahoo, Duckduckgo, etc. Within 2 clicks ( and a hand-picked modifier of your choice ) you generate a fresh set of searched words your audience is looking for, meaning – you get unique search queries for your target audience, and that itself is a goldmine. A unique keyword list can help you understand what your audience really cares about, and what they are interested in, discover trends, and plan your content better. Make it more accurate and valuable to your audience and yourself.
Keyword research tools make it easier for digital marketers to find profitable keywords without putting in extra time and effort. Some of these keyword research tools suggest keyword ideas based on search engine data, while others help them to identify and target untapped keywords. Smarter digital marketers these days boost their SEO strategies by using multiple keyword research tools at a time.