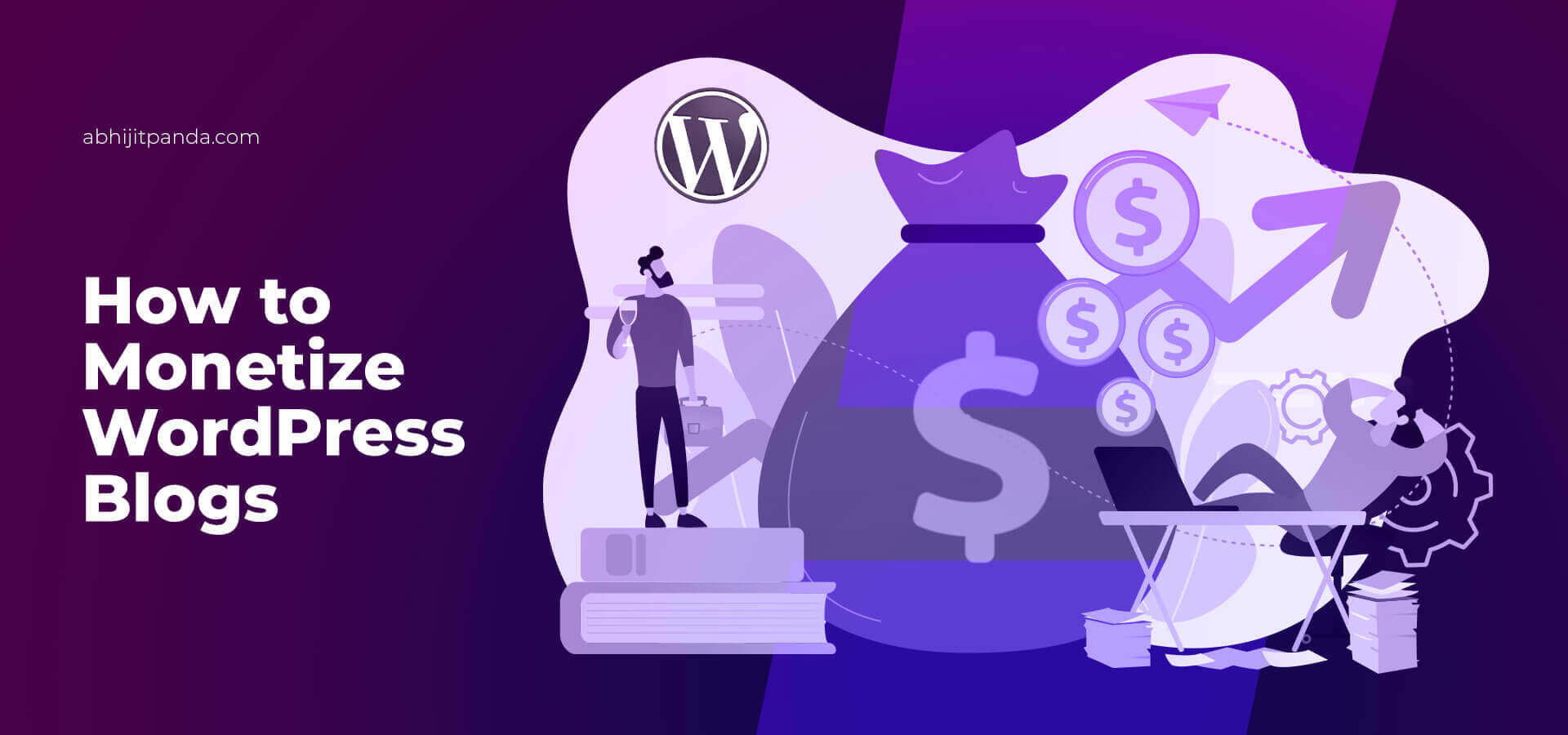 How to Monetize WordPress Blogs?
Both individuals and enterprises these days create and publish a variety of blogs on a regular basis.
According to the latest blogging statistics posted on First Site Guide,

"Around 7 million blog posts are published per day and 77% of people regularly read blogs online."
But all blogs are not written and published for the same purposes. Businesses and enterprises publish blogs regularly to create brand awareness, boost lead generation, and drive lead conversion.
At the same time, content writers and bloggers write and publish blogs regularly with the intention of earning recurring revenue. You can leverage a robust content management system (CMS) like WordPress to set up some of the most popular types of blogs without putting in extra time and effort. But you cannot earn recurring revenue without planning how to monetize WordPress blogs effectively and successfully.
According to Google,

"To put it simply, monetization means making money from your site. When you earn revenue from the online content on your blog, that's monetization."
You can earn revenue by writing and publishing blogs regularly using several online business models or app monetization options. But you must not forget that each of these WordPress blog monetization strategies has its own pros and cons.
You cannot earn and increase revenue consistently without choosing the appropriate blog monetization strategy. It is always important to compare the WordPress blog monetization strategies using important parameters like type of blog, number of visitors, and percentage of revenue share. You can increase revenue consistently by implementing multiple blog monetization strategies. That is why; you should spend some time comparing some of the practical strategies to monetize WordPress blogs.
Evaluating Pros and Cons of 10 Practical Strategies to Monetize WordPress Blogs
1) Publish Sponsored Blog Posts
Many companies these days promote their products and services through bloggers and social media influencers. You can monetize WordPress blogs effectively by securing sponsorship from companies and brands. Based on the type and nature of your WordPress blog, you can earn income by showcasing or reviewing certain products.
However, you can leverage this blog monetization strategy only by making the right sponsorship choice. Also, you have to contact brands and marketers initially to secure sponsorship. You can leverage the monetization strategy only when readers value your opinion and recommendations.
2) Sell Ad Space
Many successful bloggers monetize their blogs by selling ad space to businesses and brands. Businesses and marketers buy the ad space to promote their products or services by publishing a variety of display ads – text link ads, wallpaper ads, and video ads. This blog monetization strategy enables you to earn recurring income by leveraging your website traffic.
You also have the option to sell ad space for a monthly fee or based on the number of impressions. But revenue will directly vary according to the popularity of your blog and the number of website visitors. You must focus on increasing the number of website visitors to earn more revenue. Also, you need to ensure that the ads posted on your blog do not disrupt the web page's user experience.
3) Leverage Ad Networks
You can monetize a WordPress blog without putting extra time and effort by leveraging popular ad networks for bloggers. This monetization option helps you to earn income once your WordPress blog is approved by the ad network. While implementing this WordPress blog monetization strategy, most bloggers opt for Google AdSense.
But you have the option to choose from many ad networks, including InfoLinks, BlogHer, Revenue Hits, Mediavine, AdThrieve, Fomo Ads, and Ezoic. But you must remember that the ad networks differ from each other primarily in two categories – approval guidelines and revenue sharing model. Hence, you can earn more income only by choosing the right ad network for your WordPress blogs.
4) Sell Digital Products
Successful bloggers generate revenue regularly by selling digital products through their websites. They allow website visitors to read content as well as buy digital products. You can monetize WordPress blogs independently by creating and selling a variety of digital products – ebooks, audiobooks, podcasts, instructional videos, and online courses. In addition to generating revenue, these digital products will enhance your reputation as an expert.
But you can leverage this blog monetization option fully only by creating innovative digital products regularly according to the emerging trends and changing demands. Also, your blogs must promote these digital products aggressively to persuade readers to purchase. However, you must not forget that many bloggers these days earn recurring income by selling custom merchandise aligned to the nature of their blogs.
5) Offer Exclusive and Premium Content
Many websites these days allow visitors to access two different categories of content – premium, fermium, and subscription. A website visitor can access the fermium content free of cost. But she has to purchase or subscribe to access premium content. You can monetize WordPress blogs effectively by allowing customers to access both free content and paid content.
You can sell premium and exclusive content to generate revenue consistently. Also, you can predict income based on subscription renewal. But you have to integrate ecommerce features to the WordPress blogs to enable visitors to subscribe or buy content on demand. Also, you have to impress and persuade readers to access exclusive and paid content by making recurring payments.
6) Set up Private Forums
Like social media, public forums enable modern people to gather information, get assistance, and discuss ideas without subscription or online payment. But people can access online private forums only after becoming members and subscribers. They have to pay membership or subscription fees to access the private community and interact with other members.
You set up a private forum using a wide range of WordPress plugins. Also, you can integrate the private forum with your blog seamlessly. But you can leverage this blog monetization strategy only by moderating the private forum efficiently. You have to invest both time and effort to earn recurring income by providing one-to-one advice to every member on demand.
7) Host Online Conferences and Virtual Summits
The COVID-19 lockdowns and shutdowns made many entrepreneurs and working professionals attend online conferences, webinars, and virtual summits regularly. The growing popularity of virtual events created opportunities for bloggers to monetize WordPress blogs by hosting virtual summits and online conferences. Many bloggers leverage the opportunity to generate revenue by connecting with influencers and industry leaders.
Also, many bloggers these days host online summits to earn revenue in thousands. You can easily monetize a WordPress blog successfully in the post-pandemic age by hosting online summits. But you have to focus on a slew of factors to make people join the virtual summit by paying fees. Also, you must promote the virtual summit aggressively by adding a dedicated and optimized landing page to your WordPress blog.
8) Provide Professional Services
Most businesses these days boost lead generation and lead conversion by launching content marketing campaigns. But most enterprises lack the skill and resources required to create, publish, and promote content regularly. That is why; many companies and startups these days outsource content marketing activities to competent content creators.
You can earn recurring income by offering professional content writing or content marketing services to enterprises from various industries. But you can earn more as a freelance content writer only by writing well-researched and compelling content on a wide variety of services. Also, you need to attract prospective clients by showcasing your content writing, search engine optimization, and digital marketing skills by posting regularly on WordPress blogs.
9) Ask Readers for Donations
If bloggers should receive a donation or shouldn't receive a donation is a hot topic of discussion in the blogosphere. Many bloggers these days earn recurring income by requesting readers to donate. But the effectiveness of the strategy to monetize WordPress blogs depends on readers' willingness and ability to pay.
WordPress makes it easier for you to request and enable readers to donate simply by displaying a donate button on the web pages. For instance, you can display donate buttons on web pages by installing appropriate plugins. A reader can donate simply and directly by clicking on the donate button. But the amount of donation will vary according to the generosity of individual readers.
10) Run Subscription Services
Many digital content creators these days earn monthly income by running subscription services. You can leverage leading membership platforms to run monthly income through monthly subscriptions made by supporters and fans. Leading membership platforms like Patreon help you to connect with readers and request them to support Your WordPress blog by subscribing. You can allow your readers and subscribers to choose from multiple membership tiers and subscription options. But you can make the monthly income sustainable only when more readers and supports subscribe every month.
Many content writers these days earn real and recurring income by writing and publishing posts on their WordPress blogs regularly. But you cannot earn and increase income without monetizing the WordPress blog in the appropriate. That is why; you must evaluate the pros and cons of various strategies to monetize WordPress blogs according to the important information related to your website.