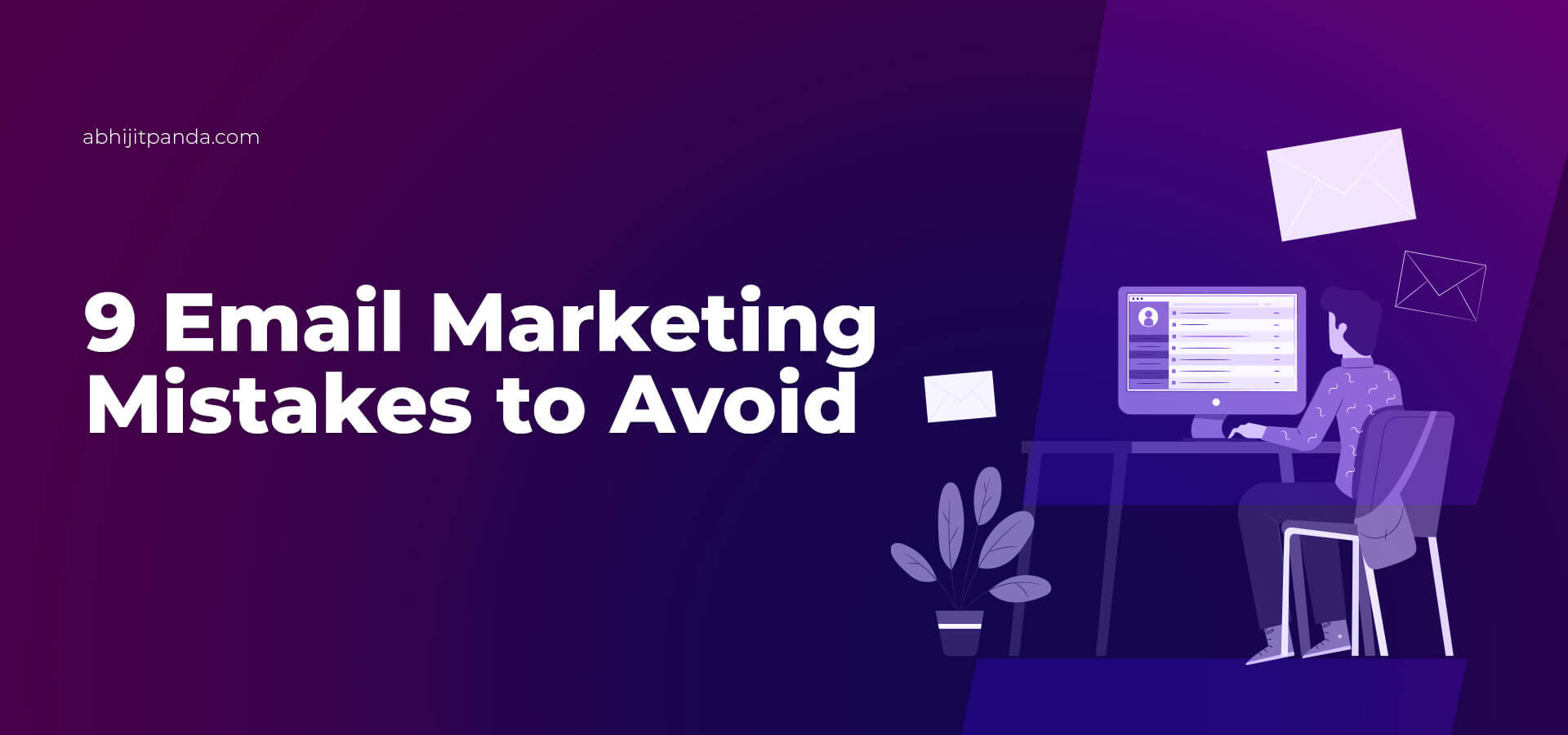 9 Email Marketing Mistakes to Avoid
According to a market research report released by Content Marketing Institute, 81% of business-to-business (B2B) marketers create and distribute email newsletters regularly.  Likewise, 31% of B2B marketers use email newsletters as the primary communication channel to nurture leads. Your business can easily generate and nurture leads by sending personalized and targeted emails.
The email marketing automation tools help you to run and track multiple email marketing campaigns without investing extra resources. But you still need to implement a set of B2B email marketing best practices to drive sales conversion. Also, you must avoid several email marketing mistakes to boost email conversions consistently.
9 Email Marketing Mistakes to Avoid to Boost Lead Generation and Nurturing
1. Not Optimizing Emails for Mobile Devices
According to EmailMonday.com,

"61.9% of email opens occurred on mobile, 9.8% on desktop and 28.3% in a webmail client."
Your business boosts lead generation and lead nurturing activities without enabling recipients to access the emails instantly and seamlessly on their smartphones and tablets. While planning email marketing campaigns, you must beta test the emails using a wide variety of mobile devices. The beta testing results will help you to optimize the emails for mobile devices by fixing issues related to load time and content readability.
2. Sending Emails That Do Not Look Professional
Your emails cannot convert readers into subscribers and subscribers into customers without appearing professional and safe. You must remember that readers always mark emails as spam when they appear amateurish, generic, and sketchy. While composing the marketing emails, you must make them appear professional and safe using professional language, keeping the tone courteous, fixing all spelling and grammatical errors, not attaching files, and including unique images.
3. Not Differentiating Your Emails from the Crowd
While email marketing campaigns, you must remember that your competitors too send emails to generate and nurture leads. The customers and prospects will open your email only when it appears different from others. In addition to keeping the email content fresh and relevant, you must focus on making your emails stand out in the crowd. You can easily make your marketing emails score over competitors by implementing best practices like personalizing the email, talking about the customer's needs, and keeping the subject line persuasive.
4. Conveying Message through Images
An image conveys information and ideas more clearly, quickly, and effectively than words. You must include eye-catching and professional images in the marketing emails to engage readers. But you should not rely only on images to convey the message. You must remember that a large percentage of recipients disable images while reading emails. Your email will fail to convey the desired message when the image does not load properly.
Hence, you need to focus on conveying the desired information to a reader even when the images do not load. It is always advisable to convey the message using the alt attribute of the IMG tag. The alt attribute will display the message in text format in case the image does not load due to some reason.
5. Not Leveraging the Potential of Welcome Emails
The smarter digital marketers use welcome emails as a powerful communication tool to build a relationship with a customer when she is engaged. As the customer has just subscribed or signed up, the marketers get a golden opportunity to make her explain what a business offers and how the business will be useful. You can write the welcome emails in a number of ways. But you must use the welcome email as a tool to introduce your business to the customer. The relationship established through the welcome emails will help you to stay connected with the customer and send emails regularly.
6. Not Allowing Recipients to Contact or Reply
This is one of the most common email marketing mistakes committed by marketers: sending emails from a no-reply email address. Unlike regular email addresses, no-reply addresses do not allow the recipient to reply or contact. Many recipients feel frustrated and confused when the sender does not respond to their requests or queries. You can easily impress and engage the readers by sending emails from a personalized email address. Also, you must include the contact details of your business in the email to make it easier for the recipient to gather additional information or make inquiries.
7. Not Sustaining Customer Relationship
B2B marketers use emails as a powerful communication channel to build and sustain relationships with customers and leads. They also nurture the leads by sending personalized and targeted content by email during various stages in the buyer's journey. But you cannot make email marketing campaigns successful without nourishing customer relationships. You need not send daily emails to customers. It is always important to send informative content or email newsletters to customers at regular intervals. You can even consider sending emails according to the update frequency mentioned by a customer while signing up.
8. Not Keeping the Customer List Up-to-Date
You can lunch email marketing campaigns to generate and nurture leads. Hence, you need to send emails to the customers who open the emails, who read the emails, and who ignore the emails. But you can easily increase the email marketing ROI by focusing more on engaged and sales-ready customers. It is always important to identify and remove the leads from the list that mark the emails as spam or never open the emails. You can easily drive email conversion by updating the customer list every quarter.
9.  Not Including the Right Call to Action
The primary objective of email marketing is to persuade the recipient to take a desired action like making an inquiry, booking an appointment, or placing an order. While creating email marketing content, you must persuade the reader to take the desired action by including the right call to action. Many content writers and marketers focus on the product or service instead of the customer. But you must make the call to action focus on addressing the customer's needs or objectives to make her take the specific action.
Despite the growing popularity of social networking platforms and instant messaging apps, most B2B marketers launch email marketing campaigns to generate and nurture leads. But your business cannot increase email conversion rate consistently without adopting a slew of email marketing best practices and avoiding a slew of email marketing mistakes.