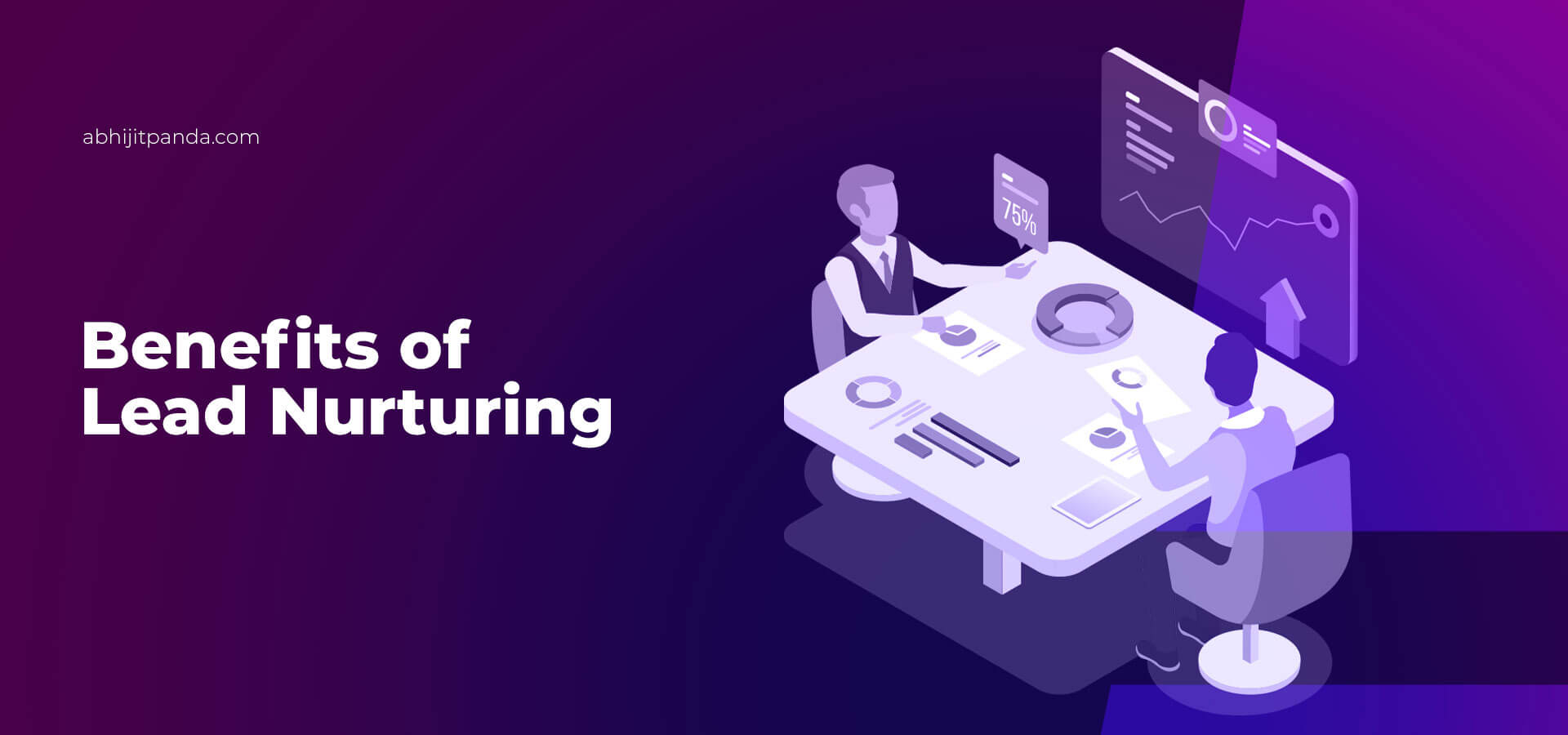 Blog Series Part II :Benefits of Lead Nurturing
In the first part of this blog series, I have covered the basic question: "What is lead nurturing, and how to set up lead nurturing campaigns. In this blog, I will cover the benefits of lead nurturing. And in the third part of the blog series, I will cover winning lead nurturing strategies.
Your business can generate leads from many sources by launching digital marketing campaigns. But you cannot drive sales conversion without complementing the lead generation efforts with a lead nurturing strategy. The term lead nurturing refers to the process of engaging with the leads throughout the sales process by sending the right information and content through the right communication channels.
The latest statistics and trends posted on Invespcro.com suggests that businesses that focus extensively on lead nurturing generate 50% more sales-ready leads at a 33% lower cost. Also, nurtured leads make 47% larger purchases than non-nurtured leads. At the same time, lead nurturing increases sales opportunities for businesses by 20%.
The lead nurturing tools help your business to evaluate, categorize, and nurture leads without deploying extra resources. But your business must implement a solid lead nurturing strategy to boost sales, improve customer satisfaction, promote customer loyalty, and reduce the cost per lead. Also, a proper and well thought lead nurturing strategy will help your business to get all possible benefits of lead nurturing as a powerful tool to get the best value out of your leads.
Benefits of Lead Nurturing: 12 Reasons Why Your Business Must Keep in Place a Lead Nurturing Strategy
Facilitate Regular and Timely Communication
In the age of digital communications, businesses cannot drive sales without maintaining a relationship with customers and leads. The lead nurturing solutions help you to build and sustain a relationship through regular communication and interaction. The sustained and regular relationship helps businesses to convert more leads into customers. You can even use lead nurturing as a robust marketing tool to produce sales-ready leads.
Share the Right Information with the Right Lead
Unlike email marketing, lead nurturing does not focus on delivering information about products or services to a large number of customers and prospects at once. Instead, it emphasizes on delivering the right information to every lead in a personalized way. The relevant, timely, and personalized information influences the buying decision of leads effectively. That is why; lead nurturing helps businesses to increase both the number and value of orders.
Contact Leads without Any Delay
According to a study conducted by Lead Connect, "78% of customers buy from the company that responds to their inquiry first."
You can easily convert a lead into a customer by responding to his inquiries in less than 5 minutes. The lead nurturing tools enable your business to connect and communicate with a lead automatically and immediately. In addition to being the first company to respond to a lead, you can influence the lead's buying decision by sending personalized information and content.
Use as a Lead Generation Technique
In addition to boosting your lead generation efforts, lead nurturing helps your business to generate more leads. Most customers these days share useful information and content with their friends, coworkers, and family on various digital platforms. Many leads will share the valuable and personalized information shared by your business during the lead nurturing process. Word-of-mouth information sharing will help you to generate more leads through referrals.
Discover Opportunities for Cross-Selling and Up-Selling
Along with acting as a lead generation tool, the lead nurturing system also created opportunities for your business to up-sell and cross-sell. The relevant and timely information shared by your business will help the customer understand your products or services broadly. Also, the information will persuade leads to place orders of higher value and buy complementary products. Hence, lead nurturing will help you to increase both the number and value of orders.
Achieve Higher Click-Through Rates
According to a study conducted by Hubspot, "Lead nurturing emails have a significantly higher CTR than more generic email blasts. In fact, lead nurturing emails generated an 8% CTR compared to general email sends, which generated just a 3% CTR."
Hence, you can easily reduce the budget for email marketing campaigns by implementing an elaborate lead-nurturing strategy. The reports generated by the lead nurturing systems will help you to boost sales by focusing only on sales-ready leads.
Identify and Segregate Sales-Ready Leads
While implementing a lead nurturing strategy, you can differentiate between dormant leads and sales-ready leads using lead scoring systems. The lead scoring system will boost your lead nurturing strategy by addressing each lead using the right parameter – behavior, interest, and buying score. You can use the lead scoring system to identify and separate highly qualified potential customers simply by giving higher scores.
Re-engage with Dormant Leads
While nurturing leads, marketers often focus only on identifying the sales-ready leads. They drive sales conversion by sending the right information to the most qualified leads. But your business can use lead nurturing as an effective tool to reconnect and engage the dormant or out-of-touch leads. The lead nurturing solutions capture the information required to reconnect with out-of-touch customers. You can leverage the information to rejuvenate relationships with the leads by sharing the right content.
Deliver Better Products and Services
Lead nurturing emphasizes both building and sustaining relationships with leads. You can easily sustain the relationship with both customers and prospects through regular and timely communication. Regular communication will help you assess and improve the quality of your products or services by understanding what customers want and what challenges customers face. The information will help you to add the right features to the product and deliver high-quality service by eliminating customer pain points.
No Need to Invest Extra Resources
You can automate the lead nurturing process end-to-end simply using a reliable software solution. The lead nurturing tools come with features to track each newly generated lead, assign lead scores, and send automated communication. You can track and review the lead nurturing process by generating elaborate reports based on real-time data. Hence, your business can implement a lead nurturing strategy without deploying additional resources or escalating operational costs.
Build Credibility and Trust
The lead nurturing tools create opportunities for your business to become trusted advisors for customers. You can help B2B customers to address new challenges and resolve common issues by sharing the right information at the right time. The relevant content and personalized communication will make the customers trust your business or brand while making purchase decisions. You can project your business as a thought leader by focusing on nurturing the leads efficiently.
Beat Competition
Lead nurturing helps you to identify the needs and expectations of customers through regular and timely interaction. The information collected during the lead nurturing process helps you to meet customer expectations and boost customer satisfaction. Also, your business can leverage real-time customer feedback to assess and forecast the demand for a new product or service. Hence, you can easily beat the competition by launching innovative products or adding out-of-box features to existing products.
To get the benefits of lead nurturing, Your business must complement lead generation with lead nurturing to drive better sales conversion. In addition to influencing the buying decisions of leads, the strategy will help your business to meet customer expectations, improve customer satisfaction, and promote customer loyalty. An effective lead nurturing strategy will make it easier for you to generate more sales-ready leads while reducing cost per lead.