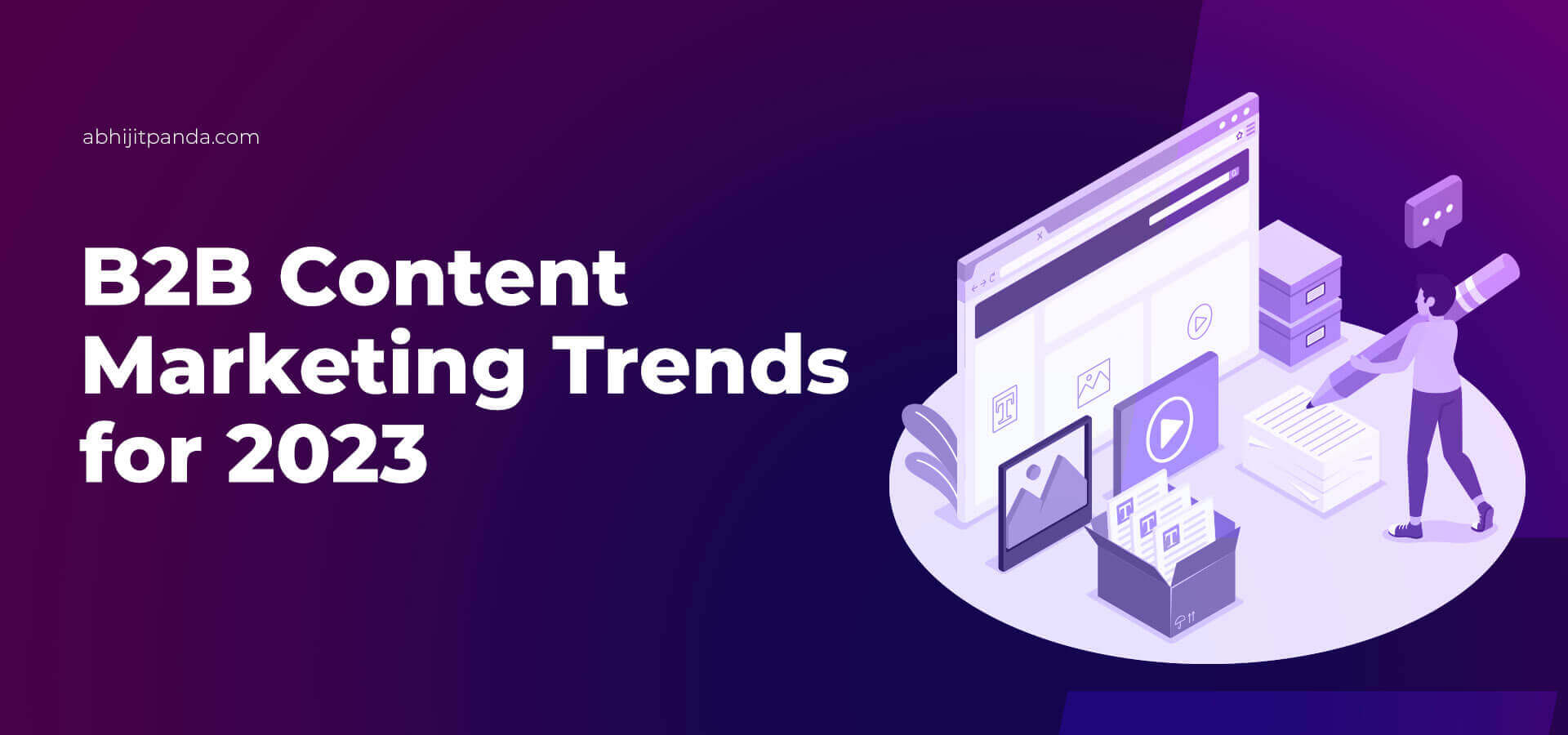 B2B Content Marketing Trends for 2023
According to the B2B Content Marketing Benchmarks, Budgets, and Trends: Insights for 2022 report,

"62% of organizations have documented content marketing strategies, 75% of organizations are expected to increase their content marketing budgets, and 30% of organizations spend more than 49% of their marketing budgets on content marketing."
In 2023, B2B companies and startups will invest in content marketing campaigns to generate leads, drive sales, and promote customer loyalty. Also, they will nurture leads and subscribers by creating, distributing, and promoting a variety of digital content – blog posts, infographics, videos, podcasts, webinars, whitepapers, and case studies.
But your B2B company or startup can increase B2B content marketing ROI in 2023 only by understanding what is working and what is not working. Also, you need to track the existing and emerging trends that will shape content marketing in 2023. We are making it easier for you to refine your organization's content marketing strategy by highlighting some of the major B2B content marketing trends for 2023.
Identifying 17 B2B Content Marketing Trends for 2023 
1. Omnichannel Approach
In 2022, 59% of content marketers consider blogs as the most valuable channel. B2B companies generate, nurture, and convert leads by distributing and promoting digital content through owned, paid, and shared media. They will continue to distribute content through multiple content marketing channels in 2023.
The omnichannel approach will help them reach a wider target audience. But they will focus on keeping the messaging consistent across distribution channels. Also, they will make the multi-format content deliver a reliable experience by focusing on the expectations and interests of prospective and existing customers.
2. Customer-Centric Content
60% of B2B organizations use SEO as a tried-and-tested content marketing strategy. They optimize the content for major search engines like Google and Bing by applying many on-page and off-page SEO techniques. But no business can increase conversion rates only by focusing on search engine optimization.
In addition to boosting the content's search visibility, marketers have to focus on the needs and expectations of searchers. Content creators will keep readers engaged by creating informative content. Also, they will explore ways to create content that is original and unique.  Hence, SEO strategies in 2023 will focus on both search engines and searchers.
3. Brand Personalization
Leading brands influence customers and prospects by creating unique and personalized experiences. They switch from a mass marketing approach to brand personalization to influence the target audience by delivering relevant offers and messages. In 2023, B2B companies will make their brands stand out from competitors by focusing on brand personalization.
They will collect real-time information from various communication and marketing channels to identify the needs, interests, preferences, and expectations of B2B customers. Marketers will deliver personalized and targeted content to a prospect according to her current position in a buyer's journey. Also, they will generate more leads and drive sales conversions by offering exclusive perks to each buyer across the sales funnel.
4. Content Remarketing
Remarketing is one of the hottest B2B marketing trends for 2022. B2B companies run remarketing campaigns to influence prospective customers when they access competitor websites. B2B marketers target and reengage website visitors using a variety of content.
Creators have to keep in mind the offering in which the prospect has shown interest. Also, they will personalize the content according to the prospect's purchase history, purchase intent, and position in the buyer's journey. B2B companies will continue to create data-driven and customer-driven to persuade website visitors to take the desired action.
5. Influencer Content Marketing     
Influencer marketing will remain one of the important trends in B2B and B2C content marketing. Companies will partner with B2B influencers to create and distribute content that prospects will trust. They will further pay B2B influencers to promote their products or services by writing a blog or posting videos.
However, B2B influence content marketing strategies will help businesses achieve long-term marketing goals. Also, companies will look for B2B influencers whom the target audience reads, follow, watch, and listen to. In 2022, 86% of B2B companies find success with influencer marketing. The number of companies leveraging B2B influencer content marketing will increase in 2023.
6. Sales and Marketing Alignment
In 2022, 49% of B2B companies find it challenging to align content creation, distribution, and promotion across marketing and sales teams. The sales team does not utilize a significant percentage of content created for marketing campaigns. The misalignment makes it difficult for them to create content that influences a prospect in different stages in a buyer's journey.
In 2023, most companies will focus on integrating content activities across marketing and sales teams. They will make marketing and sales professionals work as a single team. The unification will result in the creation of content that meets the needs of salespeople and marketing professionals. Professionals can share information and suggestions to boost the value of cross-functional content.
7. Interactive Content Experience
Unlike static content, interactive content engages target audiences by focusing on personalization and participation. Consumers these days love content that they can interact and engage with in their own way. In 2023, B2B companies will boost content marketing campaigns by producing a variety of interactive content.
The interactive content will deliver relevant information and desired messages while providing readers or viewers with options. For instance, B2B companies will allow customers to access information by reading an article or watching a video. Also, they will create infographics to make B2B professionals get the information in seconds.
8. Strategic Video Integration
In 2022, 67% of B2B marketers create and upload videos on a weekly or monthly basis. They will continue to create short and long videos in 2020 to convey information to the target audience in a captivating way. But they will explore ways to make the most out of the video assets by focusing on integrating videos into content marketing strategies strategically.
B2B companies will create videos according to predefined strategies. Also, they will mix and match different types of B2B marketing videos according to specific goals. At the same time, creators will focus on making the video clicks deliver additional information in a faster and more captivating way while standing out from the crowd.
9. Data-Driven Stories
B2B companies make customer data collection a continuous process. They analyze data collected from real-time sources to identify the needs, expectations, and pain points of customers. In 2023, many B2B companies will boost content marketing campaigns by humanizing real-time data.
Content creators will leverage the data to understand the real problems faced by a customer. They will create content that highlights the effectiveness of a product/service in solving specific problems. Hence, content creators will humanize data by creating case studies that will promote a brand by connecting with B2B customers emotionally.
10. Industry Expert Positioning 
In 2023, content marketing strategies will focus on projecting brands and entrepreneurs as industry experts. B2B companies will continue to produce content and create ads that help the target audience access the latest industry information, detect emerging industry trends, and finetune their strategies.
Businesses will conduct original research to create content that wins the trust of readers and outperform competitors. Content creators will leverage the original research to create business case studies that summarize real-life business scenarios and help B2B customers solve real-time problems.
11. Shoppable Content
Shoppable content is one of the emerging content marketing trends for 2023. Most B2C companies post shoppable content on various digital platforms to enable readers to purchase the product directly. Shoppable content marketing strategies focus on creating direct shopping opportunities for readers while producing articles, blogs, images, and videos.
Unlike the B2C buying process, the B2B buying process is complex and involves multiple decision-makers. But B2B companies can publish shoppable content to enable buyers to place an order when they are in the last stages of the buying process. However, B2B businesses have to keep the shoppable content personalized and targeted to increase conversion rates.
12. Content Shortening
In 2022, long-form content is more effective than short-form content for B2B companies to increase organic website traffic from search engines. They will continue to create and publish long-form content in 2023 to get more backlinks and social shares. But bit-sized content is currently one of the hottest B2B social media trends for 2023.
B2B companies will publish short-form content to provide the information required by the target audience quickly and exactly. However, they will encourage readers to gather additional information by accessing long-form content. Many companies will repurpose and shorten existing content to leverage the emerging B2B social media trend.
13. No Controversies
B2B companies have been enhancing brand reputation by supporting many social causes. In addition to meeting the needs of target audiences, B2B content marketing strategies these days focus on covering relevant social causes. But there are many instances when brands become controversial by publishing content on controversial or sensitive topics.
In 2023, brands will avoid controversies by publishing content that fosters inclusivity and supports diversity. Content creators will create content on sensitive issues thoughtfully and empathically to create content that makes readers respect the B2B company without hurting their sentiments.
14. AI-Generated Content Humanization
Artificial intelligence (AI) algorithms enable machines to create a variety of content based on specific keywords and key phrases. Many companies already invest in AI content generators to write long-form and short-form B2B marketing content without increasing time and cost. But robotic messaging and lack of creativity often affect the quality of AI-generated content. Hence, they do not leave a long-lasting impact on readers like human-created content.
In 2023, digital marketers will explore ways to humanize AI-generated content. They will deploy content writers to alter and finetune the content created by machines. The writers will use AI-generated content as the first draft of an article or blog. They will replace many lines to engage readers by expressing a brand's personality and voice.
15. Content Audits
A significant percentage of organizations are yet to make content audits an ongoing process. But a surge is being noted in the number of organizations making content audit an integral part of content marketing strategies. In addition to assessing content quality, content audits help businesses to measure content gaps, facilitate content repurposing, and remove outdated content.
In 2023, many companies will audit the performance of published content to find opportunities to improve and alter. They will measure the performance of various forms of digital content – blogs, infographics, case studies, whitepapers, videos, podcasts, and ebooks – using relevant metrics. Also, many companies simply content performance analysis by investing in content audit tools.
16. Emerging Content Marketing Metrics
In 2023, businesses will measure and track the performance of each B2B content marketing strategy using distinct metrics. For instance, they will track the performance of SEO campaigns using metrics like search engine ranking, overall search traffic, traffic sources, and backlinks. Likewise, they will track the performance of the content on social networks based on the number of likes, shares, comments, and mentions.
But these metrics make it challenging for decision-makers to measure the performance of individual pieces of content and all content distributed. Hence, they will mix and match multiple content marketing strategies to know what is working and what is not. They will focus on combinations of metrics that help them informed decisions by providing actionable insights.
17. Content Marketing Outsourcing
The report published by the Content Management Institute suggests that 75% of large companies outsource content work. Also, the companies outsourcing content marketing are more successful than the companies doing content marketing work in-house.
Hence, companies will continue to outsource content marketing work in 2023. But they will look for partners who have adequate topical expertise and understanding of the target audience. Also, businesses will expect partners to provide strategic advice. 
Conclusion
In 2023, your B2B company or startup can attract, generate, nurture, and convert leads by running omnichannel content marketing campaigns. But you must understand what is working and what is not working to make content marketing strategies achieve preset goals. At the same time, you must keep the strategies relevant and competitive by considering both existing and emerging B2B content marketing trends for 2023.