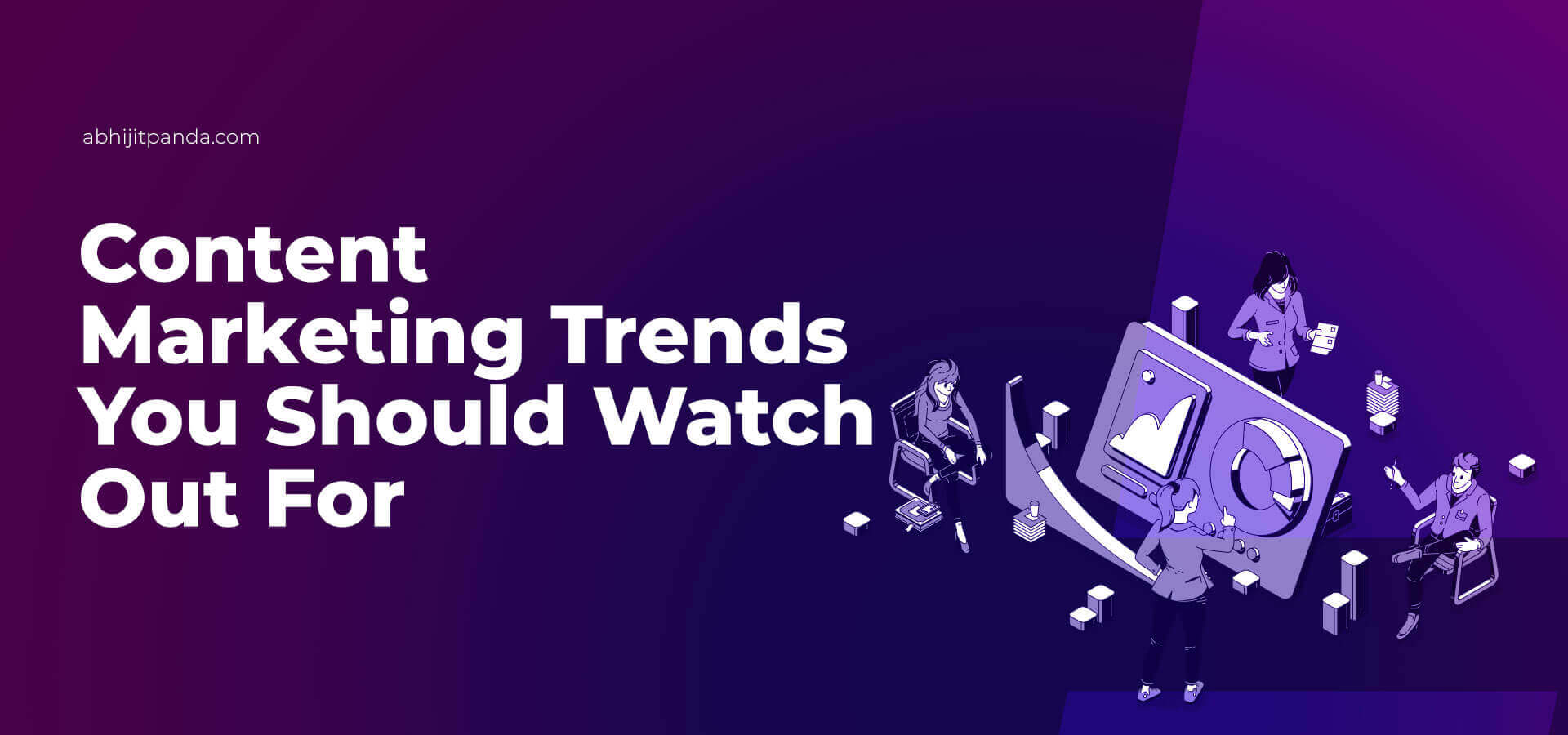 15 Content Marketing Trends You Should Watch out for in 2023 and Beyond
Unlike other digital marketing campaigns, content marketing does not promote a product, service, or brand explicitly. Instead, content marketing emphasizes creating brand awareness, generating audience interest, driving search engine traffic to the website, and nurturing leads through the creation and distribution of relevant, valuable, and targeted digital content.
According to research conducted by the Content Marketing Institute,

"86% of B2B marketers used content marketing to create brand awareness, 79% of B2B marketers used content marketing to educate customers, and 75% of B2B marketers used content marketing to build trust or credibility."
Digital marketers accomplish predefined goals by creating and distributing digital content that addresses the needs, expectations, and pain points of customers and prospects. Also, they increase ROI on content marketing campaigns by creating and distributing a variety of digital content – articles, blogs, audio, video, infographics, and social media posts.
But the content marketing trends, like search engine optimization (SEO), trends change from time to time. You cannot run content marketing campaigns successfully in 2023 without adopting the current and emerging trends in content marketing. While planning content marketing campaigns, you must not forget to look out for some of the hottest content marketing trends in the near future.
15 Current and Emerging Content Marketing Trends You Must Adopt in 2021
1) Posting Long-Form Content to Increase Search Traffic
In 2021, Google and Bing will update their search algorithms many times. However they will emphasize providing more relevant and updated information to the searchers. Hence, digital marketers can easily divert traffic to websites from search engines by posting high-quality and long-form content. In addition to meeting the consumer's needs and expectations, the content must appear authoritative by getting linked to both internal and external resources. Also, the writers will optimize the long-form content for search engines by including relevant keywords naturally and experimenting with content styles.
2) Delivery of Personalized and Targeted Content
The digital marketers will nurture leads and drive sales conversation in 2021 by interacting with customers in various stages in the sales funnel. They will influence the purchase decision of a prospect by sending content that is highly personalized and targeted. They will leverage the customer data collected through multiple channels to personalize the content and communications. Also, they will deliver targeted content that caters to the exact needs and expectations of the prospect according to her current position in the buyer's journey. The AI technologies will be used widely to facilitate the creation and delivery of hyper-personalized content in 2021.
3) Optimizing Content for Voice Search
According to Think with Google,

"20% of searches in the Google App are now done by voice."
With more and more consumers gathering information by giving voice commands, it becomes essential for businesses to optimize the content for voice search. While creating content for digital marketing campaigns, the content creators have to focus on both conventional search and voice search. Instead of focusing on including keywords naturally in the content, they have to explore ways to include questions that searchers will ask while initiating voice search. For instance, the content writers have to replace keywords like "restaurant-style butter chicken masala recipe" with questions like "how to prepare restaurant-style butter chicken masala."
4) Accelerating Content Creation Using Artificial Intelligence (AI)
The leading digital marketing agencies already leverage AI technologies to reduce the time and effort required to create hyper-personalized content. They use AI solutions to create hyper-personalized content on demand according to specific buyer personas or content marketing strategies. The AI solutions leverage the customer data collected by a business to create a variety of content – predictive content, insight-based content, intuition-based content, and autonomous content – in a few minutes. They can further streamline and speed up the content creation process by creating multiple content profiles.
5) Growing Popularity of Short-Form Videos
Consumers these days spend more time watching online video clips than viewing conventional television.
According to Smart Insights,

"It is predicted that customers will spend 100 minutes a day watching online videos in 2021. This is a 19% increase compared to daily viewing minutes in 2019, which stood at 84."
Hence, most businesses will attract and engage customers in 2021 by uploading and sharing shorter video clips. Also, they will convert the longer videos into a series of shorter video clips. However they have to focus on changing the format and duration of the video content according to the targeted social network or video-sharing platform.
6) Focusing on Meeting Immediate Needs
The lead generation and nurturing activities are planned by keeping in mind the position of a prospect in the buyer's journey. However, the statistics released by Google suggest that people use their mobile devices in hundreds of micro-moments throughout the day to solve problems and answer questions. Hence, digital marketing campaigns in 2021 will use content that caters to the immediate needs of a searcher. The content will make the consumer aware, buy, do, or go by meeting his immediate needs or answering his current question. However, the content must be optimized for voice search to meet consumers' immediate needs right here and right now.
7) Switching to Conversational Marketing
In 2021, digital marketers will find it challenging to generate and nurture leads only by adopting landing page best practices. In addition to optimizing landing pages, they have to focus on implementing conversational marketing. Instead of requesting website visitors to fill in lead-capturing forms, the digital marketers will interact with them using AI-powered chatbots. The chatbots will initiate and continue real-time conversations with the website visitors just like human marketers. Also, they will boost customer experience and engagement by personalizing the conversations and interactions based on data collected from diverse sources.
8) Making Content Appear on Featured Snippets
While optimizing content for search engines, digital marketers no longer focus only on increasing the search engine visibility of an article or blog post. These days, they explore ways to make the content appear on top of Google's organic search results – featured snippets. When the content appears in the featured snippet, it caters to both conventional search and voice search. The content writers will focus on answering the questions asked by searchers in the best way. Also, they will increase the chances of the content appearing on featured snippets by including questions, bullet points, summary paragraphs, and how-to lists.
9) Switching Focus from Keywords to Search Intent
While ranking content, search engines these days prioritize search intent over search keywords.
According to Backlinko,

"Search Intent (also known as "User Intent") is the main goal a user has when typing a query into a search engine. Common types of Search Intent include informational, commercial, navigational and transactional."
While creating content, the writers will still focus on choosing and including relevant keywords in the articles or blogs. However, they will keep in mind search intent while doing keyword research and targeting. They will boost the content's search engine visibility by focusing on relevance, authority, and user satisfaction. Also, they will finetune the content according to varying search intents – transactional, informational, preferential, and navigational.
10) Building Credibility Using User-Generated Content
User-generated content (UGC) is one of the hottest trends in content marketing. Many businesses these days request and persuade customers to produce and post content. Some companies even convert customers into content creators by offering incentives. In addition to reducing content generation costs, UGC helps businesses to impress new customers by showcasing quality, trust, credibility, or experience. Also, businesses can make customers a part of a community by requesting them to produce and share content.
11) Establishing Content Communities
Smarter digital marketers always boost content marketing campaigns by leveraging popular content communities like YouTube and SlideShare. In addition to creating personalized and targeted content, they focus on making the readers experience a sense of belonging to a community. The members of the content community help businesses get more likes and shares on social media through word-of-mouth promotion of content. Also, the content communities make it easier for digital marketers to generate content through bloggers and industry experts. In 2021, most businesses will focus on developing content communities while creating content.
12) Repurposing Content Across Multiple Channels
Content marketing enables SMEs to compete with large and established businesses by overcoming resource constraints. However many small businesses and startups still lack the resources to create, distribute, and promote fresh content regularly. That is why; content repurposing will emerge as one of the hottest content marketing trends in 2021. The enterprises will generate valuable, original, and engaging content once. However, they will repurpose the content across multiple channels of communication to reach out to a larger audience.
13) Engaging Customers through Webinars and Live Videos
The COVID-19 pandemic made people spend more time streaming videos and video conferencing in 2020. The steady video streaming growth creates opportunities for businesses to engage prospects and customers in 2021 by streaming live videos. Many enterprises will organize webinars to get frequently asked questions (FAQs) about products, services, or industries from industry experts. Also, they will engage customers by live-streaming from trade shows, exhibition booths, and field events. In addition to highlighting key aspects of a product or brand, live videos, and webinars will drive content marketing campaigns. Here are some webinar promotion ideas that can get the maximum ROI from your webinars.
14) Creating Infographics to Engage Millenials
Search engines prefer long-form content to short-form content. The content writers explore ways to increase the length of articles and blogs to increase organic search traffic. However, youngsters and millennials lack the time and attention span required to read lengthy content. They look for options to get the desired information or instructions in a few minutes without reading the content. The businesses will impress and engage millennial customers in 2023 by conveying information quickly and easily by creating infographics. However, the content creators have to make the infographics appealing by experimenting with storytelling styles and colors. 
15) Generating Content to Persuade Customers to Buy Local
Content marketers often reuse the same content across geographic locations. But consumers these days can be persuaded to buy locally only by using personalized and localized content. In 2021, digital marketers cannot influence the purchase decisions of customers living in different locations by posting and promoting the same content. The content writers have to do some research to make the content appealing to buyers by adding local flavors. The content marketing strategies will focus on complementing the global or general-purpose content with content optimized for specific locations.
In 2023, your business can accomplish a slew of digital marketing campaigns by running content marketing campaigns. However, you cannot get a higher ROI on content marketing simply by focusing on content and distribution channels. It is always important to adopt the current and emerging content marketing trends proactively to make content marketing campaigns more successful.